Explore all tourist attractions and things to do in one day in Antalya 2023. With these activities, you will have a one-day trip to Antalya city center. Don't have to spend too much money, they are also local and budget-friendly events.
Table of Contents
How many days in Antalya?
You'll need to discover Antalya and around at least 5 days or one week. But if you will walk around only in the center you can explore the Antalya itinerary for 2 days. Even one day in Antalya will be enough for essentials.
Antalya hidden gems are waiting for you! Here are the best things to do in one day in Antalya 2023. Discover the top destinations to visit in Antalya city center only in 24 hours with a one day Antalya trip.
Things to do in Antalya in one day
Let's take a look at the things to do in Antalya in one day.
Swimming at Konyaaltı Beaches
You should enjoy one of the best beaches in Antalya. Swimming and tanning at Konyaaltı Beaches will be a great activity for starting the day.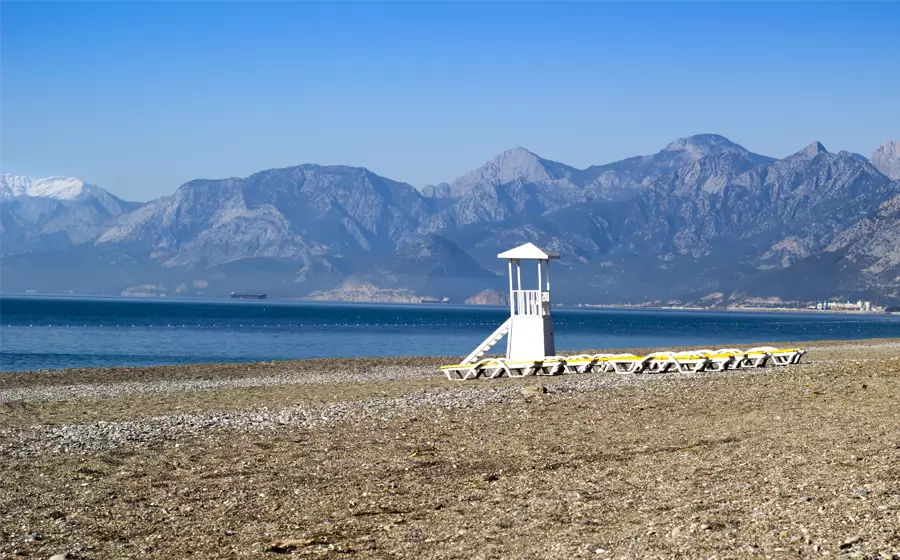 Beautiful Turkish Breakfast: Kahvaltı
Have a beautiful Turkish breakfast: Kahvaltı in Turkish meaning. If you order "kahvaltı" in a food place, they bring you a beautiful Turkish breakfast which is satisfying. You can try Alaçatı Muhallebicisi which is under the Sea Life Hotel in Konyaaltı Kent Meydanı. In addition, you can also find English breakfast in Antalya in some places. Besides, you can have a rich breakfast in various cafes and restaurants at Beach Park or Sahil Yaşam Parkı which is very close to the Antalya Museum.
Visit the Antalya Archaeological Museum
You don't need to use any transportation in order to visit the Antalya Archaeological Museum from Beach Park / Sahil Yaşam Parkı. Climb up the detour or use the elevator from the Beach Park then you will see the Antalya Archaeological Museum.
Antalya Museum is one of the biggest and most important museums in Turkey. It received a special prize from the EU Council in 1988. You can visit the museum's halls, and garden and then look up the museum market cafe to buy some souvenirs and take a break. The garden has beautiful ancient sculptures, cats, and flowers. Take your time and enjoy this magical place.
Also, it is possible to see some ancient pieces from the excavations of the Letoon Ancient City, located on the provincial border of Muğla-Antalya.
Antalya Archaeological Museum entrance fee
Antalya Museum tickets are 90 TL per person in 2023. If you have a Museum Pass Turkey card or a Museum Pass Akdeniz card, you can enter for free.
You can take a look at our Museum Pass Turkey article.
Antalya Archaeological Museum opening hours
Antalya Museum's working hours are 08:30 – 20:00 in 2023. It is open to visitors every day of the week.
Besides the Antalya Museum, you can discover more museums in Turkey from this official application.
City Tour with the Old Tram
Right across the Antalya Museum, you will see the first stop of the nostalgic tram. Please, take a seat and relax. Inside and outside of the tram you will be able to find lots of instagrammable shoots. By the way, it brings you to the heart of the city. So enjoy that nostalgic and pretty city tour with the old tram.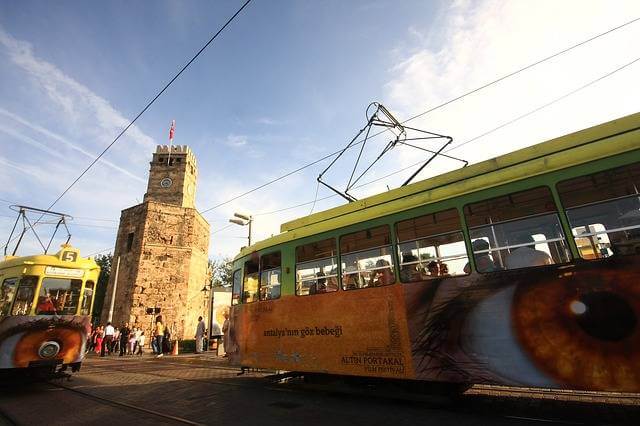 Antalya Clock Tower
Step out in Antalya Clock Tower stop. Take a walking tour near the historical clock tower. Enjoy the panoramic view from the glass balcony. Discover the Republic Square Antalya. If you are looking for second-hand books or antiques you are in the right place. Explore the side streets. Go back to the Antalya Clock Tower again.
If you need cash, you may use ATMs there or you can go exchange offices if you need Turkish Liras. So from the historical clock tower, choose the left road to explore Old Town. Discover the bazaars on the road and flow down from cobblestone. (If you want to skip that walking part, you can use the elevator or lift which is on the glass balcony. So you can go to the Old City Marina directly.)
Old City Marina
When you arrive at the old city marina you will see the amphitheater. Have a rest there. Discover the Antalya boat tours, boat trips, and boat parties. You can pick a tour or deal with a further one that suits you. Keep walking. Antalya Old Town things to do offers you so many attractions.
When you see the rocks climb up the stairs. You will enter the other part of Old Town. Yeah, it's quite a big and massive area. But don't worry, Old Town trips in Antalya are very funny and unique.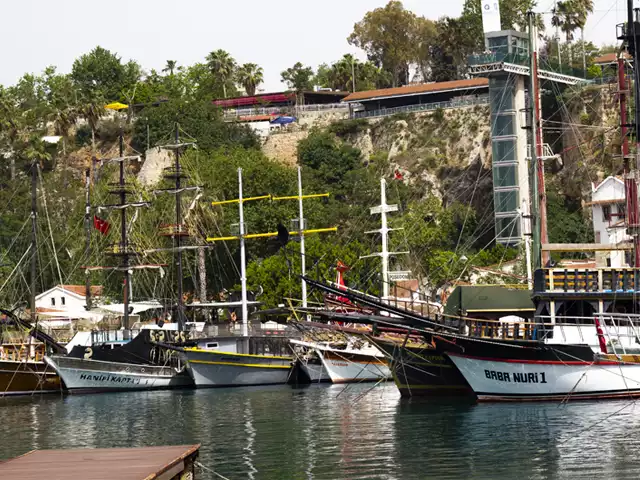 Karaalioglu Park
Karaalioglu Park is actually the south part of the Old Town. If you get lost in the Old Town, you can ask locals about Karaalioglu Park or a.k.a. Karaoglan Parki and probably they will show you the way. 
When you arrive there, see the panoramic Antalya view from the observation balcony. You may see the sunset from here. That is a great chance to see Antalya sunset in that place.
Karaalioglu Park also has a nice small beach inside! You can enjoy the sun and swim at Adalar Beach near to the old town.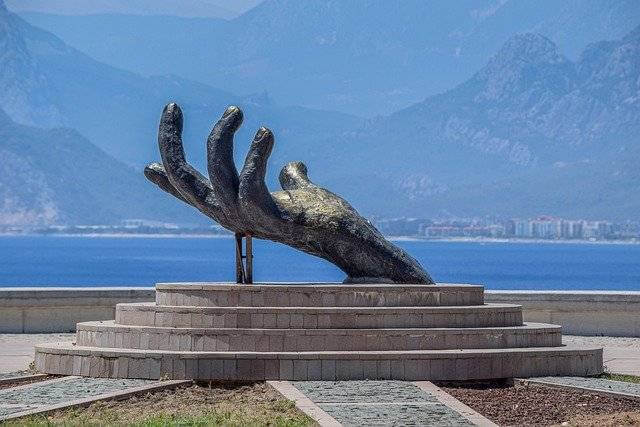 Best Turkish food in Antalya
Discover the Best Turkish food in Antalya in the city center. Either you can explore restaurants on Atatürk street or you can have dinner at the Old Town / Kaleiçi. You should try kebap, ızgara, traditional soups, very unique "Piyaz", pide, lahmacun, etc. Keep that in mind you don't eat all of them in one go. 
You also must try the best Turkish desserts with Turkish coffee after dinner, if you still have some space in your stomach.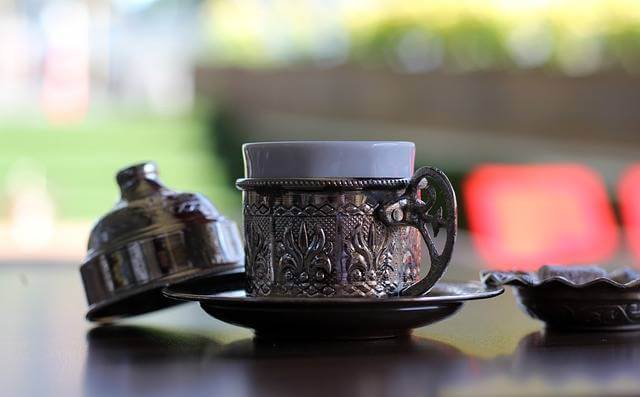 Hadrian's Gate Antalya Location
Take a walk to the Hadrian's Gate Antalya location in order to burn calories. This is a very ancient place to discover. You must see Hadrian's Gate. Then you can enter the Antalya Old Town again. You should see the Old Town twice, one is for the night in particular. You can either chill in quiet places or enjoy the crowd. It's up to you!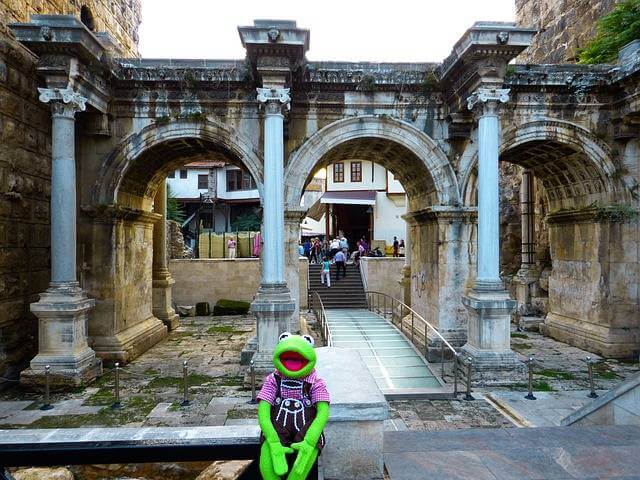 Is Antalya good for nightlife?
If you are asking about is Antalya good for nightlife, you should see it with your own eyes. Either you can discover the Old Town places, join the boat trips or you can go to the best nightclubs in Antalya. They can be at various destinations like Lara or Kemer. Discover the things to do in Antalya. Explore them and find the best nightclub for your interests.
Bonus:
You can find all places on our Tripadvisor Antalya map.
Questions about One Day in Antalya
Is one day enough for Antalya?
Antalya is a big and beautiful city. We recommend you spare 3-4 days for Antalya center, but if you have one day, you can swim in Konyaaltı or Lara beaches and have fun in Kaleici. I am sure you will enjoy it.
How can I get transportation in Antalya?
You can find a bus wherever you go in the center of Antalya. Also, since the distances are short, taking a taxi can be a comfortable solution. There is a tramway from the airport to the center.
Can I shop in Antalya in one day?
Yes, you can shop at shopping centers such as Mark Antalya, 5M Migros, Terracity in the center of Antalya. You can also find fake markets in the center of Antalya. We recommend you to read our Antalya fake markets article.
You may also enjoy Best Places for Beaches in Antalya.