Explore all tourist attractions and things to do in one day in Antalya 2023. With these activities, you will have a one-day trip to Antalya city center. Don't have to spend too much money, they are also local and budget-friendly events.
Antalya things to do offer you very comprehensive experiences. If you have limited time, you should decide your priorities. Also, be sure to check out this packing list to travel with a few useful items for minimalist travelers.
Travel Minimalist Packing 👉🏻 Minimalist Carry on Packing List
How many days in Antalya?
You'll need to discover Antalya and around at least 5 days or one week. But if you will walk around only in the center you can explore the Antalya itinerary for 2 days. Even one day in Antalya will be enough for essentials.
Antalya hidden gems are waiting for you! Here are the best things to do in one day in Antalya 2023. Discover the top destinations to visit in Antalya city center only in 24 hours with a one day Antalya trip.
Things to do in Antalya in one day
What to do in Antalya Turkey? Cable car rides, swimming, rafting, shopping, city walking, ancient cities, and museum visits are just a few of them. Here I listed the most basic activities that can be done in the city center. But be sure to check out the frequently asked questions section. There, you can make different discoveries about Antalya and its surroundings. Let's take a look at the things to do in Antalya in one day.
Swimming at Konyaaltı Beaches
You should enjoy one of the best beaches in Antalya. Swimming and tanning at Konyaaltı Beaches will be a great activity for starting the day.  Either spend your whole time 1 day in Antalya for swimming activity or have a great Turkish breakfast and catch other attractions. Need a sunscreen? Read my blog post 👇🏻
Travel Makeup Products 👉🏻Summer makeup and skincare trends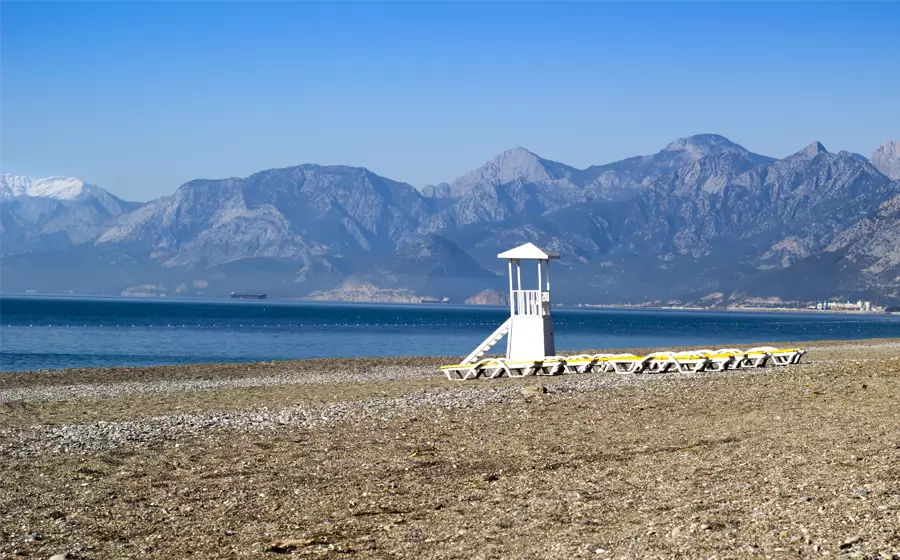 Beautiful Turkish Breakfast: Kahvaltı
Have a beautiful Turkish breakfast: Kahvaltı in Turkish meaning. If you order "kahvaltı" in a food place, they bring you a beautiful Turkish breakfast which is satisfying. You can try Alacatı Muhallebicisi which is under the Sea Life Hotel in Konyaalti Kent Meydanı. In addition, you can also find English breakfast in Antalya in some places. Besides, you can have a rich breakfast in various cafes and restaurants at Beach Park or Sahil Yaşam Parkı which is very close to the Antalya Museum.
Visit the Antalya Archaeological Museum
You don't need to use any transportation in order to visit the Antalya Archaeological Museum from Beach Park / Sahil Yaşam Parkı. Climb up the detour or use the elevator from the Beach Park then you will see the Antalya Archaeological Museum.
Antalya Museum is one of the biggest and most important museums in Turkey. It received a special prize from the EU Council in 1988. You can visit the museum's halls, and garden and then look up the museum market cafe to buy some souvenirs and take a break. The garden has beautiful ancient sculptures, cats, and flowers. Take your time and enjoy this magical place.
You can find artifacts unearthed from the ancient city of Perge, which were discovered by Turkey's first female archaeologist Jale Inan, in the Perge hall located on the right after you move a little further on the ground floor of the museum. Jale Inan played a major role in the establishment of Side Museum and Antalya Museum.
Also, it is possible to see some ancient pieces from the excavations of the Letoon Ancient City, located on the provincial border of Muğla-Antalya.
Antalya Archaeological Museum entrance fee
Antalya Museum tickets are 200 TL per person in 2023. If you have a Museum Pass Turkey card or a Museum Pass Akdeniz card, you can enter for free.
You can take a look at our Museum Pass Turkey article.
Antalya Archaeological Museum opening hours
Antalya Museum's working hours are 08:30 – 20:00 in 2023. The box office closes at 19:30 every day. It is open to visitors every day of the week.
Besides the Antalya Museum, you can discover more museums in Turkey from this official application.
If you already created your unique Antalya 1 day itinerary, you won't regret adding this museum to it.
City Tour with the Old Tram
Right across the Antalya Museum, you will see the first stop of the nostalgic tram. Please, take a seat and relax. Inside and outside of the tram you will be able to find lots of Instagrammable shoots. By the way, it brings you to the heart of the city. So enjoy that nostalgic and pretty city tour with the old tram.
Need a vintage camera digital? Check these retro camera digital vintage 🧡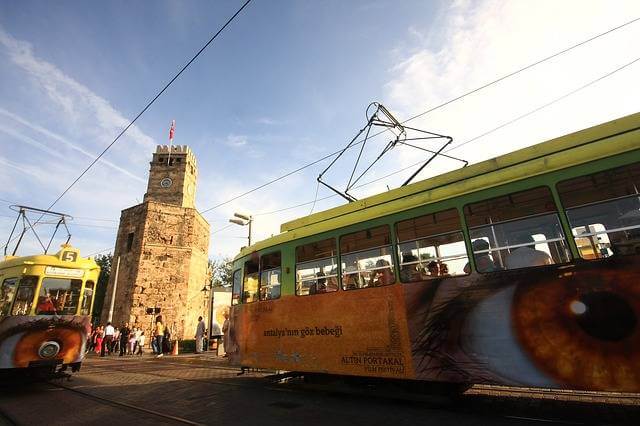 Antalya Clock Tower
What to do in Antalya city? Step out at Antalya Clock Tower stop. Take a walking tour near the historical clock tower. Enjoy the panoramic view from the glass balcony. Discover the Republic Square Antalya. If you are looking for second-hand books or antiques you are in the right place. Explore the side streets. Go back to the Antalya Clock Tower again.
If you need cash, you may use ATMs there or you can go exchange offices if you need Turkish Liras. So from the historical clock tower, choose the left road to explore Old Town. Discover the bazaars on the road and flow down from cobblestone. (If you want to skip that walking part, you can use the elevator or lift which is on the glass balcony. So you can go to the Old City Marina directly.)
City Walking Shoes 👉🏻Best Barefoot Shoes for Travel
Old City Marina
When you arrive at the old city marina you will see the amphitheater. Have a rest there. Discover the Antalya boat tours, boat trips, and boat parties. You can pick a tour or deal with a further one that suits you. Keep walking. Antalya Old Town things to do offers you so many attractions.
When you see the rocks climb up the stairs. You will enter the other part of Old Town. Yeah, it's quite a big and massive area. But don't worry, Old Town trips in Antalya are very funny and unique.
UPDATE 🎯 Based on the great interest you have shown in Antalya Old Town and the questions you sent to me, I am presenting a more comprehensive guide to Old Town Antalya below as a bonus topic. ENJOY ✨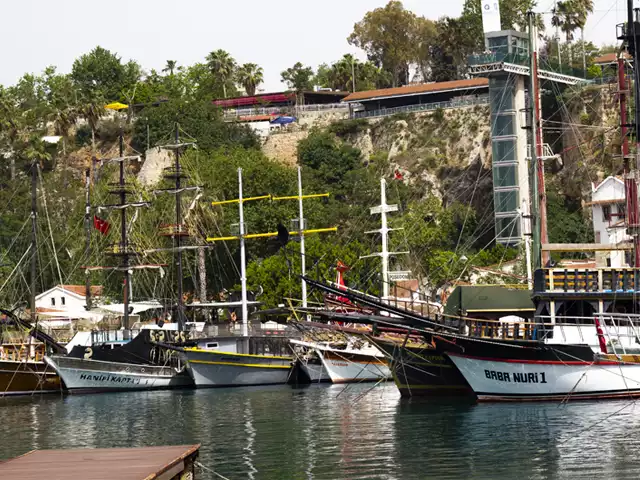 Karaalioglu Park
Karaalioglu Park is actually the south part of the Old Town. If you get lost in the Old Town, you can ask locals about Karaalioglu Park or a.k.a. Karaoglan Parki and probably they will show you the way. 
When you arrive there, see the panoramic Antalya view from the observation balcony. You may see the sunset from here. That is a great chance to see Antalya sunset in that place.
Karaalioglu Park also has a nice small beach inside! You can enjoy the sun and swim at Adalar Beach near the old town.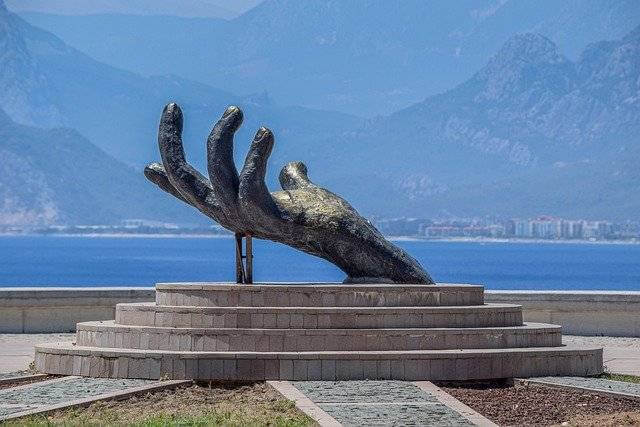 Best Turkish food in Antalya
Discover the Best Turkish food in Antalya in the city center. Either you can explore restaurants on Atatürk Street or you can have dinner at the Old Town / Kaleiçi. You should try kebap, ızgara, traditional soups, very unique "Piyaz", pide, lahmacun, etc. Keep that in mind you don't eat all of them in one go. 
You also must try the best Turkish desserts with Turkish coffee after dinner, if you still have some space in your stomach.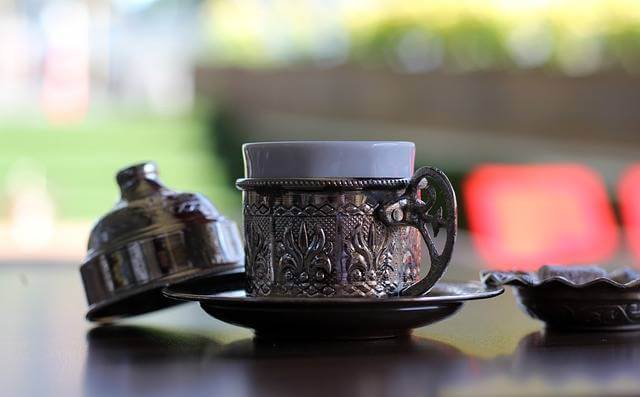 Hadrian's Gate Antalya Location
Take a walk to the Hadrian's Gate Antalya location in order to burn calories. This is a very ancient place to discover. You must see Hadrian's Gate. Then you can go to the Antalya Old Town again. You should see the Old Town twice, one is for the night in particular. You can either chill in quiet places or enjoy the crowd. It's up to you!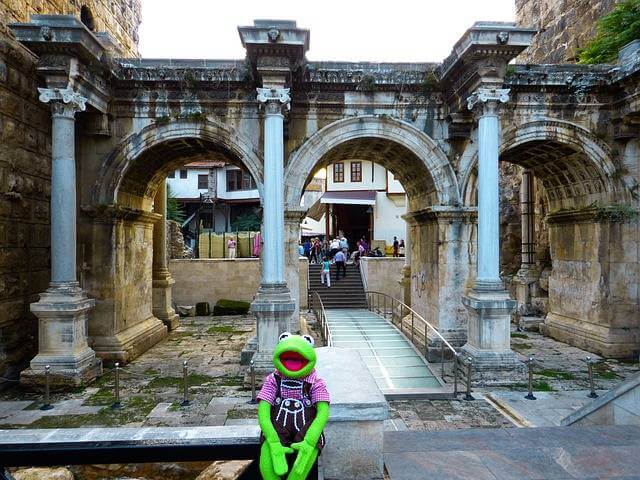 Is Antalya good for nightlife?
If you are asking about is Antalya good for nightlife, you should see it with your own eyes. Either you can discover the Old Town places, join the boat trips or you can go to the best nightclubs in Antalya. They can be at various destinations like Lara or Kemer. Discover the things to do in Antalya. Explore them and find the best nightclub for your interests.
SEE OFFER Antalya Kemer nightclub entrance ticket prices
Bonus:
You can find all places on our Tripadvisor Antalya map.
What to do in Antalya old town?
Here are some nice things to do in Antalya old town. 
✅You can enjoy the beautiful city and sea landscape from cafes such as Castle Roof, Mono Terrace Restaurant, and so on. (HERE IS A TIP 🎯 These two places are very near to the Karaalioglu Park Antalya Turkey. This park is also known as Karaoglan Parki by local people.)
✅You can also buy some authentic souvenirs (such as authentic Turkish Evil Eye products) from the local stores.
✅You can try local or street foods.
✅You can take a long and amazing walk in the Old Town Antalya district 👇🏻 
Antalya Old Town walking guide
You can walk and explore the cobblestone streets and old Turkish houses. Things to do in Antalya Turkey offers visitors too many attractions. Every starting point that you can choose to explore the region will present you with a different historical texture or landscape.
Here are the different ways you can reach Kaleici. All these points are the stops of the nostalgic tram. In addition, those who want to use the elevator can get off at the Clock Tower and walk to the right, that is, to Konyaaltı direction, to reach Republic Square Antalya, and use the elevator after watching the view from the viewing terrace there.
If you prefer to walk rather than take the elevator, there are many stairs in this square that you can reach the marina. One of them leads directly to Antalya old town bazaar. You can reach it by passing through the tea/coffee shops that offer you an amazing sea view.
Another is the stairs you can go down from behind the tourist police's cabin. Continue from the Nobel Bar. Below you can see the restored 13th-century Yivliminare Mosque.
Let's say you want to start your walking trip from Hadrian's Gate Antalya. If you like religious and cultural heritage, go straight when you pass the Hadrian's Gate. On the right, you will see the minaret. Its interior was restored and opened to visitors.
You might have chosen Republic Square, Clock Tower, Hadrian's Gate, or Karaalioglu Park to go to Kaleici Old Town Antalya. If you keep going downhill, all the roads will take you to the marina. You can walk in the marina, dine in restaurants, have a drink, or join boat trips.
SEE OFFER FROM EXPERT GUIDE Antalya old town guided walking tour price
What to see in Antalya old town?
Things to see in Antalya old town provide an experience where nature, history, culture, and heritage meet. Of course, we should not forget the fun. Here are some Antalya old town attractions 👇🏻
👙Swimming in Mermerli Beach
👟Walking around yacht marine
🌇Watching the sunset from Amphitheater Antalya Turkey
🛳Join Antalya boat tour half day (They can offer you a full-day tour for the next days if you have time, you can make a bargain and join! The bays are amazing.)
Antalya old city things to do has many more than these of course. To me, visiting the Old Town is one of the best things to do in Antalya Turkey.
See Travel Document Wallets 👉🏻Best Travel Wallets
👉🏻👉🏻👉🏻👉🏻Buy SIM Card for Tourists
👉🏻👉🏻👉🏻👉🏻Learn Free Turkish Language
Frequently Asked Questions about One Day in Antalya
Here I gathered up your top asked questions to me about Antalya city center and at around.
Is one day enough for Antalya?
Antalya is a big and beautiful city. We recommend you spare 3-4 days for Antalya center, but if you have one day, you can swim in Konyaaltı or Lara beaches and have fun in Kaleici. I am sure you will enjoy it.
How can I get transportation in Antalya?
You can find a bus wherever you go in the center of Antalya. Also, since the distances are short, taking a taxi can be a comfortable solution. There is a tramway from the airport to the center.
Can I shop in Antalya in one day?
Yes, you can shop at shopping centers such as Mark Antalya, 5M Migros, and Terracity in the center of Antalya. You can also find fake markets in the center of Antalya. We recommend you to read our Antalya fake markets article.
What to see and do in Antalya Turkey?
Antalya Turkey things to do include many variations of attractions for everybody and every budget. It doesn't matter if you're a honeymoon couple or a family with kids. Perhaps you are a solo traveler. Whether you are in the city center of Antalya or you want to visit its surroundings, Antalya promises you moments that you can spend with pleasure and according to your expectations and wishes.
You can see all the satisfying answers for Antalya what to do and make your own Antalya itinerary. 
Can I use museum pass for Antalya Museum?
Yes, with your museum card, which is valid as a date, you can visit the Antalya Archaeological Museum on the days and hours it is open.
How much does Antalya Museum cost?
If you have a valid museum pass Turkey card you won't be extra charge for the entrance. Otherwise, you should pay money.
Is there any Hadrian's Gate entrance fee?
No. You can walk from Hadrian's Gate in Antalya city center and completely free. Many tourists and local people are using this tourist spot as a place for travel photography and meeting point. If you have local friends you can determine Hadrian's Gate (or "Uckapilar" as locals say) and meet with them there.
Antalya City Guide
Is Antalya good for shopping? (Antalya Shopping Outlet Guide)
Unique Things to do in Antalya (just in one day)
Koprulu Canyon National Park Things to do
Chimaera Cirali Guide (Eternal Flame Turkey)
Things to do in Adrasan Turkey
Explore Antalya Kas City Center (Ultimate Guide)
How to get Fethiye, Dalaman or Antalya to Kas?
Best Beaches in Antalya Region
Best Beaches of Antalya to Swim
Best Antalya Beaches with Picnic
Turkey Antalya Olympos Beach Guide
Best Beaches of Kas Antalya map
Ancient Sites Near Antalya Turkey
Xanthos Ancient City Antalya History
Perge Ancient City Antalya Reviews