Have you ever been to Kas Antalya? Whether you have or not, you should definitely visit Kas Antalya once or one more time in your life. It is certain that the bohemian texture combined with the turquoise blue bays of Turkey and the magnificent beauties of the town of Kaş and its surroundings will give you an unforgettable holiday.
This guide will show you how to get there, what to do in and around Kas, tips for eating and drinking, entertainment, beaches, and much more. Take your notes, book your place, and plan your entire vacation in advance and you won't have to worry about the smallest detail when you get to Kas Antalya.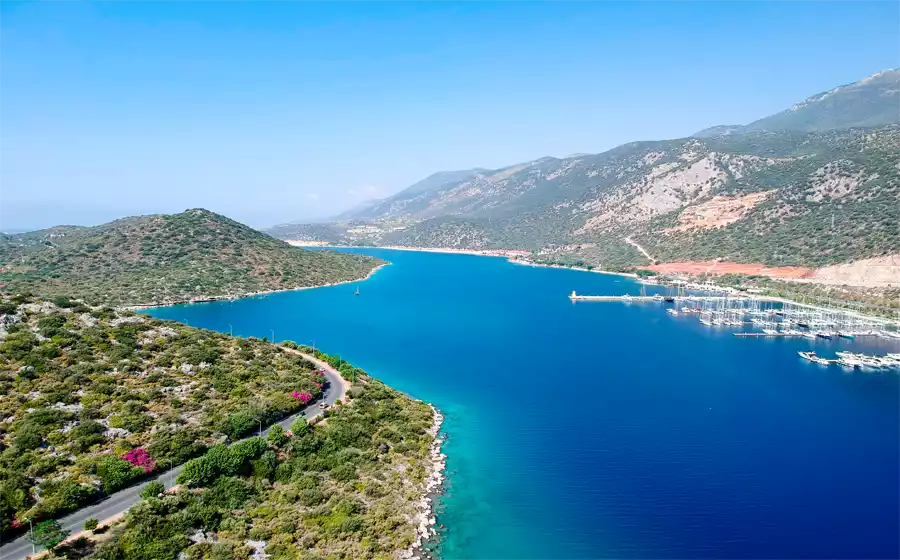 Table of Contents
Things to do in Kas
Whether in the center of Kas or around the town, you probably will find many things to do. Several activities can be found with affordable prices. Just detect your priorities, then move. Here are the top things to do in Kas and nearby.
Visit Dolichiste: Kekova Sunken City
You can find daily Kekova Island boat tours or prefer a more private and longer one: 3 Nights 4 Days Gulet Charter from Kas to Kekova which is one of the best gulet charters in Turkey. Moreover, here is a detailed Kekova Sunken City boat tour experience from mine in July 2023.
Wander Patara Ancient City
Patara ancient city has a very large area to discover. This place is not only an ancient city, It also has amazing sand dunes and one of the best beaches in Turkey. Here are all the tips, prices, entrance fee and more explained in detail in this Patara Ancient City Guide.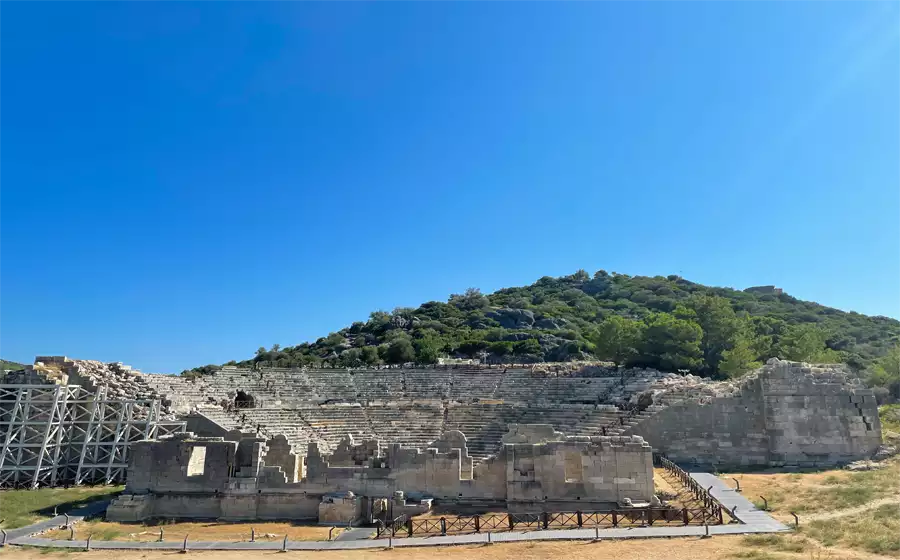 Explore Xhantos Ancient City
Kas Antalya has many ancient cities worth visiting. Xhantos Ancient City is one of them. You can learn more about these ancient ruins' history, temples, opening hours, entrance fees, etc. Check this informative Xhantos Ancient City Guide which has the Xhantos map included.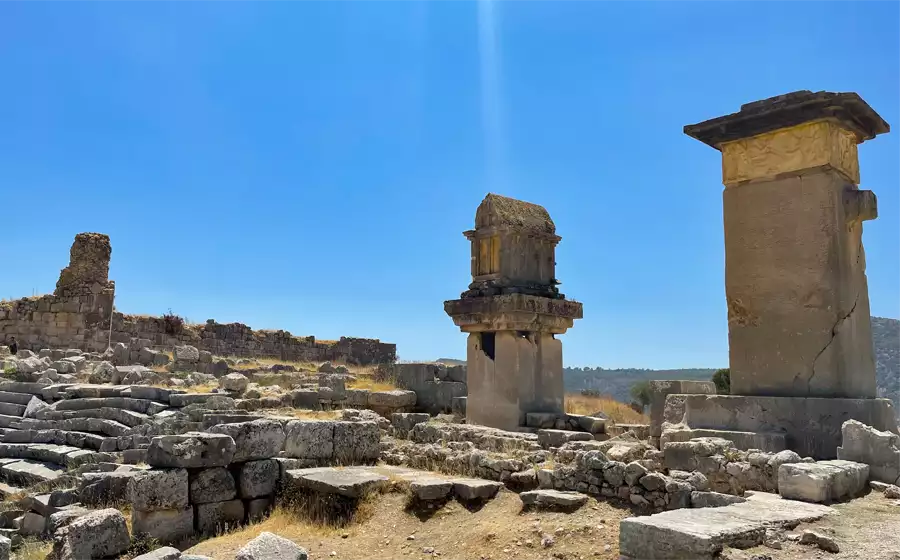 Sacred Ruins: Letoon Ancient City
Letoon Ancient City is located on the Fethiye – Kaş highway, but closer to the Fethiye border. It is an amazing place and one of Turkey's hidden gems as well. You can learn more from Letoon Sanctuary Place which includes entrance fees, getting there, historical information, and more.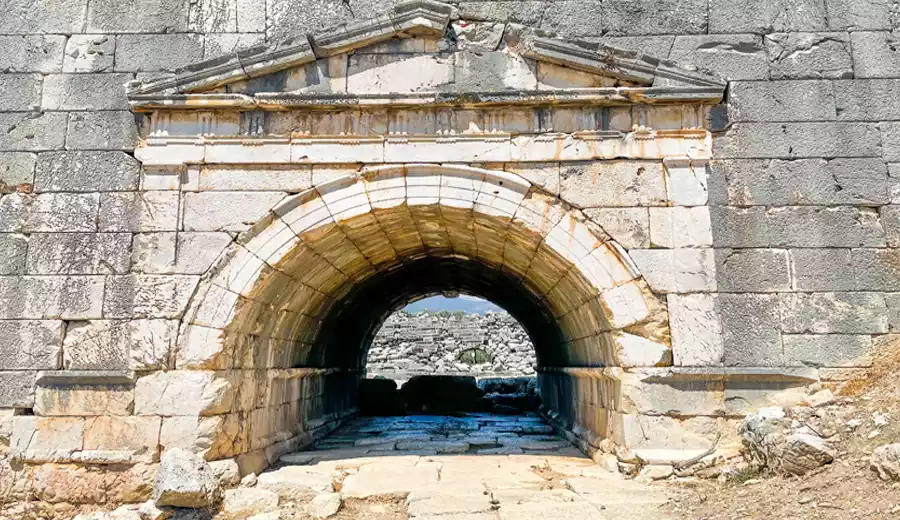 Best Beaches in Kas Turkey
For guests who will visit Kas Turkey, swimming on the best beaches is an essential part of the Kas trip. In this part, we will share with you all the good parts of Kas beaches with their locations, prices, specialties, and other tips.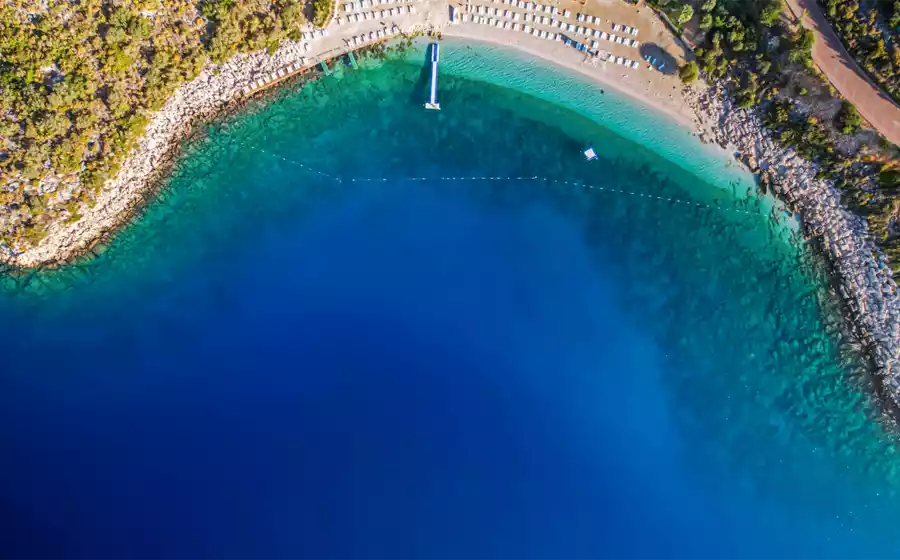 Visit Kaputas Beach & Blue Cave
Kaputas Beach is one of the best beaches in Europe according to The Guardian. You can find all information and suggestions with details about Kas Kaputas Beach here that cover your needs.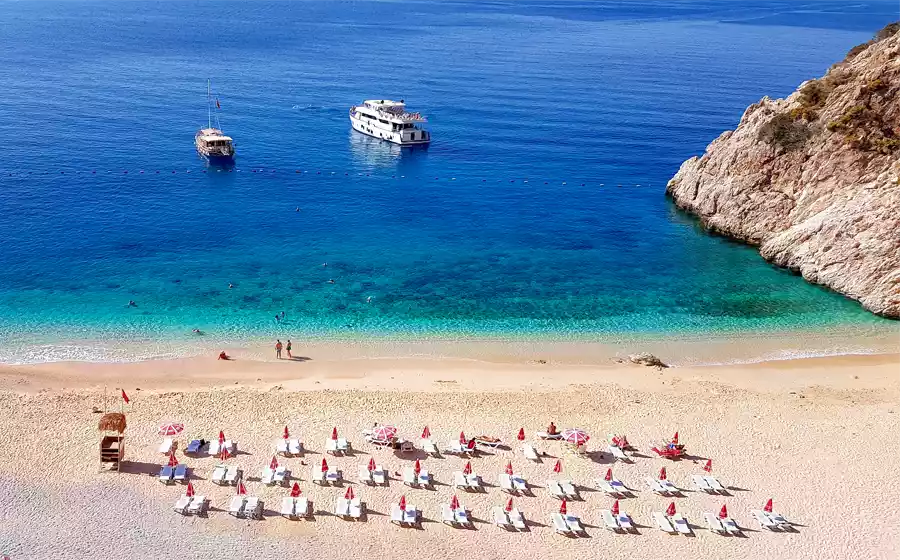 Swim in Patara Beach
You don't need to pay an extra entrance fee for Patara Beach if you are already in Patara Ancient City. Once paid covers both. But you may want to do a bit of research about Patara Beach and the famous sand dunes before you get there. So this Patara Beach blog post will help.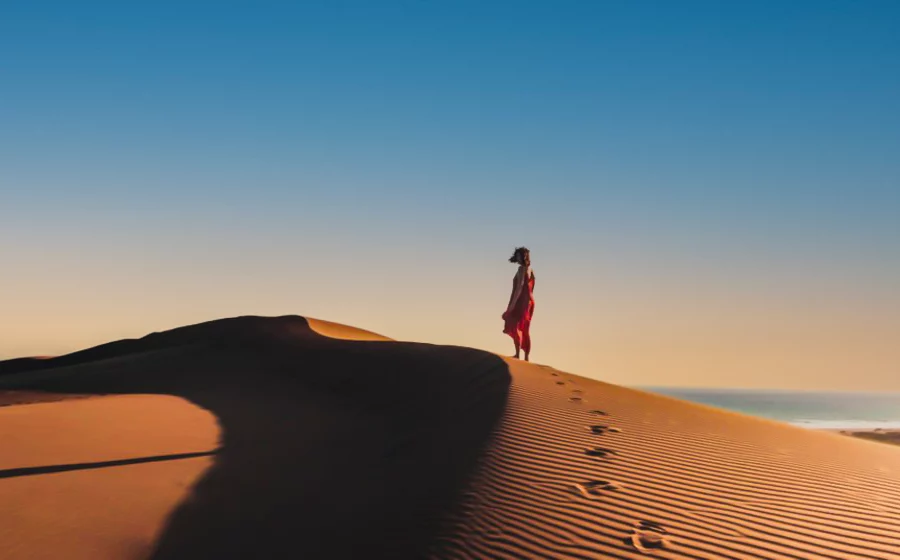 Kas Beach Clubs
Kas Beach Clubs are very famous and preferred places during the season. Just in case, you should add an alternative beach in case you won't find a place for yourself. Beach clubs are perfect for couples.
Another option is public beaches. Those kid-friendly beaches are generally not crowded and very suitable for families with children. One of the best Kas Beach Clubs and public ones are in this Best Beaches Kas post.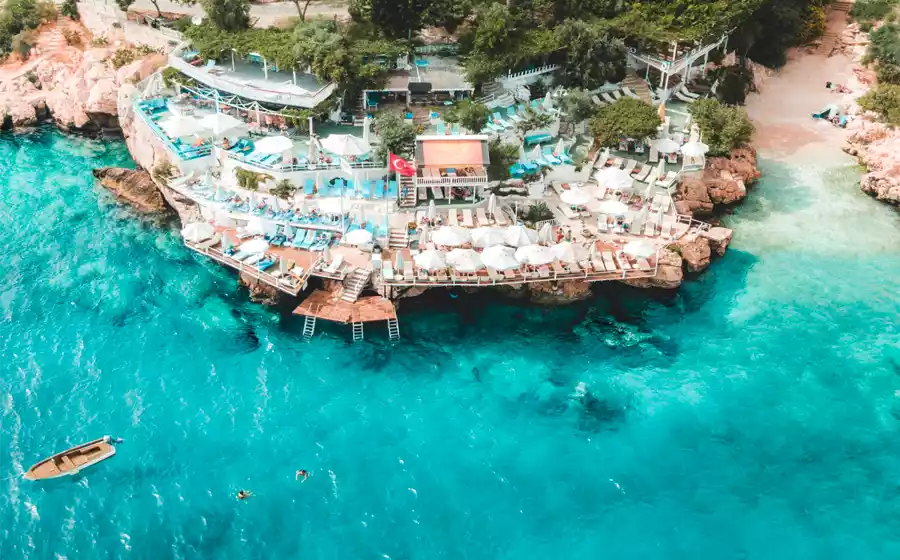 More Things to do in Kas
Other activities that you can do in the amazing turquoise bays of Kas Antalya are countless but we can still mention some of them. Here are several attractions especially if you are in love with water!
What to eat in Kas
It is possible to find food and drink for every budget and taste in Kaş! The only things you won't find here are high-rise buildings and shopping malls. So if you're not a fast food lover and you're not looking for world-famous brands, you won't be disappointed here.
You can have more information by taking a look at this detailed Kas Food & Beverage guide about the food and beverage guide in Kaş.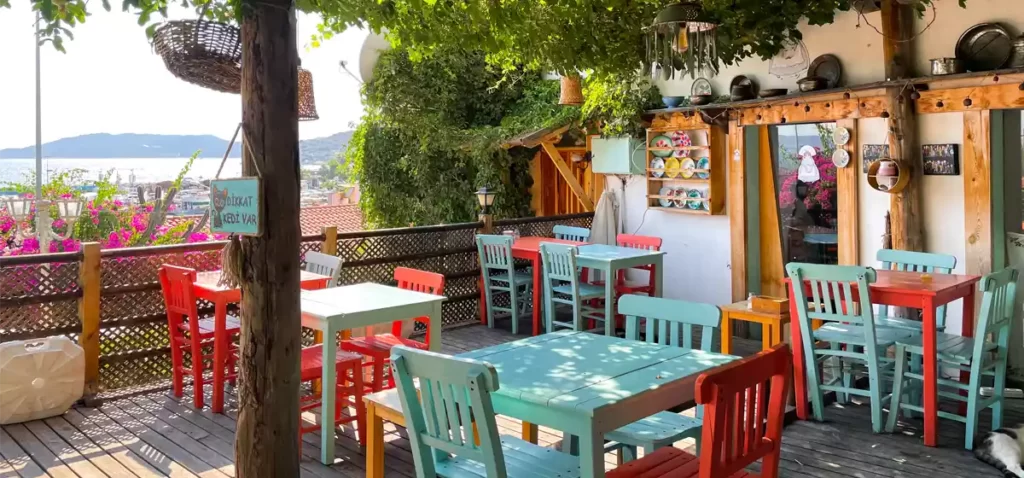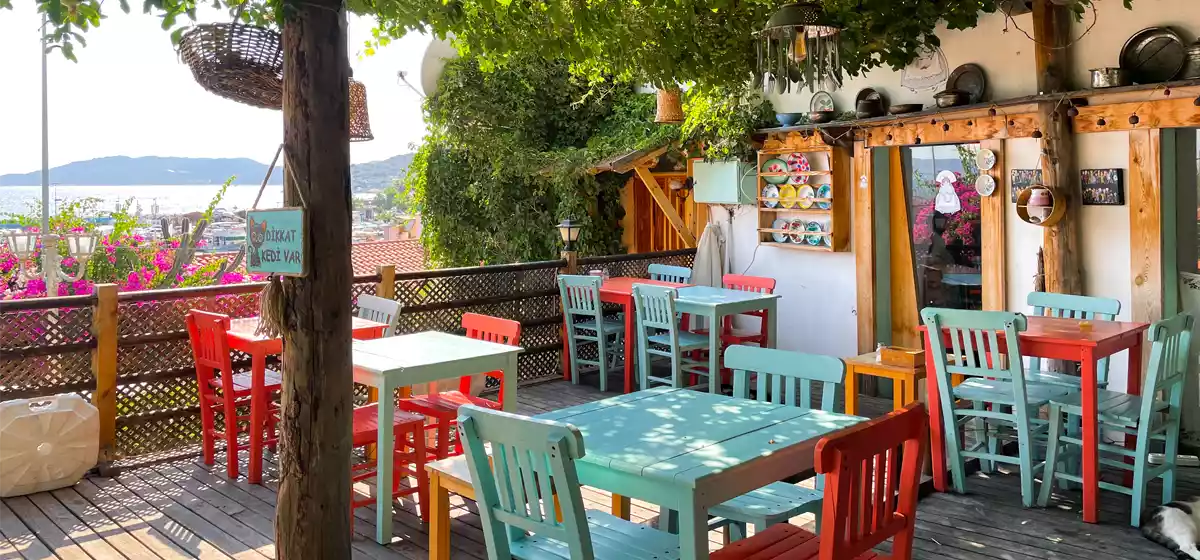 Shopping in Kas
No big stores and no shopping sprees. We're talking about a resort town where you can find only what you need and still have enough. In this charming town where you can meet all your needs, you will find handmade and original products at every corner. Kas Shopping Guide is waiting for the guests!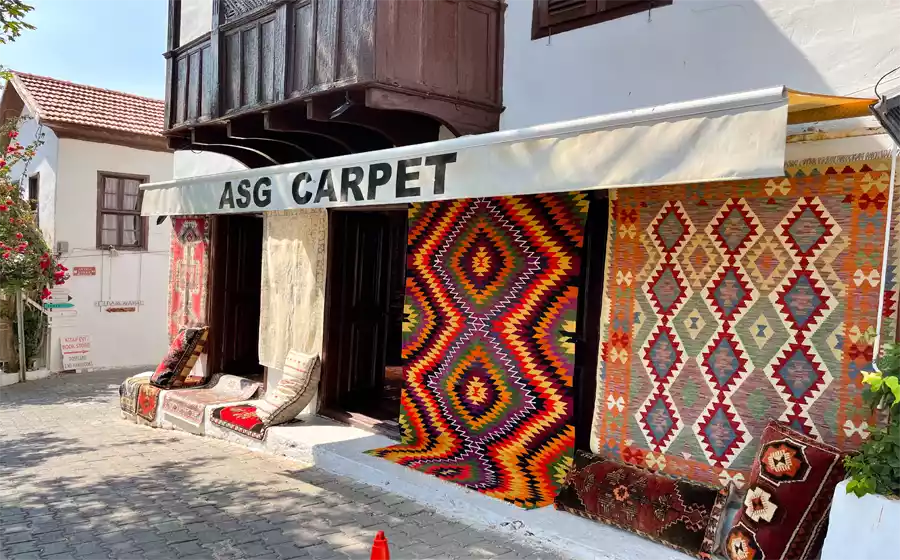 Where to Stay in Kas
Kas not only offers you the most original boutique hotels with the magnificent view and the atmosphere of the town. Maybe you can meet local foods and drinks that you have not tasted before, at breakfast. Of course, after waking up to the magnificent nature of Kaş and starting the day. Here are all the preferred and best hotels in Kas.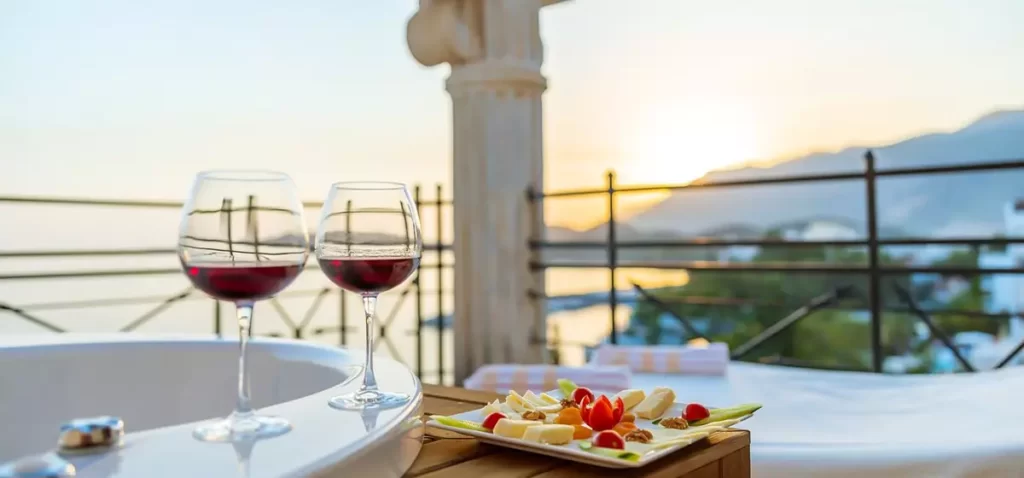 Kas Nightlife
Don't forget to check Kas yacht marine, it is a good place for joy and view. Before going to bed, it is worth remembering that Kaş never sleeps and the fun never ends here. You can find all the tips and venue suggestions about Kas nightlife from here.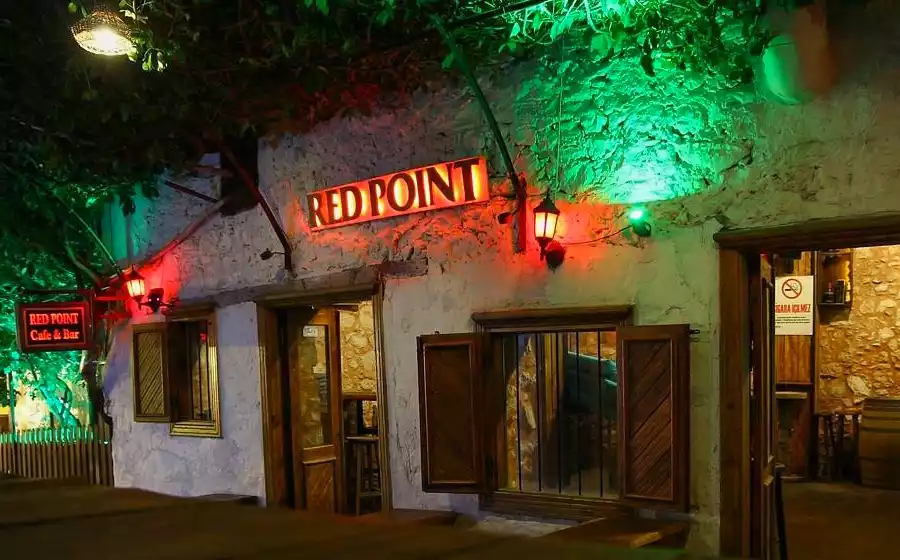 Where is Kas?
Kas is in the Mediterranean part of Turkey and in the south. This coastal town, which is included in the province of Antalya, promises a lot of things to do for its visitors both in and around it. This natural wonder small town, whose historical texture is evident not only on land but also on the sea, enchants its visitors every year with its unbelievably beautiful atmosphere.
How to Get to Kas, Turkey?
There are so many ways to get to Kas town but we will touch on the main lines. 
It is possible to reach Kas from different locations. By the way, since Kaş is a small coastal town, it does not have an airport. The nearest airport is Dalaman airport. You can come to Kas by air from Antalya, Fethiye, and different cities in Turkey. If you want to come by sea, Kastellorizo (Meis) Island is the closest option. For more details, you can check the blog post How to get Fethiye, Dalaman or Antalya to Kas? which is very detailed about getting to Kas Turkey.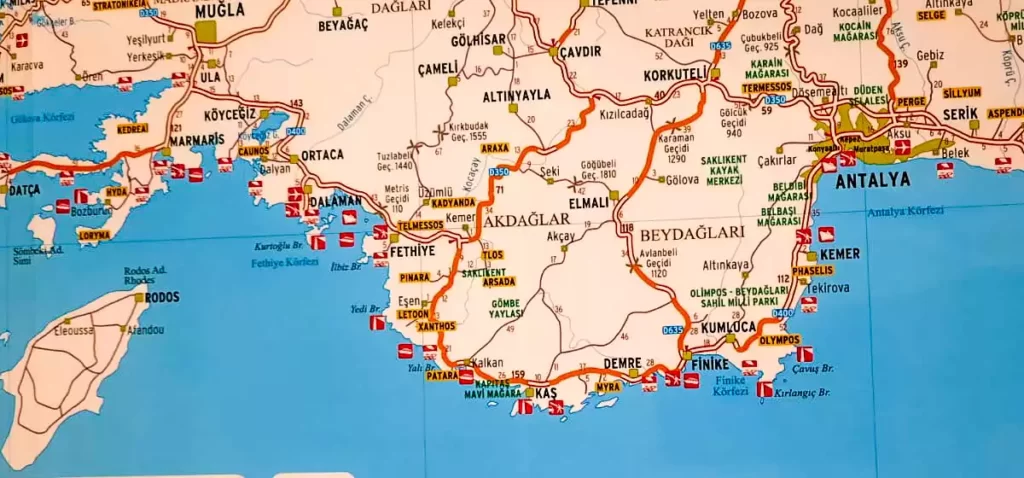 Kas Weather
The climate of Kaş town is considered much less humid when compared to other cities of Antalya. That's why some evenings can even be cool. But there is no doubt that you will love the heat of the sea and the sunny weather in the season. Be sure to get your sunscreen materials. This is really important. The average temperature in summer is around 30-35 degrees. Of course, some days can be much, much hotter.
You can swim on the Mediterranean coast of Turkey in September and October, and there will be less congestion in resorts like Kas. You can also evaluate these months.
Frequently Asking Questions About Kas Antalya
How many days do I need for holiday in Kas?
If you want to have a holiday in Kas, I think you should spare at least 4 days. You should reserve one day for the beaches in the center of Kas, one day for the Kaputas beach, one day for the ancient cities, and a Kekova boat tour.
In which months should I go to Kas for a holiday?
The sea season in Antalya Turkey starts from June and continues until October. Since Kas is very popular, it will be crowded in the summer months, but you can enjoy the sea and the sun in the summer. If you want it not to be too hot and not too crowded, you can consider September and October. Hotel prices will also be more affordable in the autumn months.
Which ancient cities are in Kas?
Kas has hosted Lycian, Roman, Byzantine, and many other civilizations for centuries. Starting with Antiphellos Ancient City in the center of Kaş, there are many historical cities such as Patara Ancient City, Xanthos Ancient City, Letoon Sacred Monument, and Phellos Ancient City.
Where to swim in Kas?
There are many beaches such as Small pebble beach, İnceboğaz beach, etc. in the center of Kas Antalya. Outside the center, Kaputas beach and Patara beach are really worth seeing. Kaputaş beach is among the 40 best beaches in Europe. Patara beach has the 11th longest sandy beach in the world.
Where to eat in Kas?
There are many options and flavors in Kas, such as restaurants and cafes, Oburus Momus, Bunbun Kas, Kas Gourmet Falafel, BUTKA, and Kasim home cooking.
Is Kas expensive?
I can say that Kas is at the middle level among the touristic centers of Turkey in terms of cost. Nightly hotel prices vary between 55 – 100 USD in summer. A meal costs an average of 6 dollars for a person, and you spend an average of 10-15 dollars on the beaches. Compared to other options in Europe, I can say Kas Turkey is cheaper.
Where is Kas in Turkey?
Kas is located in the western part of the Antalya province of Turkey. It is adjacent to Fethiye and Demre. It is 3.5 hours from Antalya by road and about 1 hour from Dalaman airport.
Where to stay in Antalya Kas?
You can stay in the center of Kaş due to the ease of transportation, nightlife, and plenty of restaurants in Kas. If you have a private car, the view of the Cukurbag peninsula is very beautiful and allows you to have a quieter holiday.
Which are the best hotels in Kas?
This is a tough question because there are no bad hotels in Kas. Most of the hotels are small and cute. Sea View Hotel, Medusa hotel, and Alley Prime Hotel are some nice hotels. You can check out the best hotels in Kas here.