Kaputas Beach is an amazing turquoise beach in Kas, Turkey. According to The Guardian, Kaputas Beach is one of the best beaches in Europe.
Kaputas Beach is very famous but it is worth seeing! In this complete Kaputas Beach guide, we will tell you all tips about that wonderful beach. Add visiting Kaputas Beach on your Kas, Turkey trip.
If you have decided to have a holiday in Kas, we recommend you to read our article on the best beaches in Kas.
Table of Contents
Kaputas Beach Weather
Kaputas Beach is not so large and it's between two giant sea cliffs. So it's not windy all the time. 
Nearly all around the year, you can swim on Kaputas Beach. Whether the sun is shining or not. Two years ago, we went to Kaputas Beach in November! Even in the autumn months, the water is amazingly hot and the weather is fine and sunny. 
We suggest that you visit one of the most unique beaches to explore its shiny and satisfying atmosphere. 
Kaputas Beach is one of the best beaches in Turkey as well, besides being one of the best beaches in the world. So, Kaputas Beach welcomes countless local or foreign visitors every year.
How to get to Kaputas Beach?
Before going to Kaputas Beach, let's see where is Kaputas located first. Kaputas Beach is located near Kas, Turkey.
So, how to get to Antalya Kas?
How to get to Kaputas Beach from Kas?
You can go to Kaputas Beach from Kas in approximately 20-25 minutes by car. Especially through a car trip, you will witness this Mediterranean coast's stunning landscape. 
If you are going to Kaputas from Antalya or Fethiye, be aware of the pockets on the road. You can have a rest and take lovely landscape photos on this road. 
Also, you can get to Kaputas Beach by public bus. Ask "minibus" to Kaputas Beach the locals will show you the way.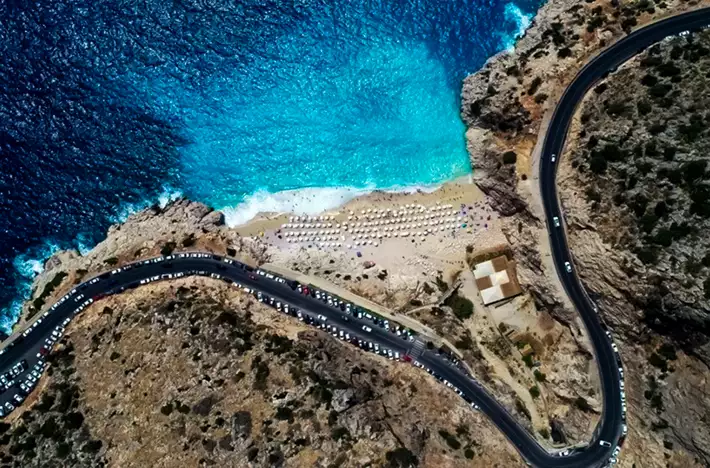 Tips & Advices for Kaputas Beach
Previously, there wasn't a carpark near the coastal road. But for several years you can find a free car park next to the road. Then you should get across in order to reach Kaputas Beach. Take some photos there, after that you can go downstairs to the beach. 
Unfortunately, there is no wheelchair access to Kaputas Beach Turkey. We hope everybody can access that stunning beach in the future. 
If you can't go down, for now, you can try to visit the other nicest Kas beaches.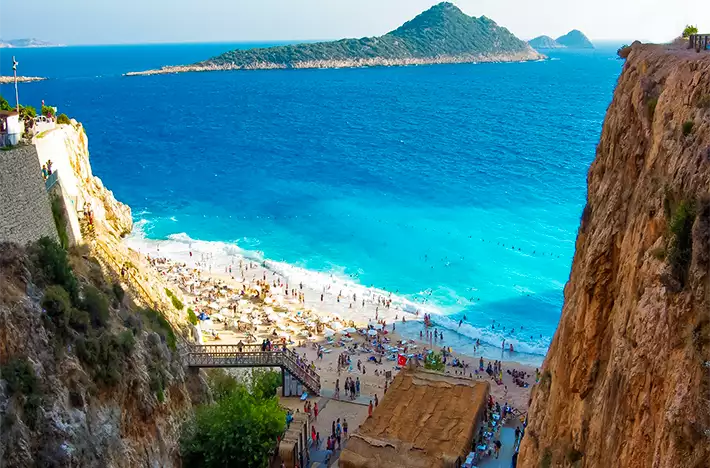 Prices in Kaputas Beach
There is no entrance fee for Kaputas Beach. The entrance to Kaputas is free. Unless you rent sunbeds or parasols. Anyhow you don't have to. If you want, you are able to rent and it costs 150 TL in total, which covers one umbrella, and two sun loungers.
On the upper side of the beach, you will find a cafe that has some fast food, beers, or any drinks. The prices are average costs. 
Near the eating area, you will be able to find WC and changing rooms for free usage.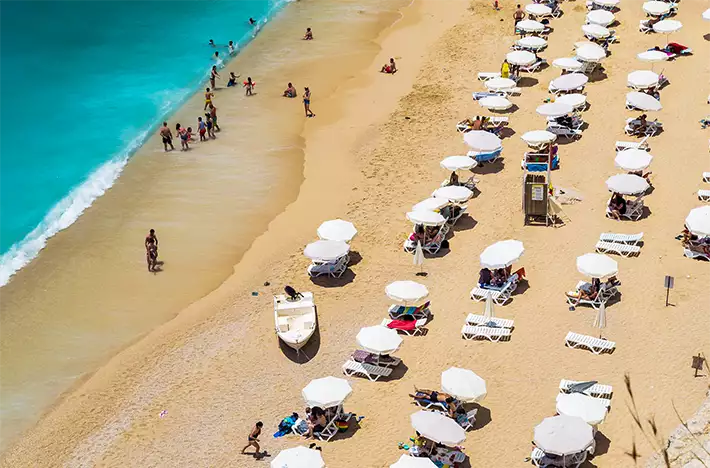 Tips for Kaputas Beach
Kaputas Beach is sandy but not smooth as Patara Beach. It's more like a mixture of pebbles and mostly sand. 
To reach the beachside you should go down nearly 200 steps from the main road.
It goes without saying that Kaputas Beach might be very crowded, especially during religious festivals. You should go extra earlier compared with ordinary days. 
Things To Do in Kas, Turkey
Seeing Kaputas Beach is one of the best things to do in Kas that we highly recommend. You can also visit our One Day in Kas 2022 blog post for other attractions and essentials of this Mediterranean coastal town.
Kaputas Beach Hotels
Actually, there is no hotel which is walking distance of Kaputas Beach Turkey. But here are some hotels near Kaputas Beach.
Hotels near Kaputas Beach Turkey
Here are some Kalkan hotels near Kaputas Beach…
Kuluhana Hotel & Villas Kalkan
Those hotels are very near Kaputas Beach. Also, you can go camping in the Kalkan region.
Here are some Kas hotels near Kaputas Beach…
Upper House Boutique Hotel
and other places to stay in Kas center.
FAQ About Kaputas Beach
Here are the frequently asked questions for Kaputas Beach. 
How to reach Kaputas Beach?
You can reach Kaputas Beach via car or bus. After that you should go from downstairs to the beach.
Where is Kaputas beach?
Kaputas Beach is between Kas center and Kalkan town. 
Do you need to book in advance to visit Kaputas Beach?
Nope, but if you want to rent a sunbed you should go earlier in the season.
What's the best way to see Kaputas Beach?
The best way to see Kaputas Beach is by looking from the top. After that you can go down from the stairs then you will see that turquoise beach closer. 
Add Kaputas Beach to your bucket list! As we mentioned before, Kaputas Beach is one of the most famous beaches either in Turkey and in the world. We hope you enjoy it there.