Antalya Kemer is a very popular holiday resort with its beaches, nature, nightclubs, and luxury hotels.
If you want to stay in the best hotels in Kemer, enjoy the sun on the beach and the pool, and dance at night, the Kemer holiday will be for you.
Let's start with the best things to do in Kemer on our Kemer Antalya Turkey 2023 itinerary.
Things to do in Kemer Turkey
Where is Kemer in Turkey? Turkey Kemer is located in the city of Antalya. Turkey is located in the south of the map and is on the Mediterranean coast. You can find many nice activities you can do in Kemer.
Let's take a look at the best things to do in Kemer in order.
Kemer beaches
Kemer has a holiday resort and beautiful beaches. Kemer beaches are generally small pebbles, but some beaches are sandy. Let's take a look at the best Kemer beaches together.
Moonlight Cove
Moonlight Bay is located in the center of Kemer. It is among the most popular beaches of Kemer with its appearance and atmosphere.
You can go to Kemer Moonlight Bay on foot, public buses or in your private car. There are green areas and cafes behind the crescent-shaped bay. It can be extra crowded in July, August, and during Turkish religious holidays.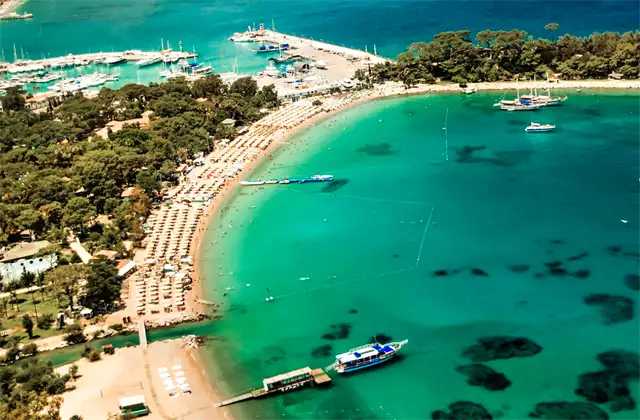 Goynuk Public Beach
Goynuk Public Beach is 18 km from Kemer center. You can reach it in 20 minutes by public bus or private car.
Goynuk public beach is very clean and quiet. The public beach has a restaurant and a cafe where you can buy snacks. Sunbeds and umbrellas are around 100 TL.
If you want to swim and sunbathe in a calm way, you can choose Goynuk public beach.
Alacasu Cennet Koyu Beach
Alacasu Cennet Koyu Beach, located in the town of Tekirova, 20 km from the center of Kemer, is a very quiet beach. Alacasu Cennet Koyu Beach is mostly sandy.
You can go to Alacasu Cennet Bay, which is located on the Kumluca route, by your private car or by public buses departing from Kemer center.
There are no facilities around Cennet Bay Beach, which is one of the untouched bays of Kemer. For this reason, it is recommended to be prepared before going here. The sea of the beach, where the sea is extremely calm, is not shallow.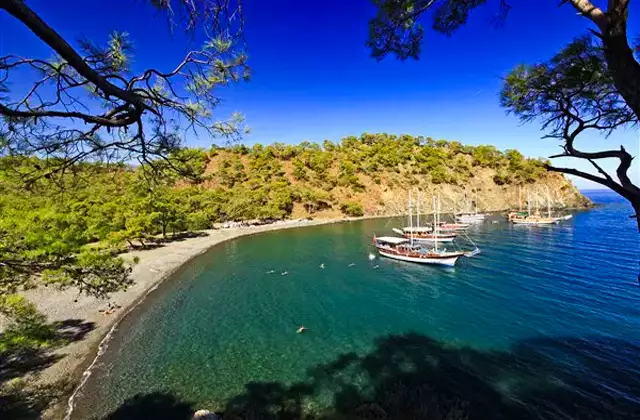 Phaselis Beach
Phaselis beach is located within the ancient city of Phaselis, which is a remnant of the Lycian civilization. Since it is a protected area, there are no sun loungers and umbrellas, but since it is a wooded area, you can have a very enjoyable time if you go with a picnic chair. There is a small kiosk where you can buy snacks.
Phaselis beach is quite beautiful and is the shallowest sea of Kemer. With your family, you can both visit the ancient city and swim with pleasure.
👉 You can read our detailed article about Phaselis beach.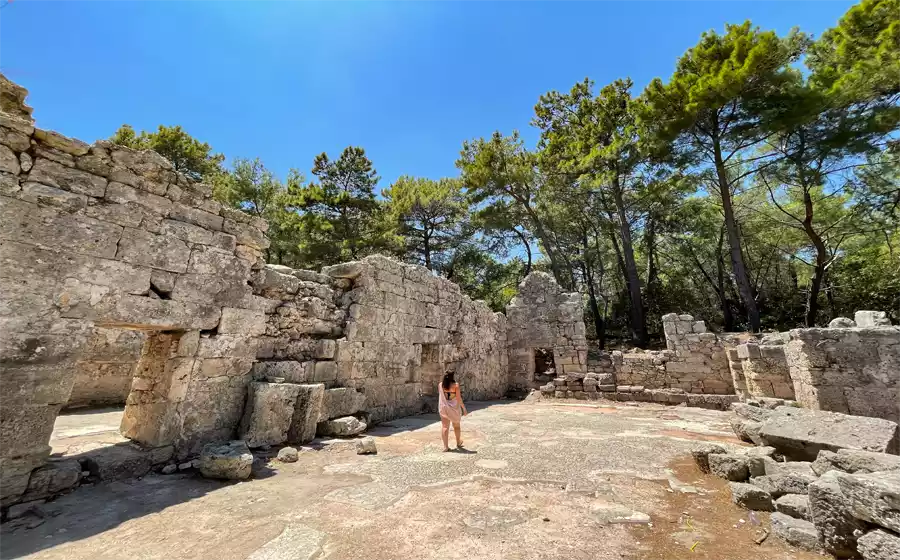 Cirali Beach
Cirali beach, located on the Kumluca route, is 35 km away. Access to the beach can be made by following the Kumluca – Kemer road to the south by private vehicle or by Ulupınar minibusses.
Çıralı beach is 3km long and is a sandy beach. The sand on the beach is quite beautiful. The sea is smooth and clear. Çıralı beach is also the spawning area of Caretta Caretta. It is worth remembering that Caretta Carettas only lay eggs in clean seas and beaches.
You should also visit Çıralı Yanartaş and drink wine.
👉 You can check out the Eternal Flames Chimaera Guide.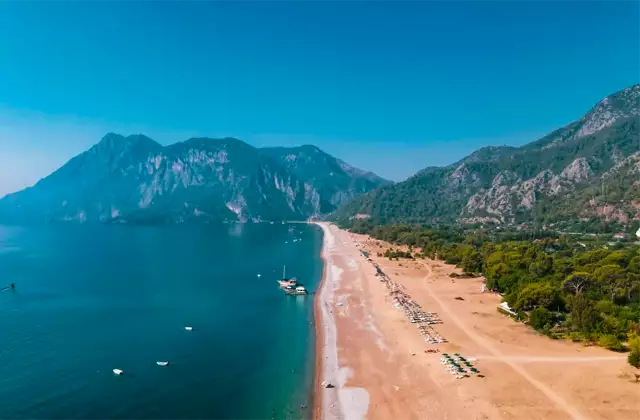 Olympos Beach
Olympos beach is only 3km away from Cirali beach. You can visit the ancient city of Olympos and the beach of Olympos. Also, Olympos is famous for its bungalows and you should consider staying overnight.
👉 You can read about Olympos beach, Olympos Bungalow Hotels, and Olympos Nightlife.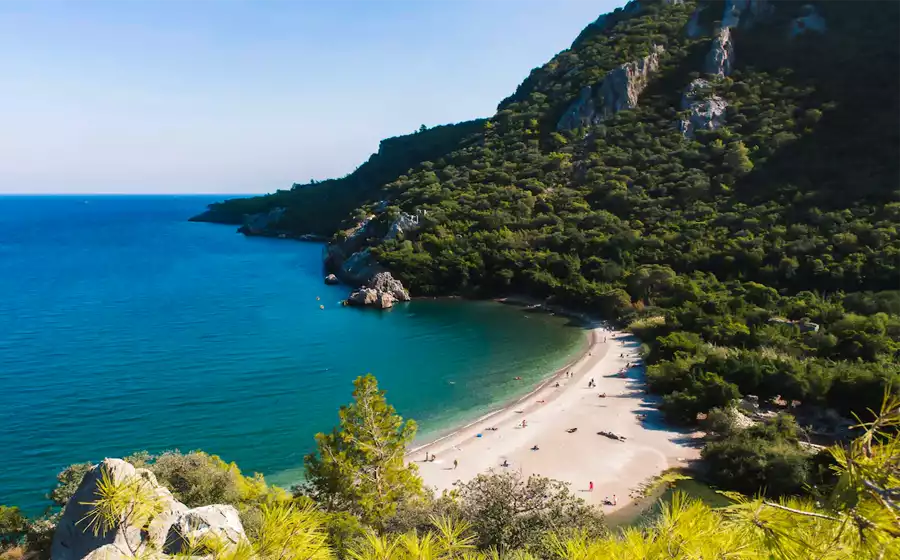 Tahtali Mountain Cable Car
Tahtalı Mountain cable car is a very valuable activity that you can do in Kemer. The perfect panoramic view of Antalya at an altitude of 2366 meters will be an unforgettable memory.
Tahtalı Mountain cable car trip offers you breathtaking moments and photos during your trip to Kemer Antalya Turkey. You can join with tours organized through Olympos. Tours take approximately 3 hours.
👉 You can take a look at the Tathalı mountain cable car tour.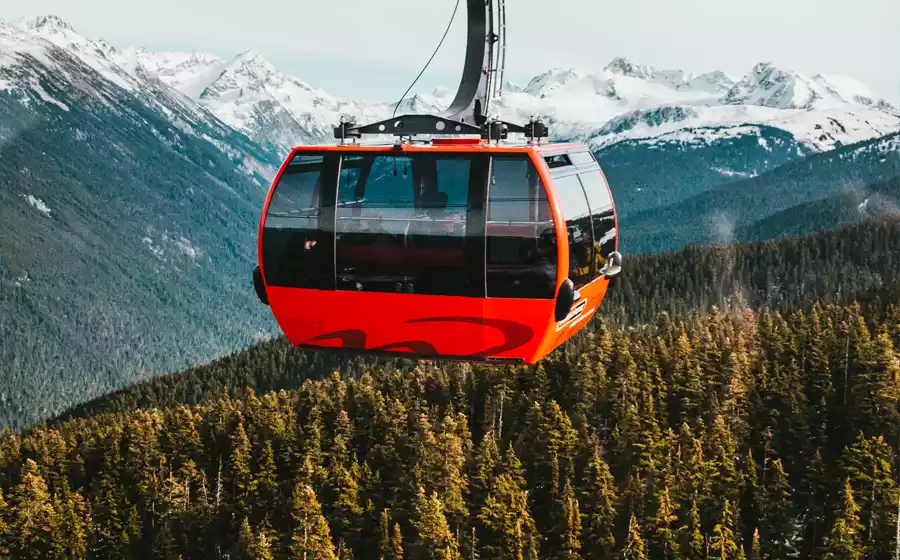 Goynuk Canyon
Goynuk Canyon, which is only 12 km away from Kemer, is worth seeing. Göynük Canyon is located on Lycian road. This region is also the Beydaglari Coast National Park.
There are freshwater pools at the entrance of Göynük canyon. You can swim with fish in ice-cold water. You can also take a challenging walk toward the inner parts of the Canyon.
Exploring Goynuk Canyon is one of the most popular activities if you are in a holiday in Kemer Turkey. You can do rafting or go on a safari tour in Göynük Kanyon. I am sure you will have different and beautiful experiences.
👉 Check out Buggy Safari and Rafting in Goynuk canyon.
👉 If you are into rafting, must visit the Koprulu canyon in Antalya as well.
Goynuk Canyon Entrance fee and opening hours
Since Goynuk Canyon is a national park, the entrance fee is 75 TL. Visiting hours are between 09:00 and 17:30 every day. Do not prefer lunch hours as Antalya is very hot in the summer months.
READ 👉 5 best barefoot shoes for travel & beauty essentials for travel
Folkloric Yoruk Park
Very close to Moonlight beach, the park is privately run. The entrance fee is 5 USD. Traditional Turkish cultural products are exhibited in Folkloric Yoruk Park. After swimming at the moonlight beach, you can get to know Turkish culture and see traditional Turkish clothes under the trees.
Dinopark Kemer Antalya
If you are looking for activities to do with children in Kemer, Dinopark Kemer Antalya is a perfect choice. You can spend half a day with your family. It all includes a day trip: you get lots of fun, lots of photography, exploration, learning, and more. Kemer holidays can be enjoyable for your whole family.
One of the unique things to do in Beldibi
Apart from dinosaurs, they can be used for cinema, trampoline, adventure track, pool, pony ride, excavator, dark ride, etc. you can take advantage of the opportunities. Your children will love Dinopark Antalya.
Dinopark working hours
Dinopark working hours are between 10:00 and 18:00. It is open until 19:00 on Saturdays and 18:30 on Sundays. Dinopark is known one of the most famous things to do in Goynuk Turkey.
Dino Park Prices
In 2023, the ticket prices are about 180 Turkish Liras. You can buy tickets from the box office at the entrance. Free for those under the age of four. You can also find extra activities inside that are not included in the entrance fee.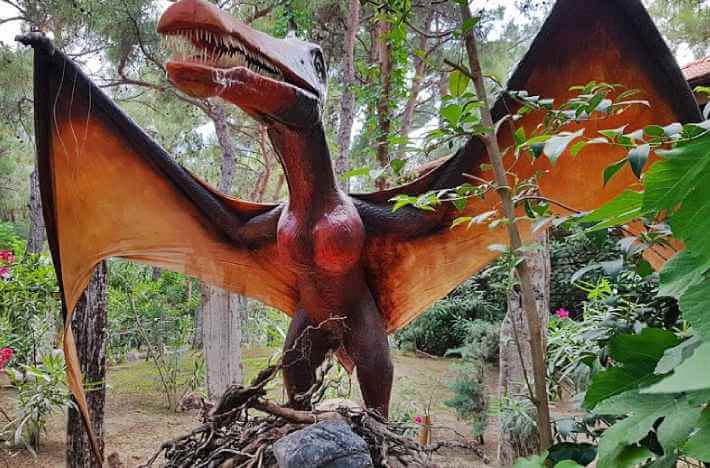 Suluada Boat Tour
There are many boat tours departing from Kemer harbor, but they usually go to beaches where you can go by road. Our advice to you would be to join Suluada boat tours. These tours take you by car to Adrasan and you get on the boat from Adrasan beach, but we think it's worth it.
👉 Check out our article on Suluada Antalya, known as Turkey's Maldives.
Kemer Antalya Itinerary
We talked about what to do in Kemer Antalya. As you see, things to do Kemer offer visitors many different activities during day and night.
If you prefer a quiet holiday, sea, sand, sun and night entertainment, you won't be bored at your all-inclusive hotel in Kemer. But if you are an activity person with an explorer spirit, you should visit the magnificent ancient cities and natural beauties both in Kemer and around it.
If you are going to participate in activities such as boat tours, safaris, rafting and canyoning, you should reserve your place in advance. 3-7 days will be enough for you for a holiday in Kemer, which will include all of this.
If you want to explore Antalya center (especially shopping in Antalya needs more time) you should plan your vacation longer. I also recommend you to see destinations such as Kas, Alanya and Side while you are here.
Now, let's get some information about Kemer.
Is Kemer worth visiting?
Kemer Antalya is worth seeing with its beautiful beaches, clear sea, Göynük canyon, and Phaselis ancient city. It is also very close to the center of Olympos, Cirali, and Antalya.
Kemer Antalya hotels are truly luxurious and offer you everything you are looking for. If you want to choose the Mediterranean for an affordable summer holiday, it offers a quality holiday opportunity at a very cheap price compared to its alternatives.
Even if you are staying in the center of Antalya, Kas, or elsewhere, I recommend you see the ancient city of Phaselis and experience the nightlife of Kemer to dance the night away.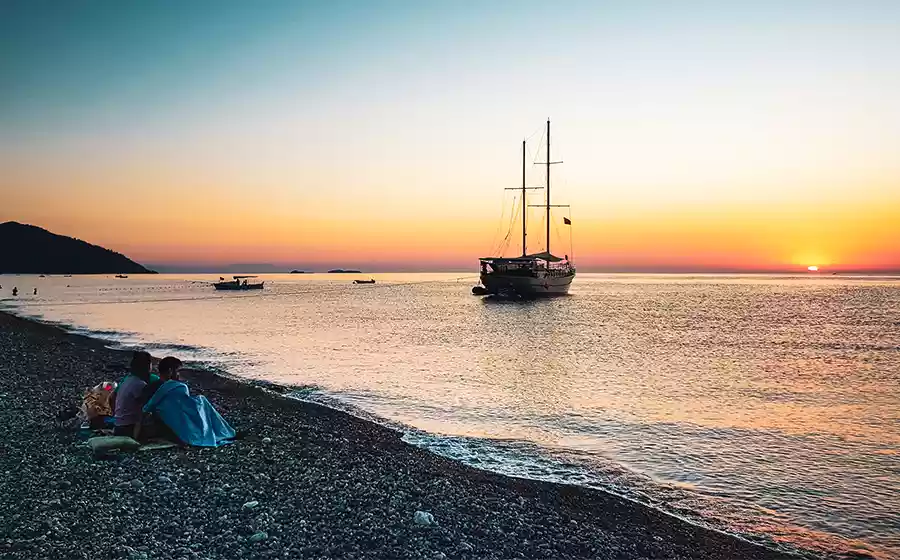 Is Kemer Antalya safe?
Kemer is located in Antalya, the tourism capital of Turkey. This region is very safe for tourists and safely hosts close to 3 million tourists every year.
When you asked is Kemer Turkey safe, you should know that Kemer is a very quiet town of Antalya.
There are tourist information offices and special tourist police. In addition, since the education level and income level of these regions are quite high, you will not encounter security problems. However, as it should be in all parts of the world, it is useful to be careful with your personal belongings.
As a result, Kemer Turkey is quite safe and you can have a holiday with peace of mind.
Where is Kemer?
Located in the west of Antalya, Kemer is located on the coastline of the district. The distance to Antalya Airport is about an hour, and it can be reached in less time by Konyaalti Antalya.
Antalya to Kemer
There is a 58 km road from Antalya Airport to Kemer and it takes about 1 hour.
The most convenient transportation from Antalya Airport to Kemer is by private transfer vehicles. Tourists generally prefer buses as a private transfer vehicle, but you can get transfer service by taxi. This will be more comfortable and faster.
👉 Check out the private transfer vehicles from Antalya airport to Kemer.
If you want to go to Kemer from touristic areas such as Antalya city center, Lara, or Konyaaltı, you can take a taxi or a bus from Antalya city bus station.
If you choose to go by taxi, you can choose local taxis or rent a taxi online from global companies.
Kemer Antalya Bus
Kemer to Antalya buses can be found frequently. If you want to go to Kemer by bus, you can go to the Antalya bus station. You can take the Kemer tour buses departing from the Districts station at the bus station.
There are several options to catch Kemer buses as well. You can call the bus company and ask them if there is any bus stop that Kemer bus can stop near you.
The journey to Kemer by bus takes approximately 1 hour and 30 minutes. You can buy bus tickets from the toll booths at the bus station and ticket prices are 40 Turkish Liras per person.
How To Go From Kemer to Antalya?
If you have a car in Turkey, if you plan to rent it, it will take you 45 minutes to go to Kemer. There are many places to visit around Antalya and Kemer, and if you want to visit Antalya, renting a car would be the most logical choice.
👉 You can safely rent a car from global companies in Turkey.
Kemer Antalya Weather
Kemer Turkey is generally preferred for summer holidays and weather conditions are very important. Kemer Antalya is one of the hottest regions of Turkey. The average temperature throughout the year is 19 degrees.
In Kemer Antalya, the lowest temperature drops to 10 degrees in winter, while the temperature can go up to 42 degrees in summer. July and August are the hottest months.
You can see people swimming in Kemer Antalya for 12 months, but the sea season is considered to be between April and November. In our opinion, the most beautiful period in Kemer Turkey is between September and October. These months will be less crowded and the air temperature is ideal at 36-38 degrees.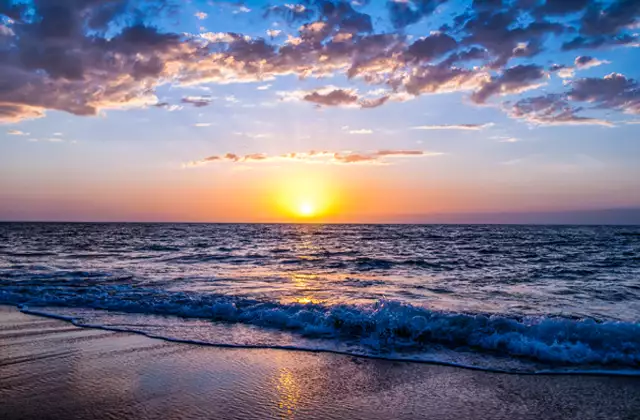 Shopping Kemer
In fact, there are not many options for shopping in Kemer. You can find shops selling souvenirs and clothes in Kemer Bazaar. Furs, leathers, Turkish delights and other things can be found.
Kemer or Antalya
If you want to shop in Kemer Antalya more detailed, it would be best to go to the center of Antalya.
👉 You can learn about shopping malls by browsing our Antalya shopping malls and Antalya fake markets guide.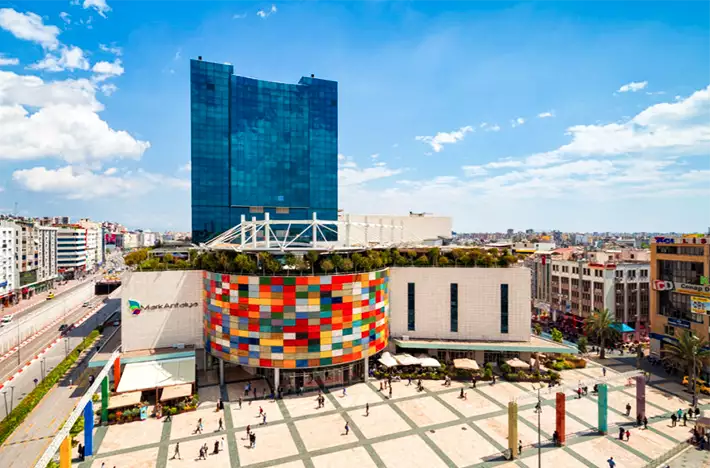 Kemer Nightlife
If you ask what is Kemer famous for, we would probably answer it as nightlife. Antalya's two biggest nightclubs are located in Kemer.
Aura Kemer and Club Inferno are the most famous nightclubs. It is quite popular and fun at Klub Kristall. We are sure that you will have a lot of fun with foam parties and famous DJs at these nightclubs in the summer.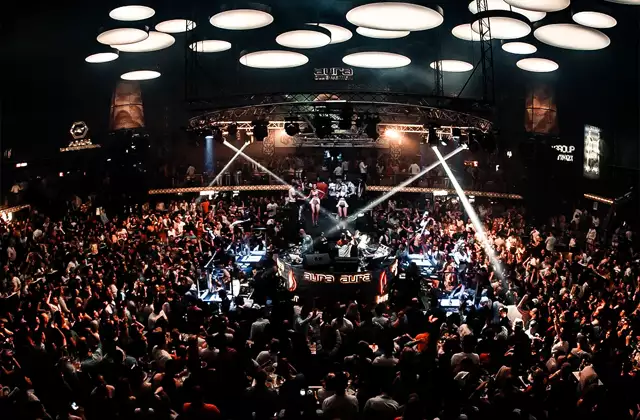 Kemer Hotels
There are so many beautiful hotels in Kemer Turkey that people get confused but don't worry, we will talk about the most beautiful hotels for you.
Rixos Sungate Hotel – All Inclusive
Located in Göynük, Rixos Sungate Hotel is a luxury hotel and everything is included in the price.
It has its own private beach, water park, indoor pool, gym, sauna, and massage services as well as unlimited food, snacks, desserts, and drinks. You can relax on a luxury holiday at Rixos Sungate Hotel
👉  You can see the best price for Rixos Sungate Hotel.
Amara Premier Palace Hotel
Another hotel where you will feel yourself in a palace is Amara Premier Palace Hotel. Located in Göynük, the hotel has its own beach, indoor and outdoor pool, water slides, Spa, and Turkish bath.
👉 Check out Amara Premier Palace Hotel for a quiet and peaceful holiday.
Amsterdam Hotel & Suite
If you are looking for a more affordable hotel in the center of Kemer, the right address will be Amsterdam Hotel & Suit. This small and cozy hotel has been rated 9 by its guests. The rooms of this hotel are very clean and easy to reach as it is in the center of Kemer.
I think you will be satisfied with Amsterdam Hotel & Suit in terms of price performance.
👉 Reserve your place at Amsterdam Hotel & Suit now.
Rixos Premium Tekirova Hotel – All Inclusive
These hotels are very nice, but if you say you are looking for something more special, we would recommend Rixos Premium Tekirova Hotel. This hotel is truly luxurious and will make you feel special.
You can find everything you are looking for at Rixos Premium Tekirova Hotel. There are also many activities and nursery services for your children.
👉 Reserve your place at Rixos Premium Tekirova Hotel – All Inclusive now.
Kemer Antalya Restaurants
Frankly, I can't say that there are very assertive restaurants in Kemer. At least, there is no restaurant that comes to my mind, but you can both eat and have fun at Dakapo Beach Club Kemer.
Frequently asked questions about Antalya Kemer Turkey
Here we are at the end of our Kemer Antalya guide. More or less I tried to explain you about what is Kemer like in Turkey. But if you have still questions, I am always ready to hear and help.
How far is Kemer from Antalya Center?
Kemer is 58 km from Antalya Center and is about 1 hour away by road. If you go by Antalya-Kemer buses departing from the center of Antalya, it may take 1.30 hours.
Is there a golf course in Antalya Kemer?
There are no golf courses in Antalya Kemer. Antalya's famous golf courses are in Belek. You can check one of the best golf hotels in Antalya.
Is there an airport in Kemer Turkey?
Kemer Turkey does not have an airport. The nearest airport is the international airport located in the center of Antalya. If you have a hotel reservation, you can request an airport transfer from your hotel.
Are Kemer Antalya beaches sandy?
Kemer Antalya beaches are generally small pebbles. Phaselis beach and the private beaches of the hotels are sandy. Also, although the beaches of Olympos and Cirali are a bit far, their beaches are very beautiful. Read best beaches in Antalya.
Is it possible to swim in Antalya in September?
You can swim in Antalya in September and October, and even in November. The air temperature will be around 30 degrees Celsius. It is totally up to you!
Antalya City Guide
Is Antalya good for shopping? (Antalya Shopping Outlet Guide)
Unique Things to do in Antalya (just in one day)
Koprulu Canyon National Park Things to do
Chimaera Cirali Guide (Eternal Flame Turkey)
Things to do in Adrasan Turkey
Explore Antalya Kas City Center (Ultimate Guide)
How to get Fethiye, Dalaman or Antalya to Kas?
Best Beaches in Antalya Region
Best Beaches of Antalya to Swim
Best Antalya Beaches with Picnic
Turkey Antalya Olympos Beach Guide
Best Beaches of Kas Antalya map
Ancient Sites Near Antalya Turkey
Xanthos Ancient City Antalya History
Perge Ancient City Antalya Reviews