Antalya province has many secret beauties inside like Adrasan Suluada a.k.a. Maldive Islands Turkey. You'll see why they call like this and more below. In this blog post, we will cover all your needs about the Adrasan Suluada Island boat tour.
SEE OFFER 👉 Boat trip essentials
Adrasan Turkey (you can also visit this blog post for more information and things to do about Adrasan) is one of the stunning hidden gems of Antalya with its fresh air, green and turquoise nature, and untouched nature. You can stay in Adrasan and spend some time in Adrasan Beach Turkey. Moreover, you can join Suluada Turkey boat tours for those who want to explore hidden spots which have only sea access.
Suluada boat tour offers you an opportunity to swim in the crystalline waters of different Adrasan bays. This is definitely one of the perfect and unique things to do with kids in Antalya. Get ready for this unforgettable day.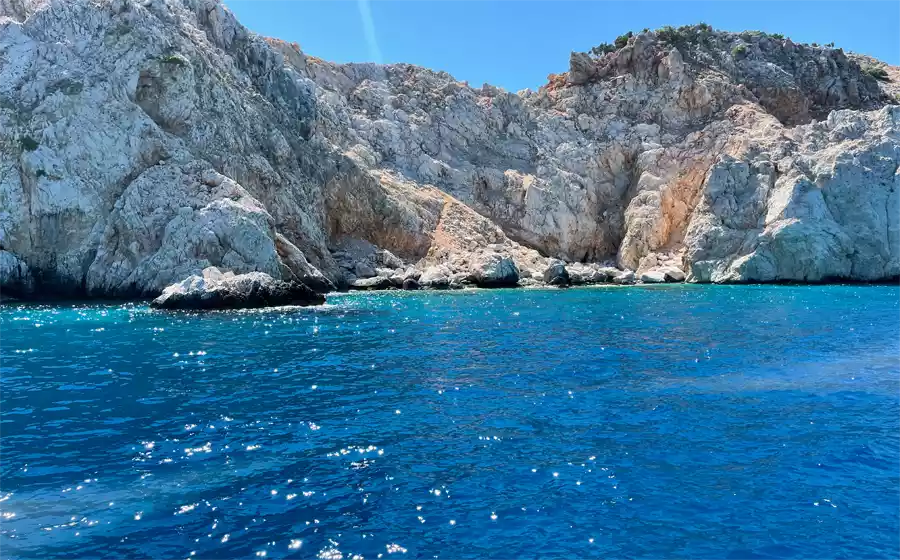 Table of Contents
How to go to Antalya Adrasan?
You can easily access Adrasan from Antalya via road trip. If you want to go from Istanbul to Suluada you should go to Adrasan first. After that, you can use private boats or daily boat trips in order to reach Suluada.
Adrasan is located in the west part of Antalya. Adrasan distance is 87 km from Antalya city center and 107 km from Antalya Airport. It takes an average of 1 hour and 30 minutes by car.
You can take private transfers from Antalya Airport, taxis, or car rentals for Antalya to Adrasan. 
Also, you can go via public transportation to Adrasan via Çiçek Tour buses. Adrasan buses move from Antalya bus station at 08:00, 09:50, and 15:45 and move from Adrasan to Antalya at 08:30, 11:30, and 18:30. Tickets are around 65-70 TRY.
(Hours may vary according to the season and the company's schedule. This is how the program and fees were when I requested information for you. I suggest you call the company and get the most up-to-date information in case it has changed.)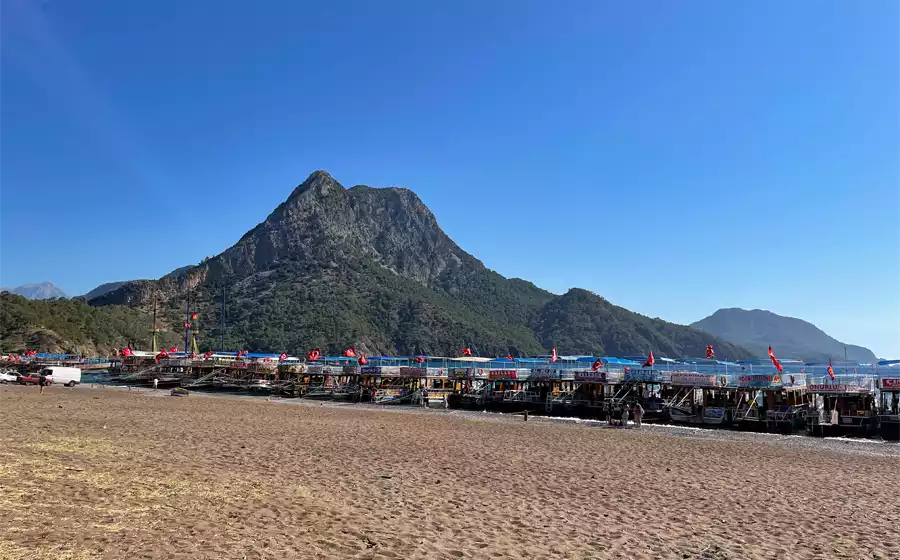 How to Get to Suluada?
A daily Suluada island boat trip is a well-known option to reach Suluada Adrasan. Either you can join the Suluada boat tour with mixed groups or you can create your own with your family and friends. If you want to experience more private trips you can think about choosing VIP Suluada tours.
Suluada Island Boat Trip from Antalya
You can also take a private boat and reach from Antalya to Suluada Island but that way takes way longer and is more expensive.
There is no access to Sulu island Turkey via road trip, you can only go through the seaway.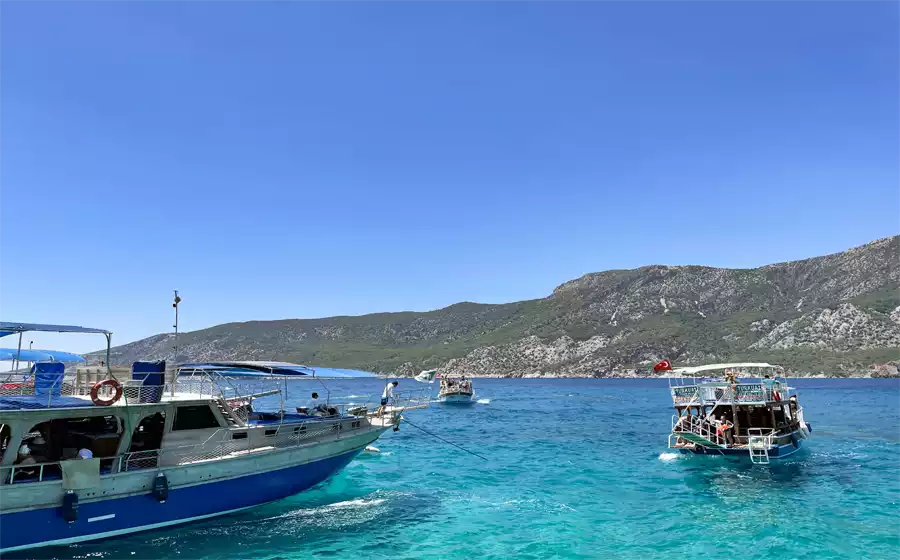 What to expect from the Adrasan Suluada Island boat trip?
Adrasan Suluada island boat trips cover 3 or 4 bays to swim and lunch in general. American Bay is one of them. American Bay is famous for diving for the first underwater archaeology from American divers. It is still a popular place for scuba diving and snorkeling.
Experience Antalya Suluada Tour
Suluada has a rich and lovely habitat for animals to marine species. Suluada Beach has coarse sand which has a massage effect on your skin so you should try some scrubbing.
After that, you'll be able to reach clear mountain water between the rocks that you can drink. Also Suluada Island boat trip offers you an amazing sea cave that has a gorgeous pure natural view.
During the Suluada Antalya boat trip, they give you a satisfying lunch, tea, and fruit treat at prices. You can buy alcoholic or nonalcoholic drinks from the boat for an extra fee.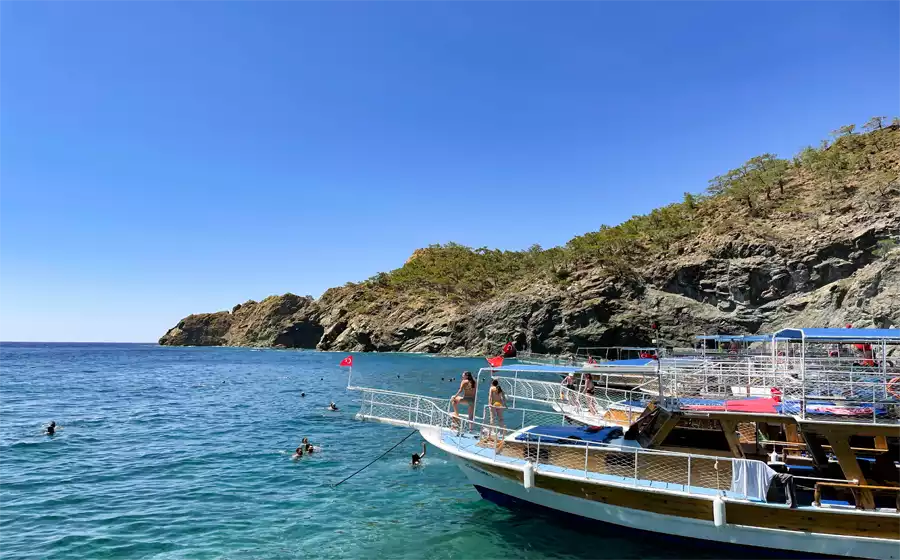 Adrasan Suluada Island boat tour prices
Adrasan Suluada island boat tour prices are starting from 30$ per person up to 50$. Some tour packages include transfer fees sometimes, although rare.
You can join the Adrasan Suluada Island Boat tour from Antalya or Adrasan.
Tips for excursion Suluada (Turkish Maldives Adrasan)
Here are some tips for a daily boat trip for Adrasan Suluada. First of all, let's discuss what you should pack for a boat tour to Suluada. This Adrasan Maldive Island and other magnificent bays to swim will leave you sweet tiredness and unforgettable moments.
Antalya Maldives boat trip
During the Suluada tour, you might need anti-nausea meds if the weather is windy or you are oversensitive. Besides, certain needs are sun protection products like hats, sunscreens, and others. Especially for underwater lovers, we highly recommend you take your swim goggles or snorkel things. Don't forget to get hydrated during the day.
Boat trip from Adrasan to Suluada island Antalya region
There is another important tip for your Turkey vacation wherever you will be in the country. Suluada is the first, and many popular spots in Turkey may be crowded during the national and religious holidays. We suggest you check this National and Religious Holidays in Turkey blog post before planning your trip.
Suluada Antalya Hotels
Unfortunately, there is no settlement in Suluada Turkey but don't worry, you can stay in Adrasan. There are some options that are very close to Adrasan Beach. Apart hotels are approximately 1000 TL for 2023, bungalows are 450-500 TL and campings are approximately 100 TL per person per night. This price doesn't include breakfast in general.
Boutique hotels and hostels are positioned on the upper side of Adrasan, generally between Adrasan Beach and the main road. You can't find luxury hotels in Adrasan Turkey but they are very pretty and quiet places. You can check out the best hotels in Adrasan from here.
You can find more things to do in Adrasan apart from Suluada boat excursions.
Also, you may enjoy Olympos Ancient City Guide and Eternal Flames of Chimaera which is nearby Adrasan Turkey.
SEE OFFER 👉 Best Olympos Bungalows Antalya
Do not forget to join the Kekova boat tour after the Suluada tour. READ my full-day boat tour experience with Sunken City.
Side Turkey boat trips and the Best Koprulu Canyon Manavgat attractions may be interesting for you.
Frequently Asking Questions About Adrasan Suluada
Turkish Maldives Antalya deserves much more talking about it. Here are some frequently asked questions about Antalya and especially Adrasan Suluada.
Are there any day trips from Belek Turkey?
Yes, you can find many day trips from Belek Turkey to Adrasan or many other places in Antalya.
What to do in Antalya when it rains?
You can visit museums or shopping malls in Antalya when it rains. It is impossible to get bored because shopping malls offer services in different concepts such as cinema, sports, theater, and events. But obviously, Antalya is one of the luckiest cities in the world in terms of sunny days.
Can I see Pirate Bay during the Adrasan Suluada Island boat tour?
You can't see Pirate Bay on Adrasan-Suluada Island boat tours. If you want to see Pirate Bay, you should take The Genoese tour from Adrasan Beach.
Read more about Porto Ceneviz Bay Tour Route and Fee.
Which hotels in Adrasan are good for families?
What are the best hotels near Adrasan Beach?
Which hotels in Adrasan have nice views?
Do you need to book in advance to visit Suluada?
Actually, there are so many boats to visit Suluada but especially on the weekends or national & regional holidays you should book your tour just in case.
What hotels are near Suluada?
What restaurants are near Suluada?
You can find nice restaurants nearby Adrasan Beach. Some of them operate as restaurants. Some of them are inside the hotels. If you want to use the restaurants of the hotels, simply ask. Some are accepting guests from outside.
Antalya City Guide
Is Antalya good for shopping? (Antalya Shopping Outlet Guide)
Unique Things to do in Antalya (just in one day)
Koprulu Canyon National Park Things to do
Chimaera Cirali Guide (Eternal Flame Turkey)
Things to do in Adrasan Turkey
Explore Antalya Kas City Center (Ultimate Guide)
How to get Fethiye, Dalaman or Antalya to Kas?
Best Beaches in Antalya Region
Best Beaches of Antalya to Swim
Best Antalya Beaches with Picnic
Turkey Antalya Olympos Beach Guide
Best Beaches of Kas Antalya map
Ancient Sites Near Antalya Turkey
Xanthos Ancient City Antalya History
Perge Ancient City Antalya Reviews