There is no single big beach in Kas like Konyaaltı and the beaches are considered partly far from each other. That's why it's important to know the best beaches Kas.
Kaş, with its beaches, nature, cafes, and atmosphere, is my favorite place to spend a holiday. In this guide, you will be able to explore the best beaches around Kas.
For instance, Kaputas and Patara have sand beaches while other beaches have pebbles. Beaches near Kas have different features. So do your expectations. Let's explore Kas beaches Turkey now.
Above all, Kaş sea is deep but very clean. Beaches near Kas Turkey offer you amazing underwater scenes. You can easily see turtles and fish while swimming and snorkeling. Furthermore, Kas region is very famous for scuba diving.
See Padi diving Kas Turkey price
By the way, speaking of the sea, it is impossible not to mention the boat tours in Kas. Make sure you've read my latest experience:
Kekova Sunken City boat trip itinerary
Now, let's dive into Kas Turkey beaches.
The best beaches Kas
If you wish, let's take a quick look at the Kas best beaches. Note that I have ordered this list from the nearest beach in the center of Kas to the furthest.
1. Small Pebble Beach Kas (Kucuk Cakıl Plajı)
Small Pebble Beach is located in the center of Kas. It takes its name from the fact that the beach is made up of pebbles and it is a very small beach.
Little Pebble Beach Kas
This beach is as known as Little Pebble as well. Although the Small Çakıl Beach is in the center of Kaş, it may be a little difficult to find due to the private (paid) beaches on both sides.
The small pebble beach is the first beach on the Kas central coastal road. It is between in two private (and paid) beaches which name Derya and Cinarlar.
Little Pebble Beach is completely free. But there is no parasols or sunbeds. Just the small space on the right side of the image below.
I think this is a place where you can go for a swim in the morning before breakfast without any personal belongings, maybe just go for a swim with your beach towel, and then go back to your hotel.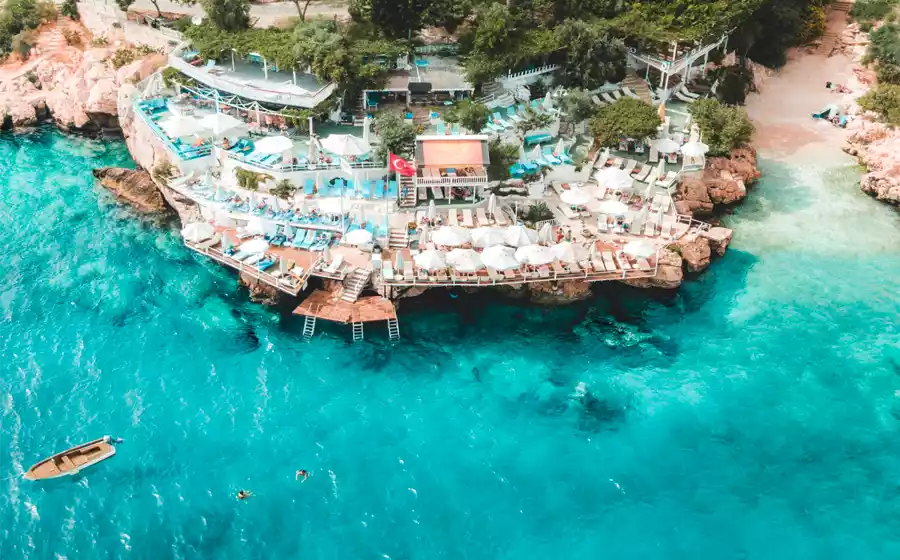 Small Pebble Beach Prices
Small Pebble beach is free. Since the beach is small, you cannot rent sunbeds, but you can choose private beaches on both sides of the beach. It is one of the tiniest beaches in Kas Turkey.
Where is Small Pebble Beach?
Küçük Çakıl Beach is just across the junction of Government Street and Likya Street in the center of Kaş. You can go inside from the entrance of Cinarlar Beach.
You can go to Küçük Çakıl beach by your private car, taxi or city bus. Parking your car can be a problem as the beach street is narrow and there are hotels across it. My advice is to park your car at the first opportunity and walk to the beach.
If you want to see Small Pebble Beach on the map. I also collect all these beach in my best beaches near Kas map at the end of this blog post.
2. Incebogaz Beach
One of the best family friendly swimming beaches near Kas! The beach on the Çukurbağ peninsula road of Kaş is the narrowest part of the island, and for this reason, it was named İnceboğaz beach. Incebogaz Beach is one of the best beaches Kas.
After Small Pebble Beach, it is the closest beach to the center of Kaş. It is also one of the very nice beaches near Kas.
Actually, this beach is divided into two, as a road passes through it. One side of the beach overlooks the island of Meis, while the other side overlooks the Kaş marina.
İnceboğaz beach is the shallowest sea in Kaş and is therefore preferred by families. The other side may have waves sometimes.
Since the side of the beach facing the island of Meis is the open sea, it can sometimes be windy. I suggest you choose the side facing the marina.
It is also possible to camp on this beach. If you will go by car, you should go earlier in order to find a nice parking space.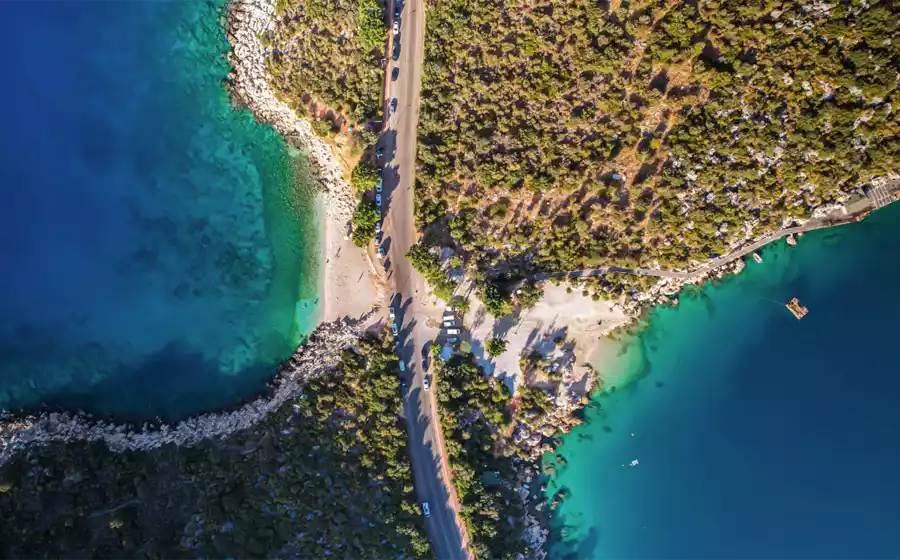 Incebogaz Beach Prices
You can rent sun loungers and umbrellas on İnceboğaz beach or you can bring your own if you wish. If you want to rent a sunbed 75 TL, an umbrella 75 TL.
You can buy snacks and cold drinks, including beer, from the cafe on İnceboğaz beach. Prices are more affordable than on other beaches.
How to go to Incebogaz Beach?
Incebogaz Beach is one of the best beaches in Kaş and is very close to the center of Kas. Since the parking lot is large, you can easily go in your own car. It takes 5 minutes by car from Kas center.
Buses passing through the center of Kas drop you off in front of the beach. You can also walk from the center of Kaş in about 30 minutes by following the ancient theater road.
If you want to see Incebogaz Beach on the map.
3. Kas Public Beach
The management of the beach, which is 5 minutes away from İnceboğaz Beach, belongs to the Municipality. The beach is pebbly, so I recommend you wear slippers or seashoes.
The sea at Kaş Public Beach is deep and very clean. The beach also has an artificial pier and it's fun to dive into the sea from this pier.
If you have a camping chair, it will be very relaxing to sit under the trees in the greenery just behind the cafe and read a book.
Best beach in Kas: Kas municipality public beach
I think it is one of the best beaches Kas because it is one of the quietest beaches in Kas. Also, you don't have as much difficulty with transportation as others. I think it offers a safer environment for children compared to other places.
But since the water gets deep in a short time, it is useful to keep the children out of sight. Considering the cleanliness and clarity of the sea, it is worth it.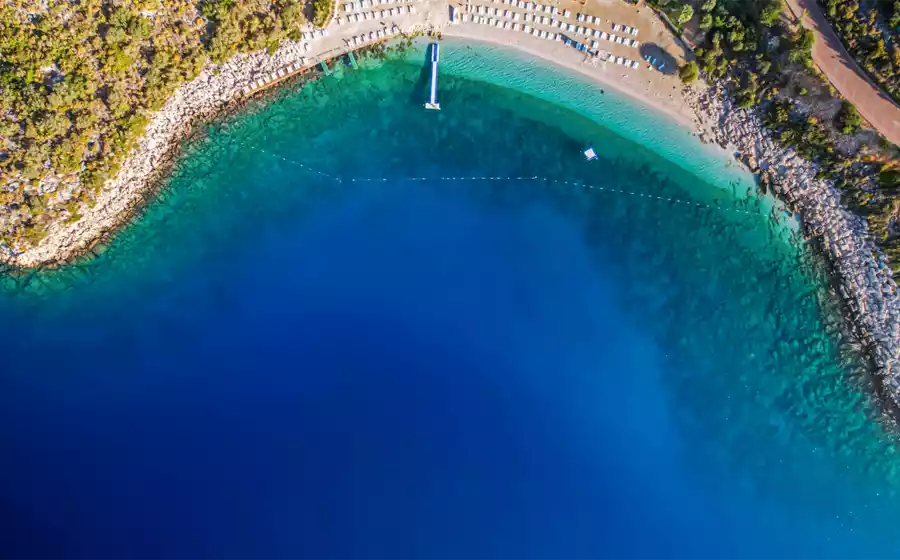 Kas Public Beach Prices
One of the best public beaches near Kas which is Kas public Beach has free entrance. You can bring your own umbrella or sit in the municipal cafe. If you want to rent sunbeds and umbrellas, sunbeds are 75 TL and umbrellas are 75 TL.
You can buy cold drinks, including beer, and snacks at the cafe just behind the beach.
How can I go to Kas Public Beach?
Kas public beach is very close to Incebogaz public beach. You can go in 10 minutes by private car or taxi.
You can take the bus or taxi from the city center and get off in front of the beach. Get the number of taxi drivers, so you can call again in your return path.
It takes about 30 minutes if you want to walk, but walking can be difficult during sunny noon hours.
If you want to see Kas Public Beach on the map.
4. Hidayet Bay Beach
Hidayet Bay, one of the best beaches Kas, turquoise sea color and green olive trees surrounding it add a very nice atmosphere to this place. When people ask for hidden beaches near Kas, Hidayet's Bay is the first place that comes to my mind.
The bay is of medium size and although its entrance is shallow, it deepens after a few meters. The beach consists of pebbles. For this reason, it may be good to take sea shoes with you.
You can rent sunbeds and umbrellas in Hidayet Bay, but I suggest you go early in the morning and find a place because it is popular.
This place is a bit Instagrammable and romantic spot. But families can enjoy it too. Try to get there earlier in order to find a nice space for yourself.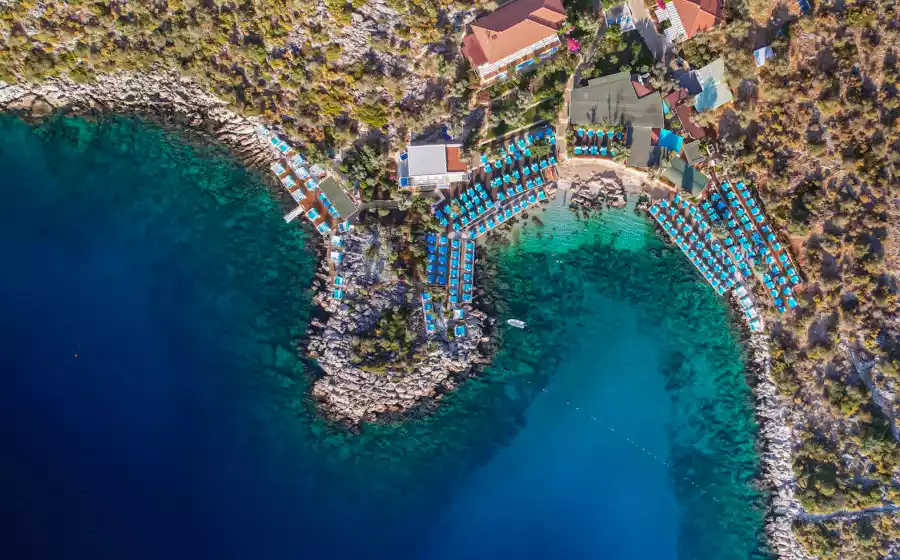 Hidayet Bay Beach Prices
The prices of sunbeds in Hidayet Bay are 225 Turkish liras, parasols 50 Turkish Liras, meals are around 200-300 TRY.
In the cafe on Hidayet Beach, you can buy snacks and alcoholic and non-alcoholic drinks.
How to get to Hidayet Bay?
Hidayet Cove is on the Cukurbag peninsula and right after Kaş public beach. It is 3 km in total from the center of Kas.
You can go to Hidayet Beach in your personal car, bus, taxi, or on foot.
If you want to see Hidayet Bay on the map. I also added the map below.
5. Big Pebble Beach Kas (Büyük Çakıl Plajı)
The big pebble beach is covered with pebbles like Küçük Çakıl beach, but you will not want to leave the sea with its turquoise color, transparent and clean. Big Pebble Beach, Kas is one of the clearest beaches near Kas Turkey.
The most important feature of the beach is the cold water source in the sea. Because of this water source, the sea is really cold.
Since the beach is covered with pebbles, I recommend you wear slippers or sea shoes. Be aware of the big rocks on the shore.
EXPLORE best water shoes for pebble beaches
Not recommended for families with children. In the sea and in places that can be called very coastal, from time to time, huge rocks can appear.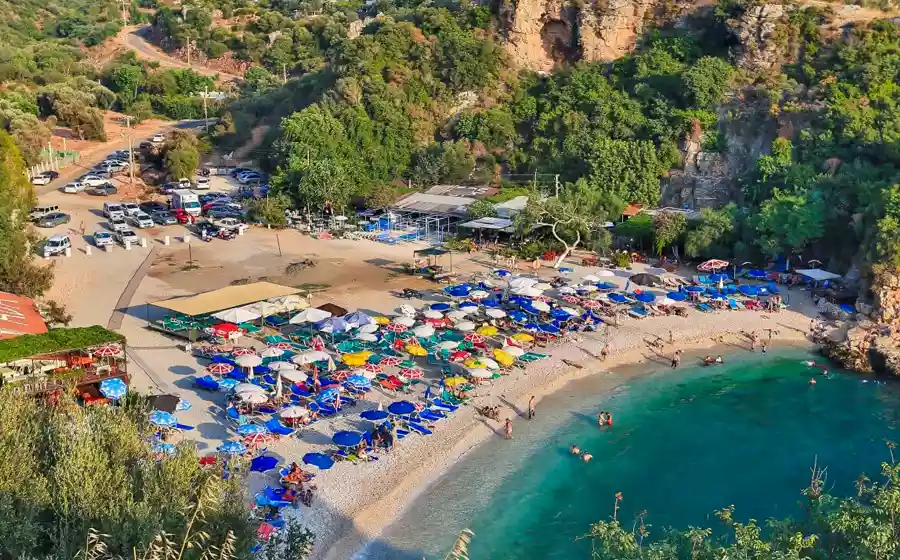 Big Pebble Beach Prices
The Big Pebble Beach entrance is around 100 TL for each person. Sun loungers and umbrellas are included in the price. You may find it difficult to find sunbeds in the summer period due to the intensity. So you'd better go early.
This year, we went there with my husband and they said that if we pay 200 Turkish Liras per person, they can provide food and drink for that amount. So it was more advantageous to choose this one. At the end of the day, we paid 400 Liras for food and beverages and did not pay for sunbeds and umbrellas.
Big Pebble Beach is one of the most popular Kas Beach Turkey.
How do get to Big Pebble Beach?
Big Pebble Beach is located to the east of Kas and is 17 km away. You can go to the beach by car, taxi or on foot.
We walked on the way, but in hot weather, this is not a very good idea because you have to climb a pretty big slope. On the way back, we took a taxi.
After continuing straight from Small Pebble Beach, you will see the Big Pebble Beach sign.
If you want to see Big Pebble Beach on the map.
So, what's next? Which beach is between Kalkan and Kas?
6. Kaputas Beach
It is the most popular beach in Kas because of its turquoise sea, the closest sandy beach to Kas, and making beautiful photos for social media.
Kaputaş Beach is among the 40 best beaches in Europe.
Before going to Kaputas, we recommend you read our Kaputas Beach guide, where we share tips and suggestions for Kaputas Beach. You can also learn how to get to Kaputas Beach and more in detail.
Kaputas Beach Prices
You can rent sunbeds and umbrellas for 150 Turkish Liras on Kaputaş beach. You can get snacks and cold drinks at the cafe above the beach. Only beer is sold as an alcoholic beverage. Few food menus are also available.
How to go to Kaputas Beach?
Kaputas Beach is on the Kas-Kalkan road and takes about 25 minutes by car. Parking can be a bit of a problem as Kaputaş is very popular and you have to leave your car on the road.
You need to go early to find both parking and sunbeds. It may be an option to go by taxi, but since there is no settlement around Kaputas, it may be difficult to find a taxi on the way back to Kaş, so I suggest you get the taxi driver's phone number.
You can also go to Kaputaş Beach by bus, but it takes about 45 minutes and can be a bit boring in hot weather.
You can check the details of how to go to Kaputas Beach.
7. Patara Beach
Patara Beach is 18 km long and is the largest beach in Turkey and the 11th largest in the world. Patara Beach is famous for its sand dunes.
In addition, the beach road passes through the ancient city of Patara. Make sure to spend one day of your Kas holiday here.
You can visit Patara's ancient city, cool off in the sea take beautiful pictures on the sand dunes, and watch the sunset.
Before you go to Patara, take a look at our Patara beach and Patara ancient city guides.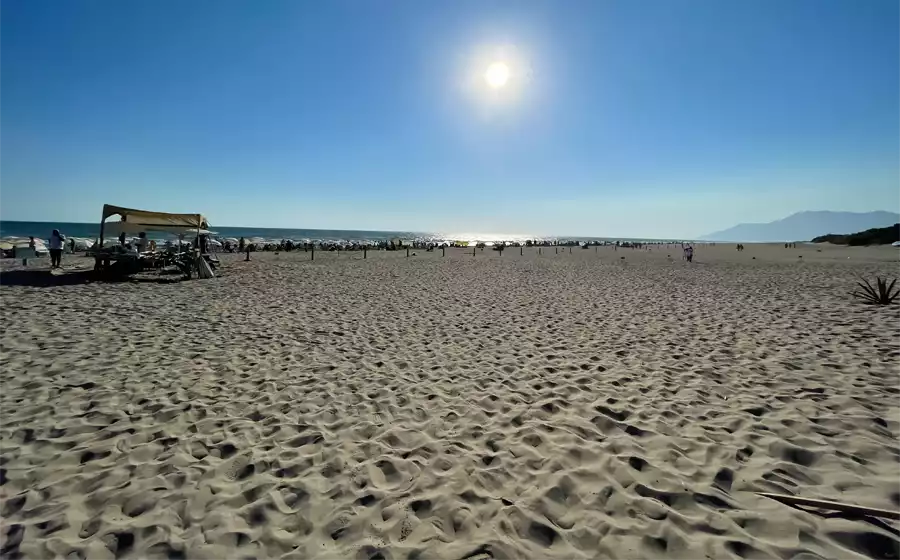 Patara Beach Prices
Patara Beach is a historical place as it is located in the Ancient City of Patara and the entrance fee is 200 Turkish Liras. It's free if you have a Turkish museum pass card. You can get up-to-date information about the Patara beach entrance fee.
You can rent sunbeds and umbrellas for around 75 Turkish liras from the cafe on Patara Beach. You can buy snacks and cold drinks from the cafe on the beach. We tried pizza this year and it was very good. Highly recommended.
You may not be able to find everything you are looking for. If you are gluten-free or on a diet, it would be beneficial to take your food with you.
How to get to Patara Beach?
Patara Beach is a 50-minute drive from Kas Center.
If you want to go by bus, you can choose the Kaş – Fethiye buses, but they leave you at the entrance of Patara and you have to walk for about 15 minutes.
You can check the details of how to go to Patara.
8. Akcagerme Beach Kas
Akcagerme Beach is definitely one of the best beaches in Kas Turkey. The clear and shallow water is spectacular. It is a great place for families. It's perfect for underwater snorkeling. You can jump off the pontoons and hang out there.
No wave, no pollution. There is even a small aquapark in the back for children. Food and drinks are reasonable. The prices of sun loungers and umbrellas vary. If you want to keep a private lodge, the price is 400 TL. The white sun loungers in the middle are 75 TL. Brown sunbeds in the covered area on the left are 100 TL. I preferred brown sunbeds to protect myself from the sun. It was a wonderful experience. It's a good idea to go early so you don't have to worry about finding parking and sunbeds.
See you again when I go to Kas.
Kas Beaches Map
You can easily reach the locations of the beaches with the map we have prepared for you.
Kas Private Beaches
In the center of Kas, there are many private beaches such as Cakirlar Beach, Narr Beach, and Palm Beach.
You can swim from the wooden piers built on the rocks at all of these beaches. Private beaches near Kas have no shore. You can only access to the sea through stairs.
There are also bars and restaurants on these beaches. If you spend around 200 – 250 Turkish liras per person in the bar or restaurant section, sunbeds and umbrellas are free.
The beaches are very popular as they are so close to the hotels and finding a place can be difficult. So you have to go early.
Kas Beach Clubs offer you unforgettable moments. Just know the exact place to go. My favorite best beach club Kas is Pebble Beach. Either day or night, they offer you an amazing experience with electronic music. You can dance and have fun on these beaches at night as well.
STAY in Best Kas hotels
Check out our article where and what to eat in Kas!
Frequently asked questions for Kas beaches (Best Beaches Kas)
Here is a list of frequently asked questions about Kaş beaches.
Which is the best beach Kas?
All the beaches of Kas are beautiful, but I think the most beautiful and popular one is Kaputaş beach. Do not forget that you have to go early to find a place on Kaputas beach. Akcagerme Beach is very popular among families with children.
Are the beaches in Kas paid for?
You do not need to pay money except for private beaches in Kas. You can go with your own chair and umbrella. If you wish, you can rent sunbeds and umbrellas from businesses on the beaches at prices ranging from 100 to 200 TL.
Is the sea cold in Kaş?
The sea is not very cold on Kaş and other Mediterranean coasts. Kaputaş is the coldest one among the best beaches Kas.
Is the sea deep in Kaş?
Yes, Kas sea is quite deep. On some beaches, as soon as you enter, in others after 1-2 meters, the sea depth exceeds 3-4 meters.
Are Kas beaches sandy?
Among the Kas beaches, only Kaputaş Beach and Patara Beach are sandy. Patara is famous for its sand. Other beaches have pebble beaches. That's why I recommend you to wear sea shoes.