You are planning a trip to Turkey in 2023, a question in your mind; Is it safe to travel to Turkey 2023?
Turkey is a country with many beautiful holiday destinations, but ensuring your safety is the top priority.
This comprehensive guide aims to cover various safety issues and provide valuable information for travelers considering visiting Turkey.
We'll explore the many dimensions of security in Turkey, from crime rates and rampant travel scams to special considerations for solo travelers, LGBTQIA+ individuals, and beach safety.
We will also cover topics such as hotel safety, public transportation, earthquakes, drinking water, and what to do if something goes wrong, and we will find answers to the question of whether it is safe to vacation in Turkey. Let's dive in and make your Turkey trip safe and unforgettable.
Tip: Take a look at the evil eye bead, which the Turks believe to ward off the evil eye.
Tip: A Turkish sim card can be very useful in difficult situations. Check out our tourist sim card Turkey article.
Is Turkey safe to travel 2023?
Yes, it is quite safe to travel to Turkey in 2023. Tourism is very important for Türkiye and special security measures are taken. Special tourist police are on duty at resorts and beaches and are constantly inspected.
Locals are very protective and sensitive towards tourists, except that there are many security personnel in areas visited by tourists. Because tourists are the biggest economic resource of these regions and they do not want to draw a bad image.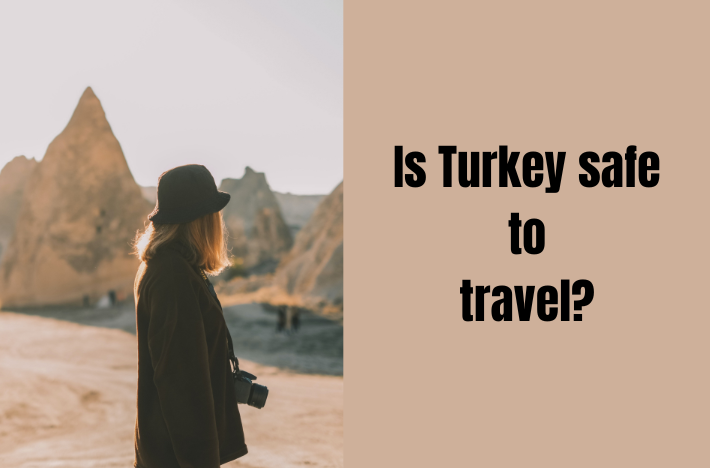 Crime Rates in Turkey
Crime rates in Turkey vary considerably according to the region and city, and crime rates are very low, especially in touristic areas.
Nevertheless, we will share the crime rates in Turkey with you. These rates may seem a lot to you, but we have to say that they are quite optimistic compared to many tourist destinations.
According to the official data of the Turkish Ministry of Justice, 266,831 crimes were committed throughout Turkey and most of these crimes were due to financial disputes. It is worth remembering that the population of Türkiye is 83 million.
In terms of violent crimes, Türkiye is 5-6 times safer than the USA.
Of course, small-scale theft and harassment incidents unfortunately occur.
Common Travel Scams in Turkey
You are thinking of coming to Turkey for a holiday, but you are wondering if Turkey is safe for the 2023 holidays. Let's take a look at the most common crimes you may encounter.
Let's not forget that I am not saying that you will definitely encounter crimes, I am just saying there is a possibility 🙂
Taxi Scam and Overcharge
Some taxi drivers may try to overcharge tourists or use longer routes to inflate the fare.
It is recommended to use official taxis with working meters or to use ride-hailing applications for transparency.
If you come across a taxi driver who does not open a taximeter, we recommend that you get off immediately. In addition, when you take a taxi, we recommend that you open your destination on the map and show it to the task driver. This way, he will understand that he cannot defraud you.
However, if you still have problems, you can call 155 police rescue or 112 emergency numbers to get him punished.
ATM Fraud
There are two different types of these scams. Camera or card reading devices, one of which is hidden inside the ATM. As much as possible, prefer ATMs that are used actively or in squares, and close the password with your hand while entering your password.
Another is the scammers who say they want to help you or try to take you to the ATM by asking for cash, saying that the card is not accepted in cafes and restaurants. Cards are accepted in all tourist areas. If you are unsure, it may be helpful to ask first.
Also, don't let anyone get close enough to see your password.
Fake Tourist Guides
Be wary of people pretending to be official tourist guides offering their services without proper credentials. Always verify the authenticity of the guides and consider booking tours through reputable agencies.
These people can not only convey the correct information to you but also lure you to secluded places with bad intentions. Don't go anywhere trusting an unofficial person.
Expensive Souvenirs and Carpet Scams
This crime is probably the most common criminal enterprise you will encounter. They may try to sell you souvenirs that are well above the normal price. Or they try to sell non-original products to you as original.
In addition, they may try to sell unreal carpets, such as original, handmade, Ottoman carpets, at expensive prices.
Finally, don't let those who want to grab you by the arm and pull you into the store.
Some tips for safe shopping in Turkey:
– Antalya shopping & Best fake markets in Antalya
– Izmir shopping
– Istanbul fake shopping
Fake Police or officer
Rarely, there are those who resort to this method for fraud. If they ask you for money for various reasons by saying that you are the police or an officer, never give it. No penalty is paid in person or sent to an iban address in Turkey.
Is Turkey Safe for LGBTQIA+ People?
Turkey has different levels of acceptance and legal protections for LGBTQIA+ individuals. But even though homosexuality is legal, we still cannot talk about full adoption in society.
Verbal taunts may occur in public beaches and similar places. It may be possible to have a more comfortable holiday in 5-star and adults-only hotels.
Dangers for Tourists in Turkey
Is Turkey safe? Yes, Turkey is safe, but as in every country, there are some points that you should pay attention to, and there are some cities and regions that we do not recommend you visit.
Although touristic places in Turkey are safe, not all places in Turkey may be safe and the likelihood of something happening to you increases.
The problem of terrorism in the southeastern region of Turkey continues, albeit to a lesser extent. Diyarbakır, Şırnak, Hakkari and Kilis are considered dangerous by many countries.
In Turkey, you can go to places such as Antalya, Bodrum, Marmaris, Fethiye, Cappadocia, Izmir, Istanbul with peace of mind, but if you are going to the southeast or east regions, it will be useful to pay extra attention.
If you want to visit famous and worth seeing places such as Gobeklitepe, it may make sense to go through a tourism agency.
In addition, cities such as Istanbul, Izmir, Antalya are also big cities. If you want to have a holiday in these cities, it will be beneficial for your safety not to go to places you do not know and not to go to places where there are not many tourists.
Finally, it is useful to pay attention to stray animals (especially dogs). It would be good to stay away if you see a large herd of dogs, especially in the evening.
If you encounter a situation that bothers you, you should immediately contact the consulate of your own country or the 155 police.
You can take a look at our Anatolia map article to learn about the regions in Turkey.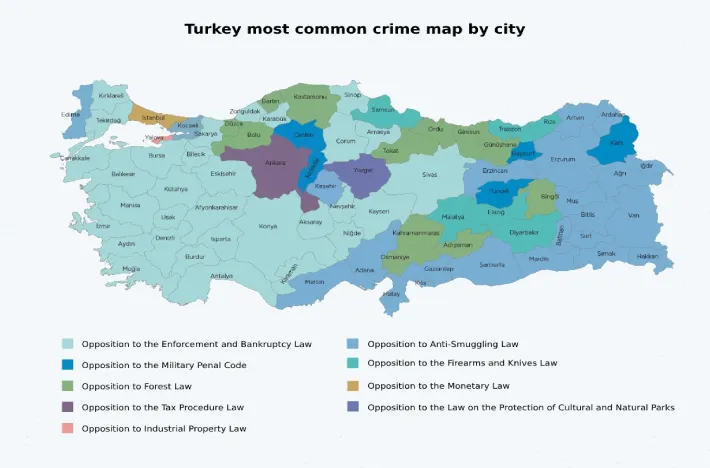 Dangerous Cities in Turkey
Certain cities in Turkey may have higher crime rates or specific safety concerns. It's advisable to research and stay updated on travel advisories for specific regions. Examples of cities where caution is recommended include Istanbul, Ankara, and Izmir due to their larger populations and higher levels of tourism.
Places you can visit safely in Turkey
There are many places, but here are some of the most popular places to visit without worrying about safety:
Antalya
Çeşme
Dalyan
Datça
Köyceğiz
Konyaaltı
Lara
Urla
Uludağ
Places to be aware of when visiting:
Bans in Turkey
There are some prohibitions in Turkey that may not be prohibited in your country, but that concern everyone, and it is useful to learn about it before you come to Turkey for a holiday.
Alcohol consumption in public places.
Topless sunbathing or swimming on public beaches.
Flying drones in crowded places without permission.
Military facility, police facility, etc. take pictures of places.
Involvement in political demonstrations or events.
Acting or insulting the Turkish currency, flag, etc.
For example, recently a tourist was detained and deported for insulting Turkish currency and throwing it in the toilet.
Is Turkey Safe for Solo Travelers?
Turkey can be a rewarding destination for solo travelers, but it's essential to take precautions. While general safety guidelines apply, solo travelers should be cautious in unfamiliar areas, especially during nighttime.
Staying in well-reviewed accommodations, informing others of your travel plans, and utilizing reliable transportation options can enhance your safety.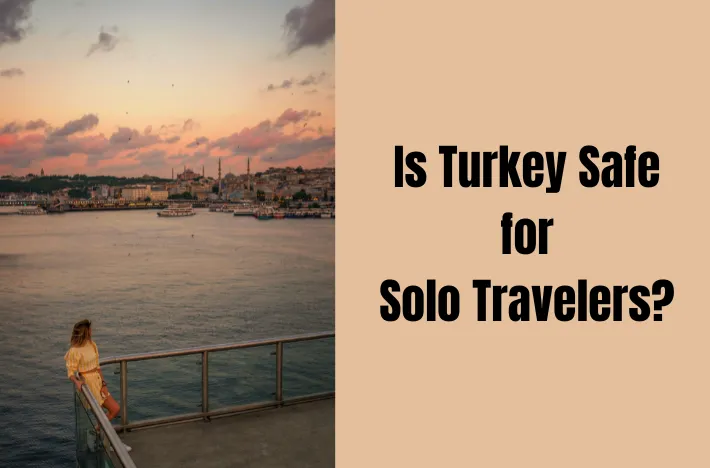 Is Turkey Safe for Women Traveling Alone?
If you prefer touristy areas, the answer is definitely yes. However, there are some precautions we recommend you take. Your awareness should be high, especially in crowded areas.
Visit popular tourist destinations, dress modestly (or don't dress too revealingly) to respect local customs, avoid isolated areas at night, and consider taking group tours or hiring reputable guides for added safety.
Don't let these words scare you, these are suggestions for those who ask if Turkey is safe to travel in their mind. As a matter of fact, it is very unlikely that anything will happen to you in regions of Turkey such as Bodrum, Antalya, Fethiye, Marmaris, Cappadocia.
Turkey is a beautiful country with amazing landscapes and places to visit. Tourism is a huge source of income. That's why people give great importance to their services, jobs and safety. Everyone is kind and protective towards guests.
The answer to the question, is it safe to travel to Turkey as a single woman, is definitely yes.
Is Turkey safe for holidays 2023?
Whether you want to come to Turkey for a holiday with your family, friends or alone, the following question is stuck in your mind. Is Türkiye safe for 2023 holidays? The answer is yes.
Come on, let's look for answers to some of the questions that you will visit the most during your holiday and that may be on your mind.
Are Hotels Safe in Turkey?
Hotels in Turkey comply with security regulations and are safe for tourists.
Choose reputable accommodations, read reviews from trusted sources, and make sure basic safety precautions such as fire exits and safety features are in place.
Do not forget that the hotels have security guards and must have cameras in the entrance and exit areas.
Are Beaches Safe in Turkey?
If you prefer to swim in the paid beaches on the Mediterranean and Aegean coasts, you can be very comfortable. However, it may be a good idea not to leave your belongings such as your phone or wallet open.
If you prefer free public beaches, it may be a good idea to bring a lockable wallet or purse. Frankly, I've been going to the public beach in Antalya for years and I've never heard of any theft, but it's still worth paying attention.
I would also recommend choosing designated swimming areas over deserted beaches in Turkey and following standard coast guard practices such as following lifeguard instructions and being alert to strong currents.
✅ You can also browse our 10 Best Travel Wallets in 2023 article and carry your belongings safely.
Is Public Transport Safe in Turkey?
Public transport in Turkey, including buses, trams and metro, is generally safe and reliable. Take general precautions such as keeping an eye on your belongings, especially in crowded environments, and avoiding rush hours if possible.
In public transportation such as metro and tram, there is a security guard at each stop and the vehicles are constantly monitored by cameras.
✅ For Istanbul, you can read our Istanbul city card and Istanbul metro map articles.
Are restaurants safe in Turkey?
Yes, restaurants in Turkey are quite safe. Food is constantly inspected by food experts. Also, most people in Turkey pay attention to being clean because of their religious beliefs.
Employees in the cafe or restaurant will not allow anyone to disturb you. If someone is bothering you, inform the waiter about the situation and he will take the offending person out.
Earthquakes in Turkey
Turkey is located in a seismically active region and earthquakes may occur. A devastating earthquake recently hit southeast Turkey.
Regions such as Antalya, Bodrum, Marmaris, Fethiye, Cappadocia are relatively less earthquake zones and are considered safe.
But unfortunately, there is a possibility of a serious earthquake in Istanbul.
When choosing your accommodation, you can pay attention to the fact that the building is new.
In Turkey, devastating earthquakes occur every 20 to 25 years. The previous earthquake last occurred in 1999.
What Should I Do If Something Goes Wrong in Turkey?
In the event of an emergency or if you encounter any difficulties during your trip to Turkey, contact the local authorities by dialing 112 for immediate assistance. Additionally, keep the contact information of your embassy or consulate readily available for guidance and support.
Is Drinking Water Drinkable in Turkey?
Drinking tap water in big cities and resort areas in Turkey may not be very healthy and may upset your stomach if you have a sensitive stomach. Instead, we recommend buying bottled water from the markets.
Considerations and Suggestions for Your Safety in Turkey:
Be aware of local customs, laws and travel warnings.
Safely store important documents, including passports.
Use reliable transportation options and take care of your personal belongings.
Respect local customs and traditions by dressing modestly when necessary.
Stay connected with friends, family or other travelers to keep in regular contact.
Purchase travel insurance that covers medical emergencies and travel cancellations.
Learn Turkish, even if it is a few words. If you're wondering what words are, check out our Turkish words for tourists article.
Take note of the consulate and emergency phone numbers in Turkey. To make a phone call in Turkey, check out our Turkey phone number article.
Do not prefer crowded places during religious and official holidays in Turkey. Check out our article on religious holidays in Turkey and find out the dates.
Travel to Turkey from the USA and other countries…
Travelers also ask if Turkey is on the red list or not, trip to Turkey from the USA, etc. Some people want to Trip Turkey from European countries.
Some of them ask about travel to Turkey from Ireland coronavirus. Actually, it depends on your country too.
If you are wondering whether you can travel to Turkey from the UK or another country, you can do a quick research about Turkey travel restrictions and your country's restrictions and travel rules.
So what about Turkey covid restrictions for tourists? You can reach the rules and Turkish Airlines covid test requirements or needed forms via Turkish airlines.
About Travel Health Certificate Turkey
Turkey entry restrictions can be changed but here is a form for entry to Turkey from the Ministry of Health.
Conclusion: Is Turkey safe?
While no destination is entirely risk-free, Turkey remains a popular and welcoming country for travelers.
By staying informed, practicing common-sense precautions, and respecting local customs and laws, you can enjoy a safe and memorable trip to Turkey in 2023. Embrace the rich culture, breathtaking landscapes, and warm hospitality while keeping your safety a top priority. Bon voyage!
Questions about is it safe to travel to Turkey
Here are some frequently asked questions regarding travel safety in Turkey:
Is Turkey generally safe for tourists?
Turkey is generally considered a safe country for tourists. The Turkish government takes significant measures to ensure the safety and security of visitors. However, like any other travel destination, it is essential to exercise caution and be aware of your surroundings, especially in crowded tourist areas or during events.
Are there any specific safety concerns in Turkey?
Certain regions of Turkey, particularly those near the Syrian border, have experienced occasional security issues. It is advisable to avoid these areas and stay updated on any travel advisories issued by your home country's government or relevant authorities.
How about terrorism in Turkey?
Turkey has faced some security challenges in the past, including terrorist incidents. However, the Turkish government has taken steps to enhance security measures and combat terrorism. Travelers are encouraged to follow any advisories or guidelines provided by their home country's government and exercise general safety precautions.
Is it safe to visit popular tourist destinations in Turkey?
Popular tourist destinations in Turkey, such as Istanbul, Cappadocia, Ephesus, and the Mediterranean coastal areas, are generally considered safe for visitors. These areas have well-established tourism infrastructures and are regularly monitored for security.
Should I be concerned about petty crimes?
As with any travel destination, tourists should be mindful of their belongings and take precautions to prevent petty crimes, such as pickpocketing or theft. Stay aware of your surroundings, especially in crowded areas or public transportation, and secure your valuables.
How can I stay updated on travel advisories?
Before traveling to Turkey, it is recommended to check the travel advisories and information provided by your home country's government or relevant authorities. These sources will provide the most up-to-date information regarding safety concerns or any travel restrictions.
Remember that the situation can change over time, and it is crucial to stay informed about the latest developments.
It is always wise to exercise caution, follow local laws and customs, and use common sense while traveling in any foreign country.