Get Ready for A Great Holiday: Fethiye Turkey Travel Guide
Fethiye Turkey travel guide will lead your next trip to Turkey. Here is a complete Fethiye itinerary for your next Fethiye city tour and exploring more.
The Fethiye Turkey travel guide covers worthwhile places near Fethiye, too. You will be able to discover all attractions and places to visit with the Fethiye Turkey travel guide. Do not worry, you won't miss any things to do in Fethiye. 
You can find a lot of things about Fethiye with this travel blog which includes a Fethiye must-do or turquoise coast travel guide in addition.
Above all, let's talk about what Fethiye is like, whether it is safe and how you can go to Fethiye.
Table of Contents
What is Fethiye like in Turkey?
Fethiye is a very unique and colorful district in Turkey. Because first of all Fethiye has an amazing climate and ambiance. Fethiye weather is generally in good condition in all seasons. This field will probably cover all your vacation expectations. 
Some people are comparing Fethiye with various regions of Turkey. We should make a clarification about that, before starting the Fethiye Turkey travel guide. 
The common comparisons are like; Is Marmaris or Fethiye better, which is better Fethiye or Bodrum? etc. The answer is very specific. It will depends on your expectations and beyond. So you will discover all the reasons inside this guide. We can say early on that; Fethiye includes ancient history, many natural sports and various places to stay inside. 
For example, if you want to have fun day and night in disco or beach clubs, you should prefer Bodrum. But it's also a bit of a luxury district. If you want a more green but quiet holiday with your family Marmaris might be a quite good and cheaper option. 
So let's ask yourself a question. What do you want to do on your next holiday? If you want adventure, do some natural sports, travel in ancient ruins, see the turquoise bays and stay in various places, you can find so many options in Fethiye. 
As I told you before, Fethiye is a very unique place for affordable yoga retreats and natural camp lives, too.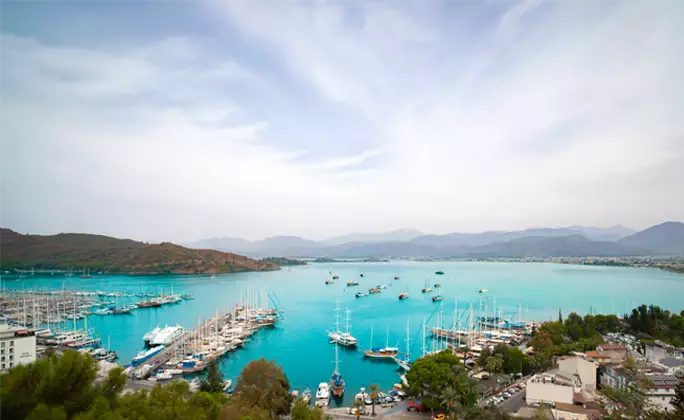 Is Fethiye Turkey safe?
Fethiye is located in western Turkey and is a very safe area. It has extra security concerns as it is a tourist area. You can have a holiday in Fethiye with peace of mind and wander around its streets.
We want to make sure that Fethiye is safe to visit. Turkey is a very hospitable country and violence against tourists is rare.
You should always take precautions when traveling to a new place, but we hope this blog post has given you peace of mind about visiting Fethiye.
Where is Fethiye?
Fethiye is located in the West of Turkey and has a coast on the Mediterranean Sea. Fethiye is a district and is connected to the Turkish city of Muğla.
There is Dalaman in the north of Fethiye, and Kaş – Antalya in the south. As Fethiye is a very popular destination, it is quite easy to reach Fethiye.
How many days in Fethiye?
You need at least 3-4 days in Fethiye. During this time, you can do Paragliding, take a boat tour, visit ancient cities and enjoy Fethiye nightlife.
If you have more time, there are many things to do in and around Fethiye. You can take a clay bath in Saklıkent canyon, enjoy the beach after visiting the ancient city of Patara, or take a walk on the Lycian path.
You can also stay for a long time. There are volunteer camps near beaches and coves. You can both work and take a vacation.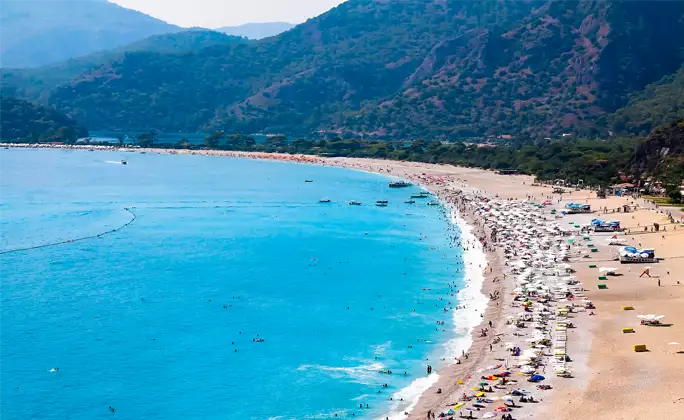 How do I get to Fethiye from Turkey?
The Dalaman Airport is the closest airport to Fethiye Turkey. The transportation takes about 40 minutes from Dalaman Airport to Fethiye by bus or taxi. The prices might change. You can also consider car rental Fethiye options. Because getting around in the Fethiye region is definitely easier than other transportation options.
You may enjoy that blog post which is about Mediterranean coastal towns transportation as well.
How to get around in Fethiye Oludeniz Turkey?
Before starting to mention about best attractions in this Fethiye Turkey travel guide, we should inform you about the transportation kinds. In the Fethiye district, you can find many public transportation options during the day and night times. The famous one is the "dolmus" which is a small bus. People especially use dolmus from Fethiye to Ölüdeniz. Fethiye dolmus timetable and maps are available during summer, too. 
Another public transportation option is the bus. In particular, the Fethiye to Oludeniz bus is very popular. However, you should follow up on the working hours. Otherwise, you have to take a cab or taxi from Oludeniz to Fethiye.
The taxi fare from Fethiye to Oludeniz is 9.80 TL at the opening and 6.80 TL per km. The distance between Fethiye center and Ölüdeniz is 15 km. Fethiye taxi prices at night may vary according to the night price list.
You can either rent a car, motorcycle or bicycle during your Fethiye vacation. Make a quick search about Dalaman airport car rental or Oludeniz Fethiye rent car in order to see if it matches your budget or expectations.
Besides, take a map of Fethiye town from Dalaman Airport or from downtown. You can use it for traveling and keep it later as a souvenir. The Lycian Way lovers also enjoy this hiking or walking map book as well.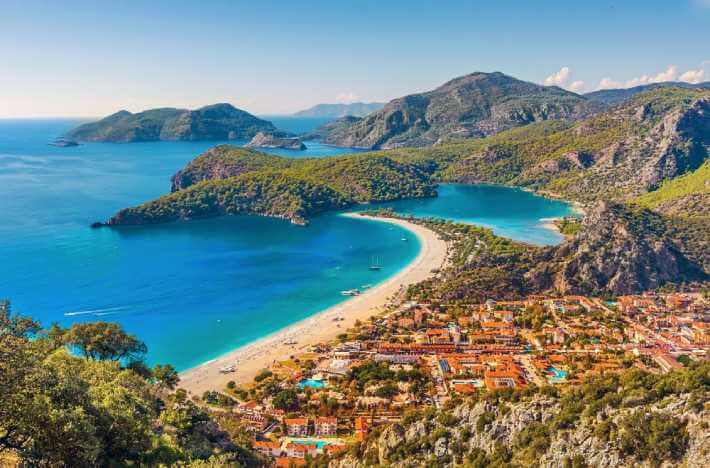 Places to Visit in Fethiye Turkey Travel Guide
Let's skip to Fethiye's famous parts. If you wonder what is Fethiye known for? Fethiye is known for its beautiful turquoise beaches. 
Does Fethiye have a beach?
Seriously? Fethiye has amazing beaches, bays, and hidden caves which are waiting for you to explore. Here are some of the famous Fethiye beaches. People are also asking about Fethiye or Oludeniz but we offer you to visit both. 
Ölüdeniz Beach or the other side which is named Blue Lagoon Fethiye is one of the best beaches on the turquoise coast of Turkey.  This beach coast is very long and sandy. 
Another famous beach of Fethiye is Calis Beach. This beach is in the center of Fethiye. Çalış Beach and Oludeniz Beach are half an hour away from each other. Also, Kuleli Beach has a very delightful facility for your needs. Those are the best places for beaches in Fethiye. 
Besides, you can visit Sovalye or Knight Island, Gemiler Island, Aquarium Bay near Fethiye, Karaot Beach, Kabak Koyu beach near Faralya region, and Butterfly Valley.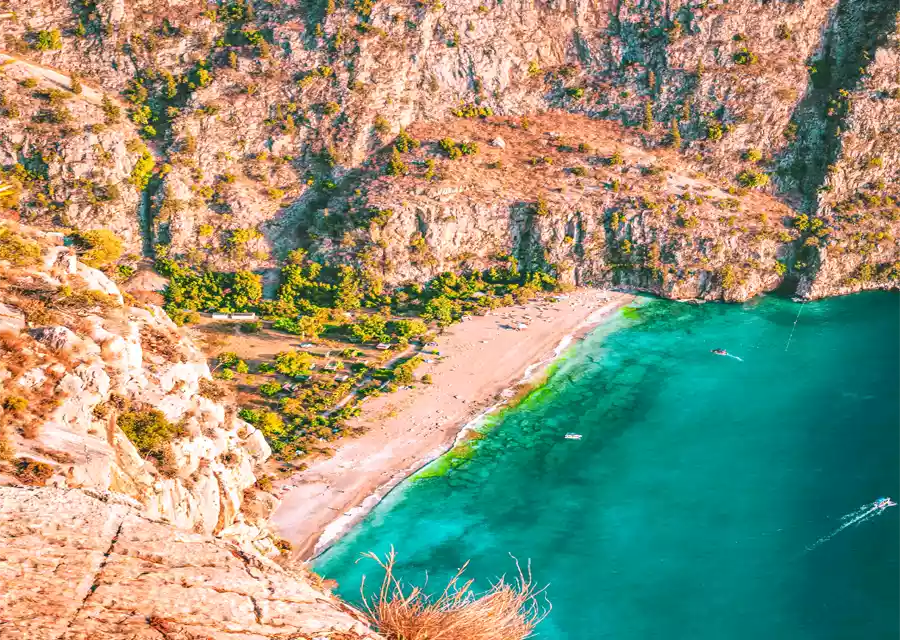 Top Things to do in Fethiye
We would like to introduce you to an ultimate vacation with top things to do and the best breathtaking attractions with this Fethiye Turkey Travel Guide. If you have limited time in Fethiye, you can pick the famous ones which you like more than the others.
Fethiye Paragliding
Paragliding Fethiye is an amazing experience that can be done once in a lifetime.
If you are wondering how much paragliding costs in Oludeniz Fethiye, it is about 100-150 dollars. Also, the paragliding experience requires reservations. You can check experiences that have free cancellations. 
But paragliding needs good weather conditions. Lucky you, Fethiye has mostly good weather as well.
Oludeniz's paragliding height is approximately 100 kg for who wonders? For more information, get in touch with the paragliding tours. They will help you in various languages.
I picked an awarded paragliding attraction for you. This Fethiye Paragliding experience has Travelers' Choice Best of the Best 2022 on TripAdvisor. I want it, too. If you do it this summer, please come and meet with me in the comment section below 🙂
Is paragliding in Fethiye safe?
Paragliding may seem a bit dangerous but no worries, it is a very safe experience in general. You will have a paragliding coach / experienced pilot with you. Also, you will have insurance and photo/video records. They choose the perfect time for this experience, and Fethiye weather is mostly in a good condition almost every season.
However, it is important to remember that information should be obtained for conditions such as pregnancy and chronic diseases. Age and weight can be an issue as well.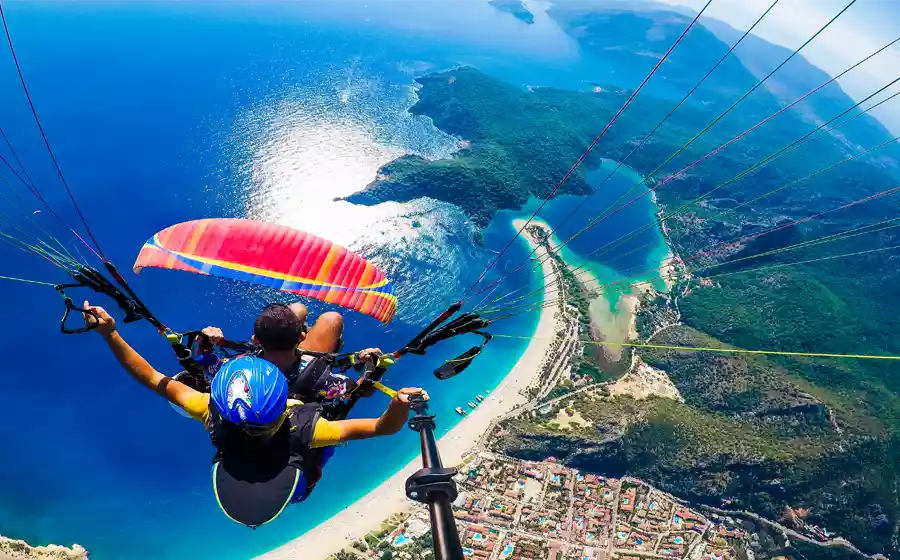 Fethiye Boat Trips
You can explore all the hidden costs in Fethiye, Turkey via boat tours. Glorious turquoise bays in Turkey can be experienced on a yacht Fethiye.
Either you can pick daily boat trips private/public or you can prefer luxury one-week yacht tours from Fethiye. This will be an amazing and unforgettable vacation for you. Various glamorous islands, bays, caves, and underwater islands are waiting for you to discover.
You can take a look at the Fethiye boat tour, which takes off from Fethiye Ölüdeniz beach and visits Butterfly Valley and Gemiler Island.
Gulet Cruises Fethiye Turkey
If you have time, you must experience these amazing gulet vacations. The route is like a circle between Fethiye and Kekova region. This 8-Day Gulet Tour can be a dream holiday for you and your beloved ones.
I highly recommend for you read my amazing Kekova Sunken City Boat Tour experience blog post. It has a video inside. So you can get an idea about what Turkey's Mediterranean coast and bays look like. Don't forget your snorkel set. If you don't have one, you should get one. You may want to take a look at your favorite which is the Cressi snorkel set.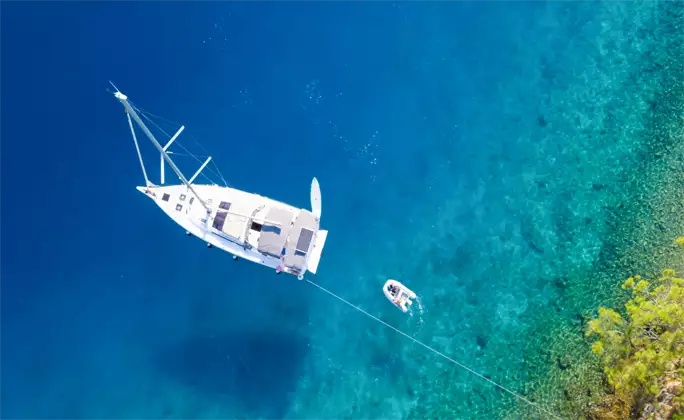 Visit Ancient Cities of the Mediterranean: Fethiye Ruins & Rock Tombs
Do not miss it! You must discover all of them. Walkthrough Tlos Ruins which is near Saklıkent Canyon, Kayaköy Ancient Rock Tombs from the 4th century BC. 
Also, you should visit Amynthas Rock Tombs which is near Fethiye Castle or Fethiye Kalesi. If you are wondering about how to get to Amynthas Rock Tombs, you should walk about 8-10 minutes on foot.
Pınara Antique City is in the middle of the Kabak district and Tlos ruins. So you may need a car or another vehicle to discover this region. Also, the Letoon temple ruins, the Ancient city of Telmessos, Patara Ancient City, Xanthos Ancient City, and Kadyanda(Cadianda) are other ruins around Fethiye.
After traveling through those ancient ruins, you should check out the Fethiye Museum, too. The entrance fee was 20 TL but it may depend on the future, not sure. If you don't go back to Fethiye once you leave there, you should visit the museum first. Be sure that you don't skip the Fethiye Museum during your Fethiye vacation.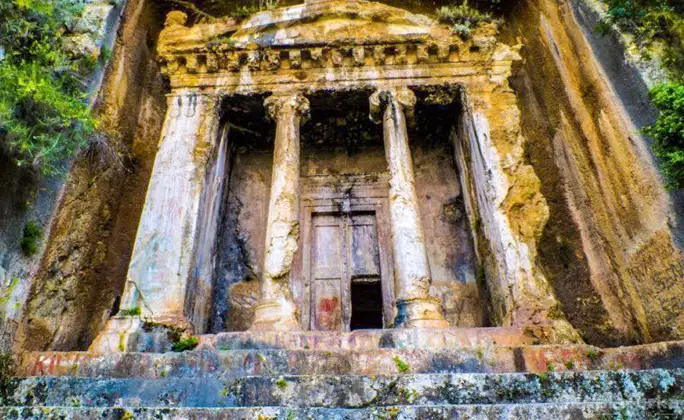 All Backpacker's Dream: The Lycian Way Trekking Route
The Lycian Way trekking route is definitely a dreamy adventure. If you like hiking, being in nature, and camping you don't want to miss that amazing trip. This is a very notable journey for wild souls. I hope you will be able to experience this amazing route.
The 535 km Lycian road starts from Fethiye and ends in Antalya. If you want to walk the Lycian way, it will be very pleasant to set off from Fethiye.
Must See Hilarious Canyon: Saklikent Gorge
Saklıkent National Park is a huge area where you can do lots of things. If you have a walk-in at Saklıkent Gorge, take a waterproof bag with you. Because some points you may pass from into the water. 
Flowage can change and water may be colder than in some locations. So mind your personal belongings and wear tied sandals or comfy shoes in order to not lose your footwear. Don't walk on naked foot, that might be dangerous for you. 
Also, you will find too many natural and fine clays everywhere between the massive rocks of Saklıkent Gorge. You can apply this beneficial clay to your skin.
As another option, you can do natural sports, rafting, and canoeing in Saklikent Gorge, too.
If you want a one-day package tour, you can see both Saklikent Gorge and Tlos ancient city at the same time. You can check this city day trip from Fethiye out.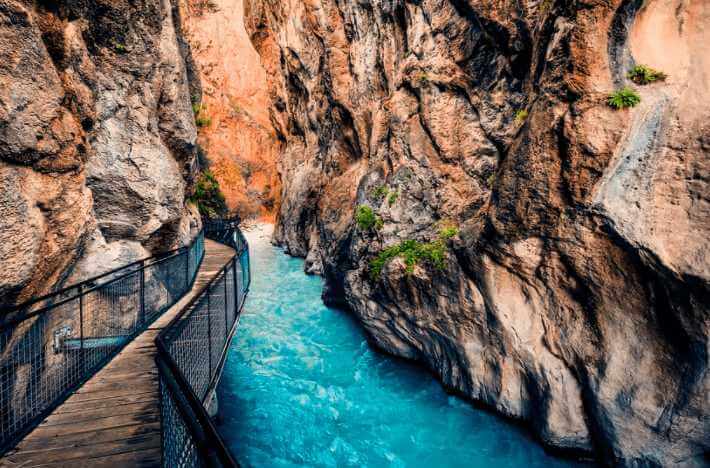 Gorgeous Instagram Spot: Gizlikent Selalesi
Gizlikent Selalesi -which means hidden city waterfalls- is a very secret place. It is definitely out of one's way. This waterfall is very beautiful but not necessarily to visit, especially if you have limited time. Because you will be able to find many more things to do in Saklıkent Gorge anyway. 
But if you want to discover more unique attractions, you can visit Gizlikent Selalesi.
National Park & Wildlife Place: Katranci Koyu Tabiat Parki
Katranci Koyu Tabiat Park is a very good place for swimming, barbecuing, taking photos, and nature trips. This place has an amazing view, fresh air, and wilderness. You should take this opportunity if you are looking for more unique and local attractions.
Nightlife in Fethiye: Get the party started
If you wanna have some fun, you should go out on Fethiye nights. Oldtown Fethiye has so many locations to visit and you can find lots of things to do in Fethiye at night.
What to do in Fethiye at night time? You can visit Fethiye Port and Yacht Marine during the night too because there is a lovely view of moonshine on the dark sea. 
You can also go to pubs, dinner places and clubs for having some fun. Fethiye places are making some special shows for their customers. You will be able to see those places during your Fethiye Oldtown walks. So you can pick one of them and enjoy the rest of the night.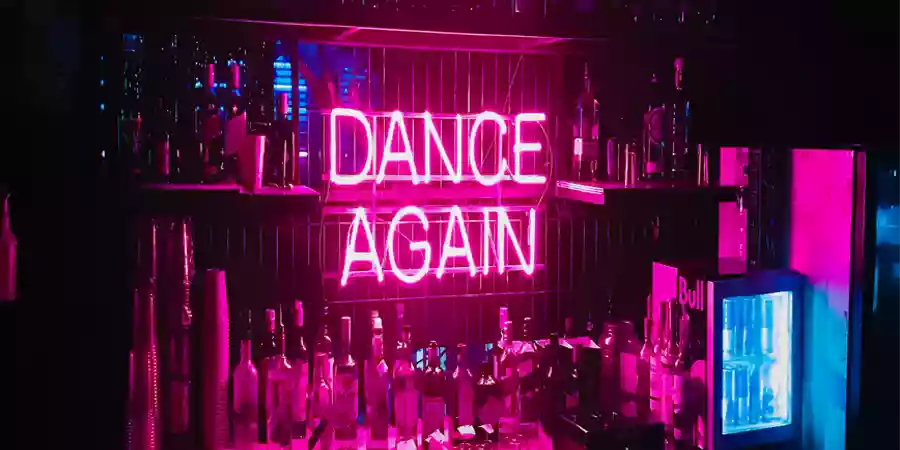 Fethiye Turkey itinerary: Where to eat in Fethiye?
As we mentioned above, oldtown is a very good place for all your needs. Follow the crowd, they will lead you on hot summer Fethiye nights. 
Most cafes and restaurants are fine in Fethiye OldTown. This region is a good option because you can find various alternatives there. You can eat fish and other seafood. Also what to drink in Fethiye Turkey? We would like to offer you traditional specialties if you haven't tried them yet. Raki is a well-known traditional drink in Turkey. It is a good match with sea products and fish meals. 
If you are looking for something without alcohol, you must try delicious "Ayran" which is like liquid yogurt but so traditional. In addition, you can try fresh Turkish cuisine and desserts on every corner.
Where to stay in Fethiye? (Fethiye Turkey Hotels)
Fethiye has many options for travelers around the world. Either you can stay in a luxury hotel or a more affordable one. Also, you can stay in bungalows, tents, etc.
If you want to take a quick look at Fethiye hotels, you can take a look at our 10 Best Hotels in Fethiye and 5 Best All inclusive Fethiye Hotels articles.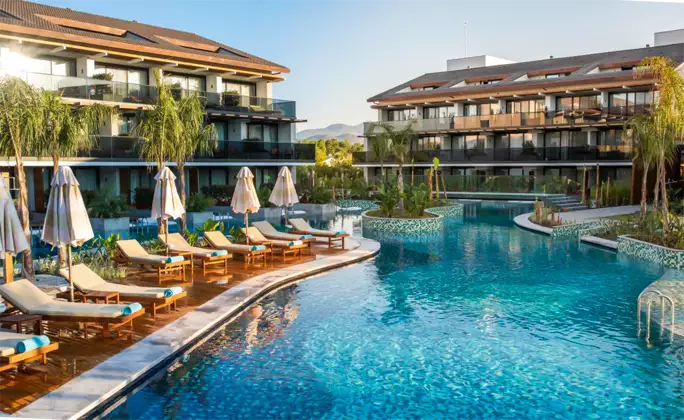 Is it better to stay in Fethiye or Oludeniz?
Actually, that's the question and it is a bit challenging. We had the same dilemma when traveling to Fethiye but you can make a vacation route for yourself via the Fethiye Turkey map which we share with you down there.
We decided to stay in Oludeniz because our places to visit on the Fethiye route made us decide on it. Before sharing our hotel choice, please be reminded that you should make clear your expectations during your holiday.
Because besides the Fethiye Turkey hotels, you can choose to stay in bungalows, tents, luxury cruise yachts, adult hotels, boutique hotels, and hostels too. Fethiye real estate can be a good option for a lifetime vacation as well.
Fethiye Holiday Packages
Well, actually we stayed in a very nice place which is so close to the Oludeniz beaches. We prefer Monta Verde Hotel & Villas and it was very satisfying accommodation for us. The foods are delicious, the hotel events are glowing, clean rooms, and more.
Besides, many people are looking for Fethiye Turkey real estate for extended or endless vacations. You can check interesting Fethiye Airbnb homes too, in order to discover Fethiye. 
Fethiye Turkey is very famous for camping fields, events, festivals, and yoga retreats like Shambala Lodge or Avalon. If you want a vacation of this kind, you may check Butterfly Valley or Kabak district to find a place to stay. 
Yoga Retreat in Turkey Fethiye
Turkey hosts experienced yoga instructors. One of these purifying yoga camps organized by many local and foreign yoga instructors is the 8 Day Turkey Turquoise Coast Yoga Retreat in Gocek, Fethiye.
Make sure you've checked this incredible yoga holiday for all levels. Yoga holidays are a great option not only to relax or unwind but also to have a great time and socialize with people from different parts of the world for yoga. If you are interested, be sure to take a look at that unique experience.
Ultimate Fethiye Weather: Fresh and Natural All Year Long
Many people ask whether Fethiye. I completely understand why. Fethiye is very famous for incredible paragliding events first of all. But this town has more than that. You can go for a vacation almost every season there. Surely, you will be able to find many things to do in Fethiye.
When is the best time to visit Fethiye Turkey?
Here is the naked fact: every time is a good time for visiting Fethiye Turkey. Every month and season has a variety of beautiful details on this Mediterranean coast. You should consider your situation or trip calendar then you decide the time of your Fethiye holiday. Fethiye weather in April can be colder than Fethiye weather in May but it is fine if you are not looking for hot weather anyway. 
Also, there are other significant things to consider: National and Religious Holidays in Turkey. During these times, Fethiye can be more crowded than normal because many Turkish people prefer that beautiful town for an amazing vacation as well.
If you do not like crowds so much, make sure that you follow these Turkish national holidays. Because the Mediterranean shores, in particular, can be very crowded these days. 
Can you swim in Fethiye in May?
Yes, you can. But you can swim in Fethiye in other months, too. The only fact is in fall or winter time the water can be a bit cold but the sun is shining most of the day time. However, in some years the sea may not have warmed up in May yet. In other words, whether or not you will swim in Fethiye in May will depend entirely on your sensitivity.
How hot is Fethiye in October?
It is not so cold but not so hot like summer either. It might rain some days, this is the only thing. Anyways you can have a fine vacation in October too. It has an average temperature varying between 20-30 degrees. The sun warms you up very nicely. Non-sunny days are rare.
What about comparing it with other cities in Turkey? Let's say Fethiye is hotter than Antalya? Antalya is probably hotter than Fethiye but there is no big difference between the two destinations except 2-3 degrees. 
Fethiye might be a bit windier than Antalya but it is a very matchy detail for the paragliding experience. 
So, which is the best month to visit Turkey? If you have time, and money and if you like hot weather you should definitely go to Turkey during spring or summer.
Shopping in Fethiye: Charming, Yummy & Varied
Want some souvenirs and traditional foods & sweets in downtown Fethiye? You must discover the Paspatur Carsisi – Bazaar. 
You can find a lot of sweets, traditional Turkish desserts, souvenirs, oriental carpets, etc. there. 
Is Fethiye expensive? Not really. Fethiye is pretty much the same as other Mediterranean destinations in Turkey. 
What about the famous Fethiye Market? What day is the market in Fethiye Turkey? Fethiye market is a well-known street market for your needs. Many people can speak different languages there and you can haggle with them as much as possible. They are very talkative sellers.  
Besides fruits and vegetables, you will be able to find clothes, bags, and shoes in there too. Fethiye street market is available on Tuesdays and Fridays. Tuesday's market is much more varied and crowded. 
We added all the good places on our TripAdvisor Fethiye Turkey Guide map for you. Check the Fethiye Turkey TripAdvisor itinerary from here.
If you are going to Istanbul back, you should check transportation options for Fethiye Turkey to Istanbul. But if you have time and you want to travel more, you must see Kas, Antalya. Make your way from Fethiye to Antalya.
Frequently Asking Questions About Things to do in Fethiye Turkey
Here are some must-known answers and info about Fethiye. If you have specific questions let us know in the comment section below.
Where is Fethiye in Turkey?
Fethiye is among Marmaris and Kaş which is exactly southwest of Turkey. Fethiye is also close to Rhodes island. 
Is Fethiye Turkey worth visiting?
Totally YES. Fethiye has amazing nature, excellent bays, very unique ancient ruins, and luminous turquoise coasts and beaches. 
Is Fethiye Safe for Tourists?
Yes, like other tourist areas in Turkey, Fethiye is quite safe for tourists. You can enjoy Fethiye with peace of mind during your vacation.
How to get from Istanbul to Fethiye?
There is no airport in Fethiye. If you want to go to Fethiye by plane, you need to go to Dalaman Airport first. From Dalaman, you can go to Fethiye by bus or taxi. Another option is to take a bus from Istanbul to Fethiye. You can choose bus companies like Kamil Koç and Pamukkale.
Click for the Kas Turkey 2023 guide.
If you are interested in One day in Antalya, you can read this post too.