Are you ready to explore the best hotels in Fethiye, which is an amazing pearl of the west Mediterranean part of Turkey? Do not forget to book your holiday at affordable prices with early reservation for the summer of 2023.
I know that many of you enjoyed our Fethiye Turkey Travel Guide & things to do in Fethiye. This encouraged me to introduce the best hotels Fethiye Turkey as well. In this blog post, I will review the most beautiful hotels in Fethiye I have selected for you.
Let's get to know the top selected Fethiye hotels with their pros and cons, and plan for the most suitable holiday for us. I'm sure you'll be able to find a suitable hotel for yourself in this mixed list. Also, at the end of this blog post, you can find a map for those picked hotels where I have collected them all.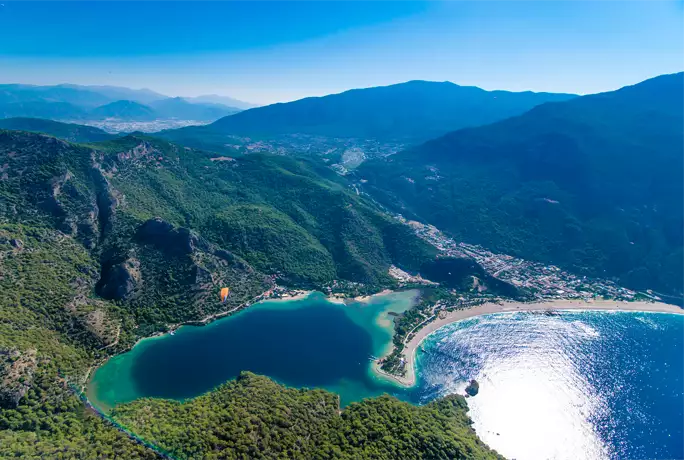 Table of Contents
Well-Selected Best Hotels in Fethiye
Fethiye Turkey hotels can cover your expectations either for a budget friendly vacation or more luxury ones. Various and numerous hotels with different concepts and services can open the doors of a beautiful Mediterranean holiday for us. 
Prepare yourself a quick list of hotel/holiday expectations before you start reviewing these hotels. Such as distance to the sea, open buffet, budget-friendly, child-friendly, pet-friendly. Afterwards, you can find the most suitable hotel for you with my reviews and your own detailed tinkering.
1. Alesta Yacht Hotel Fethiye
Alesta is probably the most known Fethiye yacht hotel in town. This Fethiye hotel is very central and refreshing. You will not forget the sunset view most of all in this unique hotel with 52 rooms. Alesta Yacht Hotel also has an amazing beach club named Alesta Beach Club. They have a gentle offer for their guests free shuttles in order to go from hotel to the beach in more or less 10 minutes. 
Either you can stay in your room and enjoy the opportunities of this yacht hotel or you can go to their beach club or you can explore the center of town. It is totally up to you! Both its ratings and reviews give clues as to its truly magnificentness. They have family rooms and special menus for kids as well.
✅Private beach
✅Swimming pool
✅Wellness (Spa, fitness, steam room, etc.)
✅Central location
 👉🏻CHECK Alesta Yacht Hotel Fethiye and explore FOR MORE 👈🏻
2. Hillside Hotel Fethiye (Fethiye 5 star hotels)
Hillside Beach Club Hotel Fethiye is one of the most amazing Fethiye beach hotels. As well as relaxing and special experiences, they have a very unique location in the town. You can rent a bicycle from the hotel in order to explore the center of town or the Lycian way or for more beauties in Fethiye as well. 
Amyntas Rock Tombs and the Fethiye Museum are 6 km away from this incredible, five stars Fethiye hotel. Besides, families with children are very welcome to Hillside Fethiye. Hillside Hotel Fethiye is one of the most awarded hotels in Turkey.
☹️Pets don't allow
✅Private Beach
✅Swimming pool
✅Wheelchair accessible
✅Babysitting service
✅Kids club and more services are waiting for you.
👉🏻CHECK Hillside Hotel Fethiye and explore FOR MORE 👈🏻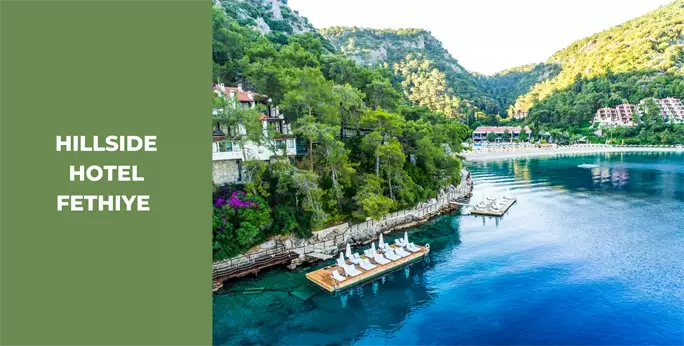 3. Monta Verde Hotel Fethiye (Best Fethiye Oludeniz Hotel)
The cuisine of Monta Verde Hotel is delicious, the dinners by the pool are magnificent, the evenings are splendid, the relaxing spa experience is beautiful. The cleanliness of the rooms, their spaciousness, their intertwining with nature, green and bird sounds are beautiful.
A wonderful experience. It is truly one of the best hotels I have stayed in Oludeniz. Compared to its service, its price can be said to be very, very budget friendly. A hotel where you can experience the Mediterranean breezes. In this great Fethiye Oludeniz Hotel, you will be able to experience Mediterranean vibes 🗺🏖
☹️Pets doesn't allowed
✅Swimming pool
✅Continental, Halal, Vegetarian breakfast options
✅Free Wi-Fi
✅Spa
✅Nice garden and public area events and more.
 👉🏻CHECK Monta Verde Hotel and explore FOR MORE 👈🏻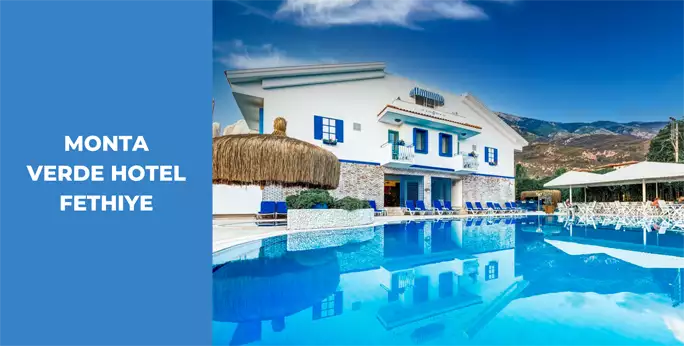 4. Nautical Hotel Fethiye
Nautical Hotel Fethiye, which defines itself as a nature hotel, is located in an area called Faralya, a little far from the Center. This hotel is 1 km from the main road. It is located 70 km south of Dalaman airport and 26 km south of Fethiye. It stands out as a great destination for those who want to get away from the noise of the city, surrounded by nature.
Whether you are a honeymoon couple, a solo traveler or a group traveler with natural, local and delicious food, stone houses with jacuzzis; I think you can find many things to inspire you here.
Nautical Hotel, which is also ideal for events such as weddings, celebrations and honeymoon, offers its guests a "dreamy holiday experience" in their own words.
☹️Pets doesn't allowed
☹️No elevator (you don't need it anyway)
✅Free Wi-Fi in all rooms
✅Free yoga classes on seaside yoga deck 🧘🏻‍♀️( very unique) 
✅Free art workshops 🎨
✅Darts and billiards in the public lounge area 🎯🎳
✅Private beach (an amazing Fethiye bay) 🌊
✅Swimming pool, spa, sauna
✅Hiking area (Lycian Way Fethiye)
and more beauties are waiting for you in the Nautical Hotel.
 👉🏻CHECK Nautical Hotel and explore FOR MORE 👈🏻
5. Orka Boutique Hotel Fethiye
Orka Hotel is one of the most affordable boutique hotels in Fethiye Turkey which has an amazing view as well. They have family room options for families with kids. Balconies are a plus.
This 3-star hotel, which has many advantages with its spacious rooms, large bathrooms, central location, and budget-friendliness, also has Gloria Jeans Coffee on the ground floor. Coffee lovers should take note of this detail. Also, it is very possible to find diving centers, parks, cafes and pubs, and local foodies nearby.
✅Central location 
✅Sea view rooms are available 
✅Free Wi-Fi in all rooms and more.
👉🏻CHECK Orka Boutique Hotel Fethiye and explore FOR MORE 👈🏻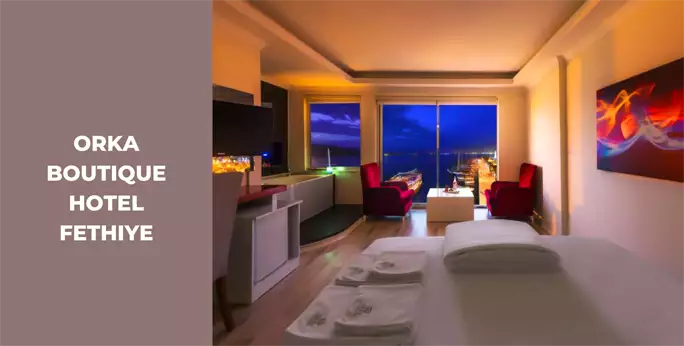 6. Levent Hotel Fethiye
Levent Hotel is an affordable Fethiye hotel in Turkey. This boutique hotel, which has conquered the hearts of many travelers with its rooms, cleanliness, breakfasts, and magnificent terrace view, is on the seafront and very close to the city center. It promises a great resting, eating, and drinking holiday experience to its guests by the pool, on the terrace, and in other resting areas. Families with children are welcome.
✅Central location 
✅Sea view rooms are available 
✅Swimming pool
☹️Pets doesn't allowed
☹️No elevator
👉🏻CHECK Levent Hotel Fethiye and explore FOR MORE 👈🏻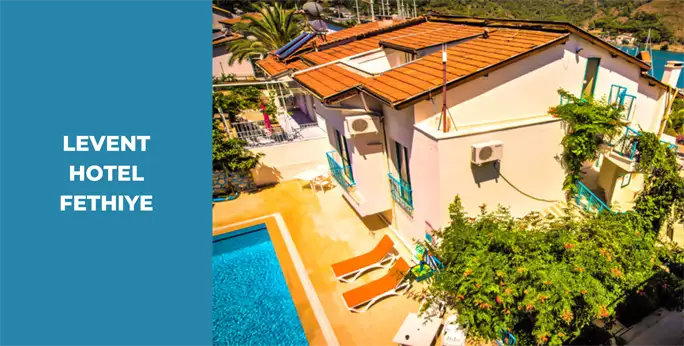 7. Blueberry Boutique Hotel Fethiye
Blueberry boutique hotel is one of the nice and cheap hotels in Fethiye Turkey in its segment. It offers an affordable experience with clean and well-maintained rooms.
This boutique hotel, which is 15-20 minutes walking distance from the beach, can be said to be right in the middle of the main road and the beach. Here you are surrounded by markets, bakeries, restaurants, and cafes and you have many choices. You can also reach Calis Beach Bird Sanctuary with a walking distance of about twenty minutes.
✅Central location 
✅Free Wi-Fi in all rooms
✅Swimming pool (outdoor + indoor)
✅Nice garden
✅Spa & fitness
👉🏻CHECK Blueberry Boutique Hotel and explore FOR MORE 👈🏻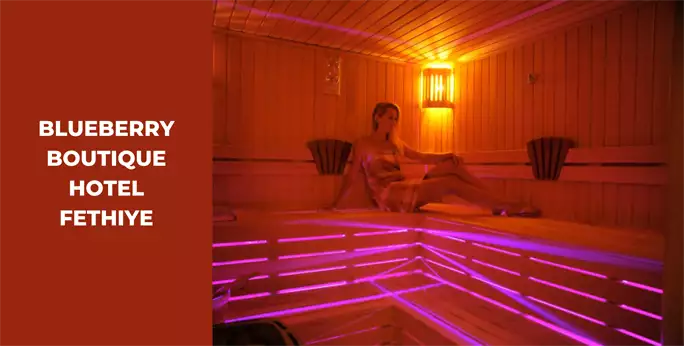 8. Turkuaz Hotel Fethiye (Turquoise Hotel)
Turquoise Hotel has family rooms besides standard and deluxe ones. It is one of the best Fethiye Oludeniz hotels and every year hosts many local and foreign guests. They have various nights, events, and shows in the hotel. Also, they organized public lounges very well. This thoughtful and affordable hotel seems to have just about everything you can expect.
This hotel is one of the closest hotels to the sea in Oludeniz region -between that, I mentioned in this guide.
✅Free Wi-Fi in all rooms
✅Swimming pool
✅Fitness club
✅Kids Club
✅Game room
✅Dart board 🎯and more.
👉🏻CHECK Oludeniz Turquoise Hotel and explore FOR MORE 👈🏻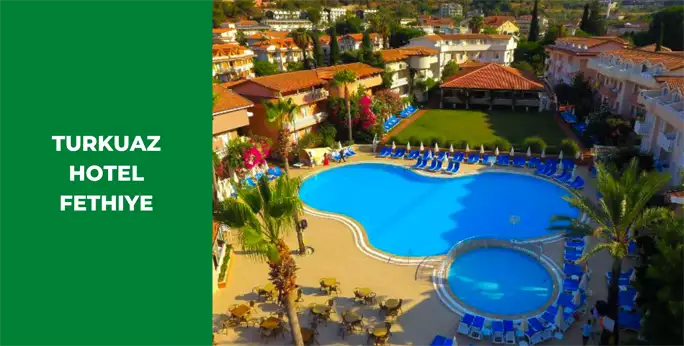 9. Balkaya Hotel Fethiye
Balkaya Hotel Fethiye is another good place to stay in the Fethiye Oludeniz region. This hotel, which is four kilometers away from the sea, stands out with the Pets allowed option.
It has a very nice bar. It gives the comfort of home and family warmth. This three-star hotel will meet the expectations of those who want an affordable holiday.
✅PETS ALLOWED 😍
✅Wheelchair accessible
✅Elevator
✅Spa are pluses!
👉🏻CHECK BALKAYA HOTEL FETHIYE and explore FOR MORE 👈🏻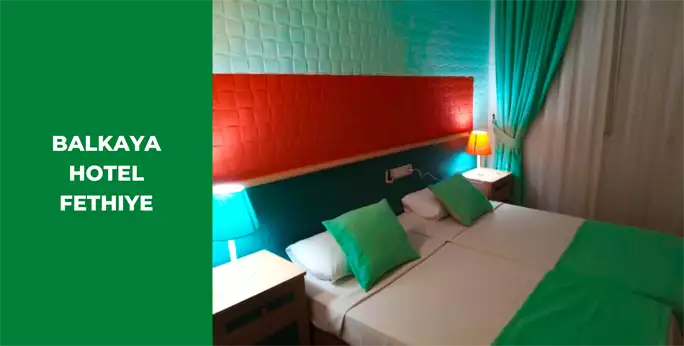 10. Ten Apart Hotel Fethiye
Let the last hotel of our blog post be from the center of Fethiye. Ten Apart Hotel Fethiye offers you either apart rooms in the comfort of home or cozy villas with private pools.  It is a wonderful place to relax in the center and very close to the sea.
One of the best advantages of aparthotels is that you can cook whatever you want in your own kitchen. In this way, not only your accommodation, but also your entire vacation becomes budget friendly and affordable. This apart hotel, which is the choice of travelers for its cleanliness and comfort, also has awards.
👉🏻CHECK TEN APART HOTEL FETHIYE and explore FOR MORE 👈🏻
Bonus: All inclusive Fethiye Hotels
These hotels are very nice, but if you say you are looking for more luxurious and All-inclusive Fethiye Hotels, you can take a look at our All inclusive Fethiye Hotels article.
A LITTLE REMINDER for your NEXT VACATION
Of course, the prices of the hotels can vary based on the facilities they offer, their location, and their stars. Sometimes, in places with the best reviews or in places where we paid a lot of money, unexpected but also personalized problems can arise.
Therefore, I would like to end my article by reminding that every experience is unique and individual. As I said at the beginning, choosing the hotels and routes that offer the most matching amenities will give you a unique and "in a good way" unforgettable experience.
Turkey Fethiye Hotels Map
Here is the Fethiye hotel map for you. You can see their locations and compare if they suit your location expectations or not.
Frequently Asking Questions About Best Fethiye Hotels
Here are some answers for the most common questions about Fethiye and its neighborhood. If you have more questions please meet with me in the comment section below!
Other best holiday destinations in Turkey;
-> Side Turkey
-> Marmaris Turkey
-> Bodrum Guide & Bodrum nightlife
-> Alanya Turkey
-> Kas Antalya & Kaputas Beach
-> Kemer Turkey
-> Olympos Turkey & Orange bar Olympos
-> Antalya Turkey