Koprulu Canyon is located in the Antalya region and is known for its crystal-clear waters. Koprulu Canyon is perfect for those looking for a refreshing canyoning experience. With its clear waters and beautiful scenery, you're sure to have a great time. 
Koprulu Canyon National Park has been established since 1973. It spreads over a field more than 300 km². This canyon, at a depth of 400 meters, is home to many living things and dazzles with its rich habitat. It is also a favorite destination where you can access many nature sports. 
Table of Contents
Koprulu Canyon Turkey Working Hours
Koprulu Canyon is open 24 hours. You can come here daily for hiking, canyoning, rafting, and so on. You can stay in the tent areas for free or paid.
Koprulu Canyon Entrance Fee
No entrance fee for Koprulu Canyon. You can go there for free. If you decide for a water sport or guided tour, then you can pay for those.
How to get to Köprülü Canyon?
From Antalya to Köprülü Canyon takes one and a half hours by car. Either you can rent a car or take a cab from Antalya airport. If you have booked a tour in Koprulu Canyon already, you can see if they provide your transportation or not. They pick you up in general, but it is better to check before.
Best Koprulu Canyon Manavgat Attractions
Koprulu Canyon is the owner of plenty of activities such as buggy safari, rafting, canyoning, climbing, and camping. You can view Koprulu Canyon tours which include rafting and more.
Koprulu Canyon National Park Rafting Experience
Koprulu Canyon Rafting Antalya covers a very long way and grueling track. It should not be done with children or babies. In addition, before rafting, you must consult your doctor if you have various diseases, pregnancy conditions, or other ailments. Please do not put yourself at risk. Rafting in Köprülü Canyon is a more adventurous experience than it seems.
The water cools in some places and returns to normal in others. In some places, the current is strong and the boat can be blown more than you expect, it can go faster. You might even fall off the boat a few times like I did! However, it's an incredibly beautiful experience nonetheless. I am sure you will be dying to go again or to repeat.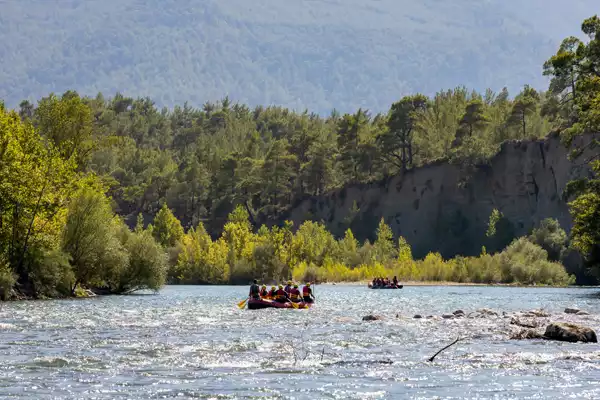 Koprulu Canyon Rafting Price
Antalya Koprulu Canyon rafting price is starting from 40 USD per adult. Lunch, helmet and shovel, air-conditioned vehicle transportation, and insurance are mostly included in the price. Daily canyoning and white water rafting Alanya tours generally offer you free cancellation options as well.
Fortune Rafting Antalya and Solymons Travel rafting offer affordable prices and a joyful time to you. You can join Köprülü Canyon National Park rafting from plenty of locations.
Köprülü Canyon Weather
Koprulu Canyon weather is a bit softer than other canyons in Turkey. It is near 5-35 degrees during winter and 20-30 degrees during summer times. You can do rafting in this canyon in almost any season of the year.
Being able to do everything in every season is one of the details that makes Antalya beautiful. So, whether summer or winter, you can go rafting in Koprulu Canyon. Anyhow, water may be cold in some places even in summer!
If you are going during the winter months, it is useful to take this into consideration. Try not to fall into the water from the boat if you don't want to get wet on purpose!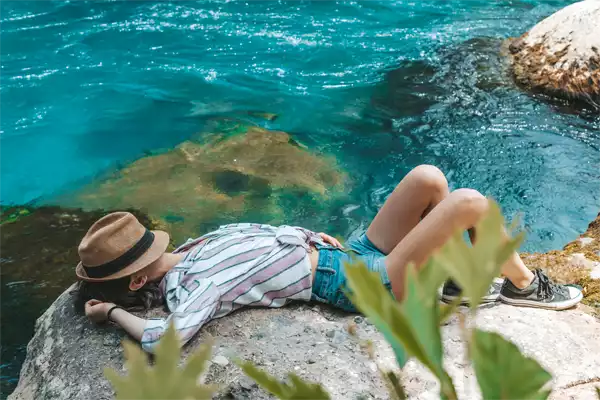 What to pack for Koprulu Canyon rafting tour?
If there are items you have to take with you during rafting, you should definitely get a waterproof bag to put them in. Also, sunscreen and a sporty pair of sunglasses for sensitive eyes can be added to the must-have list.
And your clothes should be as comfortable as possible. It's a good idea to choose quick-drying clothes made from a water-repellent fabric. Sportive bikinis, swimsuits, shorts or etc. can cover your needs.
World Travel Journal: Koprulu Canyon Turkey
You are able to record your Koprulu Canyon Antalya trip in this unique and best travel journal. It has no information about the canyon inside but if you are traveling to so many places, this journal can help you separate your trips easily with its special cover. It is also a nice and creative travel journey gift if your beloved ones are planning to go to Koprulu Canyon Antalya.
Here we are at the end of the Koprulu Canyon Turkey blog post. We hope that you've enjoyed and found useful information. Have you ever been to Koprulu Canyon? How was your Turkey experience? Feel free to comment below!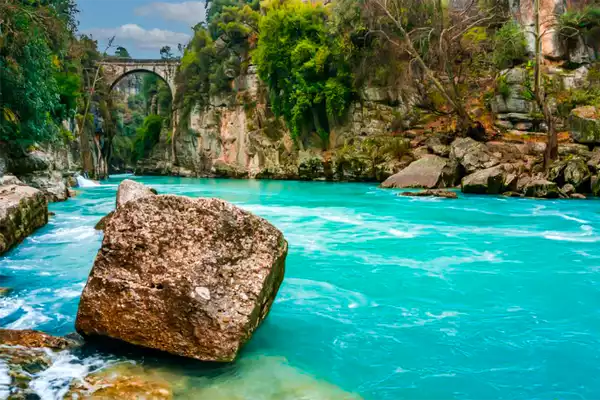 Frequently Asking Questions About Koprulu Canyon Antalya
Here are hand-picked top questions about Manavgat district and Koprulu Canyon Turkey for you.
What's the best way to see Oymapinar Dam?
There are plenty of boat trips on Green Lake where you can see the Oymapinar Dam and Green Canyon which is an unnatural canyon in Manavgat, Antalya.
What's the best way to see Koprulu Kanyon Milli Parki?
Hiking and rafting are one of the best ways to see Koprulu Canyon, National Park. We suggested camping as well if you have time for this. You can find camping things in the Decathlon brand in Turkey. There is a huge Decathlon store which is very close to Antalya Airport (AYT).
What attractions are near Koprulu Kanyon Milli Parki?
Which one should I choose: Tazı Canyon tour or Koprulu Canyon tour?
You don't need to choose, you can see both! This attraction offers you Jeep Safari at Tazi Canyon, rafting at Koprulu Canyon, and more.
Where is Koprulu Canyon?
Köprülü Canyon is located in Bozyaka district of Antalya's Manavgat district. It is 1.30 hours by car from Antalya and 1 hour from Manavgat center.