Phaselis ancient city and Phaselis beach is a very magical place which is very near to the Kemer, Antalya district. This archaeological site is a very important historical landmark that is next to the Mediterranean sea. If you are looking for the best things to do in Antalya city, you must visit Phaselis, an ancient city in the Tekirova region. 
You can spend a half or complete day in Phaselis ancient city and enjoy one of the best beaches and ruins of Antalya. Discover the Turkish tombs, rocks, ancient theatre, historical harbor, very old baths, and ancient agora with a perfect sea and sky. 
Phaselis ancient city is a very unique place in nature. Here is the complete Phaselis ancient city guide in 2023 with a real travel experience for you. 
How To Go To the Phaselis Ancient City?
You can get Phaselis ancient city in several ways. If you have a car you can go to Phaselis ancient city from Antalya center in about 40-45 minutes. Probably the public buses (Kemer – Tekirova buses) are the cheapest way to get from Antalya to Phaselis. But it may take about one hour or more from the city center. For a faster way, you can use cabs from the center. Also, you can rent a car for your Antalya trip.
From Kemer to Phaselis is about fifteen minutes. Be aware of the turning point in order to not miss it. Now, there is a tunnel -which is named Phaselis Tunnel- just before the Phaselis turning. After the tunnel, follow the brown sign and turn left for the entrance of Phaselis antique city. 
If you want to go there from the Kaş direction, it will be on your right side. You should drive about 2 hours from Kaş to Phaselis ancient city.
SEE OUR KAS ITINERARY
You can take a look at the location of Phaselis ancient city and Phaselis beach on the map.
Besides, you can arrive there via seaway. Daily boat tours or private yacht trips can be a way to visit Phaselis archaeological sites, too. Phaselis ancient harbor is a very popular destination for boat tours. Please note that museum pass is available.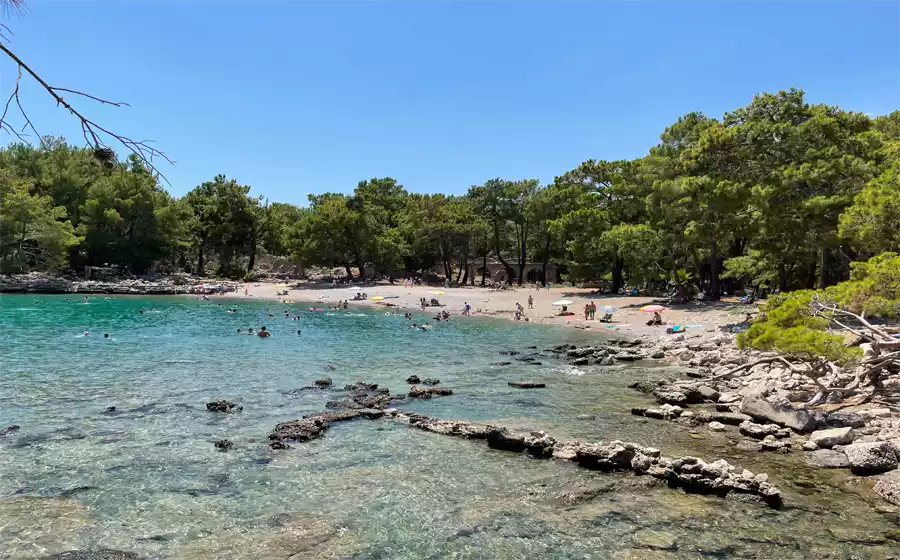 Phaselis Ancient City Opening Hours
Phaselis archaeological site is open every day. You can visit Phaselis ancient city from 08:00 to 20:00 each day of the week. 
Phaselis is a very popular place to swim around the historical side. Since it is an ancient city, it is not possible to rent a sun lounger. That's why we suggest you go early in the morning and find a nice tree shade.
Also, the ancient city of Phaselis can be very crowded on holidays and holidays. Before going to Phaselis, it may be useful to take a look at the religious and official holidays of Turkey.
Phaselis Ancient City Entrance fee
Phaselis entrance fee is 180 Turkish Liras per person with the latest update in 2023. If you have a relative museum pass, it's free for you.
If you don't have a museum pass but you are planning to spend more time in Turkey, you can buy a museum pass from the counters at the entrance of Phaselis Ancient City.
We suggest you check current updates about Phaselis Turkey from here before you go there.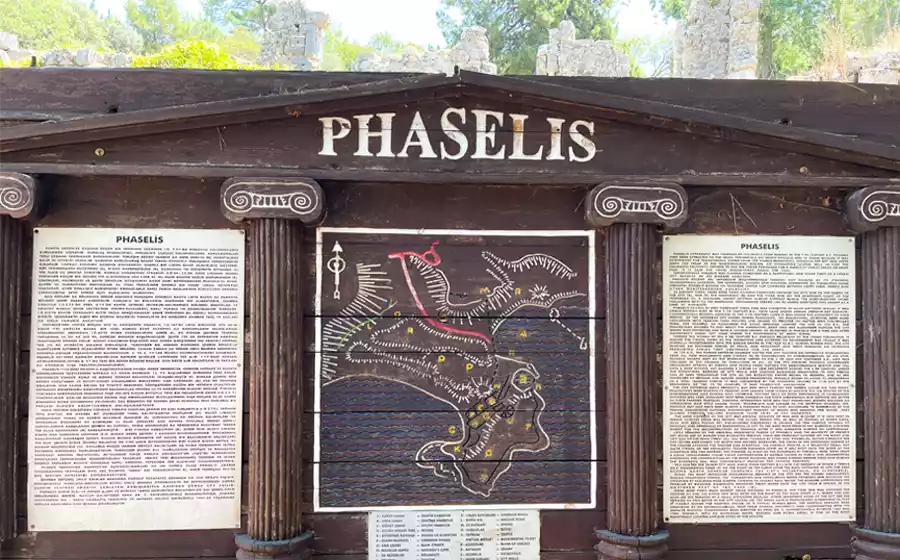 A Short History of Phaselis Ancient City
Antalya Phaselis archaeological site was a famous trade city with three ports in ancient Lycia times. 
You should pay attention to the aqueducts, baths, ports, ancient theatres, and agora ruins while you are visiting the site. Be aware of being a witness to a great history in the ancient city of Phaselis. Probably you didn't see another unique region like Phaselis before.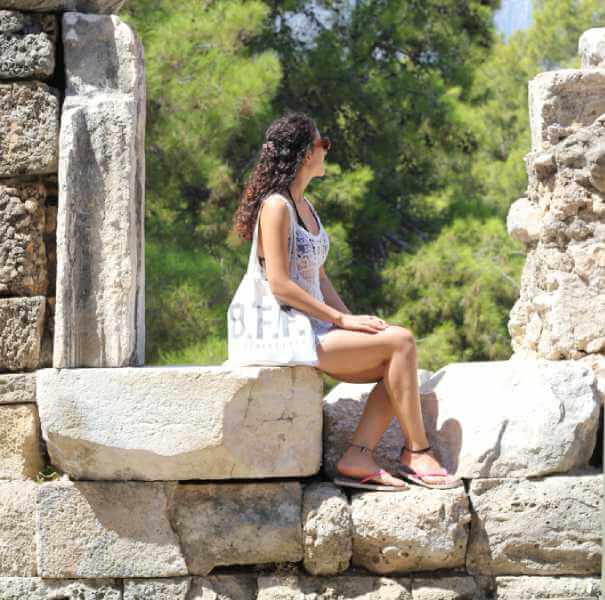 Worthwhile Phaselis Ancient City Tips & Advice
Phaselis ancient city is a very rare place worth visiting in four seasons. It is an archaeological site so you can't find so many things there. We will suggest some important things so you can take precautions before you visit Phaselis. Do not schedule your Phaselis trip before you read our tips & advice.  
There is only one and so tiny market in Phaselis where you can find such basic things. Prepare your things before you arrive there so you wouldn't miss anything during your daily Phaselis trip. Get ready like going to an amazing beach for a picnic. 
No allowing barbecue or campfire in Phaselis ancient city. Also, you can't stay for a night camping on the site. But if you have a small tent, you can bring that with you in order to protect your kids from the hot summer sun.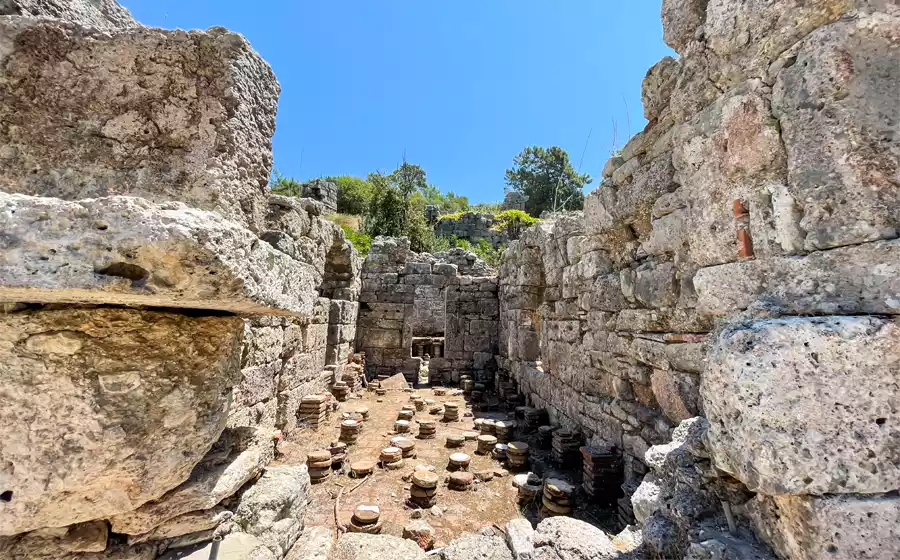 How is Phaselis Beach Antalya?
As we mentioned above, Phaselis ancient city is an archaeological place so there are no sunbeds or sunshades. You can stay under the trees for a shady spot but just in case you should take your parasol, hat, sunglasses, sun cream, portable chair, or table with you.
Because especially on summer weekends Phaselis is very crowded so maybe you can't find any shady place next to the sea. Even if you don't have any portable chairs or sunbeds you can take a blanket in order to spread out.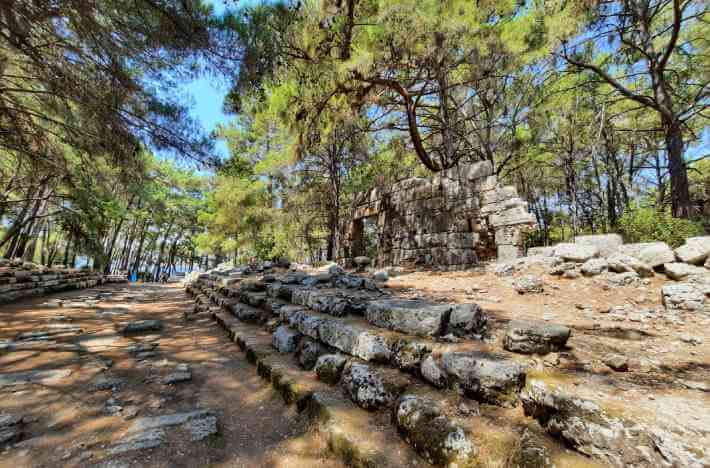 Best Time to Visit Antalya Phaselis Ancient City
Antalya weather is quite fine in four seasons generally. Kemer district may be hotter than the city center, especially in spring and summer times. Let's say you decide to visit Antalya in spring, so how is the weather in Antalya in April or May? It is very hot and sunny. You can swim and tan. Have a fine breakfast or picnic in Antalya. In particular, in Phaselis ancient city, the weather is almost pretty in four seasons.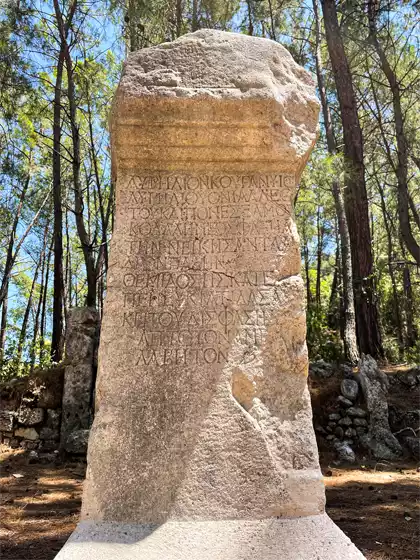 Phaselis Beaches
As we mentioned before, there are no sunbeds or sitting places there. So you should take your summer stuff with you during your Phaselis Beaches trip. There are three wild beaches with small pebbles. They used to be ports in ancient times.
Underwater is very colorful but not mossy around there. You can see sand, rocks, and small fish around even without snorkel equipment.
Phaselis Beaches are spread and several but you can swim between rocks, too. Also no worries: Phaselis Beaches have toilets and showers.
If you are interested in academic research or more historical information about Phaselis you should check this out. This special Phaselis research website is very comprehensive and it is a really amazing and unique finding.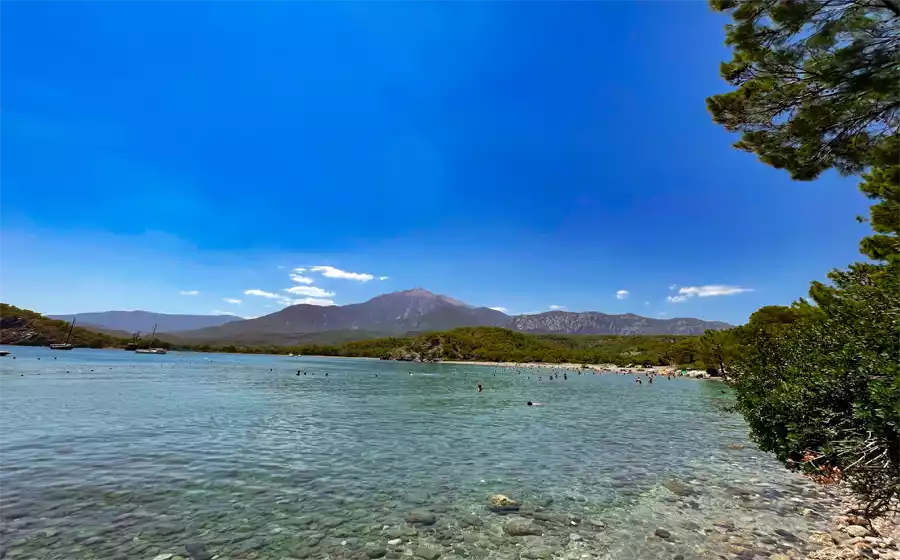 Phaselis Things To Do & Best Attractions in 2023
Phaselis ancient city seems like it hasn't got so many things to do but actually, it has more attractions than it seems. Especially if you are an underwater person or photography lover. 
Phaselis is an amazing place for photographers either with historical ruins or Mediterranean beautiful natural life. 
Phaselis beach has an excellent Mediterranean underwater life. If you are a snorkeling person you must visit there and see this great aqua view. Underwater photography is another plus if you are interested in it. Prepare your best underwater GoPro.
This is one of the best archaeological ruins of Antalya that you must visit at least once not only for swimming. You can find unique things to do there likewise for original purpose ideas, extraordinary breakfasts, honeymoon attractions, wedding photographs, nature observations, etc. 
In our opinion, the Ancient City of Phaselis is a unique place for those who are considering marriage proposal ideas in Turkey.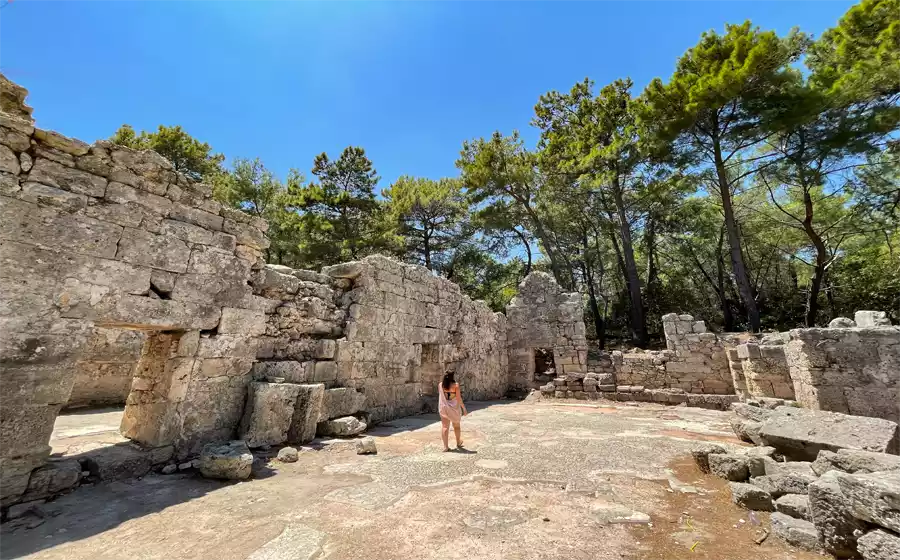 Things To Do Near Phaselis Ancient City
Ulupınar is a fine option for food and drinks near Phaselis beach. There are nice restaurants which are next to the river. No worries about planning the Ulupınar trip because mostly, some people are waiting before the Phaselis entrance for visitors and they are trying to give you some leaflets. Those leaflets are about the restaurants near Phaselis. In Ulupınar district which is near Phaselis, you can find fresh foods and drinks next to the flowing water. 
Another attraction near Phaselis is the cable car. You should give a try to Tahtali Olympos cable car if the weather is nice but wait; the weather is almost always sunny in Antalya.
If you like adventure and wildlife you should see the offer for a jeep safari from Kemer.
A daily or night trip to Kemer can be a very charming thing to do. You must visit Kemer if you have not ever been before. 
You can go to Olympos Beach and Mount Chimaera as well. If you have time you shouldn't miss things to do in Adrasan.
Phaselis Kemer Turkey Hotels
Phaselis Kemer Turkey is a very good choice for accommodation as well. Either you can reach Phaselis with a day trip or you can stay nearby Phaselis. Here are the nicest Phaselis Antalya hotels.
If you want to discover more beaches in Antalya, you can check best places for beaches in Antalya
Do you have more questions about Phaselis Antalya ancient city guide? Meet with us in the comment section below.
Frequently Asked Questions About Phaselis Antalya
Where is Phaselis Ancient City?
The ancient city of Phaselis is in Antalya's Kemer district. It is 54 km from Antalya and takes about 50 minutes. It is 15 km from Kemer. You have to turn left at the junction at the exit of the Phaselis tunnel.
How much are the entrance fees to the ancient city of Phaselis?
Phaselis ancient city entrance fee is 180 Turkish Liras per person. If you have a valid and suitable museum pass, admission is free. You can learn which museum passes are valid in Phaselis ancient city from here.
What are the working hours of the ancient city of Phaselis?
The working hours of the ancient city of Phaselis are between 08:00 in the morning and 20:00 in the evening.
What's in Phaselis?
There is a very beautiful ancient city in Phaselis, dating back to the Lycians. You can reach the beaches by passing through the ancient city and enjoying the sea. Since Phaselis is an ancient city, sunbeds are not sold. If you buy a picnic chair from any market, you can enjoy it under the trees. Phaselis has a small market where you can buy cold drinks and snacks.
How can I go to the ancient city of Phaselis?
You can go to the ancient city of Phaselis by bus or car. Antalya-Kemer buses departing from Antalya take you to the Phaselis entrance, but you have to walk for 15 minutes inside. The most convenient mode of transportation is to go by car. Rent a car now to travel to Antalya comfortably.
If you have come to Turkey on holiday and are curious about ancient cities, it would be useful to take a look at the Ephesus ancient city, Patara Ancient City, Xanthos ancient city, and Letoon Ancient City.