If you don't have extended time in your Antalya vacation but you still want to visit Kaş? You must visit of course. Because Kaş is one of the best places to see in Turkey. Here is the answer to How can you spend One Day in Kaş Turkey 2022? Surely, you can find so many tourist attractions in Kaş but in this blog post, we want to mention only the very basic things to you. Let's see how you can spend One Day in Kaş Turkey 2022 in your Kas Turkey trip.
Table of Contents
Discover Kaş in 24 hours
Kas, Turkey Things To Do
Actually, Kaş is a big area and Kas, Turkey things to do are so various. But either you have an extended vacation or a short trip you should visit Kaş before leaving Turkey. You can create your own solo trip to discover Kaş or you can take a daily boat tour in order to explore the best beaches in Kas, bays, and caves. 
If you have hesitations about Is Kas Turkey worth visiting? Definitely! Kaş has incredible nature, landscape, and beaches with blue flags.
Best Kaş Beaches
Kaş is very famous because blue and green come together in very untouched natural beauty. People ask who didn't visit Kaş before, Is there a beach in Kas Turkey? The answer is: Like you wouldn't believe! You will be able to see at least three or four beaches without any seeking. Yeap, that's true. However, if you know a few best Kaş beaches before your holiday to Turkey, it will make your trip easy. 
Here are a few best Kaş beaches names that you should see; Small Pebble Beach, Big Pebble Beach, Kaputaş Beach, Kas Municipality Public Beach, Hidayet's Bay, Akcagerme Beach… All beaches are fine for couples or families.
According to The Guardian travel writers, Kaputaş is among the top 40 beaches in Europe.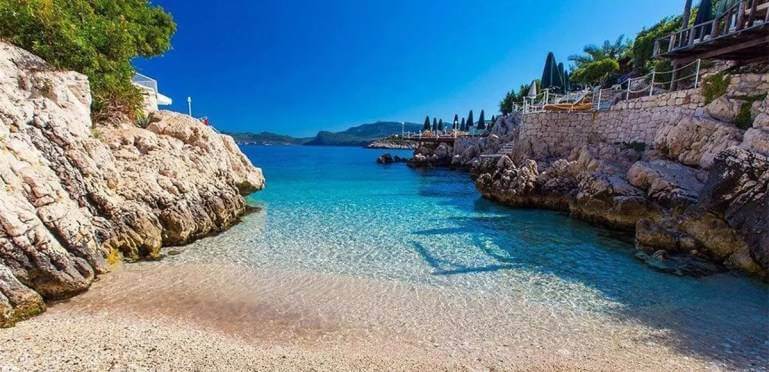 Antalya Kas Mornings
Wherever you stay in Kaş, Turkey; you should swim early in the morning. Antalya Kas mornings are amazing especially if you wish for calmness in your vacation. That probably will be a dreamlike experience in your life. 
Keep that in mind. Not only in the mornings, Kaş beaches are excellent all time of the day. Moreover not just for swimming. You can do snorkeling, scuba diving, join Kekova boat tours, tanning, and be full up with beautiful landscapes in Kas.
Best breakfast in Kas Turkey
You deserve the best breakfast in Kas Turkey. Either you can have your breakfast in the place that you stay or you can discover the breakfast places in Kaş centre. Enjoy with a delightful Turkish breakfast.
Kas Old Town
One of the best essentials is discovering the cultural heritages. So you can walk for a tour in order to explore the historical and ancient destinations in Kas Old Town. Discover the Lion Tomb, Antiphellos ancient city ruins, Hellenistic theatre and more.
Kas Town Centre
Not only for seeing the ancient texture, you should visit Kas Town Centre for shopping too. Walk through the Uzun Bazaar and unhide. If you are looking for something more local, you can wait for Friday Market which is a street market that exists on every Friday close to the Kaş town centre.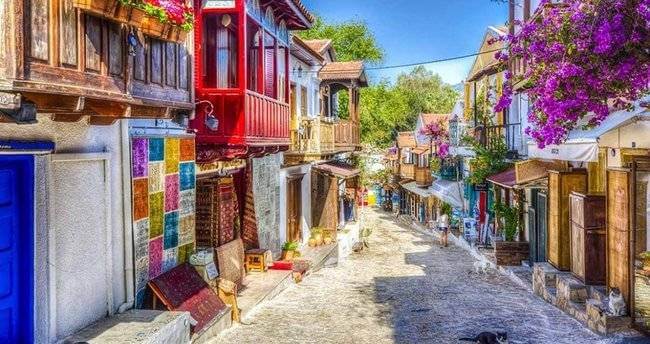 Best restaurants in Kas
After all those tourist attractions, you probably feel tired and starving. So, you should try the best restaurants in Kas for your dinner. Either you can find fast food, fine dining, pizza, fresh fishes etc. Turkish cuisine, kebabs, and ocakbasi are very famous meals. 
The news is good for vegans! There is an excellent restaurant in Kaş. Oburus Momus has vegan, gluten free and vegetarian options. If you like peanuts, you should try Asian Bowl there with a cold beer of course.
Kaş Nightlife
Kaş has very unique pubs and clubs. Do not expect huge places. Get ready to join people. You may find boat disco tours at night. Kas nightlife has various options. You can also enjoy in taverns and drink the famous Turkish "Rakı" with delicious and fresh fishes. 
If you are looking for budget friendly options, you can take your drink from the markets and have a good time at Antiphellos ancient theatre with friends. The theatre has an excellent night view. You must observe the town and stars from here.
Here is a Kaş, Turkey video for introduction.
Best Kas Hotels
If you want to spend the night in Kas, we suggest you take a look at these Kas hotel guide. Also if you have time and want to buy something you can check our Shopping in Kas blog post as well.
If you are looking for more beaches, discover the Best Places for Beaches in Antalya. Also you can check the Phaselis Ancient City Guide for your Antalya trip.