For your next Turkey trip, plan your vacation early and discover things to do in Adrasan Turkey. Adrasan is about 1 hour and 15 minutes from Antalya city center. Nearby, you can visit Phaselis Ancient City, Olympos Beach, and the Burning Flames Chimera.
SEE OFFER 👉🏻 Vacation Essentials for Family
The nature of Adrasan is very beautiful and virgin. If you will stay there probably the birds will sing for you on 7/24. This place is not so common for tourist attractions but there are some unique activities to do in Adrasan. Either you can stay in Adrasan for a long vacation or you can visit there for a daily trip. In this blog post, we will tell you the nicest things to do in Suluada and nearby Adrasan. The choice is yours.
So here are five amazing things to do in Adrasan, Turkey. Those are the top attractions to visit in Adrasan that you can enjoy and relax.
Table of Contents
1. Suluada and Porto Genoese bay boat tours
It is impossible not to come to Adrasana and not join the daily boat tour. Take the boat tour, you won't regret it. There are two boat tour routes you can join.
These are the Suluada and Porto Genoese Bay routes. Although the Suluada route is more popular, Porto Ceneviz Bay is quite beautiful.
Since the tours last almost all day, I recommend you to join the Sulaada tour one day and the Porto Genoese tour the other day. Tours start at 10 am at Adrasan Pier and last until 17 pm. Since boat tours are very popular, you need to call the agency and make a reservation. If you only have one day, the Suluada tour can make you more satisfied.
You can swim in the visited bays, sunbathe on the boat, or dance along the way.
Learn more about 👙 HERE MY GUIDE FOR 👉🏻 Adrasan Suluada boat tour.
Suluada Boat Tour Route and Fee 2023
The Suluada boat tour route is respectively, Fener Bay, Suluada Bay, Suluada underground water, Suluada healing fresh water source, and Suluada cave visits.
Adrasan Suluada island boat tour prices are starting from 30$ per person up to 50$. This price includes lunch and fruit on the way back. As a meal, fish and salad are usually served. Alcoholic or non-alcoholic beverages are extra charged.
Suluada Island Turkey is one of the best locations in order to anchor. You can discover underwater beauties with your snorkeling gear until lunch. Or you can sunbathe on the shore and enjoy the sea. Suluada Turkey has something for every guest.
You can join the Adrasan Suluada Island Boat tour from Antalya or Adrasan.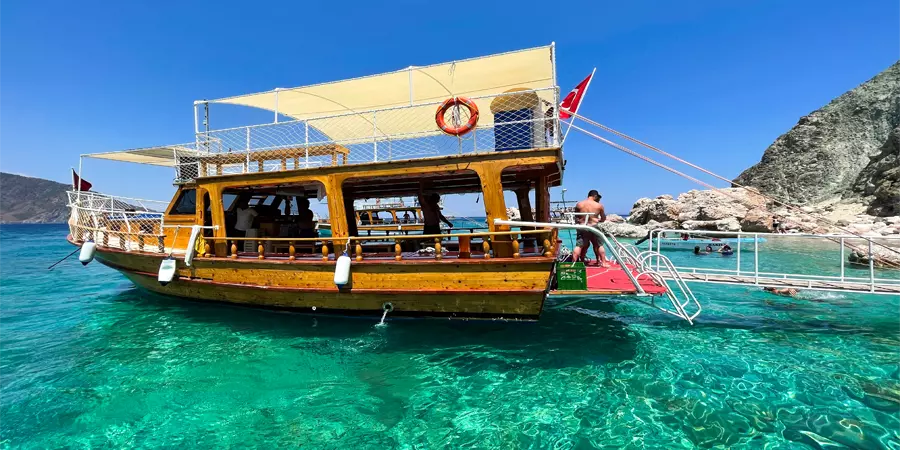 Porto Ceneviz Bay Tour Route and Fee 2023
Although the name of the tour is Porto Ceneviz, five different coves, each more beautiful than the other, are visited. These are Pirate Bay (Korsan Bay), Sazak Bay, Ceneviz Bay, Fosforlu Cave, and Akseki Bay, respectively.
Genoa tour price is between 30$ – 40$ per person., as in the Sulaada tour. Considering the seven-hour tour and food service, we think it is a very affordable activity and definitely worth a try.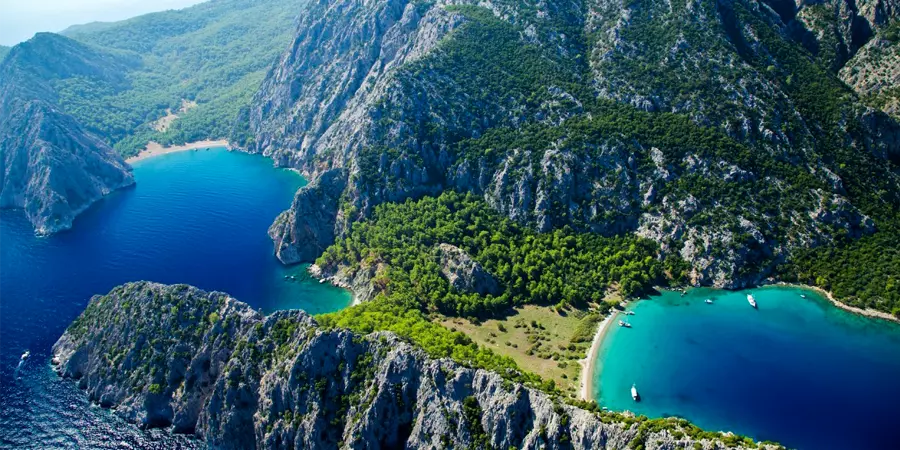 Moonlight Tour
Adrasan Antalya has many satisfying boat trips. Moonlight tour is one of them. It is a unique boat tour where you can watch the sunset over the Mediterranean. This boat tour is arranged if at least 10 people request. The price is 300 TL as on other tours (more or less).
2. Scuba Diving in Adrasan, Turkey
Scuba diving is one of the best outdoor activities in Adrasan Bay. You should see the underwater beauties via scuba diving in Turkey. Antalya Adrasan is considered one of the starting points of underwater archeology in Turkey.
You can do diving training or test dives with certified teachers. Trial and exploratory dives are determined by the Turkish Underwater Federation as a maximum of 5 meters and you can dive up to a maximum of 5 meters. Don't forget to take your underwater camera for diving.
By the way, if you are into scuba diving and other watersport activities, let Dive In be your guide.
Scuba Diving Antalya Price
Boats for diving tours depart from Adrasan beach and the cost is starting from 40 USD per person. Antalya scuba diving prices may change according to the region. You can view all the best scuba diving in Antalya from here.
PADI scuba diving Turkey prices are starting from 500 USD.
Scuba diving in Side Turkey is also a very popular attraction. You can read watersports in Side and learn more about it.
Since the diving routes will change according to your experience, you will determine with your agency and we are sure that you will like the Bat Cave very much.
3. Visit Gelidonya Lighthouse
Gelidonya Feneri or Gelidonya Lighthouse is the greatest view in Adrasan, Turkey. This trekking route is very enjoyable and perfect for outdoor activities. Either you can join a hiking group or you can trek by your own to Gelidonya Lighthouse. Take your drinks with you and enjoy the sunset from Gelidonya Lighthouse.
Be aware that you are wearing in quick dry clothes and comfy outdoor sneakers. Cover your head and skin from the sun. This path is wild and long, besides Antalya can be very hot. You'll need some preparations before you set off.
For other cool outdoor activities in Adrasan, you should also check out Musa Mountain or Mount Musa for free climbing.
Going to Phaselis ancient city, visiting Kemer Antalya or Antalya city center are other day trips from Adrasan that you can go. You can add Chimaera Eternal Flames Turkey and Olympos ancient city on your travel list as well. Or you can stay in the center for cozy Adrasan day trips.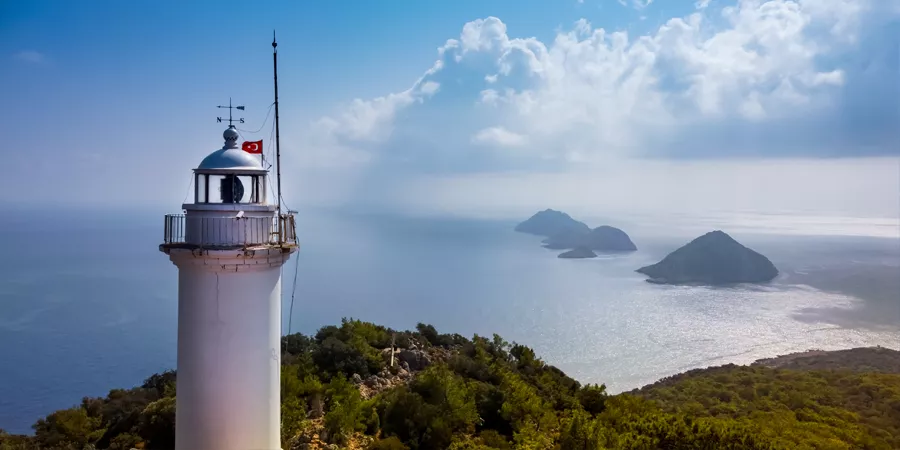 4. Enjoy with the Adrasan Beach – Bucht Von Adrasan
Adrasan Beach is a very peaceful bay. Daily rental sunbeds are very cheap. Umbrellas from wood, authentic and bohem vacation. Perfect for a family vacation. Probably tanning in the sun and chilling on the beach are the most popular things to do in Adrasan with kids.
Adrasan Beach Prices
2 sunbeds and 1 parasol are 40 Turkish Liras. You can find free car parks as well, but if you will use the municipal park area you should pay 25 Turkish Liras for each car.
Toilets are free. And you can find tiny markets and restaurants in Adrasan Beach Turkey.
5. Yoga Treatments in Adrasan
Adrasan is a very peaceful and natural place for your yoga treatments. You should book great yoga classes and enjoy the relaxation. I had my Yoga Alliance 200-hour yoga teacher training retreat in Adrasan and it was one of the best time of my life.
Adrasan is one of the famous locations for yoga retreats in Turkey. For instance, this 8 days yoga retreat is in Adrasan. Also, you can check out other yoga retreats in Antalya like Yoga retreat in Cirali Antalya and 5 days yoga and meditation retreat in Turkey.
Where to stay in Adrasan, Turkey?
Adrasan region is a much quiet and calm place. You can stay in small boutique hotels, and motels or you can choose camping places for your Adrasan vacation.
Many people think that there are Suluada Antalya hotels in Adrasan. Let's clear that point. There is no hotel in Suluada. Suluada is a very wild and virgin island. So it is better to stay in nearby Adrasan.
Adrasan Hotels
Adrasan has lovely and cozy hotels for everybody. People prefer Adrasan because of its magical nature and fresh air. Also, many people go to Adrasan for yoga retreats. Once, I stayed in Onuncu Koy Hotel for my yoga teacher training retreat and it was an amazing experience surrounded by nature.
In addition, nearby regions are Çıralı and Olympos. So you should make your plans and things to do list with this.
You can read Olympos Beach Antalya from here, and Eternal Flame Olympos Turkey from here.
If you are planning a holiday in Adrasan, you may want to take a look at the religious and official holidays in Turkey. Eid days can be crowded as it is a public holiday in Turkey.
Book your hotel in advance to have a peaceful and cheap holiday in Adrasan. Check out Adrasan hotels!
How to get to Adrasan?
The easiest way to come to Adrasan is to come to Antalya by air. If you are planning to come from another city by bus, we recommend that you choose the Kumluca bus and get off at the Adrasan road junction. There are buses from the Adrasan road junction to the center of Adrasan and it takes only 10 minutes.
How to get from Antalya to Adrasan?
Adrasan is located in the west of Antalya. It is 87 km from Antalya city center and 107 km from Antalya Airport, and it takes an average of 1 hour and 30 minutes by car.
If you haven't rented a car in Turkey yet, rent a car safely and cheaply.
If you don't have a car, you can go to Adrasan by taxi or by taking the buses from the bus terminal in the city center.
Taxis usually take tourists at a fixed price and this price varies between 70 and 100 euros on average. If you are going to prefer a taxi, we recommend you to bargain or rent a car much cheaper.
If you prefer to go by bus, you can take the Çicek Tour or Batı Antalya Tour buses from the bus terminal. These buses run only 4 times a day in the summer and can be a bit overwhelming in the summer heat.
Bus times from Antalya to Adrasan: 8:00 / 11:00 / 15:00 / 18:00
If you are coming to Antalya by air for Adrasan, you can contact the hotel you will be staying at and ask them to send you a transfer vehicle. He will pick you up at the airport gate and bring you to the hotel. This will be the most convenient mode of transportation.
If you are planning to go directly to Adrasan by plane from Antalya, you can take a look at the private transfer vehicles that you can take directly from the airport to Adrasan.
How to get from Olympos to Adrasan?
The distance between Olympos and Adrasan is 12 km and takes 10 minutes. You can take the shuttles or hire a taxi from Olympos beach. If you are going to Adrasan for a boat tour from Olympos, you can use the services of the agency.
How to get from Kaş to Adrasan?
The road from Kaş to Adrasan is 110 km and takes an average of 2 hours and 20 minutes. If you are traveling by car, please be careful as some sections of this road are quite winding.
If you do not have a private vehicle, there are private public buses between Kaş and Antalya. With these buses, you can come to the Adrasan road junction and get down to the center of Adrasan.
READ 👉🏻 How to get Fethiye, Dalaman or Antalya to Kas?
Things to do in Turkey Antalya
Is Antalya good for shopping? (Antalya Shopping Outlet Guide)
Unique Things to do in Antalya (just in one day)
Koprulu Canyon National Park Things to do
Chimaera Cirali Guide (Eternal Flame Turkey)
Things to do in Adrasan Turkey
Explore Antalya Kas City Center (Ultimate Guide)
How to get Fethiye, Dalaman or Antalya to Kas?
Best Beaches in Antalya Region
Best Beaches of Antalya to Swim
Best Antalya Beaches with Picnic
Turkey Antalya Olympos Beach Guide
Best Beaches of Kas Antalya map
Ancient Sites Near Antalya Turkey
Xanthos Ancient City Antalya History
Perge Ancient City Antalya Reviews