Alanya is one of the regions where most tourists travel in Turkey, and in this article, we will share all the information about Alanya Turkey with you.
Alanya is located in the easternmost part of Antalya and is a charming seaside town with something for everyone. From its world-famous beaches to its vibrant nightlife, there is so much to see and do in this amazing city.
In this Alanya Turkey Guide, we will tell you where to go shopping, how to get around the city, and much more!
Table of Contents
Things to do Alanya Turkey
Is Alanya better than Antalya? Well, it is not a fair question because both of them have their own unique things to do. First of all, you need to know that Alanya is about 90 minutes away from Antalya city center. We suggest you see both. If you have limited time or you just want to make one choice after reading this Alanya Turkey Guide, check our One Day in Antalya blog post. 
What to do in Alanya?
We would like to introduce you to Alanya's best attractions and amazing things to do. After that, you can find below so many restaurants, resorts, and nightclubs in Alanya. 
You can find various things to do in Alanya, Turkey. Let's start with the best beaches in Alanya.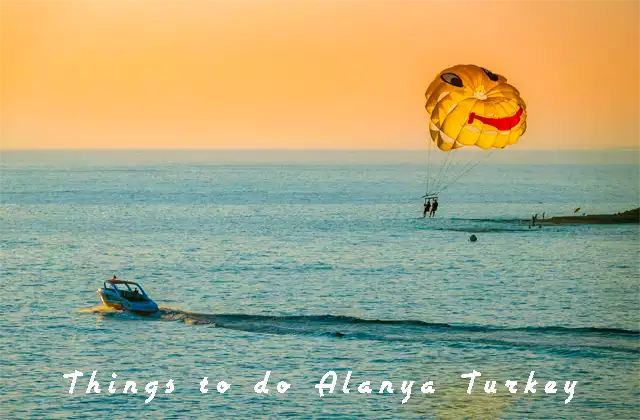 Relax with the best beaches of Alanya
Alanya beaches are quite beautiful and Antalya has sandy beaches. Among Alanya beaches, Cleopatra Beach, Damlataş Beach, İncekum Beach, Keykubat Beach, Emirgan Ulaş Beach, Portakal Beach, Mahmutlar Public Beach, Tosmur Beach, Galip Dere Public Beach are the best Alanya beaches.
Let's take a quick look at the most popular of them.
Cleopatra Beach
Cleopatra Beach, named after the famous Egyptian queen, is one of the top 20 beaches in Antalya and I think it is the best beach in Alanya.
The beach, which is right at the entrance of Alanya, is quite easy and the length of the beach is 20 km.
The sand of Cleopatra Beach is golden in color and you can admire this beach. If you are visiting Alanya, you should definitely go swimming at this beach.
Damlatas Beach
Damlatas Beach, right next to Damlatas Cave, is in the center of Alanya and transportation is very easy.

Since Damlataş beach is a bit wavy, if you are planning to go with your child, you should pay attention. Damlataş beach is worth seeing with its cave, beach, and clear water.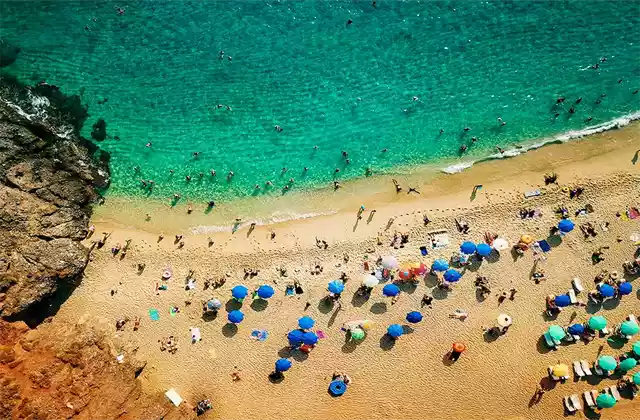 Incekum Beach
Composed of fine sand, the beach is located 26 kilometers west of Alanya. It is one of the shallowest seas of Alanya and even Antalya and is very suitable for families. The surroundings of İncekum Beach are suitable for camping and there are facilities such as showers and toilets that you need for camping.
👉 You can also read Best Beaches in Turkey for Families.
Alanya Castle
One of the most popular Alanya things to do is visit the famous castle! The length of the Alanya castle, which dates back to the Seljuk Empire Period, is 6.5 km and its length is up to 140 meters. Alanya Castle, built on a peninsula, is a well-preserved medieval castle on the Anatolian map.
You can visit the walls of Alanya castle and watch Alanya from the Red Tower. You can also watch Alanya at night with dinner and wine at the restaurants around Alanya Castle. You can also get some pretty cool photos for social media.
The historical Alanya Shipyard in the castle was used during the rise of the Ottoman Empire after the Seljuk state. There is a small beach here and it offers the pleasure of swimming in the historical monuments.
Access to Alanya castle can be done by road and cable car. If you prefer to go to Alanya castle by cable car, you will have the opportunity to watch the Alanya view from the air.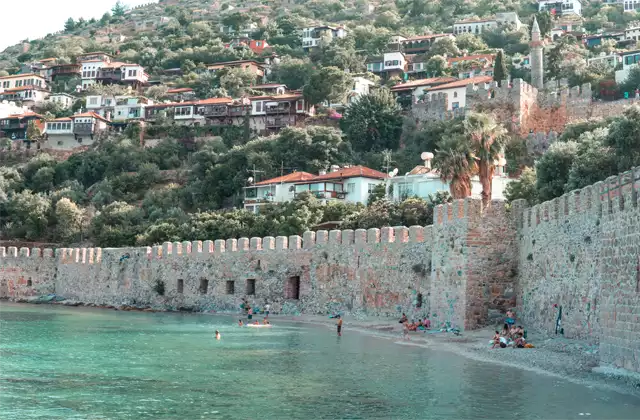 Alanya Castle entrance fee
You have to pay 150 Turkish Liras per person to visit the Alanya Castle walls and the museum inside. If you have a Museumpass Turkey card, it is free.
Alanya Castle opening hours
Alanya Castle's opening hours are 08:00 – 20:00. As the box office closes at 19:30, you cannot buy tickets later.
There is no hourly or fee policy as the entrances to the cafes and restaurants in this area are different.
Alanya Dimcay
Visiting the Dimçay river, which is 6 km away from the center, is among the best things to do in Alanya.
The water of the river, which reaches from the mountains of Konya to Alanya, is quite cold and there are many restaurants and facilities on the river. You can swim in certain parts of the river, and some businesses even have water slides.
Dimcay Alanya
It will be good for you to go to Dimçay for breakfast in the morning and have breakfast in the bungalows on the river, then cool off from the ice-cold water of the river.
If you want to pronounce it but can't, you can say Dim-chai-i. In addition, it may be useful to take a look at our article on Turkish words for tourists.

You can also take a safari tour in Dimcay.
👉 Check out the Dim river safari tour.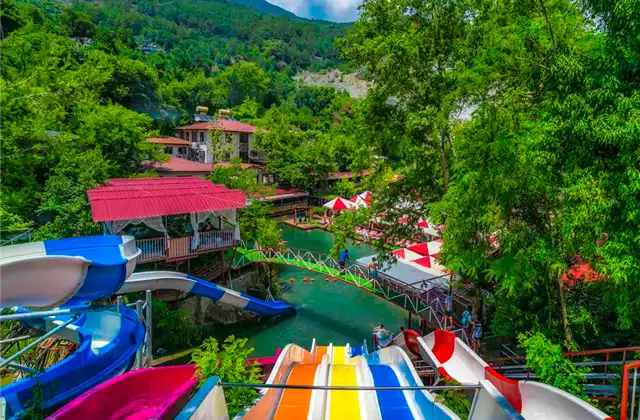 Alanya Museums and Alanya Mosque
While you are in Alanya Antalya Turkey, if you want to learn about the history of Turkey and Alanya, we will talk about the historical buildings and museums you can visit in Alanya.
Alanya Archeology Museum
Artifacts from the Bronze Age, Urartian, Lydian, and Phrygian periods are exhibited in Alanya Archeology Museum. The museum has archeology and ethnography departments.
The museum's most famous work is the 2nd-century bronze Statue of Heracles. The oldest artifact is the Phoenician inscription from 625.
Alanya Museum is very close to Damlataş Beach and Alanya Castle. Alanya museum's working hours are 08:30-20:00 and the entrance fee is 40 TL per person. It is free if you have a Museum pass card.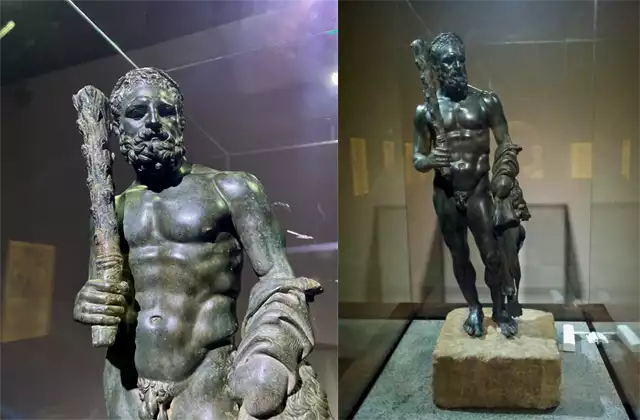 Alanya Suleymaniye Mosque
It was built in 1231 by the Seljuk Sultan Alaeddin Keykubad I, but was later destroyed by a lightning strike, but was rebuilt by Suleiman the Magnificent in the 16th century during the Ottoman period.
Alanya Suleymaniye Mosque is at a dominant point on the top of Alanya and has a very beautiful view of Alanya.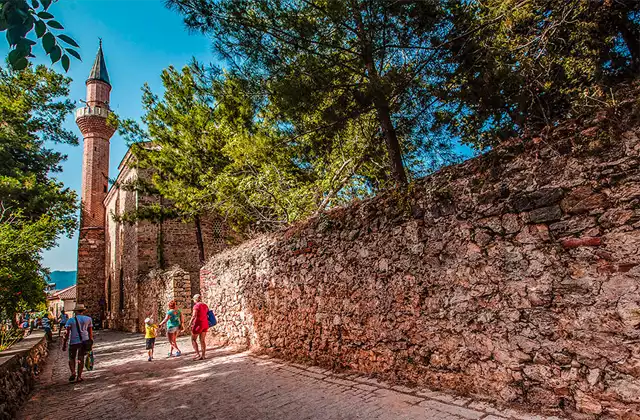 Alanya Ataturk House Museum
It is the house where Mustafa Kemal Atatürk, the founder of the Turkish Republic, stayed for a while during his visit to Alanya on February 18, 1935. The house was donated to the Ministry of Culture by its owner, Tevfik Azakoğlu, and turned into a museum in 1987.
Alanya attractions
Ataturk Museum is one of the most interesting and proud attractions for both locals and foreigners. Atatürk's personal belongings, photographs, the telegram that Atatürk sent to the people of Alanya, and other historical documents are exhibited on the ground floor of the three-story building in the garden, which reflects the characteristics of 19th-century Turkish architecture. The rooms on the upper floor are equipped with ethnographic items of a traditional Alanya house.
Iotape Ancient City
Turkey Alanya hosts many ancient cities and landmarks and Iotape ancient city is one of them. It is a place where you can swim in the sea, intertwined with history, such as the ancient city of Iotape, the Phaselis ancient city, Olympos Beach, and the Patara ancient city.
There are artifacts from the Roman and Byzantine periods in the city, but they are quite worn out. Located on the 33rd kilometer of the Alanya-Gazipaşa highway, the ancient city takes its name from Iotape, the wife of the Commagene King Antiochus IV (38–72 AD).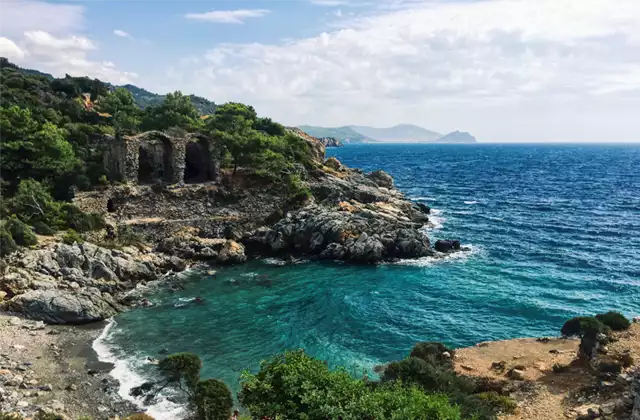 Alanya Boat Tour (Alanya best trips)
Another activity you can do in Alanya Turkey is to take a boat tour. The boat starts with Cleopatra Beach. Lunch and soft drinks are available. In addition, foam parties are held on the boats.
👉 Take a look to book a boat tour in Alanya.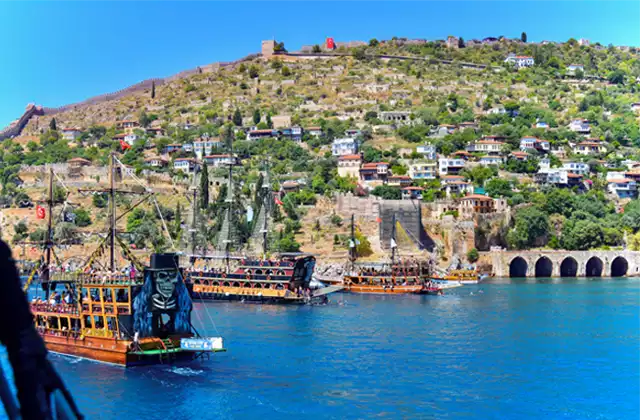 Paragliding in Alanya
If you want adrenaline, what you need to do in Alanya is definitely Paragliding. You can go on a magical 2-hour journey accompanied by experienced teachers and watch the Alanya landscape and Alanya beaches from the sky.
👉 Learn more about Antalya Paragliding.
Side Ancient City and Manavgat Waterfall
Side Antique City is only 1 hour away from Alanya. The ancient city of Side is a very well-preserved big city and has special works such as the Temple of Apollo. If you have time, we recommend you to see the ancient city of Side.
You can learn more about the Side ancient city.
Places to visit near Alanya Turkey
Manavgat waterfall, which is 1 hour away from Alanya, is another place worth seeing. You can take a day to visit Side Antique City and Manavgat waterfall.
Explore Wonderful Koprulu Canyon Turkey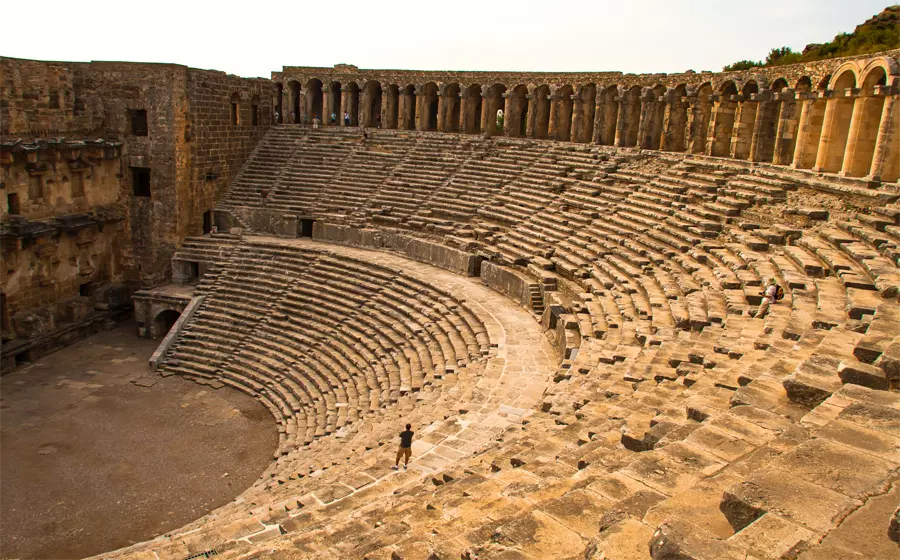 Alanya Turkey
We talked about things to do in Alanya, let's talk about general information about Alanya.
Is Alanya Turkey safe?
Alanya Turkey and Antalya are quite safe for tourists. Millions of tourists come to Antalya and Alanya on holiday every year and there is no security problem. You can come to Alanya on holiday with peace of mind.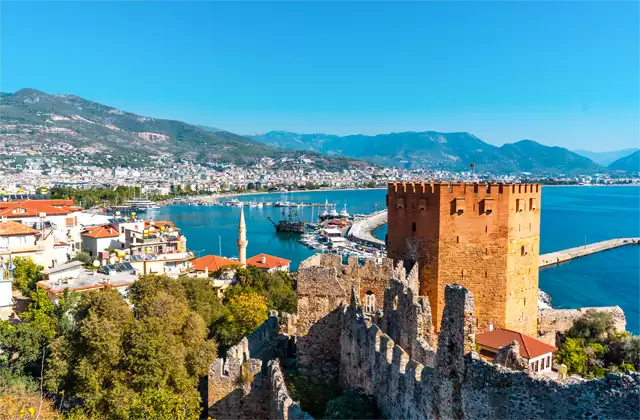 How Do I Get To Alanya?
The easiest and fastest way you can get to Alanya is by plane: The closest airport to Alanya is Gazipaşa Airport (GZP) and it's about 45 minutes away by car. There are plenty of charter flights that come here from all over Europe, especially in the summer.
If you're coming from Turkey's biggest city, you can choose Antalya Airport, too. So how can you go to Alanya from Antalya airport? Let's take a short look at the options.
The best way to go to Alanya from Antalya airport is by using the Havaş bus. These buses are available from both terminals. From Antalya to Alanya buses are pretty fine options for transportation somewhere. In this way, you will be able to see around and enjoy the stunning Antalya view. 
You can also choose to take a taxi but it may cost you more money. So, how far is Alanya from Antalya? The drive takes about 90 minutes depending on traffic. Antalya to Alanya is 133 km.
Another common option is to go to Antalya by bus: You can also go to Alanya by bus. This journey will take approximately 3 hours.
To go to Alanya by bus, you must first go to Antalya bus station by taxi or bus. You can browse for bus tickets to Alanya.
Other options are to go by taxi or private transfer vehicle. A private transfer option will be much cheaper than a taxi.
Best Alanya Turkey Restaurants
If you are looking for the best Alanya Turkey restaurants in this Alanya Turkey Guide, you are in the right place.
Of course, there are many restaurants in Alanya, but we will tell you the 5 most liked and budget-friendly restaurants by tourists.
The best restaurants in Alanya
Kale Panorama Restaurant
Mezze Grill Ocakbasi Restaurant
Chefmetin Moonlightrestaurant & Steak House
Garden&Bar Restaurant
Olivia Gourmet Restaurant & Cafe Bar
Alanya Turkey Nightlife
Alanya nightlife, together with Kemer, is one of the two places where nightlife is most colorful in Antalya.
There are many clubs in the coastal area from Alanya castle to Alanya harbor. The top 3 they are:
Havana Club
Robin Hood
CLUB IMPERIUM
Alanya Hotels
If you ask what is the most famous part of Alanya, it is definitely a 5-star hotel. You can find budget-friendly hotels in Alanya for both adults and families.
Here are the Alanya hotels we can recommend for you.
Sunprime C-Lounge – Adult Only
The Sunprime C-Lounge hotel is adults-only and is the most affordable of any 5-star hotel. I can say that it is a complete price-performance hotel.
👉 Check out the Sunprime C-Lounge.
My Home Resort Hotel – Ultra All Inclusive
If you are coming to Alanya with your family, My Home Resort Hotel is just for you. It is just for you with its children's pool, water park, private beach, and its own private beach.
👉 Check out the My Home Resort Hotel.
If you want to see more, you can take a look at the most suitable Alanya hotels here.
Frequently asked questions about Alanya Turkey
Here are the top asked questions about Alanya Turkey. If you have any questions, drop them below in the comments.
Is Alanya better or Antalya?
The answer to this question is different for everyone and depends on your purpose. If you are coming to Turkey for summer vacation, Alanya may be a better option than Antalya.
Is there an airport in Alanya?
There is no airport in Alanya, but you can go to Gazipaşa airport (GZP), which is 1 hour away. Unfortunately, this is not an international airport. The international one Antalya Airport (AYT) is 3 hours away.
Is Alanya suitable for families?
Alanya is suitable for families in general. You can have a lot of fun with all-inclusive hotels and water parks. For a family hotel in Alanya, you can check the Alanya hotels section.
Is Alanya expensive for the holidays?
Turkey is one of the cheapest countries in the European continent. You can have a luxury holiday in Alanya at a very cheap price with an early reservation.
Is there a golf course in Antalya Alanya?
There are no golf courses in Antalya Alanya. Antalya's famous golf courses are in Belek. You can check out Golf breaks in Turkey 2023.
Is Alanya safe?
Alanya is one of the most popular and assertive destinations in Antalya. It is possible to come across people speaking different languages, tourist police, and tourism information points in many places.
Antalya City Guide
Is Antalya good for shopping? (Antalya Shopping Outlet Guide)
Unique Things to do in Antalya (just in one day)
Koprulu Canyon National Park Things to do
Chimaera Cirali Guide (Eternal Flame Turkey)
Things to do in Adrasan Turkey
Explore Antalya Kas City Center (Ultimate Guide)
How to get Fethiye, Dalaman or Antalya to Kas?
Best Beaches in Antalya Region
Best Beaches of Antalya to Swim
Best Antalya Beaches with Picnic
Turkey Antalya Olympos Beach Guide
Best Beaches of Kas Antalya map
Ancient Sites Near Antalya Turkey
Xanthos Ancient City Antalya History
Perge Ancient City Antalya Reviews