Turkey is a must-see country with all its various natural beauties and ancient history. Every year, so many families are looking for safe and family-friendly vacation destinations for their next holiday. Parents are searching for harmless beaches for their children. If you are thinking about Best Beaches in Turkey for Families 2023, you are in the right place.
Table of Contents
Is Turkey a good place to visit with family?
The answer is an absolute yes. Turks attach great importance to family structure and children are very valuable. For this reason, many resort areas and almost all beaches are family-friendly and extremes are not allowed.
We, on the other hand, will talk about the beaches with the most suitable sea, sandy beaches, and facilities for families in our 2023 article, Turkey Best Beaches in Families. All of these beaches are on the Mediterranean and Aegean coasts.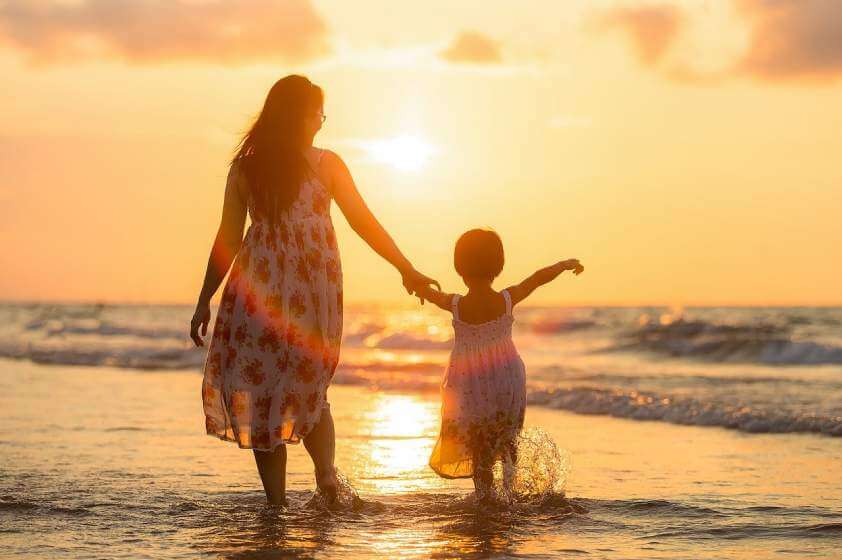 Best Beaches in Turkey for Families
Our title is Best Beaches in Turkey for Families, but you can consider it the best family holiday destination in Turkey. Because besides the beaches, we will give you little tips about the destinations.
1. Icmeler Beach – Marmaris
Icmeler beach is located in Marmaris, Turkey. The beach of beach, which is close to the center of Marmaris, is sandy. The sea is quite shallow and clean.
There are hills covered with lush trees to the right and left of the beach in Icmeler Bay. You can rent sunbeds and umbrellas from private businesses on the Icmeler beach or buy things like water and food.
Icmeler is at the top of our list of beaches suitable for families in Turkey, as the beach is sandy, the sea is not deep, has everything you may need on the beach, and is very close to places such as pharmacies, markets, and hospitals.
You can learn more about Marmaris Turkey.
2. Oludeniz Beach – Fethiye
Oludeniz beach is one of the most popular beaches in Turkey. Located on the Teke peninsula, the beach is famous for its lush nature, white sand, and lagoon formation known as abalone.
Located in the Ölüdeniz region of Fethiye, the beach is very close to the center of Fethiye and has all kinds of facilities for families such as sun loungers, umbrellas, and markets.
You can learn more about Fethiye Turkey.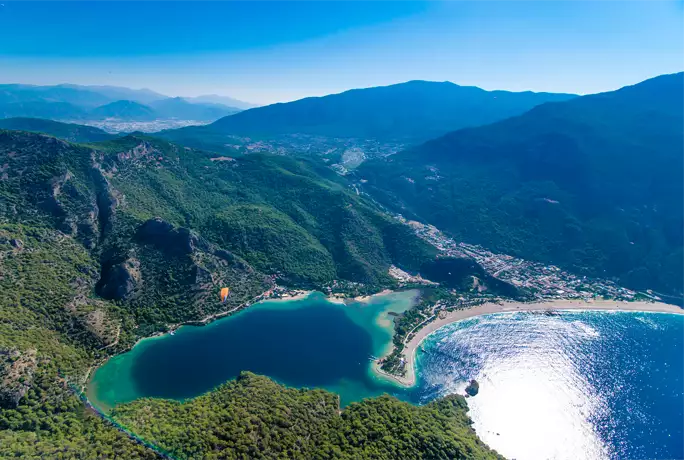 3. Lara Beach – Antalya
Lara beach, located in the Lara region of Antalya, is one of the most beautiful sand beaches in Antalya.
It is close to the center of Antalya, the hospital, and Antalya shopping centers. There are many private beach businesses on Lara beach and there are sunbeds and umbrellas as well as markets. It can be reached from anywhere in Antalya by bus.
Lara beach is among the top 20 beaches of Antalya and its sand is really beautiful. We can say that the sea is partially deep, but the safe zones in the sea have been determined and lifeguards are constantly watching you.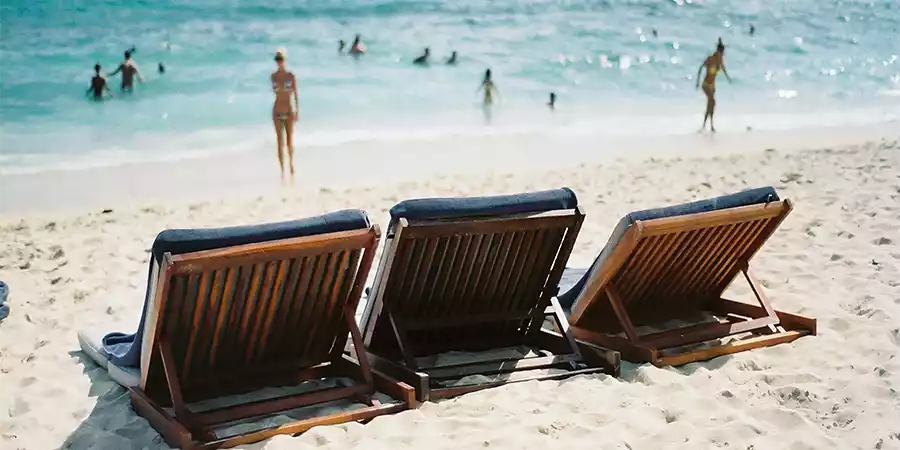 4. Cleopatra Beach – Alanya
One of the most beautiful beaches of Antalya is Cleopatra beach. The color of the sand is almost red and dazzling.
It is located at the entrance of the city of Alanya, in the hotel area, and has all the facilities you may need. Cleopatra beach is one of the best beaches for families in Turkey.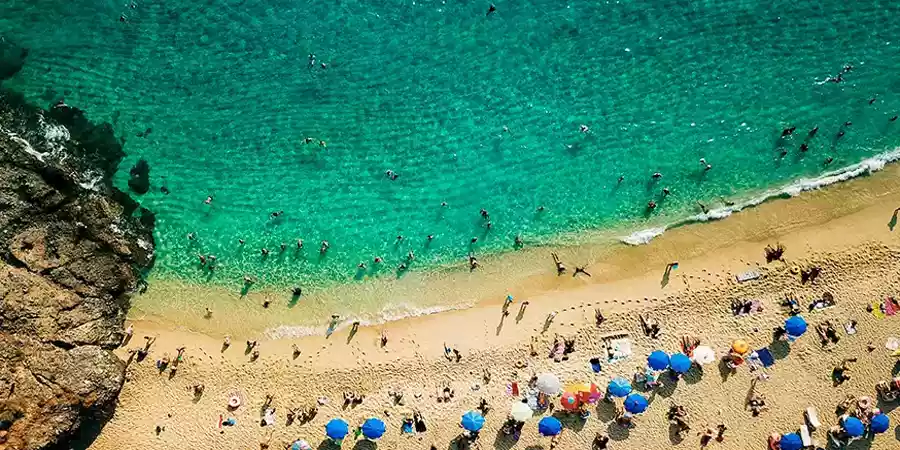 5. Ilıca Beach – Çeşme
Çeşme's legendary beauty with its fine sands and turquoise color is located in Ilıca Beach, Izmir Turkey.
Ilıca beach stands out as a beach that can be easily preferred by families with small children. The beach, where the sea is shallow for meters, is also very convenient in terms of temperature.
There are businesses selling all kinds of products that families may need around the beach.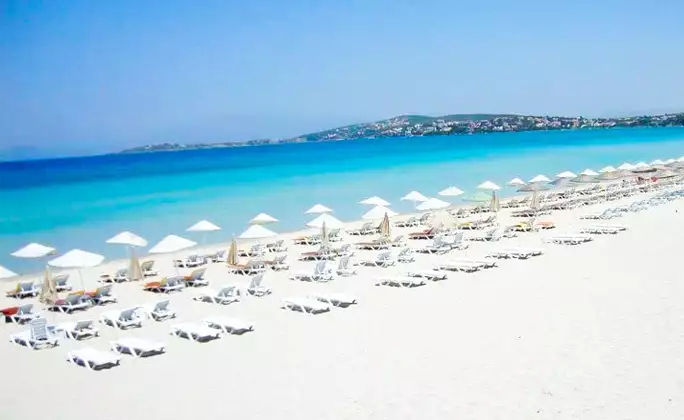 6. Karaincir Beach – Bodrum
The biggest feature of this beach, which is located in Bodrum Turkey, and is not very popular, is that it is very suitable for families with small children because even if you go into the sea up to 50 meters, the sea level will come to your knee.
At Karaincir Beach, which is a beach, your children can enjoy the sand on the beach.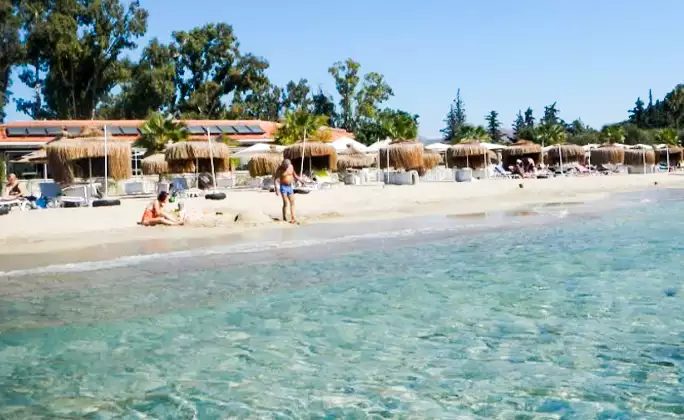 7. Altinkum Beach – Didim
Altınkum, which is located in Aydın Didim and is one of the favorite beaches of the area, has the distinction of being a 500 meters long beach with a blue flag.
Located in Didim, famous for its ancient cities, this beautiful beach has water where families with children can easily spend time and swim safely.
Since the beach is located in the center of Didim, you can easily reach all your needs.
Although Didim Aydın is not a preferred destination by foreigners, it is a very cheap holiday destination compared to its ancient cities, nightlife, and neighbor Bodrum.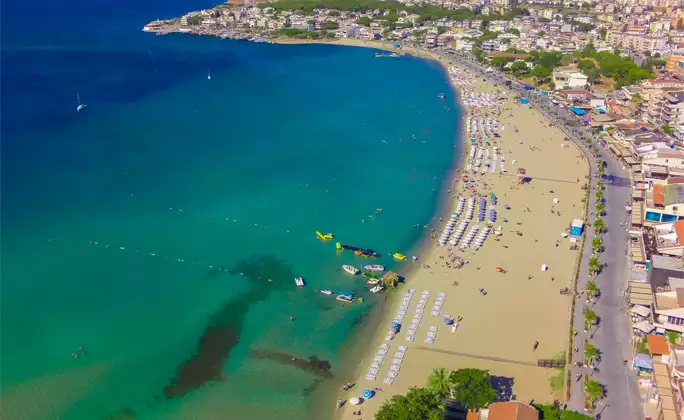 Turkey Beaches Map
Here is the map showing the best beaches in Turkey. Let's start.
Where to choose for a holiday in Turkey with kids?
If you're coming to Turkey on holiday with your children and want to enjoy the sea, I recommend holiday destinations such as Bodrum, Fethiye, Marmaris, Kuşadası, Çeşme, Didim, Ayvalık, which have less depth and have a coast to the Aegean Sea.
Although there are many beautiful beaches in Antalya, the sea is deeper than the regions mentioned above.
If you are looking for fancy holiday and deluxe destinations, you will find the best all-inclusive hotels in Turkey for families in Muğla and Antalya provinces. The Bodrum region is very famous for the best luxury family resorts in Turkey in particular.
Remember, these beaches are all blue-flagged. You can visit this site for cleaning the beaches.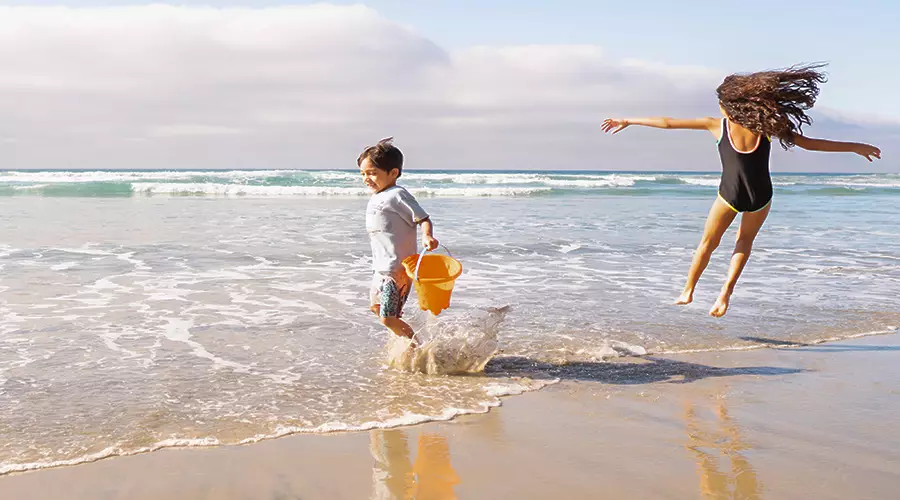 Questions about Family beaches in Turkey
Is Patara beach suitable for families?
Patara beach is a must-see place along with the ancient city of Patara. But the sea is not perfect for families with children because Patara beach is very wavy. Don't worry though, there is lifesaving personnel watching you all the time, and no accidents have happened so far.
Is Phaselis beach suitable for families?
Phaselis beaches are suitable for families. Depth up to about 10 meters is quite shallow. However, you cannot rent sunbeds because it is a ruined place and there is no beach. Still, the ancient city of Phaselis is worth seeing.
Where is good for a family holiday in Turkey?
The best place for a family holiday in Turkey will vary according to your wishes, but Marmaris, Fethiye, and Kusadasi are the most preferred places for families.
Are Kas beaches suitable for families?
Kaputas beach, is one of the 40 best beaches in Europe, and other Kaş beaches are also quite deep. In some places, you can exceed your height as soon as you enter the sea. For this reason, the best Kaş beaches may not be suitable, especially for families with kids.
Are beaches in Antalya free?
This is a very changeable question but you can find public beaches almost everywhere. Some beaches are managed by partners and some of them are bound up with hotels in Antalya.