Are you looking for the best picnic places with beaches in Antalya 2023? According to the Covid regulations, facilities are better than in the past. You can either have a barbecue or picnic with your family or friends or you can just swim and enjoy the sun.
Those places are very natural, and have good conditions. Have a picnic or enjoy the beach, it's up to you. Some of them are in the city center and some of them are near to the center. Here are the 6 picnic places with beaches in Antalya in 2023. So you can choose the best area for your needs and your budget.
Table of Contents
Topçam Beach
At Topçam, you will have a Sıçan Island landscape and good nature. The sea is very clean and the pebbles are huge but not so sharp. There are toilets, changing rooms and showers. Also, there is a market for your needs but just in case; check the market's status before you arrive at Topçam.
There are picnic tables and barbecues for free. But no sunbeds and umbrellas. You can still enjoy that amazing Antalya Beach with your own property.
The entrance fee is changing according to the vehicle's type. But the prices are not so expensive.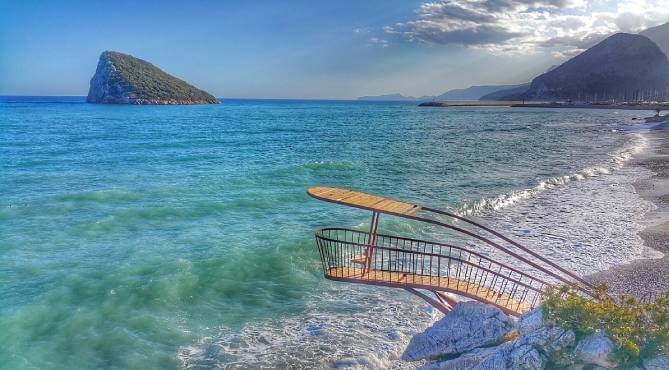 Kargıcak Beach
This area is smaller than Topçam actually. But Kargıcak is very peaceful and quiet. Follow the road signs and enjoy the place.
P.S. Generally Turkish people take their food and drinks with them and they only pay the entrance fee(if there is one). So maybe you will not be able to find any market near to the facility. Prepare your things and enjoy the perfect Antalya days.
Büyük Çaltıcak Beach
Here is another picnic area where you can swim at the same time. From Antalya city center to Kemer way, you will be able to see Büyük Çaltıcak and Küçük Çaltıcak too.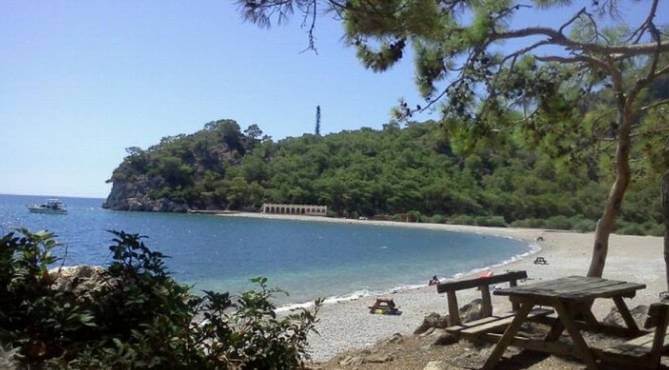 Küçük Çaltıcak Beach
In Küçük Çaltıcak, pebbles are smaller than Topçam. Great Sıçan Island view. But make sure before you go that the place is open or not.
Sarısu Beach – Picnic Area
Sarısu Beach is much closer to the city. The beach is very long and you can find a lot of picnic tables for free. The area is covered by trees, so you don't need any umbrellas to protect yourself from the sun. 
Only there is an entrance fee which covers beach and picnic details. It is very cheap by the way. Inside the picnic area, there are markets and toilettes, and changing rooms for free. Before you have your barbecue at Sarısu Picnic Area, travel by the Tünektepe cable car and enjoy the mountain view.
Lara Beach – Picnic Area
Lara Beach is a long-side area. Lara Beach is a blue flag beach. At the back of the beach, there are picnic tables and barbecues for free usage. The only thing that you know before going, there is no tree as many trees as Sarısu Beach. So during the noon time, you should be careful about the sun.