Whether you stay in Demre, Kaş, Antalya city center, or in another place; Kekova Sunken City is a must-visit place if you are in Turkey. Antalya Demre Kekova region has stunning views and history that you should spare a full day in order to explore.
You should know that only the sea route is used to go to the Kekova Demre. However, in this blog post, we will tell you all transportation types as well. Mostly, we will narrate a full-day Kekova Sunken City boat tour which includes much information about the region.
You can also browse our Kas Turkey Travel Guide article and learn more about Kas.
Kekova Sunken City History
The Kekova region includes islands, villages, and ancient cities spread over a wide area. In this region, which can only be reached by boats, the ruins of the ancient city, which was destroyed by an earthquake in the 2nd century, appear as a Sunken city.
The Sunken City of Dolichiste has amazing ruins but you can see other ancient cities in the region like Simena, Teimioussa, and Aperlae alongside Dolichiste ruins.
Üçağız Village is where Theimussa Ancient City is located. Rock tombs are everywhere.
Detailed information about the great harbor and many other parts of the sunken city is given by the tour guides. Do not be surprised to see traces of both Lycian and Roman-Byzantine civilizations in the region. This is a protected area and resistant prohibited.
However, in Simena (Kaleköy) there are people living on the castle village island. Üçağız and Kaleköy(Simena) villages are a part of the Kekova region. Demre Myra Kekova Sunken City Turkey's history has a notable and significant worth visiting.
Where is the sunken city of Kekova?
Kekova is a region that consists of ancient cities and islands between Kas and Demre in Antalya, Turkey. Demre Kekova Sunken City has only seaway access and it's under protection from the government. You can find boats and boat tours in order to discover the region. Daily Demre Myra Kekova tours with boats are the well-known ways to visit Kekova Sunken City.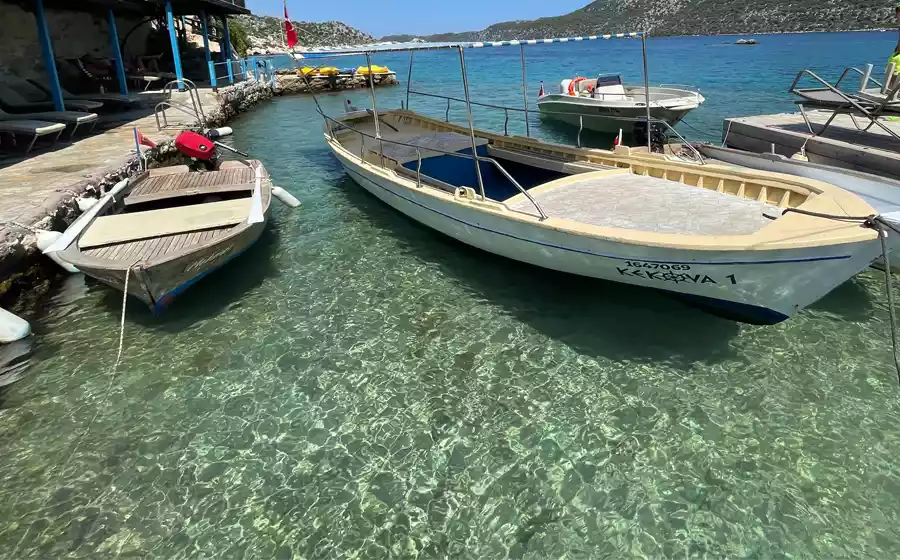 How do you get to Kekova Island?
You can reach Kekova Island via the sea route. Boat tours, private yachts, and kayaking are popular options to go to Kekova. There are many boats that offer a full-day tour to Kekova. You can find a complete tour which includes a Kekova boat trip, the Church of St. Nicholas plus the ancient city Demre and Myra from Antalya.
In addition, you can take private Kas Kekova boat tours if you want to experience a more hidden and special trip.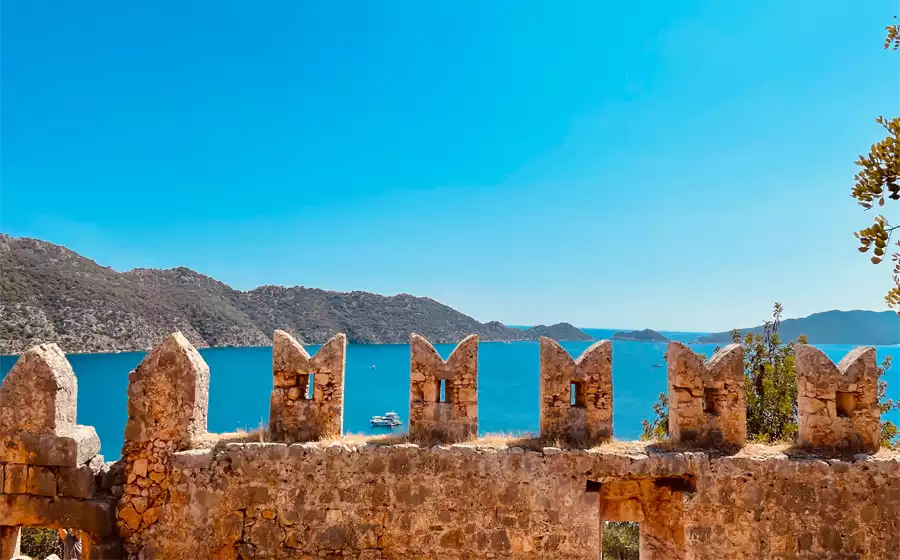 What to do in Kekova Turkey Sunken City?
You can do water sports, for instance, Kekova sunken city kayaking is very popular. If it's too much for you, you can choose to try a SUP board or a paddle board.
Kekova sunken city diving is another popular activity. Alongside scuba diving, snorkeling is a well-known activity to discover ancient ruins which are underwater.
The long and the short of it, you should explore, learn and collect memories. Photography is a very good thing to do in Demre Kekova, this place has amazing natural beauty and historical texture.
Kekova Sunken City Boat Trip & All Tips
We had joined a boat tour in order to explore the Kekova district. Boat trips are affordable and offer nice exploration. Also, you can sunbathe or swim in lovely turquoise bays on the Mediterranean side of Turkey.
Whether you choose shared boat trips, private ones, kayaking, or scuba diving, you will enjoy pretty much the same. You can choose to stay near Simena Castle as well.
Before explaining the Kekova boat tours in detail, it is better to mention some significant points.
There are two kinds of Kekova Sunken City boat tours. The first one which we chose takes 5-6 hours and the departure point is in Demre Ucagız Yacht Marine. Until there, there is a private bus which belongs to the tour company that takes you from Kas to Demre Ucagiz.
Here is the confession: I am a bad sailor. That's why we preferred that one because we didn't want to spend too much time in the sea.
The second and best one is full-day boat tours from Kas to Kekova. Tours include almost the same but if you prefer Kas departure point tours you will see maybe one or two extra bays and spend much time in the sea.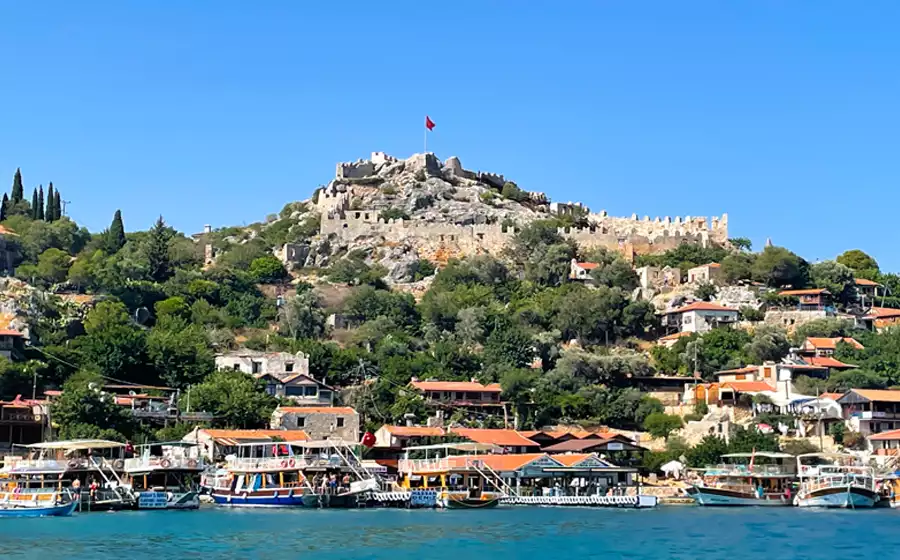 Kekova Sunken City Boat Tour Experience 2023
We met with the tour crew and other passengers in Kas center at 9.15 in the morning. Then we took the road for Demre Ucagiz with a comfy bus. The road took about 40-45 minutes from Kas center.
When we arrived at Demre Ucagiz harbor, we took our seats then the journey began. Here is an important tip for you: Sit on the right side of the boat if it's possible. If you care about taking photos, get a place downstairs so you can shoot from ground level. For sunbathing and a more open view, it is useful to hang out above.
We went to 6 bays during our Kekova boat tour journey. Let's see everything about Kekova bays and sunken city.
The first stop is Aquarium Bay which has a half an hour swimming break. The boat crew offers you some snacks with tea.
The second stop is Tersane Koyu (Tersane Bay) with ancient ruins and clear water to swim.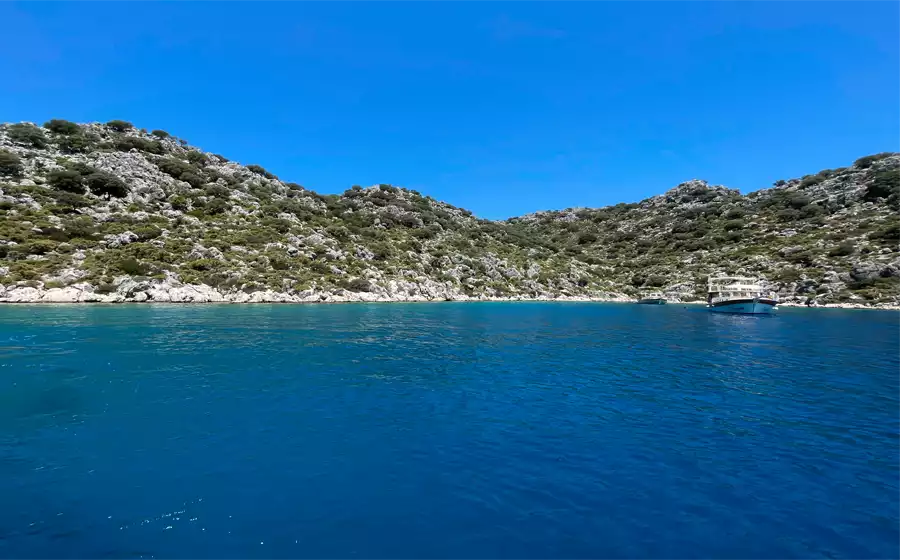 Before the third bay, you'll be able to see the Sunken City Ruins of Simena. Swimming is not allowed in this field. But the tour guide shares amazing historical information with the guests. During the trip, you can see the ruins everywhere both underwater or on land from Lycian and Roman-Byzantine times. That's a very unique and magical journey.
The third bay is Esmeralda Bay which has its name from a ship that anchored there for two years. Half an hour swimming break there as well.
The fourth bay is Gokkaya Bay. We had our lunch there with a one-hour swimming break. Lunch was pretty good. Some boat tours offer grilled chicken and some of their grilled fish with salad and appetizers.
Some boat trips give the guests an opportunity to do some watersports with extra money. Ringo boat is 200 Turkish Liras per person for those who want to join.
The fifth bay is Burc Castle and Bay. You can seize the half-hour swimming hour opportunity by swimming or exploring. According to what we have heard, this region has mineral waters and clays which are very recuperative for skin care.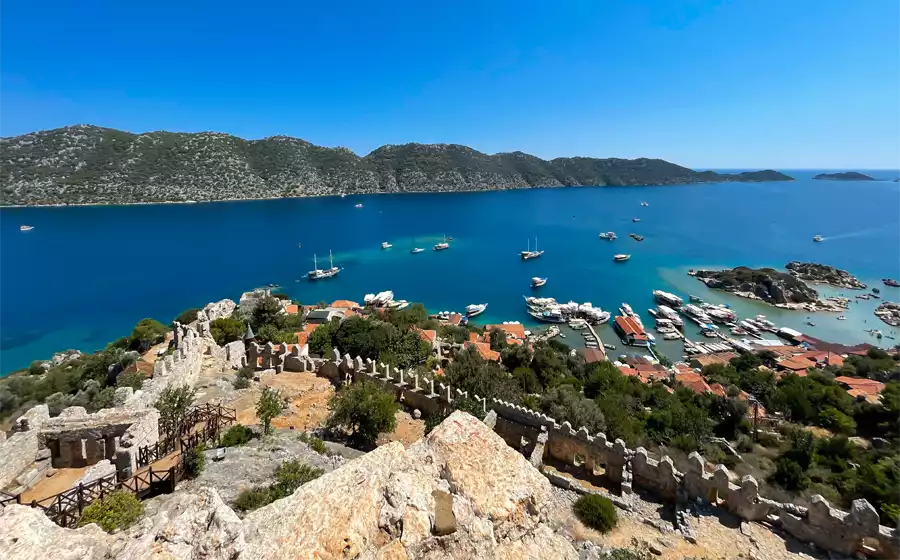 Here you go: The next stop is the Sunken City Ruins of Simena. Castle of Simena is another popular stop for Kekova boat trips. You can climb to the Castle. There is a stunning view from the castle village of Simena which is waiting for its guests.
In the sunken city of Simena castle, museum passes are available. If you don't have one, you can pay it as cash.
Simena Castle entrance fee is 25 Turkish Liras. Only Turkish Lira is acceptable. Simena Castle's opening hours are from 08:00 to 20:00.
Take more cash with you in order to buy some souvenirs, and drink natural pomegranate juice and delicious natural ice cream.
Ancient tomb Kekova island, Demre Turkey is here as well. Boat trips have one-hour breaks in Simena village. It is not enough to go to the castle, to see an ancient tomb closer, drink or eat something during this one hour. If you want to explore deeper, you can stay at Simena hotels Kekova.
The last bay is Adalar Bay. The stones are a bit harsh and there are urchins on the bottom of the sea.
You can buy some drinks on the boats. There are alcoholic or nonalcoholic drinks. Prices are affordable. We paid 70 Turkish Liras for 5 bottles of water and 1 Sprite.
Here are all the tips about a daily Kekova Boat Tour. If you need more time to discover Simena Kaleköy, check Kekova Hotels nearby.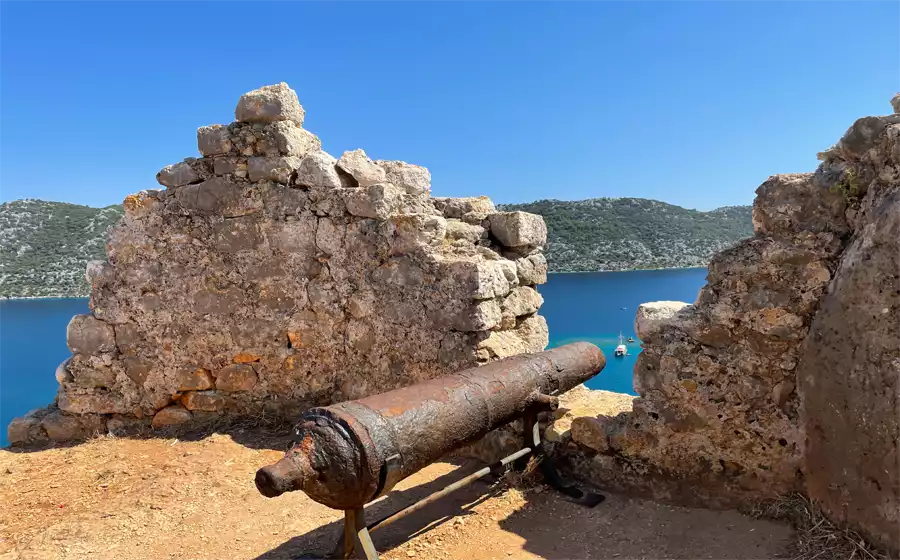 Where to Stay on Kekova Island?
There are few small hotels on the island of Kekova and unfortunately, they are not available for online booking. If you are lucky, you can go to Kekova and find a room for yourself.
It may be a good choice to stay in Kaş, which is 48 minutes away from Kekova, and go to Kekova with daily tours.
Eating opportunities, nightlife, and transportation will be much more comfortable in Kaş. You can also visit places such as Kaputas beach and Patara beach.
Hotels in Kaş center that I am satisfied with and can recommend to you with peace of mind, Sea View Hotel, 8 Pensions ve Hotel Medusa Boutique.
If you can't find a place in these hotels, don't worry, almost all the hotels in Kaş are beautiful. You can browse other Kas hotels.
Kekova Map
Here is the Demre Kekova map for you.
Kekova Weather
Kekova weather is mostly sunny and pretty hot for the summer months. But some spring and autumn months are very good to go on a boat trip to Kekova Island.
In addition: If you like boat trips, you shouldn't miss the Adrasan Suluada Boat Tour.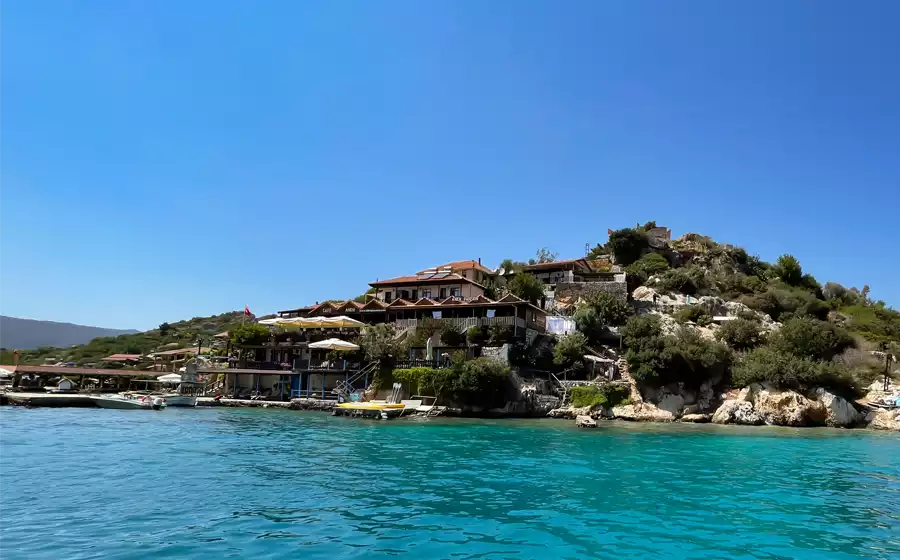 Frequently Asking Questions About Kekova Sunken City Boat Trip
How much is the Kekova sunken city kayak?
It is 1000 TL average price for each participant.
Why is kayaking more expensive than a boat trip?
It's about capacity. Because the boats have more capacity but in kayak, you'll have private guides. 
How to get to Kekova island?
You can reach Kekova island from Üçağız Demre via boats or yachts.
Where is the sunken city in Turkey?
Kekova Sunken City is in Antalya. You can go to Kekova from Demre or Kaş towns.
Can you swim in Kekova?
Yes, you can. Besides, swimming in Kekova will be an amazing experience in your life.
Why did Kekova sink?
There was an ancient earthquake that made Kekova sink.
What's the best way to see Tersane Koyu?
The best way to see Tersane Koyu is by boat.
Do you have any suggestions for Demre on what to do?
You can see Demre Myra Ancient City, Demre Andriake Ancient City, and St Nicholas Myra Church. You can join Kekova boat trips from Kas or Demre as well.
What is the best way to visit Simena sunken city?
The best way to see Simena Sunken city is by sea. Boat trips are very popular thereabouts.
What are the most popular things to do in Kekova?
You can take photos, and discover either underwater or ancient ruins on the land. You can go swimming, snorkeling, kayaking, or scuba diving. Note down the historical information. You will admire all the tiny details.
How to explore Kekova Island? 
You can swim in Kekova Beaches, boat anchor near Tersane Bay, you can explore Kekova Island via swimming.