Shopping in Kas is very easy and sociable because Kas, Turkey is a very small town where you can find your needs without getting lost. In this guide, you can learn about some shopping tips in Kas more and you discover all the places that you'll need.
SEE OFFER 👉🏻 Kas Turkey shopping
If you haven't read our Kas guide article, I recommend it for more information about Kas Turkey.
You can buy souvenirs, clothes, food & beverage, drugs and cosmetics, fresh fruits, and more in Kas. Let's start with the souvenirs.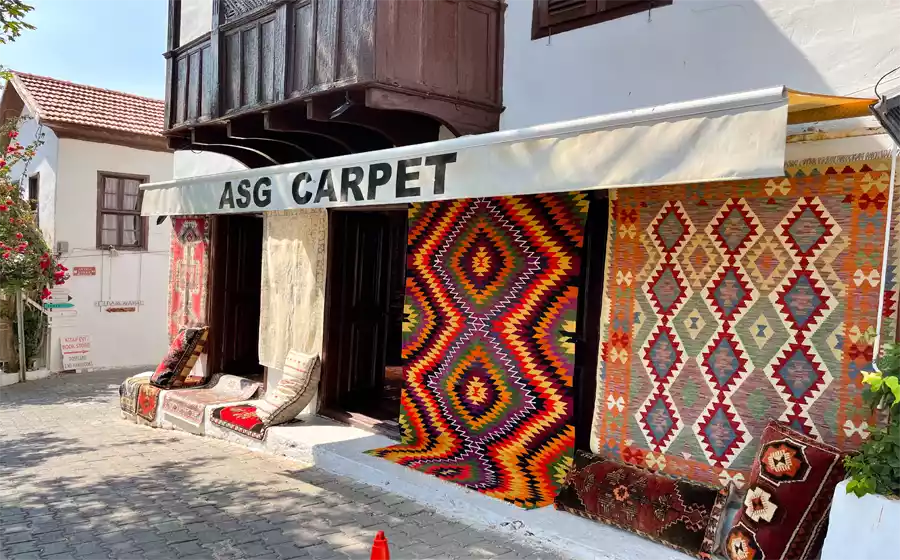 Table of Contents
Buy Souvenirs From Kas Old Town
Kas Old Town has many tiny shops for souvenirs, clothes, and accessories for the guests. Terra Decor is one of them. Mostly, you'll be able to see handmade stuff but on the other hand, you can find some familiar brand products in these small stores. Chirpy accessories are waiting for you as well!
Things to buy in Turkey
Other Kas stores have good products to purchase as well. You can find many Kas stores for souvenirs. Natural stone jewelry, bohemian clothes, authentic Turkish Evil Eye products, authentic Turkish carpets, Turkish cotton gauze clothes and more are waiting for you.
Do you forget some essentials for the beach or daily life? Don't worry about that. Rabia Ucuzluk Pazarı Kas is a very affordable place that can cover your needs. So do supermarkets!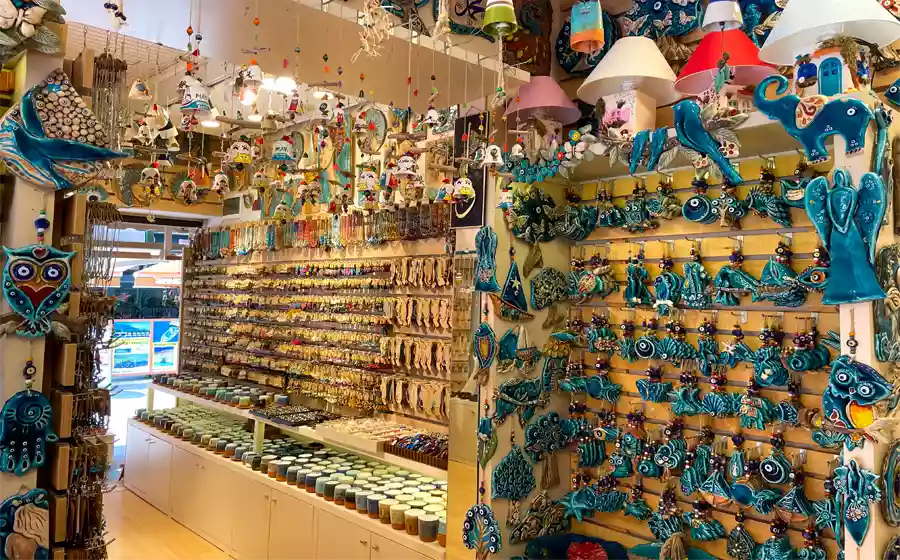 Supermarkets in Kas
Shopping from Turkey is easier in everywhere. You can find several supermarkets in the center of Kas which are very familiar as well like Migros, Carrefour, Sok, and Bim. Well, they are not so huge but you'll find the basics in many Kas supermarkets.
Not just for food, they sell some sea toys, sunscreens, cold drinks, water, cigarettes, cosmetics, etc.
Cosmetic and Drug Stores in Kas
Anyhow "Gratis" is the best store for cosmetics in Kas, Turkey. Many many products can be found in Gratis. If you have time in Turkey, you can order your products from Turkey cosmetics online shopping sites during your vacation as well.
See 👉🏻 beauty products to buy in Turkey
Read 👉🏻summer essentials while traveling Turkey
What about medicines and drugs? There are a couple of pharmacies in the Kas center which are very close to each other. Onur Eczanesi is one of them. It is worth visiting here for medicines, sunscreens, lotions for burns, baby products, painkillers, antibiotics, serums, and more.
Update: Lens tore during vacation
On the first day of my vacation in Kaş this year, my Acuvue Oasis Transitions lenses tore inside my eye, even though I had only been wearing them for less than a week. Believe me, there is no one else who takes as good care of their lenses as I do. I really don't understand how this happened, but I was completely victimized.
Part of the fault is mine, of course. I should have brought spare lenses with me. However, since this has never happened to me before, I couldn't have foreseen it. Anyway, while desperately searching for an optical shop in Kaş in the middle of the night, I found Saydam Optik. I bought Elegance brand daily disposable lenses from there and was very satisfied throughout the vacation. I hope this never happens to you, but it's good to know that there is a solution.
Of course, my eyes are nearsighted. If you have astigmatism or other conditions, it may not be very possible to immediately get lenses with the suitable prescription. Therefore, I recommend that you come to your vacation with spare lenses or glasses.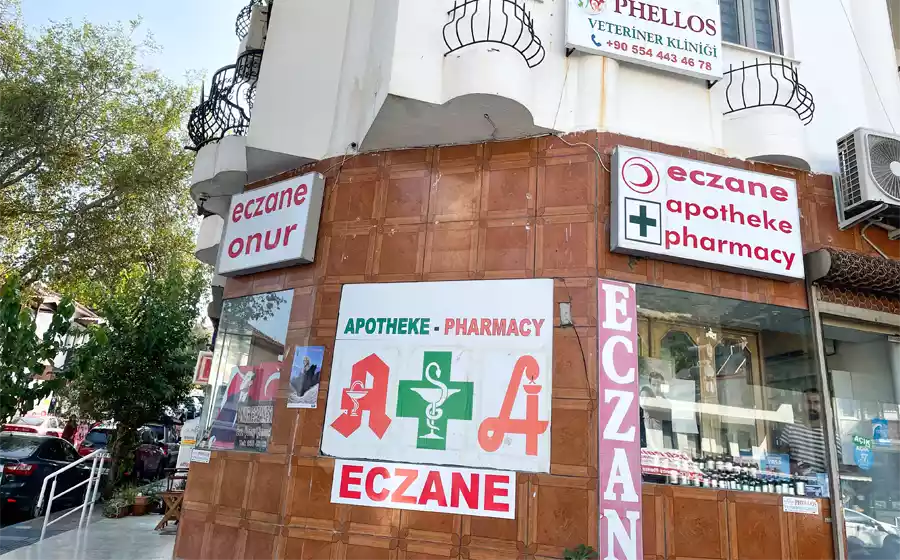 Kas Market Day (Kas Friday market)
Kas market day is Friday. You can find fresh vegetables, juicy foods, and more on Fridays in this street market. It has a very central location as well. So take your grocery bag with you and explore the best seasonal Mediterranean agriproducts.
Street Market Kas offers many delicious things both for locals and tourists.
Natural Food Stores in Kas
There is also a place that offers both breakfast and natural products outside the center of Kas Antalya. Natural Mother Hand (Doğal Anne Eli) is one of the most natural places to shop in Turkey. Jams, soups, pickles, spices, sauces, and much more await you. Also, let's not forget to mention that you can have a great breakfast in touch with nature here.
Clothes Shopping in Kas
Do you need to buy some clothes in Kas? Sometimes we forget to put some essential pieces in our luggage and sometimes we just want to buy something. Here is a famous brand in Turkey as well as in Kas that you can find affordable prices inside. LC Waikiki brand is a very good choice for clothes shopping in Kas. It is very close to the supermarkets.
Learn more about LC Waikiki Turkey
You can find more authentic, unique, Boheme, and handmade products from the boutiques inside the Old Town of Kas.
White boho kimonos are my favorites 🧡
What to buy in Kas, Turkey?
You should buy sage and thyme in Kas. You can drink their tea first. There is a tea garden between the playground. You can drink sage tea. If you like it, you can buy dry sage or thyme from there as well. Kas Turkey offers you the most wonderful sage you've ever tasted.
You can also buy books at the bookstore in Kas Turkey. You might even find postcards. Buy some fridge magnets which have Kas ruins and Kas amphitheater pictures on them. Those are very precious but affordable memories from your Kas vacation.
Shopping in Kas Turkey
Even though there is no Kas shopping mall, it is a place where you can find most of the things you are looking for. You can even meet your clothing needs. Also, don't be upset by the fact that supermarkets aren't very big. As in every coastal town, the markets here also have a product range that will meet most sea-related needs. The kiosks on the road also have products to meet your needs.
You can explore Kas more from our other blog posts like 👉🏻 Best Kas Nightlife Places, Most Popular and Best Kas hotels, Best Beaches Kas, and What to eat in Kas Antalya?
Frequently Asked Questions About Shopping in Kas
Here I gathered up some top-asked questions about Shopping in Kas. Many people are wondering in case I don't find what I'm looking for in such a small resort town. Don't worry, you can even find lotions and wristbands for mosquitoes.
What are the best places for shopping in Kas?
Boutiques in Kas old town are the best places for shopping. If you want to buy some cosmetic products, you should visit the Gratis store. For clothing, you can check LC Waikiki. You can read more shopping brands in Turkey from here.
Which places provide the best shopping in Kas for travelers on a budget?
Supermarkets are nice and budget-friendly options. Boutiques may be a bit expensive but the souvenir and magnet prices are almost the same in everywhere.
Is there a big shopping mall in Kas?
Kas is a small holiday town and unfortunately, there is no big shopping mall in Kas, but you can find everything you are looking for in small stores. There are many shopping malls in Antalya city center. You can read more about Antalya shopping malls list from here.
Is there a product I should buy in Kas?
Since Kas beaches are usually pebbled, it would be good to buy sea shoes. You can buy herbal tea and herbs such as sage tea from the locals of Kas. All organic. You can buy some Kas fridge magnets, tote bags and other designed products.
DIVE INTO MY BEST PLACE FOR SHOPPING IN TURKEY LIBRARY
Turkish online grocery shopping
Minimalist Carry-on Packing List