Let's make a useful minimalist carry on packing list together and make up for our shortcomings. Sure, if we need it. If you, like me, travel frequently and prefer to be light and organized during the whole process, I am glad we met. Because in this minimalist carry on packing list, I will tell you one by one which travel essentials will enable you to experience a much more organized travel experience.
In this guided list, I will tell you about the possibilities and benefits of using them, from their practical benefits in everyday life to interesting uses. Make this journey lighter and minimalist with these stylish travel accessories.
Table of Contents
Minimalist Carry on Packing List
Did you know that you can travel like a pro with less things packed? Be sure to check out this list, which I think can make your travel and travel process easier, apart from your personal necessary items.
I would also like to briefly touch on why we should make minimalist packing. Less stuff, less burden. A lighter traveler will be comfortable on both the head and back. Remember this, my dear travelers.
This minimalist carry-on packing list aims to introduce you to at least a few of the things you may need or to introduce you to them. I hope it reaches its goal!
LET'S START WITH THE ITEMS FOR YOUR COMFORT.
1. Minimalist Carry on Luggage
First of all, we need a modern traveler's carry-on luggage in order to put all the things on this list. Of course, you can find one that fits your budget or your expectations better, but I want to share with you one of my favorites in this article.
If you are looking for a lockable, cabin-sized, unisex, and stylish carry-on luggage, this model may interest you. It can satisfy your expectations and needs. Please have a look at this stylish and minimalist carry-on luggage.
👉🏻CHECK Delsey carry on luggage sale 👀
2. Best Travel Pillow
Light and practical travel pillows are one of the most important carry-on essentials, especially for sensitive neck persons. 
Travel pillows and sets are very diverse. It is possible to find travel pillows that serve all kinds of needs, from those for long journeys to those with minimalist use, those that make it easy to carry, and those that take up little space.
Maybe it used to be harder to find the one that fits the needs and expectations, but now it's easier to identify products that serve different purposes. Here are the travel pillows that I think can make your travels more comfortable and that you may like.
Washable neck support travel pillow
These neck travel pillows focus on neck comfort first. These washable items have a scarf look and are easy to carry. Lightweight is a plus. The travel pillow material is very soft.
👉🏻CHECK Scientifically Proven Super Soft Neck Support Travel Pillow 👀
A practical helper in your travels such as train, car, ferry, or plane. Of course, if you are looking for more comprehensive sets with blankets, it would be beneficial to examine other products.
Travel pillow 2 in 1 (and more)
You will be able to find various travel pillows and blanket sets either 2 in 1 or include more pieces such as a travel pillow with an eye mask. 
I will list the minimalist travel products (which include a travel pillow blanket eye mask set as well) that will contribute to your various resting processes. You can take a look at the versions that interest you and the versions you need for your travel.
👉🏻 Doctor recommended neck pillow
👉🏻 3-pc travel pillow blanket eye mask comfort kit
👉🏻 Travel neck pillow and eye mask set (Space saver travel product)
👉🏻 Silk travel pillow and eye mask travel set
3. Best Travel Eye Mask
Eye masks are another important piece of minimalist travel packing. There are many kinds of them and before talking about the details. I would like to share some tips about this member of the minimalist travel packing list.
Sleep masks can offer you a deeper and uninterrupted sleep experience. It reduces your sensitivity to light, cuts your ties with the outside world a little, and provides personal isolation. It helps you to rest your eyes even if you are not sleeping. It's also the best way to tell people outside to say DO NOT DISTURB.
What about the best eye mask for plane travel or other forms of travel, what should you pay attention to?
Its texture, whether it's adjustable (it could be flexible), and its color. Color is important because light-colored products are not stain resistant. Therefore, if you do not have the opportunity to wash it at every opportunity, a travel blue eye mask and other dark colors may do the trick.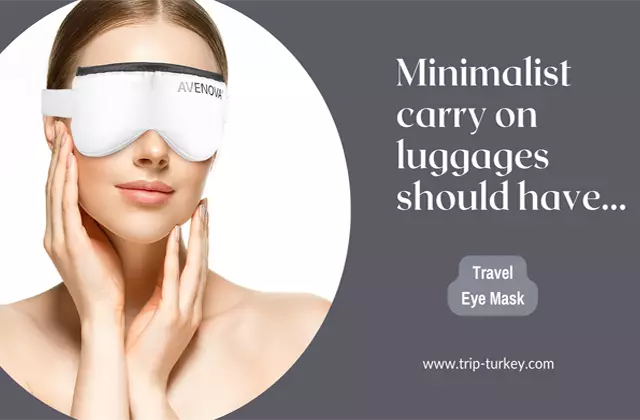 4. Best Travel Earplugs
Travel earplugs have different qualities according to the type of trip. Noise reduction (especially during journeys), and less stress travel are the most known benefits of travel earplugs.
Make sure you've checked these air pressure earplugs if you are considering purchasing them. This minimalist product, which you can also attach to your keychain, really works wonders in transforming noise.
For other journeys, there are earplugs with different features such as motorbike trips. Don't forget to check out the Softvox Store if there's something special you're looking for.
5. Headache and Migraine Relief Cap
If you have ailments such as migraine, it would be better to meet migraine relief caps as well as a travel eye pillow in order to make your journeys more comfortable. Especially if you can't predict when your attacks will come, and you can't be sure what triggered them.
Finding the best migraine relief cap is a bit of luck, I think. Because ailments such as migraines and their causes are very personal issues. It can differ depending on many variables. Therefore, you can consult your doctor or health professionals who are experts in the subject and get advice.
For stress-free trips 👉🏻 CHECK Migraine relief cap reviews 👀
6. Luggage Odor Remover
Suitcase odor eliminators are essentially needed for frequent travelers. If you're thinking of how to remove the musty smell from bags', give these pyramid luggage fresheners a chance. You can use them not only to remove bad odors in your bag but also in many parts of your home.
👉🏻CHECK luggage freshener  👀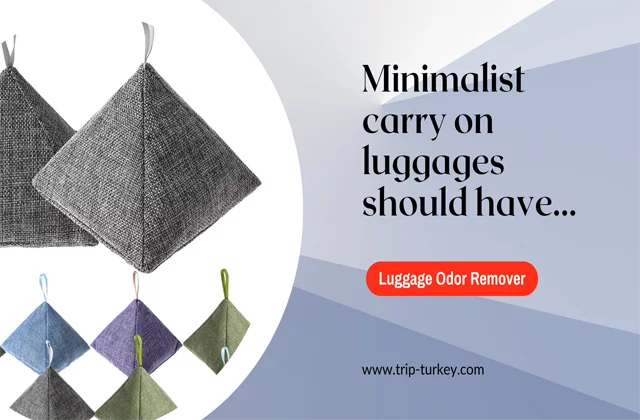 7. Best Collapsible Water Bottle for Travel
A must-have for a minimalist carry on packing list is collapsible bottles. If you haven't bought these products that are more sustainable, ecological, and respectful to nature, this might be the time. Gotta start from somewhere.
These modern packaging design flasks, which respect not only nature but also your personal use, do not upset you about carrying, but also help you get rid of the damages of plastic bottles. You should definitely take a look at these products, which take up less space after they are finished, can be used repeatedly, are long-lasting, and are stylishly designed.
Here are a few options according to your taste and needs.
👉🏻CHECK affordable foldable water bottle (20 oz.) 👀
👉🏻CHECK flexible collapsible foldable reusable water bottles (25 oz.) 👀
👉🏻CHECK best flexible water bottle (500 ml.) 👀
NOW LET'S CONTINUE WITH THE ORGANIZERS.
8. Mini Jewelry Box for Travel
If you learn the types of jewelry boxes better, you can easily choose a multi-purpose jewelry box in order to minimize your accessory items.  Travel jewelry packages are one of the essentials in a minimalist packing list for females.
Jewelry boxes are one of the essential toiletries to pack. You can put things other than your jewelry in these boxes or roll bags and shape them according to your own needs.
👉🏻CHECK leather travel jewelry box for sale 👀
👉🏻CHECK travel jewelry roll 👀
9. Folding Travel Mirror with Lights
Travel size mirror with lights can be either a make-up complement or useful for other things. For instance, if you are using contact lenses, this mirror can be good for you. In addition, whether you use lenses or not, it will be practical equipment to detect when something gets into your eyes, to freshen your make-up, and to take care of yourself.
Foldable smart packing is a plus. 
👉🏻CHECK Travel magnifying makeup mirror with lights 👀
10. Best Travel Lip Balm
Traveling, in particular, can cause chapped lips, which are affected by climate change. Lip butter are one of the things that you must have in your hand luggage in order not to leave your lips and all your skin without moisture.
👉🏻CHECK best lip balm for broken lips 👀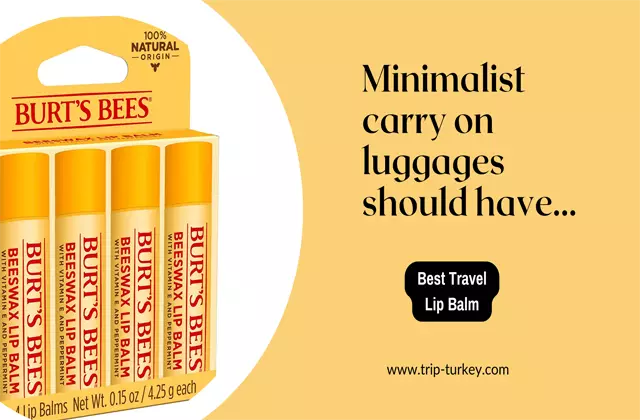 11. Travel Size Body Moisturizer
Multi-functional moisturizers are very practical and provide a refreshing and regenerating effect even during traveling. Travel size skin products are both suitable for carrying in hand luggage and are a must-have for the minimalist carry on packing list. I gathered up a few travel size premium beauty products for your carry-on bag below.
👉🏻CHECK Travel size body lotion 👀
👉🏻CHECK Travel size moisturizer with SPF 👀
👉🏻CHECK Travel size cleanser and moisturizer set 👀
12. Electric Toothbrush Travel Case Boots
There are various types of toothbrushes and if you want to take yours with you during your travels, you are completely right. I can't imagine going anywhere without my electric toothbrush, either. Of course, if there is a body for my brush head to fit wherever I'm going and I can use it, maybe I can choose to take only my head to save space and make a more minimalist carry on packing list.
In any case, if you want to keep the parts of your toothbrush tidy and experience a more organized and comfortable travel, I would definitely recommend getting a case for them.
The best electric toothbrush travel case may depend on its model and brand. So, I'm going to suggest a cover for efficient packing that appeals to the general public. If your toothbrush already has a container, you can jump straight to the next topic.
👉🏻CHECK best toothbrush travel case  👀
13. Best Travel Wallets
Who doesn't want to make their journey more comfy and organized? The common feature of these travel wallets, which serve various purposes and whose qualities can vary according to travel types, is that they can collect everything in one place. All the important documents you need, money, passport, and anything else you want to add is available in one place.
According to the concept of your destination and your holiday, you can discover the most suitable one for you and much more from the blog post BEST TRAVEL WALLETS IN 2023. Get to know different types of travel wallets and pick the right one for yourself. Stress free and multi-functional packing is available now!
14. Silicone Travel Containers for Liquids
The best silicone travel containers can depend on your requirements and expectations. Silicone travel bottles, which are one of the most travel facilitating products of minimalist packing, are really very useful and practical.
But for smooth hassle-free packing, it is useful to pay attention to the stopper section. Maybe our predictions may not work when shopping online. So we have to let the comments give us ideas. Here are a few silicone travel containers for toiletries and other liquids for your next trip.
👉🏻CHECK cheap silicone travel containers 👀(Collapsible and adjustable silicone bottles 4 pack)
👉🏻CHECK silicone travel bottles travel containers 👀(21 pack silicone travel containers leak proof)
15. Best Packing Cubes: Wrinkle Free Packing Tips
One of the biggest secrets and tips for maximizing space and minimizing wrinkles are probably packing cubes. I really like these versatile and wrinkle-free packing for travel, especially for long-term flights and business trips.
Men's minimalist packing list
The most important thing that I paid attention to when buying these packing cubes was whether I could keep everything in the same place without creasing. Because isn't one of the most important points of minimalist carry-on packing lists the ability to compile what we need, with a minimum of clutter? 
That's why I want to recommend you the best carry-on garment bag for your carry-on luggage. These products can cover your organized, lightweight, and space-saving packing necessaries.
CHOOSE MULTI-FUNCTIONAL & LIGHTWEIGHT ELECTRONICS
16. Portable Travel Iron
Here are several tips for minimizing electronic items. Ask yourself. Do I really need this? If your answer is yes, answer this too. How many times / how often will I use it in the scenario where I take this product with me? Your answer is I need to use it at least every day. If not, don't get it. There can be a lot of things whose absence will make you feel incomplete. But do you really need it?
Portable irons can be very useful to you on your travels. If you have to wear clothes that are wrinkle-prone. The minimalist packing list for a month may require carrying a travel iron. Business trips, too.
👉🏻CHECK light mini steam iron for travel 👀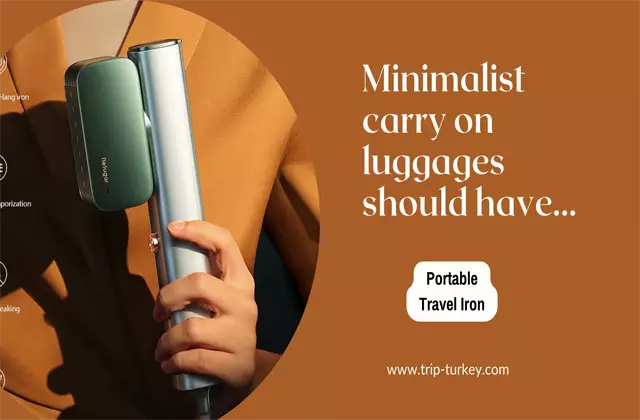 17. Silicone Collapsible Kettle Electric
I'm not sure if it's the best electric tea kettle for travel, but it's worth mentioning that it's one of the least space-consuming. If you are making a minimalist packing list for 2 weeks and you are a tea/coffee lover, taking your kettle with you can be a solution. As you know, less is more. Simplify your travel packing. If you need it, it's worth a look.
👉🏻CHECK silicone collapsible kettle electric 👀
Also, you can take a look at foldable electric kettles which can assist you to make noodles, boiling eggs, tea, and water. This product has an LCD display and that may be a plus.
👉🏻CHECK foldable electric kettle reviews 👀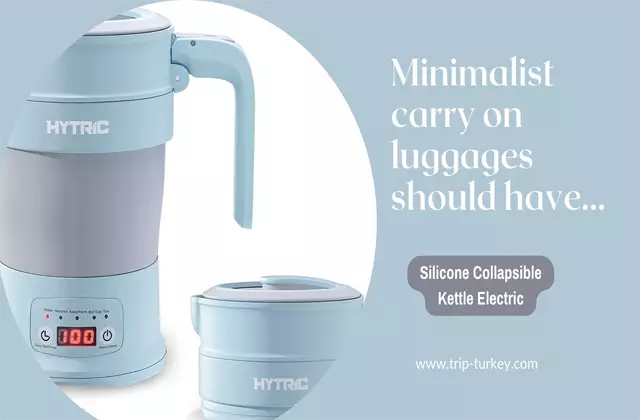 18. Best Power Banks International Travel
Whether you are tech savvy or not, another product that should have a place in the minimalist essential packing is definitely power banks. You can charge your phone and all your compatible devices with this portable charging bank, and you won't be stranded on your travels wherever you go.
👉🏻CHECK Anker portable charger review 👀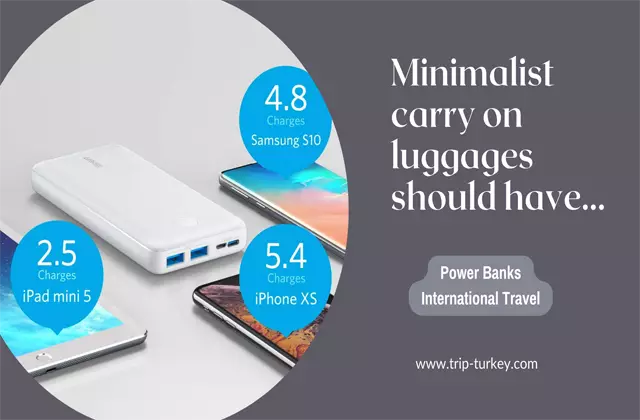 19. Electronic Book Readers
Imagine a minimalist packing list for a week without books. Even if you're not a regular reader, wouldn't you like to access the books and magazines you might want to read on a single platform, without the hassle of weight and space?
In addition, you can get to know the locations you go to better, and learn about their history and culture, with the travel books you can reach.
Some ebook readers also offer free ebook access. Therefore, it is beneficial for you to take advantage of these opportunities, as they are budget-friendly. Not to mention their minimalist and ecological nature.
👉🏻CHECK e-reader that offers book access  👀
Also you may be interested in listening to music while traveling. Highly recommended. 
MINIMIZE YOUR CLOTHING ITEMS, CHOOSE MULTI-FUNCTIONAL.
20. Most Comfortable Shoes for Travelling
Shoe covers can be a good choice for interesting weather conditions, with its sock-like structure, they can also grip your wrists and provide you with a more protective and inclusive experience. You can keep these shoe covers in your carry-on luggage and use them if needed.
👉🏻CHECK Waterproof Shoe Covers 👀
Let's talk about which shoes are the most comfortable in travel and daily life. This experience may vary from person to person, but I would like to suggest to you my favorite comfortable barefoot shoes.
👉🏻CHECK 5 BEST BAREFOOT SHOES FOR TRAVEL 👀
21. Best Odor Free Socks
All minimalist travel packing lists have at least one pair of best odor resistant socks. Unless, of course, you only travel in flip-flops and summer sandals. Minimizing foot odor, these special socks aim to provide travelers with a comfortable and carefree experience, both with their texture and with their special designs.
👉🏻CHECK Men's Anti-Odor Socks 👀
👉🏻CHECK Women's Anti-Odor Socks 👀
22. Small Umbrella Pocket Size
A tiny umbrella is a must for a minimalist packing list for Europe. Before you go, check the weather forecast. If you believe you will need it and you have the space for it, a small umbrella may do the trick.
👉🏻CHECK Best mini umbrella for travel 👀
If you are one of those people who don't like to carry umbrellas like me but still want a shield that will protect you a little in case you get caught in the rain, then the 5 Pack Portable Disposable Emergency Raincoats is for you.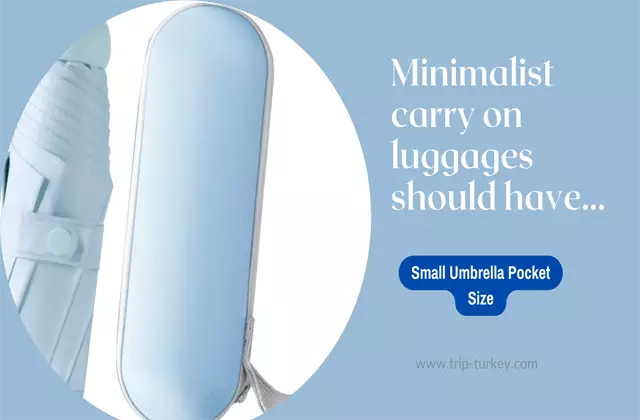 23. Best Immune Support for Travel
Best supplements to support the immune system are very various and dependable for several things. Types of immune boosters for travel can be changed as well. Gummies and tablets also can be chosen but things that might happen should also be considered. It is best to consult your doctor about this issue and if it is recommended to use immune support supplements, then use them.
👉🏻CHECK best immune booster for travel 👀
However, whichever you prefer, if you have medications that you use regularly, it is definitely worth getting a medication regulator box. In order to keep them all together and safe and to consume them easily day in and day out.
👉🏻CHECK best pill organizers for travel 👀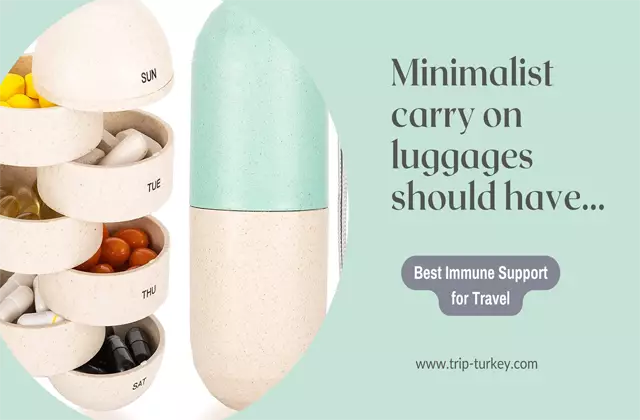 24. Travellers Door Lock
Last but not least, the issue of security is indeed an issue that should not be taken lightly. Whether you are staying in a hotel, a shared house, or an AIRBNB house, it is useful to remind you that there are many solutions that will make you comfortable while sleeping at night under any circumstance.
👉🏻CHECK portable door lock 👀(FEEL EXTRA SECURE)
Do you like the minimalist carry on packing list? Are there any products that you want to add to this list? Which are they? Share it in the comments and inspire those reading this post.
Frequently Asking Questions About Minimalist Carry on Packing List
Well, we finally came to the most frequently asked questions about our blog post and their answers. If there is something you are looking for about minimalist carry on packing list items and you have not found the answer yet, it is useful to look at the following questions. If you still have any questions after reading the questions, share them in the comments, and let's evaluate together.
Can I take lip balm on a plane?
Yes, lip butter, lip balms, and lipsticks are generally taken on board. So you can get on the plane while you have your lip balm with you. But, of course, max. 100 ml. If you have a huge amount of lip balm such as over 100 ml. getting it on a plane can be a bit of a hassle. I don't think there is a lip product like that 😂
How to clean silicone travel containers?
Some travel bottles include a particular cleansing brush inside. If there is any, cut a piece of kitchen sponge and attach it to a small fork. Or a stick that can go inside the bottle. Put some soap, detergent, or whatever cleansing material you want to put. Then add some water as you wish. After that gently cleanse the inside of the bottle. Let it dry after rinsing thoroughly. Do not put a new product in it before it has completely dried.
Do packing cubes really work?
Even if it doesn't have a compression feature, it helps you keep your items together or group them. Especially when the compression feature is added, it saves space to a great extent. In addition, if it has an anti-wrinkle structure, it is an advantage that it has the equipment to save you from extra workload. So yes, in summary, it's worth the money you pay. Make traveling easier with helpful packing cubes.
Also, if you are interested in our shopping articles, you can find BAREFOOT Shoes for Travel, Best Travel Wallets, best hair care products in Turkey, Turkish shoe brands, Turkish Sportswear Brands, Rose products, Turkish Hijab Brands and What are beauty essentials items for travel?