The 5 best barefoot shoes for travel in 2023 came together for you in a single blog post. Yes, we will go over the pros and cons of the best and most stylish barefoot shoes for travel. But for those who didn't know before that, I think it would be good to talk about barefoot shoes, their benefits, and the change and transformation they will create on our feet, especially during travels.
Let's get started without wasting any time. I can't wait to tell you about barefoot shoes, which are the rising trend of healthy living and well-being-seeking people and those who support the return to nature movement.
Why best barefoot shoes for travel?
Barefoot shoes, as the name suggests, are the shoes closest to the barefoot experience. Unlike orthopedic shoes, it cares about foot health anatomically. It is designed in a way that best fits the natural anatomy of the foot.
I heard about barefoot shoes for the first time from my yoga teacher when I was taking my second-long yoga specialization training. I remember her bringing her shoe and twisting it at the sole in front of us all. She was saying look, it is folding. It's not breaking. If you try to bend an ordinary shoe in the market, it will not even stretch. It can even be broken.
But barefoot shoes aren't. Not the ones who make your feet fit themselves. One that fits your feet. I wanted to share this unique experience with you, thinking that the barefoot experience is indeed one of the shoes that respect the feet the most, after shoes that try to shape our feet.
I think that you can experience the difference between these shoes most during your travels and you will agree with me.
Benefits of wearing barefoot shoes
Barefoot shoe designs are at the forefront of the shoes that consider foot health the most. Some of the barefoot shoes health benefits are such as taking into account the foot anatomy, caring for bone health and muscle development, and its structure that does not cause bunion formation, callus formation, and other unwanted things. Let's explore the best barefoot shoes for travel.
1. WHITIN Casual Barefoot Minimalist Shoes
Whitin casual barefoot shoes have a wide range of products and color scales among barefoot in the markets. With a variety of color options and sole colors to match your choice, these stylish and minimalist shoes will be a loyal companion to your feet whether you are working, traveling, or in your daily life.
Wearing Barefoot Shoes Everyday
Wearing barefoot shoes every day is an incredible transformation for those experiencing it. If you also intend to buy barefoot and natural movement shoes, let me tell you that once you wear them, you will not be comfortable in other shoes.
If you want to observe the change and transformation in your feet, I would like you to take a photo of your foot before you start wearing these shoes. Also, after a long period of barefoot shoe use, take a new picture of your foot and compare it. You will not believe this change.
Whitin Minimalist Shoes
Are Whitin shoes good? If you work, want to add comfort to your elegance, and are looking for a color, Whitin minimalist shoes is a barefoot shoe product group you should definitely take a look at. Whitin brand has nice products which are the best barefoot shoes for travel.
Whitin is a brand that should be examined first, especially by those who travel frequently, those who need to attend meetings and meetings with a more casual look, and those who want to buy comfortable shoes that can be easily combined with the clothes they would wear in daily life.
These comfortable barefoot shoes will make your life journey more comfortable.
💁🏻‍♀️CHECK Whitin barefoot shoes review and purchase 🛍️
Ladies from here 💁🏻‍♀️ WHITIN Women's Wide Canvas Barefoot Shoes 🛍️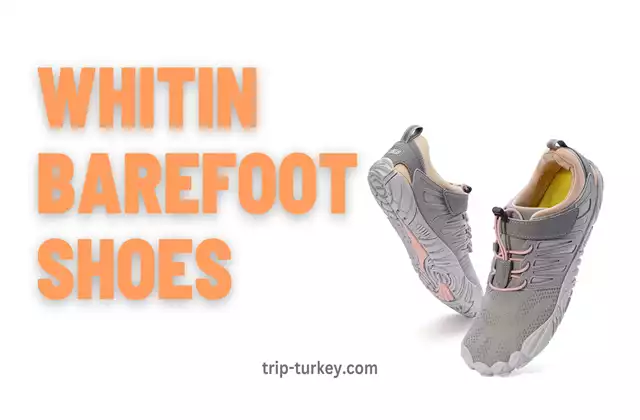 2. Weweya Barefoot Shoes
The Weweya brand is a brand that respects its customers above all else. Ergonomic designs of the shoes, the ease of use of every detail, and the fact that they cover everything expected from a barefoot shoe are among the most important reasons that make it preferable.
Sporty designs are stylish as well. It can be combined with comfortable clothes. That makes Weweya is one of the best barefoot shoes for travel. It is already stated in the properties of the shoes that it is suitable for all kinds of indoor and outdoor activities.
Why barefoot shoes are better?
Weweya barefoot shoes as well as zero drops. So the toe-to-heel distance is equal. This means that you do not need to worry about your foot comfort on your travels. Another point to consider when choosing barefoot shoes is that the wider the front of the shoe, the better. This means that your toes will be just as comfortable.
💁🏻‍♀️CHECK Weweya barefoot shoes review and purchase 🛍️
Ladies from here 💁🏻‍♀️Barefoot Weweya shoes womens 🛍️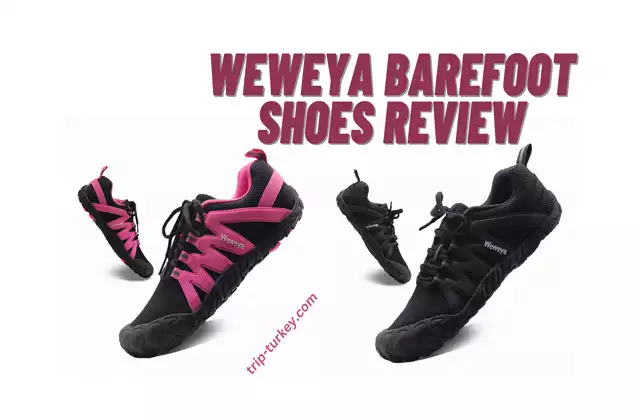 3. Best Merrell Barefoot Shoes
Merrell's barefoot shoes come in different styles. Leather ones can be combined with more elegant pieces, they are comfortable to use in daily life. The color options are beautiful. In addition, Merrell barefoot shoes are definitely very durable. I really like the Merrell barefoot trail glove sneakers.
Sport versions (one of the best performance shoes) cater to athletes, especially runners. Merrell barefoot running shoes can be preferred in daily life as well. Leather ones too. You can wear Merrell barefoot shoes all the time for many years. It is an accompaniment that will not let you down on your travels.
Are Merrell barefoot shoes good for walking?
It is not just good for walking. Merrell barefoot shoes are good in all respects because they take care of your foot health while walking because don't let you down on long journeys, because they always take care to keep your foot comfortable in the foreground with every detail, and because they never compromise on quality.
I think these long-lasting shoes, which promise healthy feet and healthy postures to their users with their thin soles, deserve more than the praise they have received. Merrell shoes are one of the most stylish and best barefoot shoes for travel.
💁🏻‍♀️CHECK Merrell barefoot shoes review and purchase 🛍️
Ladies from here 💁🏻‍♀️Merrell barefoot shoes women's 🛍️
Runners from here 💁🏻‍♀️Merrell barefoot running shoes 🛍️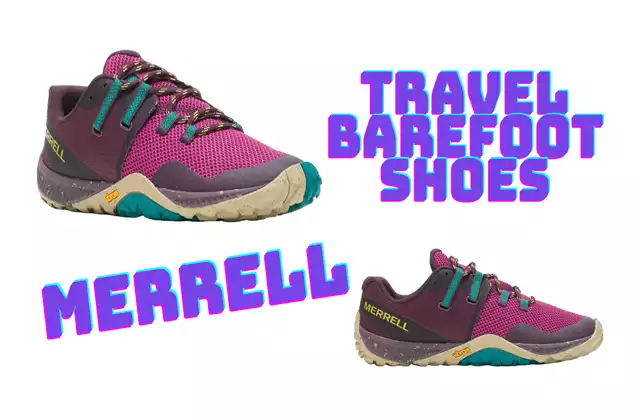 4. Xero Barefoot Shoes UK
Xero barefoot shoes are based in the UK and care about natural environment movement with free and comfortable feet. You can find hiking sandals, running shoes, adventure shoes, water barefoot, walking shoes, and casual designs in Xero.
It is a barefoot shoe brand that will meet the expectations of those who are looking for barefoot shoes in terms of variety and color. It is suitable for long-term use. It has a wide range of options to allow you to choose the shoes that suit the concept of your travels. All those qualities make the Xero brand one of the best barefoot shoes for travel.
Pros and cons of barefoot shoes
Benefits of barefoot shoes Reddit answers as well show us the importance of feet flexibility. If you have a history of discomfort in your foot, such as flat feet, wearing barefoot shoes in these situations may put you in trouble. Therefore, before buying ergonomic shoes for health purposes, it is beneficial to consult your doctor.
No food pain. Yes, freedom, tip to toe.
💁🏻‍♀️CHECK Xero barefoot shoes review and purchase 🛍️
Ladies from here 💁🏻‍♀️Xero shoes women's 🛍️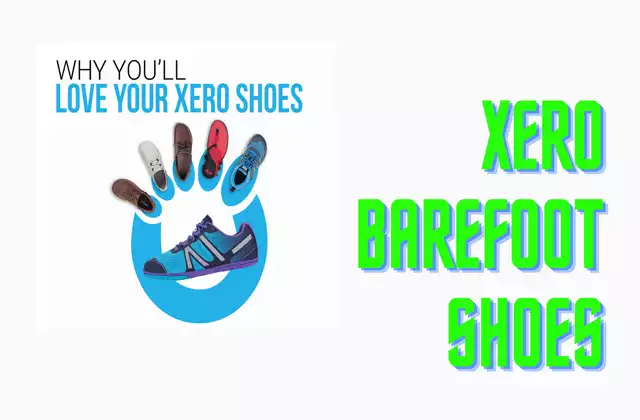 5. Joomra Barefoot Shoes Review
Joomra, the brand of wonderful barefoot shoes, which even those who do not know at first sight can say yes, this is barefoot, seems to have exceeded its own potential in this regard.
Barefoot shoes are explained with wide toe boxes and zero drop in general. But Joomra provides you with more than that. (Such as Joomra women's barefoot trail running shoes, Joomra men's barefoot shoes) 
Also, this brand has more than regular barefoot shoes. Joomra barefoot sock shoes, whose comfort you can imagine even when you look at it from the outside, are really comfortable and flexible in a sock. You can prefer Joomra minimalist barefoot sock shoes while running, gym, watersports, etc. 
Nature lovers pick: best barefoot shoes for travel
For travelers and nature lovers, Joomra is one of the best barefoot shoes brands.
💁🏻‍♀️CHECK Joomra men's minimalist barefoot shoes and purchase 🛍️
Ladies from here 💁🏻‍♀️CHECK Joomra women's minimalist trail running barefoot shoes and purchase 🛍️
If you are interested in nature sports, you may want to take a look at the blog post Wonderful Koprulu Canyon Turkey.
Why do I wear barefoot shoes?
I had the opportunity to experience the change promised/revealed by these shoes years ago thanks to yoga. My dear feet, which had been crushed and stuck in high heels all day, were relieved and relieved of everything, including socks, when I went on the mat.
In yoga classes, moving the toes apart and placing them on the mat, and noticing the transformation in the arch of the foot, of them were incredible experiences. I've been loving my feet. I realized how important they were when I saw how much I hurt them. Then I found barefoot shoes. A landmark for my feet. I don't think I can witness my feet being tortured in those cramped shoes unless I have to again.
Why use barefoot shoes especially during travels?
Lightweight and easy-to-clean shoes that do not tire the feet while traveling are the dreams of us all. These shoes, which we have been able to access more easily in recent years as a result of awareness and developments, can certainly be a part of our daily lives.
Wearing barefoot shoes every day can make an amazing transformation between feet, posture, body, and mind. That's why you should wear barefoot shoes every day. 
Frequently Asking Questions About Wearing Best Barefoot Shoes for Travel
Here are some frequently asked questions about wearing the best barefoot shoes for travel and daily life. If you have more questions, drop them below the comment section.
Can you wear barefoot shoes every day?
You can wear it if there is no special discomfort in your foot. At first, these shoes may seem a bit strange. Because it's very comfortable on the feet. But try a little and give it a shot. If you think that it is not suitable for you, you can return to other shoes that you are happy with.
What is the point of barefoot shoes?
Thanks to the Zero drop features of barefoot shoes, there is no height difference between the toes and heel. The front part where the toes will be placed is specially designed wider so that the toes are comfortable. In addition, many similar details have been designed to be in accordance with the natural anatomy of the feet and to make the foot comfortable, and to experience the closest to nature.
What are the benefits of minimalist shoes?
Here are five benefits of minimalist barefoot shoes. There is of course much more. We just rounded it up.
Minimalist shoes have respect and benefit both the wearer and nature. These shoes are based on and respect the foot's natural anatomy. It literally makes room for comfortable and free feet.
It can be used for a long time, is simple, and can be combined with many outfits.
Takes up little space.
Cleaning is easy.
Vegan options are available. Sustainable, eco-friendly. 
Do barefoot shoes strengthen feet?
The foot will discover its strength if it can get a chance from the shoes that are tight and trying to shape it. This is why barefoot shoes are so important. It enables the foot to discover and use its own muscle strength, thus having a positive effect by giving it anatomical independence. It protects the natural structure of the foot by preventing its deformation of the foot. It serves the health of the foot without impairing bone development and posture.
Are barefoot shoes healthier?
We can say that Barefoot shoes are healthier because these shoe models have a form that liberates the foot from an anatomical point of view. The development and health of the foot muscles, skin and texture, and nails are directly proportional to their comfort. Ingrown toenails, calluses, etc. Problems like these are always caused by the misuse and neglect of the feet. The more comfortable the foot is, the less foot, posture, and body, and mind problems will be.
Are barefoot shoes good for everyone?
If you have a known problem with your foot health, if it is okay to wear these barefoot, it may be good for you. Still have to try to be sure. If there are exceptions in your foot health, if you have orthopedic problems, you should definitely talk to your doctor. You can choose barefoot if everything is okay.
Can barefoot shoes damage feet?
If you have a known ailment/problem/disease history in your foot, wearing these shoes may not be good for you. But above all, pushing your feet too hard, exerting too much effort, doing extreme things, and misusing shoes can also harm your feet. Still, you have to be careful.
Do you wear socks with zero-drop shoes?
It will be better if you wear it depending on the situation. The feet may sweat, and bacteria and odor production occur. Therefore, wearing socks is a method to keep both your shoes and feet clean. Also, you won't shorten the life of your shoes.
You can also check out our 10 Best Travel Wallets in 2023, Minimalist Carry on Packing List and What are beauty essentials items for travel articles.