Meet the delighted rose products online that we have meticulously selected for rose flavor fans. The rose aroma is not something that everyone will like. That's why only true rose lovers will understand me. Together, we should create a rose flavor fan club and talk about the delighted rose products online I will talk about below.
As many readers know, there is a good reputation for rose in Turkey, which is my native land. Turkish rose plants are famous all around the world. Therefore, this reveals a great export potential and the fact that both the raw material and the final versions of the products to be presented to the end consumer are sold all over the world.
Although the roses of Turkey, especially the city of Isparta, are very famous, there are many different types of roses that grow in certain regions of the world. In this article, I made a compilation of products made from both Turkey and world roses. If you love roses and rose products as much as I do, you will love this list.
HIGHLIGHTED NOTE: If you are looking for a cure or healing properties of roses, you should find "Rosa Damascena" phrase on the product labels.
Table of Contents
1. Rose Flavored Turkish Delights
If you are a Turkish delight addict like me, you can buy authentic Turkish delights online. There are various Turkish delight types and flavors but here we mainly focus on rose flavored Turkish delights. 
There are so many different and best Turkish delight brands either in Turkey or all around. Some of them are only sold in Turkey but you can find several brands globally as well. 
Not all pink Turkish delight flavors are rose. Some Turkish rose color products can be made from pomegranate, strawberry, etc. So, you should be aware of what you will buy. Moreover, flavored rose Turkish delights divide two types. The most popular and preferred one has an aroma of rose water Turkish delight. Other types of Turkish delight involve the real rose petals inside. Rose petal Turkish delight is a bit more intense than regular one but it is worth a try.
Here are all famous options for rose Turkish delight to buy online. You can check the famous Turkish desserts below. 
🍬 Hazer Baba Turkish delight rose
🍬Selamlique Istanbul rose Turkish delight
We eat the rose flavored Turkish delights sandwich between Petit Beurre tea biscuits in Turkey. You should try this with a traditional Turkish tea. 
Turkish rose water gummies either can be in the traditional form (most common type) or in jelly form like a candy.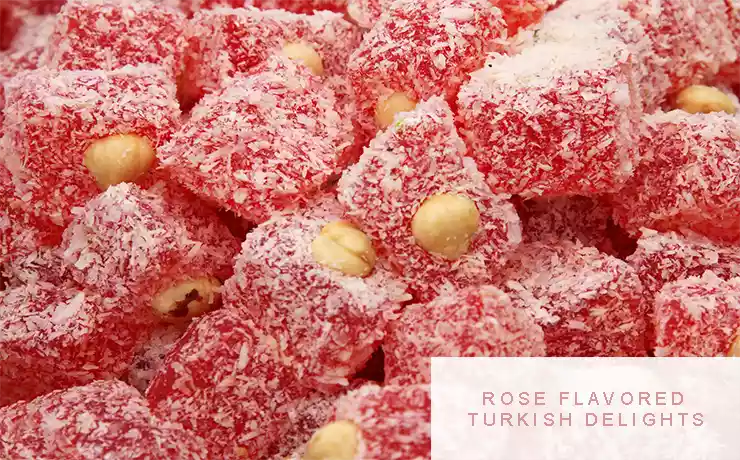 2. Turkish Rose Candy
There are a few kinds of sweets like Turkish delight rose candy and snacks. There is a sweet pack with rose flavoring that you can taste in particular. 
Moreover, you should try Turkish stuffed apricots with rose water and pistachios as well. If you want to do it yourself, you can buy dried apricots and after the cutting process, you can fill it with rose delights and pistachios.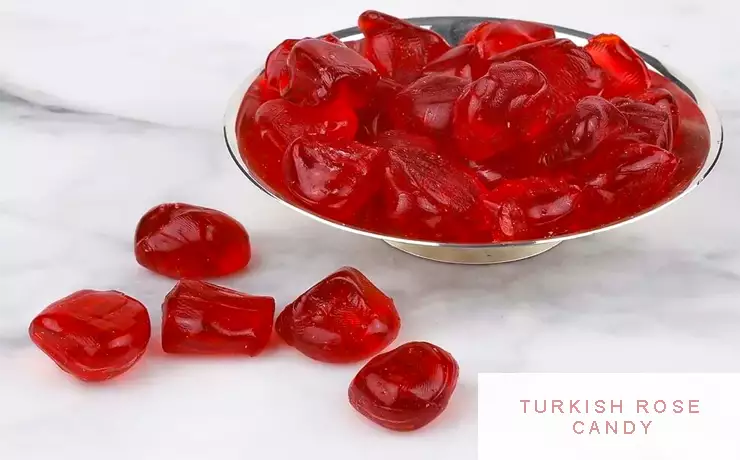 3. Shop Turkish Rose Tea
Let's start with the Turkish rose tea recipe first. After that you will be able to see the benefits of rose tea.
How to make tea from Turkish rose buds?
Rose petal teas can brew for a couple of minutes either with hot water or milk. Rose petal tea benefits are both inner and physical. Others and Turkish rose tea can increase skin vitality, help digestion, have a calming effect, detox the body, etc. 
CHECK ROSE TEA FROM HERE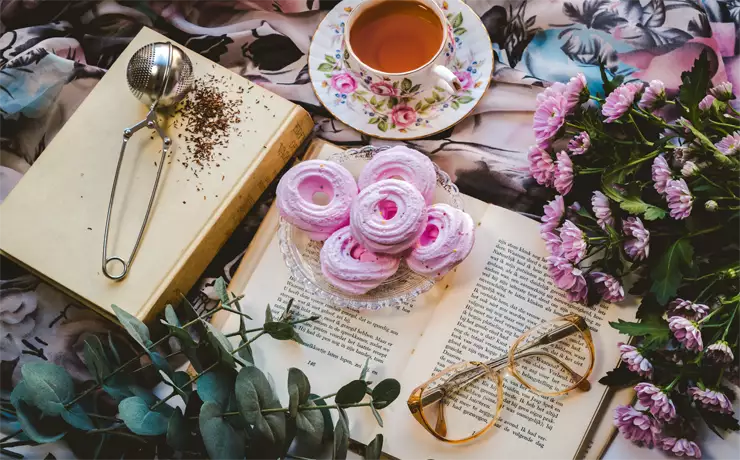 4. Turkish Rose Drinks
Try delicious rose and water for cooking, baking, etc. You can also drink or use Turkish rose syrup in your cocktails. You can buy this gourmet rose syrup product in order to make delicious mixed drinks. 
5. Turkish Rose Petal Jam
Do you imagine a rose petal in a jar of jam? Yes, rose petal jam exists. Turkish rose jam is very tasty and light. You should try at least once in your life. It has an intense and light flavor and consistency at the same time. The smell and taste are wonderful.
You can make it yourself at home if you want. Here is a quick instruction for you.
Turkish rose jam recipe
For each 100 grams of scented rose petals, you'll need 1 water glass of granulated sugar and 1 water glass of water. 
Wash the leaves thoroughly and wait for the water to drain.
Then place it in the pot and cover it with the sugar in your measure. Wait one night.
Add the required amount of water to it and bring it to a boil over medium-low heat.
After boiling, squeeze 15-20 drops of lemon. Continue cooking on low heat until it thickens.
That's it. You can enjoy it after it has cooled.
What kind of roses used in Turkish rose jam?
You should prefer rose petals that are brighter, lively, fragrant, and healthy looking. You may not be able to get a good jam from those that are rotten, stale, odorless, and worn.
Let's skip to the best rose skin care products and cosmetics now. Here I gathered up the best rose beauty products. You're gonna love it.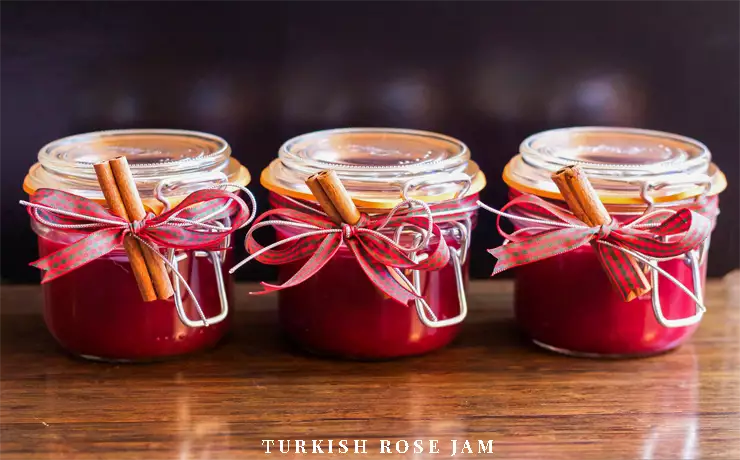 6. Rose Water
Rosense rose water is probably one of the most famous and best rose water in Turkey. Isparta, Turkey region is very famous for its roses and rose products. 
Many rose water from rose petals certainly but there is a dividing line between them. Some rose waters are sold as "undegreased" and may be slightly more expensive than ordinary ones at the point of sale. If you are using rose water as toner like me, you should definitely try undegreased rose water for skin. 
Regular rose water is good for oily skin but my skin is relatively dry, so I don't want rose water to cause dry skin, that's why I am choosing undegreased ones. It is totally up to you. 
Check Gülsha rose water for daily usage and organic rose water for face and hair from here.
Either my own experience or general comments about rose skin care products reviews show us too many benefits of this plant. Let's check how we can integrate rose extract in our beauty routines.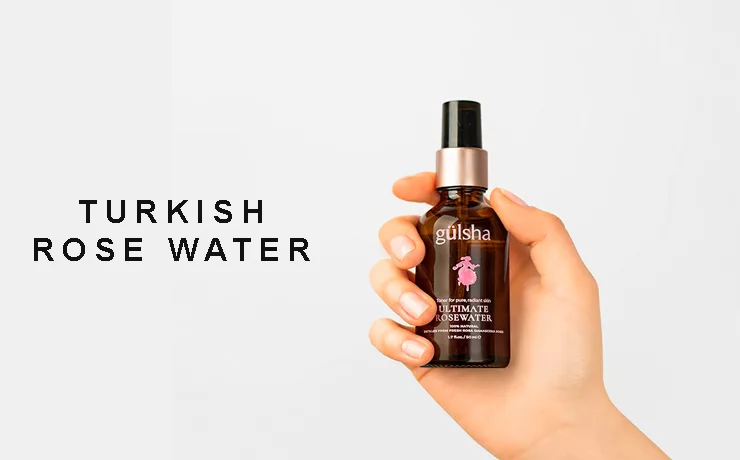 7. Turkish Rose Face Wash
The Turkish Otaci cosmetics brand is literally my hero. This face wash foam is very practical and easy to use. 
🌱Deep cleansing
🌱Natural Mediterranean rose extracts
🌱Vegan
🌱Cruelty Free
🌱Everyday use
🌱Affordable
8. Best Rose Cream For Face
Otaci has one of the best rose face products either in Turkey or around the world. Once you've tried it, you will be amazed at how a product can have so many natural extracts and perfect the skin. Don't forget to apply it on your neck!
🌱Deep hydration
🌱Fresh and young looking
🌱Everyday and night usage
🌱No paraben, alcohol, perfume
🌱Vitamin E, rose water, extra virgin olive oil, Shea butter
🌱Vegan
🌱Cruelty Free, clean label, sustainable
🌱Gluten free
Check this miracle natural formula of this intense rose cream for your face. Also, you can view all Otaci products from the store.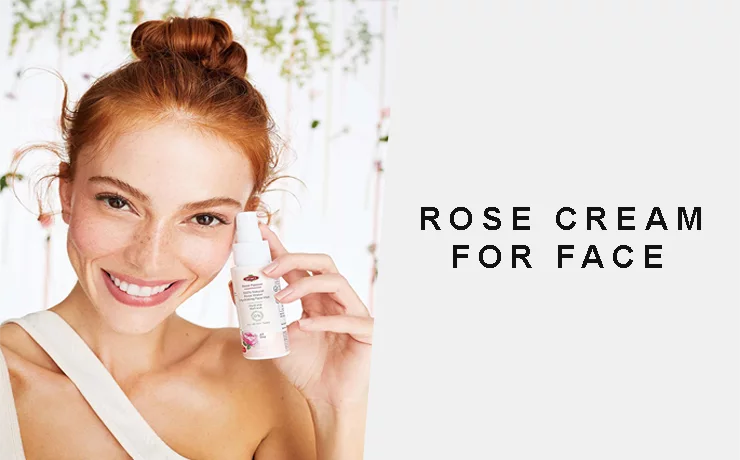 9. Rose Water Face Mist
You can buy all rose products for your skin from the same brand or you can buy them separately. Two methods have pros and cons. While it may be good to use different brands at other times to see if it is good for your skin, it may make more sense to go with that product set over a single brand for those who want results in a shorter time. Whether you use it with the set or separately, rose water face mists effect in a very short time. 
Heritage Store rosewater and glycerin face mist can be used for the whole body and mostly for dry and combination skin.
Refreshing Otaci rosewater face mist is for all skin types. You can use this rose water spray for hair as well. 
You can also prefer a glass bottled organic rose water mist for environmental consciousness and sustainability.
10. Rose Serum Benefits
Rose serum benefits are obviously more than these but let's take a quick look at its miraculous benefits for skin. The ingredients are especially good, which are vitamin e and rose water for face. 
👉🏻It is said to be good for the appearance of spots, redness, and eczema.
👉🏻It gives the skin a lively and renewed appearance.
👉🏻It purifies the skin after tired days and gives it shine.
You should take a look at these products, which are produced with special formulas for use in different areas.
👁️Rose serum for brow and lash growth
Let's skip to the best rose bath products now. It's almost time for us to turn into a rose from head to toe 🤓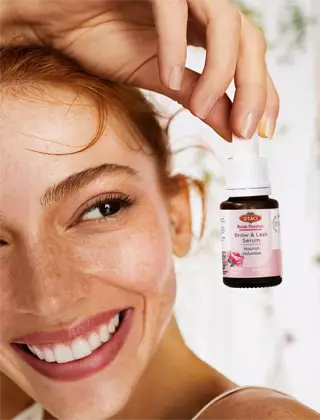 11. Rose Shampoo and Conditioners
You should definitely try this shampoo and conditioner set with rose water extract that gives you a peaceful and relaxing purification experience with this wonderfully beautiful and calming scent.
12. Rose Soap for Face and Body
Rose soap benefits are countless, especially for the skin. It has benefits such as soothing, resting, and helping to reduce the appearance of stains. Try it for softer skin.
Check out one of the best rose soaps for face from here.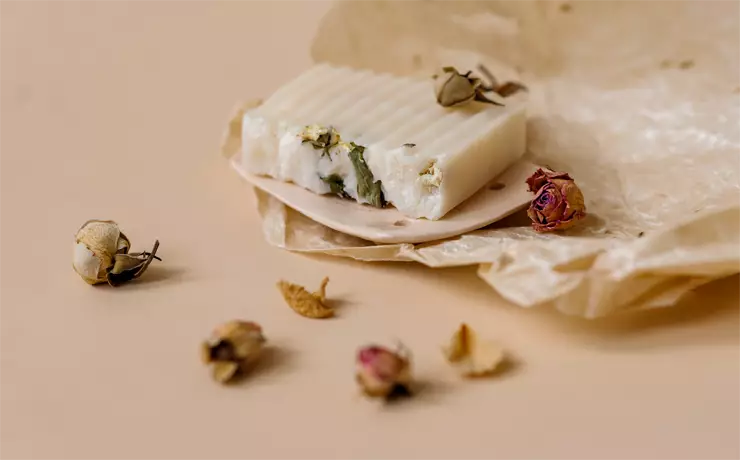 13. Rose Shower Gel
That aromatic rose shower gel offers you an extra fresh shower experience and a soothing and pampering effect. You can clean with your washcloth in the shower or enjoy a long-term bathing experience in the tub.
14. Rose Bubble Bath Bombs
Speaking of the bathtub, you can't deprive yourself of this purifying, therapeutic and meditative activity. Take time for yourself and realize how necessary and indispensable this is, accompanied by rose scent included bubble bath bombs.
After a calming bath, you may want to hydrate your whole body. Either you can prefer famous Turkish rose lotions or you can get other ones. Whichever you prefer, don't forget to hydrate your skin. 
15. Best Smelling Rose Body Lotion
One of the best rose body lotions is Victoria Secret coconut milk and rose lotion without dispute. You won't be able to give up on this permanent, fragrant, moisturizing, and skin-nourishing product.
16. Turkish Rose Liquid Lipstick
Now, it is time to make up! As you know, many cosmetic brands get inspired by Turkish rose color for their products. Lipsticks are one of them. The famous Turkish brand Golden Rose lipsticks have an incredibly long lasting and vivid look. Cecile lipsticks are as famous and attractive as Golden Rose. My favorite Cecile lipstick is from the matte velvet series. 
I am in love with Golden Rose crayon lipsticks as well. This rose color crayon lipstick is one of my favorites that I highly recommend. 
17. Turkish Rose Oil
Turkish rose essential oil benefits are shown in several areas but mostly physical. It is believed to be good for skin ailments, make the skin look healthier and even benefit sexual life. But the thing is, rose oil is highly expensive and rare. You won't be able to find pure rose oil. Even if you can find one, it will probably be very very expensive.
You can take a look at that absolute Turkish rose essential oil from here. It doesn't have to be made from Turkish roses for sure. You can pick other well known roses for your needs. Just compare the rose oil if it is blended or not. If percentages of the product matter, this is also an inexpensive rose oil.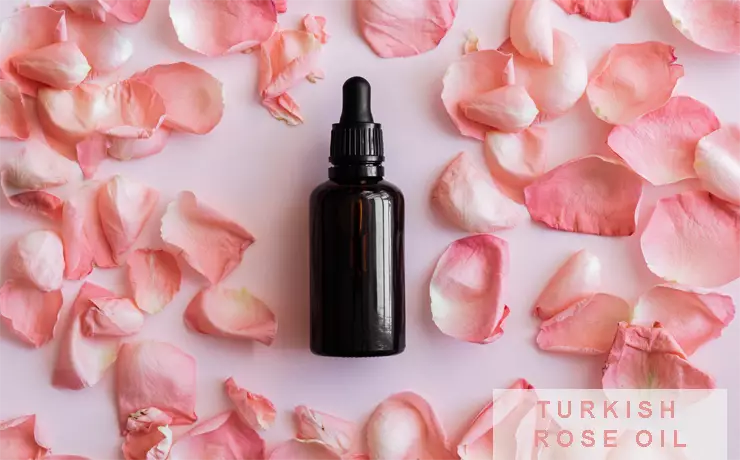 18. Turkish Rose Perfume
You can find Turkish rose fragrance in so many products and Nest brand is one of them. Nest Turkish rose perfume oil aroma can be found in diffusers and candles. But if you are a nest perfume lover, you should read the reviews of Black Tulip perfume Nest fine fragrance. This scent is as amazing as the Turkish rose scent.
Also, you can click for one of the best Turkish rose perfumes here. You should take a look at red roses cologne Jo Malone, 212 Vip Rose Fragrance, Atelier rose cologne as well. 
19. Rose Cologne Water
Eyup Sabri Tuncer has one of the best Turkish rose products since 1923. This fine brand is also vegan. Either you can try  Rose Oud Eau de Cologne or pure rose water. 
Let's look at personal items and home decoration ideas related to roses now.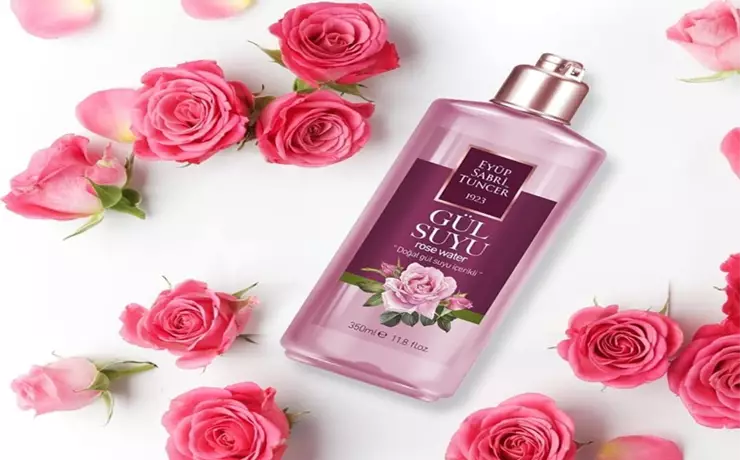 20. Turkish Coffee Cup Sets Rose Patterns
Do you like roses as patterns as well? You should get that tea or Turkish coffee cup set rose patterns for a more vintage home design. But please mind the size of this product. Because some people like big cups, while others like tiny little things.
Turkish coffee with rose flavor is a very rare taste as well in Turkey. But if you like the aroma of roses, you can get in touch with your friend who lives in Turkey in order to check for rose flavor Turkish coffee for you. 
You can also take a look at our traditional Turkish coffee article.
21. Rose Petals Online Shopping
Rose petals can be found as organic or artificial on online stores. You can bath with petals, use rose petals for valentines day or anniversaries, etc. 
👉🏻Try natural dried rose petals and buds for bath or drink
👉🏻Try artificial rose petals for romantic night
22. Rose Shape Cake Mold
If you noticed Turkish bakery red rose cakes in some places, you should get to know their secret closely. Try these silicone cake molds for several shapes. As might be expected, my favorite is rose shaped cake mold.
23. Rose Incense Sticks
Rose incense meaning is both spiritual and physical. These incense sticks will clean your house and protect you from negative energies. 
Rose incense cleans the place from bad smells. Rose incense disperses negative energy. It also gives fresh air.
24. Rose Diffusers
These miracle rose diffusers, which are the number one in preventing unwanted odors, are also very successful in changing the atmosphere of the environment. Wouldn't you like to appeal to all the senses in your bathroom or anywhere in your home and complete your concept with a suitable scent? You and your guests will love these fragrance diffusers.
👉🏻Click for a more classic diffuser
👉🏻Click for a more fresh and boheme diffuser
25. Rose Candles
You can use these rose-flavored candles for daily use as home decor; You can use it to relax in yoga, meditation, and such rituals if you wish.
26. Turkish Black Rose Fake Products
You can give someone you love a real black rose flower as a gift or buy an artificial black rose bouquet for home decor.
27. Organic Turkish Halfeti Rose Seeds
Halfeti rose is the one in the world. This natural black rose is only grown in Halfeti, Turkey! Turkish rose plants for sale can be found online but you should be certain if they are original or not. 
The Turkish Halfeti black rose seeds can be bought from Turkey or you can take a look at other black roses seeds as well. 
Here are some cultural details and things about roses in Turkey and all around the world.
28. Best Books About Roses
You should meet with Nazli Eray who writes The Black Rose of Halfeti novel. The book is about Halfeti, Turkey black rose. If you are planning to visit Sanliurfa Halfeti Turkey, let this book be your accompanist. 
You can grow your own roses and if you are doing this already, you can take a look at this best rose growing book. 
Susanna Kearsley's Rose Garden is one of the best novels about roses. There are many books apart from those. What are your favorites? Write them in the comments. 
29. Turkish Songs About Love and Roses
You can join this amazing and only music streaming service with a 30 day free trial and start listening to fine music. 
"Gulpembe" song which means rose pink is a song of unforgettable Turkish singer Baris Manco. 
Either from Mahsun Kirmizigul or Bora Duran, you should listen to "Gul Senin Tenin" which means rose is your skin. 
Also, there is another Turkish song "Gül ki Sevgilim" which means smile my love. You can listen to this vivacious song from several singers as well.
But there is an amazing language thing in the name of this song about homophony that I will explain below. 
30. Best English to Turkish Dictionary
Smile and rose are homophones. Which means laugh and rose in Turkish can be pronounced the same in some ways. Because laughing is an action, it has conjugates. Therefore, although their root remains the same, it can change according to conjugates and usages in the sentences. 
Another thing is about rose in Turkish. Rose means "gül" in Turkish. You can get a pocket English-Turkish + Turkish-English Dictionary and learn more nice things and words about the Turkish language.
You can also browse simple Turkish words.
Bonus: Black Rose Turkish Series
Black Rose Turkish series is a drama series that consists of 4 seasons. This television series was shot in different cities of Turkey's Southeastern Anatolia region and special venues were designed for the series, especially in the Halfeti district.
Black Rose Turkish series how many episodes?
Black Rose drama series has 125 episodes and it finished in 2016. You can reach Black Rose Turkish series imdb page from here.
That's all for now. Before we are passing the frequently asked questions about rose products online and other cultural things which you may wonder about, I want to say something. 
If you liked those 30 delighted rose products online blog post, don't forget to share it with your friends who are interested in roses! 
Frequently Asking Questions About Turkish Roses and Rose Products
Here are some top asked questions about rose products. If you have a question except for that, write a comment below. We would like to help you.
Where to buy Turkish delight?
You can shop Turkish products in several ways. If you are already in Turkey, you can try the bazaars and markets for traditional and delicious Turkish delights and more. If you want a global delivery you can check those delicious Turkish delights. 
How many calories in rose Turkish delight?
100 grams of rose-flavored Turkish delight calorie is more or less 350-400 calories. It may depend on the ingredients. Some of these rose Turkish delights have pistachios, almonds, and other products which may increase their calories. 
Can you make Turkish delight without rose water?
If you don't use rose water, you won't have an original Turkish delight in the end. There are some syrups or concentrated flavoring products but they don't replace actual rose water. You can still try and see. But we suggest you use rose water either a ready and drinkable one or the one that you made from rose petals.
How is Turkish rose oil made?
Rose oil is diluted with olive oil in general. Some of them mix it with jojoba oil as well. But the famous and pro "Rose Damascena" process is distillation. Rose Damascena is the one inscription that you need for healing rituals.
What is the Turkish rose dessert name in both English and Turkish?
The Turkish rose dessert name in Turkish is "LOKUM" and in English is "TURKISH DELIGHT".
Where is the Turkish Halfeti rose growing?
Turkish Halfeti rose is growing in the Halfeti region of Sanliurfa province in Turkey. It is located in Turkey's southeastern Anatolian region.
How to buy Turkish Halfeti rose?
When you get to Halfeti or the center of Sanliurfa, you can ask the local people if you can find rose saplings around the region and get ideas from them. It is also sold on the Internet, but it is very rare and it is useful to decide whether to read the reviews or not.
How to say rose in Turkish?
You can say "GÜL" which means rose in Turkish. Ü letter is a unique letter in the Turkish alphabet. You can listen to the word pronunciation from translation channels that have audio options. 
How do you say hi my name is Rose in Turkish?
You can say "Merhaba. Benim adım Gül." in Turkish. Or you can choose the shorter version which is "Hello. I am Rose." and you can say that "Merhaba. Ben Gül."
What is the meaning of the Turkish name "Rose"?
"Rose" is homophonic and represents the flower one and laugh/smile words at the same time. Generally, parents give that name to their daughters for flower one. But if a person has a "Gülümser" name in Turkey, this name roots from laugh or smiling.
Are laugh and rose same in Turkish?
Their meanings are completely different but their pronunciation is the same. So, they are not in the same meaning but they are homophone words in Turkish.  
When were Turkish Halfeti rose discovered?
According to records, the first discovery of the black rose of Halfeti was in 1888.
Which rose cream is best for face?
"Rosa Damascena" phrase is a good way to determine the rose cream that you'll buy. Otaci rose face cream is one of them. One of my favorite brands is the Otaci brand. Of course, not every product is compatible with every skin. Check out this high-natural ingredient product. If you like it, use it, and let's meet in the comments.
Are rose products good for skin?
Yes, such a thing is said. But if you are looking for a healing or a cure from rose products, it must contain the "Rosa Damascena" phrase. This is the type of rose used for medicinal purposes. It is known that it grows in Turkey, Bulgaria, and a few more places in the world.
Other rose products may soothe or relax the skin, but it is not for sure. Besides, the skin type is very important as an ingredient. Because if the skin doesn't like the products, the material doesn't make any sense.
What smells like Turkish rose?
Turkish roses smell very fresh and flowery in general. It may be intense for some people but many people say that it is very soothing. If you smell such a sweet fragrance, it could be mixed with other things. 
What is Turkish rose?
Turkish rose is a natural variation of Rose Damascena. It is a very rare and endemic plant that mostly grows in Isparta city in Turkey. These healing pink roses are incredibly precious and rare.
Where can I find Turkish products in Istanbul?
You can shop Turkish products from the Grand Turkish Bazaar. Grand Turkish Bazaar is a famous and touristy spot in Istanbul. But, it is not the only one. In almost every market in Istanbul, you can find Turkish delights, Turkish coffee, or other famous Turkish products. It is not just because of the tourists, Turkish people also consume those products in common.
Where can I find Turkish products online?
You can find Turkish products and order them online to your place from those online markets if you are in Turkey and your city is available. If you are looking for a global market, you can check your needs from online global stores.
Where can I buy Turkish beauty products online?
If you are located in Turkey, here is a satisfying cosmetic guide about beauty products to buy in Turkey. Either you can explore the famous and best Turkish skincare brands or you can buy online. Besides, you can buy cosmetics products in almost all supermarkets as well.
But if you want to buy Turkish cosmetics products globally, you can find Turkish brands on global markets. Some of the things we mentioned are open for global shopping also. One of the best Global Turkish brands of cosmetics is Otaci Store.
If you have any questions and comments, let me know. I am a huge fan of beauty products in Turkey. I will be happy to assist you! 
Turkish Shoping
-> 7 Best Turkish Hijab Brands & Online shopping
-> Best Turkish baby clothes brands
-> Best maternity brands in Turkey
-> Cheap kids clothing brands in Turkey
-> Turkish grocery store online
-> Makeup stores in Turkey Istanbul
-> Turkish underwear brands
-> Turkey food delivery app
-> Turkish bath kit & Turkish bath products
-> Turkish Evening Dress Brands & Online Shopping