Traditional hammam products have been used for centuries for cleaning and relaxing. In this list, I gathered up and reviewed the best and essential Turkish hammam women products and with men options as well. They are mostly travel size and eco friendly.
Please note that some hammam spas and Turkish baths can cover some needs on this list. Please contact them and ask if they provide it or not. Then you can buy your needs.
I hope you enjoy either your own Turkish hammam at home or a public hammam steam bath experience. During this experience, support the world by using only as much water as you need. Also, you can learn some other tips and secrets of traditional Turkish bath essentials in the rest of this post.
Let's start with Turkish bath clothes.
Table of Contents
1. Peshtemal Turkish Beach Towel
In fact, the use of a loincloth (peshtemal bathrobe) is not limited to the Turkish bath. You can wrap them in your hammam experience or use them as a multi-purpose cover, blanket, pool, and seaside towel.
👉🏻Quick and fast drying
👉🏻Light and easy to carry
Organic cotton peshtemal and eco-friendly options, various colors are available.
👉🏻CHECK THE BEST PESHTEMALS FROM HERE ✅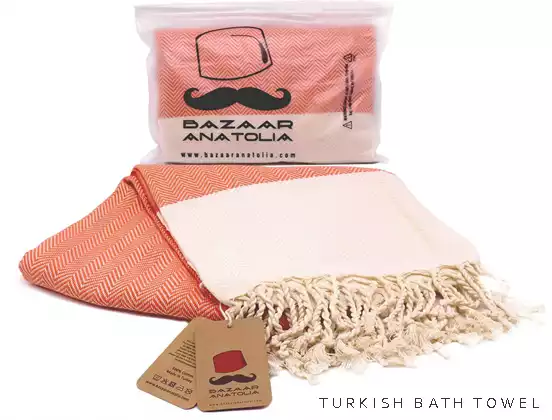 2. Hammam What to Wear?
You can not only wrap your loincloth but also have a hammam experience with your bikini or swimsuit. That's completely up to you.
Of course, if you are alone at home, it is not necessary, but I add comfortable swimwear, which I think you might want to wear in public baths and spas – no one wants to go naked, but it's up to you whether to take off the clothes completely, depending on the situation. LOL.
👉🏻Comfortable
👉🏻Effortless
👉🏻Underprice
👉🏻Wide range usage
3. Miracle of the Best Vegan Body Scrub
This facial & body scrub completely covers your needs in a hammam spa experience. Turmeric extracts in their content combine with Himalayan salt to help reduce unwanted appearance on the skin. A great choice for softer and purer skin.
👉🏻Reduces the appearance of acne
👉🏻Moisturizes
👉🏻Can be applied to both face and body
👉🏻Climate Pledge Friendly certified
👉🏻Other options available: Avocado, Coconut, Matcha Green Team, Vitamin C
4. Hammam Shampoo & Conditioner
It is hard to find good shampoo and conditioner even in daily life. This can be even more challenging when traveling. The space occupied by huge shampoo bottles, the risk of spillage, and many other negative things can be a problem.
However, I will share 3 practical tips for more sustainable travel and package options with you. You can choose whichever one suits you best and meets your needs. Moreover, feel free to share your own sustainable practical travel ideas and experiences in the comments.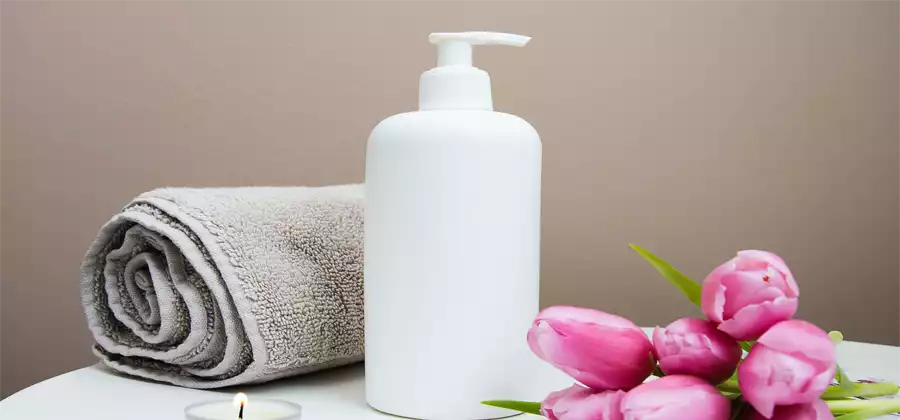 Solid Shampoo Bar
Foamie Natural Shampoo Bar is one of the best solid shampoos for those who are looking for a simple, affordable, and long life shampoo bar. It has an ergonomic design to hold. Its shape is suitable for massaging easily.
✅Cruelty free
✅Paraben free
✅Sulfate free 
✅Plastic free packaging saves 2 bottles per bar
✅Coconut extract makes soft, shines and raises your hair
Shampoo and Conditioner Solid Bars Set
This shampoo bars package includes 3 different types of shampoo and conditioner bars. So you will get 6 pieces in total. 3 for shampoo and 3 for conditioner. You can try and find the best extract (like argan, citrus, and coconut) for your hair with these hand-picked natural ingredients. Every type has different benefits and specialties. Those sets are also friendly for long term travels.
✅Cruelty free
✅Vegan
✅Non GMO Shampoo
✅Paraben free shampoo 
✅No plastic
✅Long lasting
Travel Bottles
These 14 Pack Travel Bottles sets to cover your needs for shampoo, conditioner, moisturizer, liquid soap, makeup products, and more.
✅Reusable
✅Squeezable
✅Food grade silicone
✅BPA free
❌Not suitable for Hair Serums, Alcohols, Salicylic Acid, Hydrogen Peroxide, Caustic, Corrosive, or Flammable products.
✈️♻️Practical and suitable for sustainable travel.
5. Traditional Hammam Soaps
Classical hammam sabun or soap is actually essential for purification. They basically consist of natural olive oil extract. These vintage style soaps are a must for a real cleansing bath experience.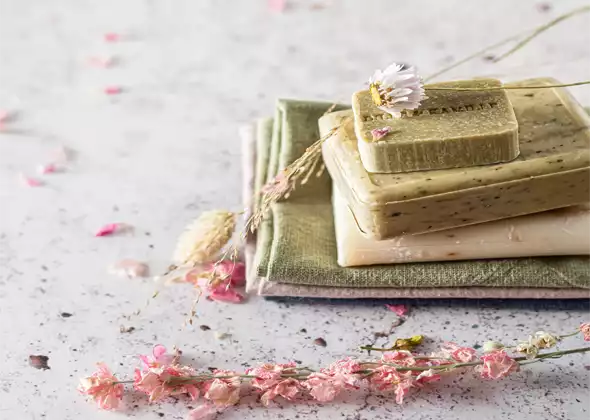 What soap do they use in Turkish hammam?
They usually use regular, solid traditional soaps in Turkish hammams. Those can smooth, clean, and purify your skin. You can use liquid soaps as well but classical ones are better and most preferred. Duru, Dalan, and Haci Sakir brands are very famous for hammam spa sessions in Turkey. Here are a few options that I gathered up famous hammam spa soaps with amazing scents and texture.
👉🏻Duru Pure and Natural Bar Soap 4 bars pack
👉🏻Haci Sakir Rose Soap 4 bars pack
6. Non slip flip flops for hammam
Flip flop or other non slip sandals are highly important during the time that you'll spend in the hammam. In order to prevent accidents, this will be the best precaution that you'll take for a trip to Turkish baths.
👉🏻CHECK NON SLIP FLIP FLOPS & SANDALS FROM HERE✅
7. Buy a travel Tangle teezer original
Your hair care is also very important. The tangle teezer is indeed the invention of the century. This life-saving comb is a boon, especially for people with curly hair like me. If you do not want to walk around with messy hair during the trip, you should definitely get a Tangle teezer.
Here are tangle teezer alternatives for you, one for travel and one for daily usage. Sometimes I use both. For limited spaces, travel size one is my star. Open the tangled hair easily and without breaking after the Turkish hammam bath.
8. Traditional Turkish Kese Glove
The benefits of the "kese" pouch, which is a Turkish bath glove, are innumerable. This special glove, which is miraculously purifying, turns into a massage ceremony, especially by experienced people working in baths. You can also read more about the benefits of Turkish hammam here.
I have used Kelebek Kese Body Exfoliating Scrub Peel since I was a teenager and sometimes even in daily showers.
I also highly recommend this excellent Natural Loofah Set. Since I use this set regularly, I feel physically and mentally changed and relaxed. You will become addicted to pampering yourself. Taking time for yourself has never felt so special.
9. Waterproof wet bag for laundry
I also recommend a wet carry bag for Turkish bath visitors for later. After your hammam spa session, you'll need to carry your wet laundry. You don't want your other items to get wet, do you? (If you are in your home, just skip to 11).
Those waterproof wet bags are stylish and practical. They offer multiple areas use for travel, sports, pool, seaside and more.
10. White Turkish Bath Towels
After your hammam experience, you'll need towels to dry yourself. You can ask the hammam if they will lend clean towels to you or not. Another way, you should use your own. Here are the long-lasting classical Turkish bath towels.
You can also read more about Turkish cotton bath towels.
11. Face and Body Butter
Before you dress up your clean clothes, don't forget to moisturize your body. You'll fall in love with these travel size body butters and moisturizers which can be used for the face as well.
👉🏻Miracle face and body butter
👉🏻Daily moisturizing face & neck cream and body lotion
👉🏻Best face moisturizer for men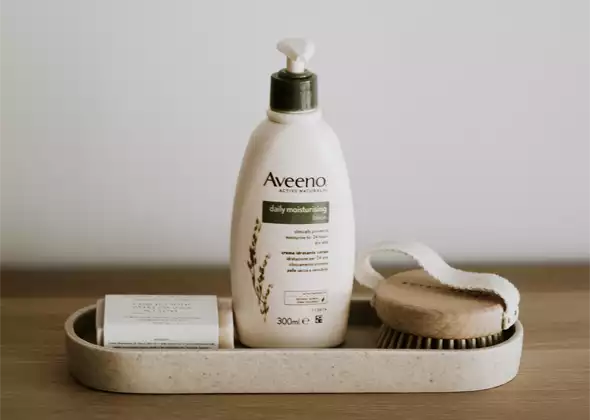 12. Best & affordable after shower hair product
You should take care of your hair as much as the care of your face and body. Our hair is most affected by travels, weather changes, baths and saunas, pools and seas, and changes in its texture may occur.
Keeping the texture and appearance of our hair in the healthiest condition is an indispensable part of personal care.
👉🏻R and Co Cool Wind air dry hair creme
We neglect our hair, which is affected by humidity, heat, wind, and other factors, especially on short or long trips. That is exactly when they need care. Hair products that give good results even in this single use and you don't need an extra product really save the day.
13. Buy Complete Hammam Kit
We mentioned some of the essentials of Turkish bath products and more. You can also buy a complete hammam kit if you like those kinds of steam bath products.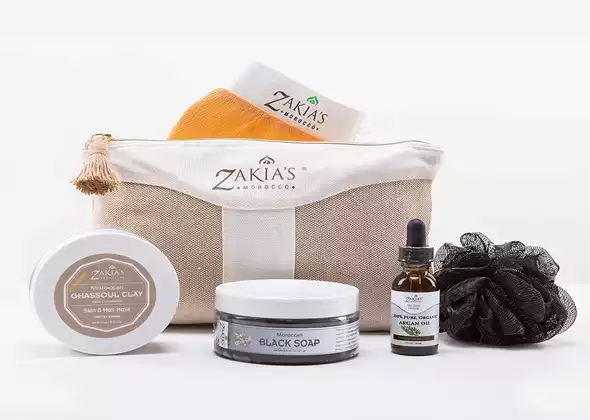 14. Get Turkish coffee scrub or drink
Did you know you can use Turkish coffee as a scrub either? Yes, you can and you'll get amazing results. You can try it in your house or in public Turkish baths. If they allow you, take your coffee or scrub mixture which includes Turkish coffee, and try it.
But don't forget to drink a cup of Turkish coffee as well. Here is a simple Turkish coffee scrub recipe for you. Apply softly and without pressure. Otherwise, you may scratch your skin due to the particulate texture it contains.
15. Best Collapsible Water Bottle for Travel
Stay hydrated during the day. You should drink more water, especially when you travel and on days when you sweat and get rid of toxins like in the hammam. Those foldable travel water bottles will be a good match for travelers choice's. Save the day and the world with this easy to carry roll up water bottles. Keep sustainable.
What should I take to hammam spa?
Here I told you the basic hammam products, like soaps, kese, peshtemal etc. but you can put more items on this list. So, what about you? Do you have any suggestions for a better and more sustainable hammam experience? Have you ever been to a Turkish hammam spa? What was your favorite Turkish bath hammam in the world? Meet me in the comment below 💜✈️
If you liked this post, please save it for later. You can also take a look at the Turkish baths blog post to learn more about this tradition of cleaning and socializing, which has been an integral part of Turkish culture for centuries.
Frequently Asking Questions About Turkish Hammam Experience
Here are some top asked questions about hammams known as Turkish baths. 
What's a hammam?
The places that you can use together with steam and heated marbles are called hammam. Hammam rooms are divided by various services like general baths, sauna rooms, steam rooms, showers, massage rooms, etc.
What is Turkish bath?
Turkish bath is a traditional bathing custom that involves socializing. You can go to a Turkish bath for cleansing, socializing, massage, and other services.
What is hammam spa?
Hammam spa is different from traditional Turkish baths with the environment design and services basically. Usually, traditional Turkish baths include basic things like kese and foam massage but in the new-wave hammam spa places, you can find more massage and other service options. However, spa products can be used in many Turkish baths as well.
Do you wear anything for hammam?
If you go to a women's Turkish bath, you can even walk around half or fully naked. Generally, the others don't bother about it. Anyhow, some Turkish baths for women can be more conservative. So observe or ask before getting naked. Also, you have some specific hammam wearing options.
What to wear in a Turkish bath?
You can wear peshtemals / loincloth, two piece bikinis / swimsuits, water repellent fabric products, etc. 
Can you have a Turkish bath while pregnant?
You shouldn't do that. Because hot and humid places such as baths and saunas are very risky during pregnancy. Especially in the first three months, it increases the possibility of miscarriage. It is also not recommended by American authorized institutions.
What to wear in hammam during pregnancy?
If possible, it will be better for you and your baby not to go to the hammam. But if you have to go for some reason, you should definitely wear non-slip slippers. Please don't stay too long inside.
What can I use in hammam?
You can use shampoos, body and face scrubs, shower gels and creams, kese gloves, Turkish bath soaps, and more in hammam.
What soap is used in a Turkish bath? (What soap is used in hammam?)
Traditional Turkish soaps provide a unique cleaning experience to those who use them, usually with olive oil, white soap, lavender and rose aromas. You can buy Haci Sakir, Duru and Dalan brands from several online markets and cosmetic shops in Turkey.
How do you recreate a hammam at home?
You'll need a lot of hot steam, heated marble, or bathtub apart from things that we lined up above like scrubs, soaps, kese gloves, shampoos, peshtemals, etc.
Do they wash your hair in hammam?
You can wash your hair in hammam on your own. If you have a hammam package that involves hair washing, they do. But if you want a special hair wash, you may pay an extra charge for this.
What do you need for a hammam?
You'll need at least one peshtemal for a hammam. Shampoo, soaps, kese gloves, and others may be gifts or extra charge for you. But whether you go to a hammam or not, you should try this soothing SPA GIFT SET for a fancy experience.
What products are used in a hammam? (What is used at Turkish baths?)
Generally, loincloths, traditional bar soap, and a pouch are used in Turkish baths. Of course, you can take the products you have or need for cleaning to the hammam or you can get them from there.
Should I shave before hammam?
If you think you need it, do it. Do not forget that the heat and steam in the baths will open your pores. Therefore, it is useful to choose the time when you will shave in order not to be irritated. However, some baths also have options such as waxing. 
Here is an affordable travel shaving kit for you in order to remove unwanted hair.
Is a Turkish bath healthy?
A Turkish bath has so many benefits that you can't imagine. 
A Turkish bath or hammam experience basically opens pores, removes dead skin cells, regulates blood circulation, relaxes the muscles and the whole body with massage, etc. For more benefits of hammam spas, you may enjoy the Turkish bath benefits.
How long should I stay in a Turkish bath?
Do not go to the bath if you are pregnant.
If you have chronic diseases or illnesses, consult your doctor before going to the hammam.
Normal people can stay as long as they can. Listen to your body. Everybody is individual. Each body is a separate experience.
Is Surface shampoo cruelty-free?
Yes, and Surface hair products are also vegan, paraben-free, gluten-free, sulfate free.