The place of traditional Turkish lace has a very important place for Turkish women. There are always handcrafted Turkish lace and Turkish needle lace works in the homes of Turks.
Turkish women's traditional wedding dowry and home always have handmade lacework. Turkish lace and Turkish needle lace are used in homes, sheets, towels, curtains, bedspreads, and clothes. One of the reasons why the Turkish towel is famous is that it is decorated with handcrafted lace.
What is the difference between Turkish lace and Turkish needle lace?
In fact, the two may seem the same, the difference being that lace can be made and used independently, while Turkish lace is knitted and sewn to decorate the edge of an item. While lace can be made with any type of thread, silk-type threads are generally preferred for Turkish lace.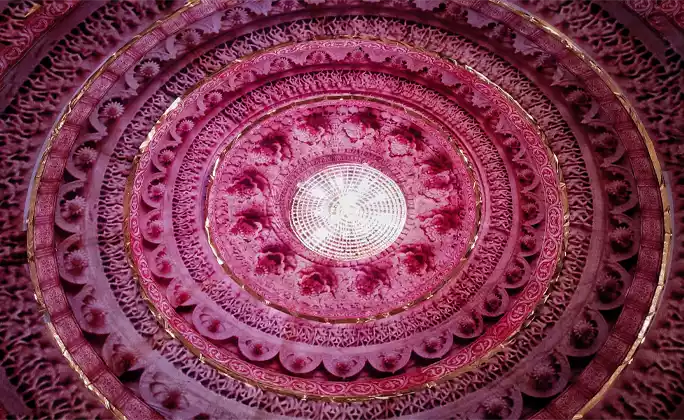 How to make Turkish lace and Turkish needle lace?
If you are interested in Turkish lace and Turkish needle lace and want to do something yourself, the following books will be of great help to you.
👉🏻Turkish needle lace tutorials
👉🏻Also, if you want to make handmade toys, this book is for you.
If you want to watch how Turkish lace and Turkish lace are made, I recommend you to follow the Turkish needle lace instructions, which consist of 8 videos.
The most popular types of Turkish needle lace
Let's take a look at the most popular types of Turkish needle lace. Types of needle lace Turkish versions are a bit oriental and traditional. Oya needle lace is one of them.
Needle Lace (Oya Turkish lace)
Needle laces, which have two types of knitting, square and triangle, are knitted in the form of knotting by passing the needle through the yarn weaves.
You can use single-wrapping or double-wrapping techniques when knitting with needle lace. In single wrapping, a loop is formed by turning the thread from right to left on the needle that has been inserted into the fabric first. The loops are repeated at certain intervals and the first row called giraffe is completed. During the rotation, the same loop is made by passing it through the loop directed from left to right.
Turkish oya lace looks like mandalas and they have many various patterns. If you want to make style of Turkey laces, you should buy Turkey needles.
👉🏻If you want to do needlework, you need quality and different sizes of needles. I recommend buying needle sets that have all the needle sizes you need.
👉🏻If you do not have time to decorate with needle lace, you can also buy ready-made decorations.
Crochet lace (Turkish crochet)
Crochet laces are knitted by chaining with awls. A ring is formed with the yarn, and then the yarn wrapped in the awl is pulled through this ring. The chains of rings are knitted on top of each other to create motifs. Types of handmade lace are several and has very different styles.
Crochet lace is especially used in home decorations. Turkish needle Lacedecorations are mostly preferred in pillows, tablecloths, and quilt covers. Turkish lace towels are very popular products as well. You can find these kind of towels with needle lace patterns here.
👉🏻If you want to make a handcrafted cover with crochet lace, this book will help you a lot.
👉🏻Click here to buy Turkish style crochet covers for your pillows from abroad. Turkish lace fabric continues to inspire many designs with textures and models.
👉🏻Are you looking for a cotton tablecloth made with crochet lace? Here it is.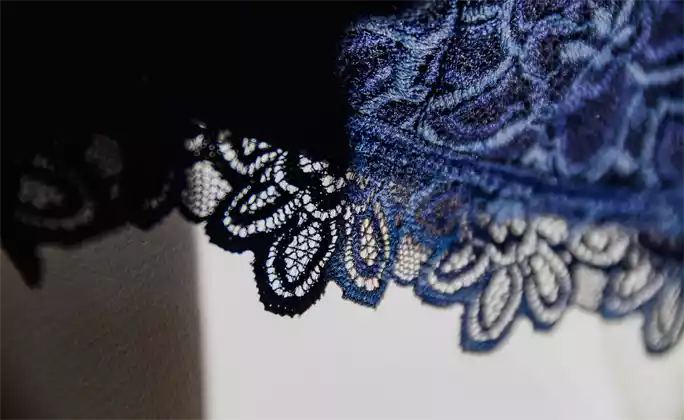 Bead Lace
Bead laces are made by using beads together with silk, cotton, and synthetic threads. It is made by passing the threads through the beads with crochet and a needle. It is one of the most preferred Turkish lace.
👉🏻You can take a look at the beaded lace.
My grandmother used to tie beaded cheesecloth to her head. It is a very traditional product.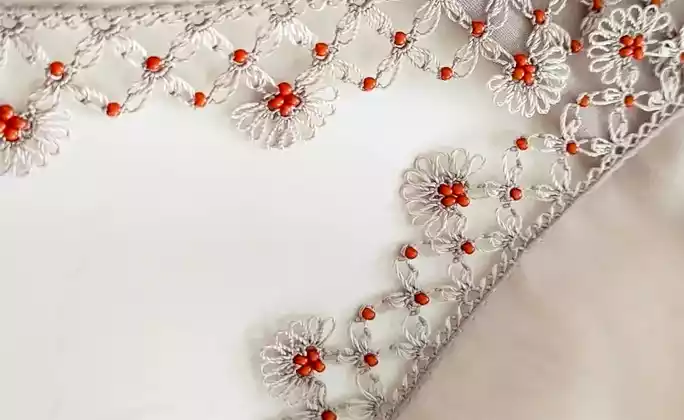 Shuttle Laces
Since the technique of shuttle laces is not suitable for knitting voluminous motifs, they do not have as many varieties as needle and crochet lace. Shuttle laces are easier to make than needle laces and more difficult than crochet laces. A certain length of thread is processed by ringing the threads in the shuttle according to the shape of the desired motif. Silk threads are generally preferred.
👉🏻I recommend you buy a set of silk threads in different colors suitable for knitting by hand.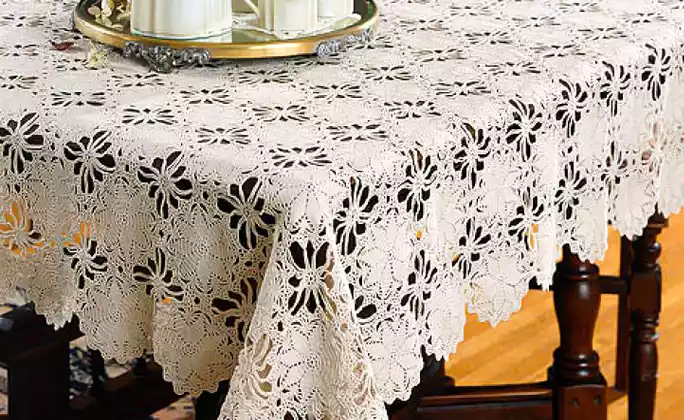 Turkish lace and a short history of Turkish needle lace
The history of Turkish lace dates back to ancient times. The lace samples found in the excavations in 1905 take us back to 2000 years before Christ.
Sources claim that knitting made with needle laces spread from Anatolia to the Balkans and then to Italy and the entire European continent from the 12th century.
Laces were also used as gifts in the state. XIV in the 18th century. There is an Ottoman coat of arms on a lace gift to Louis.
Why is it called Turkish needle lace?
The word needle lace (Oya in Turkish) has no equivalent in other languages and this art is thought to be unique to Turkish women living in Anatolia. In Anatolia, needle lace was used to decorate and express feelings between people. For this reason, this handicraft art is called Turkish needle lace.
The meanings of lace for Turkish women
Unrequited love or unhappiness for a different reason by using yellow and its tones,
Losing your heart to someone by using the color of purple hyacinth,
Using the color of pink hyacinth, she is now engaged,
She will marry the one he loves by using the color of almond spring,
To announce the happiness of her marriage by using green and its tones,
By using the color of white hyacinth, he aimed to show his devotion and loyalty towards his wife and home.
Either for Turkish women or globally, lace has important position in lingerie fashion as well. Lace bralette tops and stylish lace lingeries are waiting for discovering.
How Can I Store Turkish Lace and Turkish Needle Lace?
Since the laces come into contact with the air, they may turn yellow over time and you need to wash them frequently. If you are not going to use the lace and want to keep it, you can try these storage methods.
Rubber, etc., which does not let air in when closed and preferably provides air insulation around the cover. may prefer dowry chests that are reinforced with substances,
You can store your lace in your dowry chests in airtight (vacuum) bags.
👉🏻Browse the vacuum bags and browse the dowry chest to safely store your lace.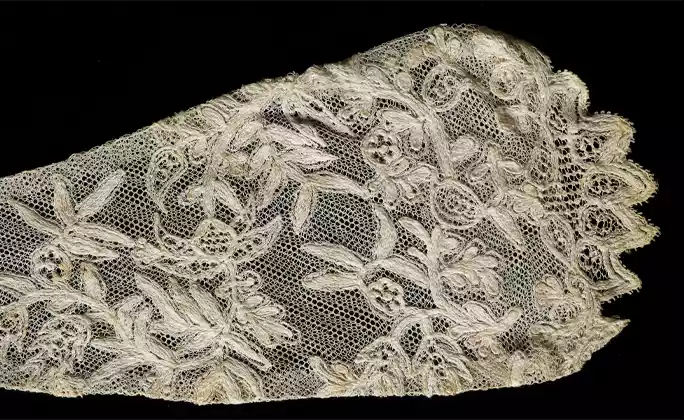 Frequently Asked Questions
Is it difficult to knit Turkish lace?
Of course, this is a little related to your handiwork, but it is a job that requires attention. If you want to crochet, I recommend this book.
What kind of yarn should I choose for lace?
Silk-type threads are generally recommended for needlework. But recently, synthetic threads have started to be used because they are cheap.
Why are Turkish laces famous?
It is predicted that needle lace spread to Europe and from there to the whole world via Turkey. It is estimated that it spread to Italy before Anatolia and then to all of Europe. Needle lace is very important in Turkish culture and is used even today and has different meanings. For this reason, Turks are very experienced in this subject and many different special motifs are made by the Turks. For all these reasons, Turkish needlework is quite famous and popular.
Where can I buy Turkish needle lace?
You can buy Turkish needle lace at dowry brands and yarn stores in Turkey. You can find these stores in shopping malls. From abroad, you can choose Amazon or Etsy.
Are Turkish needle laces used in wedding dresses?
Yes, needle lace is used in many wedding dresses, but most of them are produced by machines. You can buy bridal gowns prepared with handmade needlepoint ornaments from bridal shops in Turkey.
Also, don't forget to read our marriage proposal ideas in Turkey article.
How to make needle lace?
There are many tutorials of needle lace for beginners on Youtube and other resources. Learn lace art with this book which includes patterns inside.
If you want to get more information about Turks, you can check the articles on Turkish Oil Wrestling, Turkish hammam, Traditional Turkish Coffee, Turkish tulips, Turkish tahini molasses, and Traditional Turkish Dresses.
Also, if you want to learn about the history of the Turks; You can read about the Map of Ottoman empire at its height and Sultan Suleiman.
The answer to a frequently asked question is here: Are Turks Arabs?