Turkish Oil wrestling is a traditional sport for Turks and dates back to the 14th century. This sport is performed by rubbing oil on two opponents and each wrestler is called "Pehlivan". If one of the athletes can completely touch the back of the other to the ground (in Turkish to tuş yapmak) or if he earns 10 points in total, he defeats his opponent.
What is Turkish oil wrestling?
It is a Turkish sport that has been going on for about 650 years. It is accepted that the Turks have been doing this sport since they passed from Anatolia to Rumelia. Kırkpınar oil wrestling festival is held in Edirne Sarayiçi district every year in June and they remember forty Turkish soldiers who participated in the Rumelian war. Oil wrestling is the Turkish national sport.
In the early days of the sport, two Turkish soldiers wrestled and valuable prizes such as horses, camels, and calves were given to the winner at that time.
During the Ottoman period, wrestling competitions were organized to collect aid for weddings, fairs, and the needy. Although these traditions continue in a very small number in Central Anatolia today, oil wrestling continues only as a sports competition throughout Turkey.
Oil wrestling is a very popular sport among Turks and is considered a show of strength. The name of this sport is known as Oil Wrestling (in Turkish to Yağlı Güreş) because olive oil is applied to the wrestlers' bodies.
Although Turkey sends female oil wrestling athletes to the Olympics, wrestling is not a very popular sport among women in the country and is seen more as a male sport.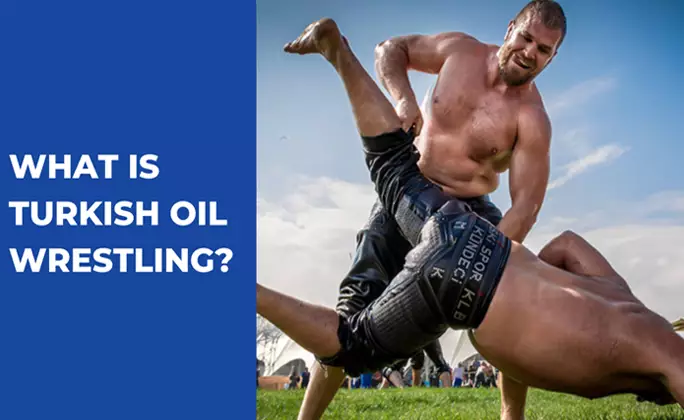 How does Turkish oil wrestling work?
The wrestlers who participate in oil wrestling, the ancestral sport of the Turks, are called "pehlivan". In order to ensure equality among the wrestlers, olive oil is applied to the bodies of the athletes, and for this reason, the sport is called "Oil wrestling". Oil wrestling competitions are held on a flat grassy area and this area is called er Meydani (Er Meydani in Turkish).
Wrestlers wear only black leather pants called kispets and their upper parts are bare. The word kispet is adapted from Arabic and is known as "kisvet", it means garment made from the waist down. Kispet is made of animal skins such as buffalo calf, goat, and cattle, and there is a thick area of four fingers wide at the waist so that your opponent can hold you. Since the athlete's body is fat, he tries to hold his opponent by putting his hand in this area.
Oil wrestling competitions begin with prayer and music. It is managed by an announcer called Cazgir. Cazgir invites the wrestlers to the square and introduces them to the audience. During this promotion, the sentence "Two valiant came out into the square, both of them rollers from each other" (in Turkish,  İki yiğit çıkmış meydana, ikiside birbirinden merdane) is said. This sentence has never changed.
Two wrestlers hold the neck of the opponent with one hand and the wrist of the opponent with the other hand and begin to swing their arms harmoniously from side to side. This is the way the wrestlers greet the audience. And wrestling begins with the start of the announcer.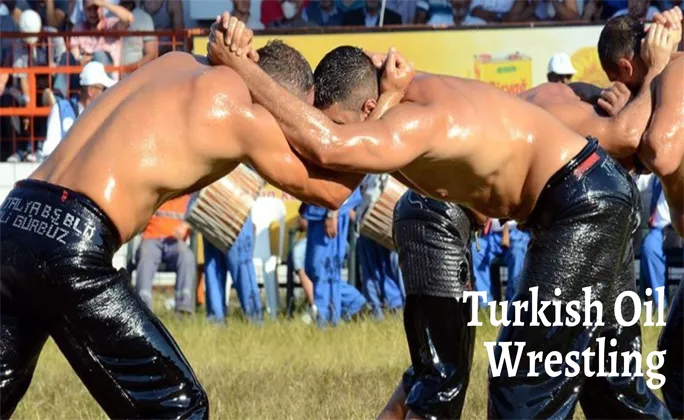 What are the rules of Turkish oil wrestling?
The most basic rule in oil wrestling is to bring your opponent to the back with brute force. Punching or kicking is strictly prohibited and a wrestler will be disqualified if they do. Oil Wrestlers try to "key (tuş)" their opponent down on their back while standing or on the ground. Even if one of the wrestlers does not fall on his back if he falls backward or in the side position, he still loses the wrestling. This event is called blundering (Açık Düşürmek in Turkish).
One of the important movements in wrestling is the nail-up (in Turkish, çivi yukarı) movement. By holding the opponent's feet, he is turned upside down and dropped on his back.
Another movement in oil wrestling is to beat by weighing (in Turkish, tartarak yenmek). A wrestler wins the wrestling if he takes his opponent's feet off the ground and walks three steps after embracing them.
If one of the wrestlers gives up, he loses the wrestling.
In addition, of course, doping is prohibited and tests are carried out.
Turkish oil wrestling women
Oil wrestling is seen as a men's sport in Turkey. Even if women do oil wrestling as an amateur, female oil wrestlers do not hold an event and do not participate in national festivals.
Turkish women wrestlers are very successful. Yasemin Adar has become the European champion 3 times.
Turkish female wrestlers
Aslı Demir
Aslı Tuğcu
Aynur Erge
Ayşegül Özbege
Bediha Gün
Buse Tosun
Ebru Dağbaşı
Eda Tekin
Elif Jale Yeşilırmak
Elif Yanık
Elvira Kamaloğlu
Esra Pul
Evin Demirhan
Hafize Şahin
Kadriye Aksoy
Mehlika Öztürk
Mehtap Gültekin
Merve Kenger
Nesrin Baş
Rahime Arı
Şevval Çayır
Tuba Demir
Yağmur Çakmak
Yasemin Adar
Zeynep Yıldırım Diri
Zeynep Yetgil
How Long Does Oil Wrestling Take?
Oil wrestling matches in Turkey are 40 minutes. If no one is victorious within this time, 10-minute overtime will be granted. If one of the wrestlers does not win during the overtime period, there will be indefinite overtime and the wrestler with the first point wins.
What Does Wrestler Mean(Pehlivan)?
According to the Turkish Language Association, the word wrestler has passed from Persian to Turkish and its meaning is a strong person. The original form of the word is "pehlevan".
Başpehlivan (Turkish Başpehlivan) means the strongest of the wrestlers and the leader of the wrestlers. In order to become the chief wrestler, it is necessary to beat everyone in the Kırkpınar oil wrestling tournament and be the first. Chief wrestlers are highly respected in the Turkish sports community and among the public.
How to Become an Oil Wrestling Wrestler?
In order to become a wrestler in oil wrestling and participate in tournaments in Turkey, it is sufficient to obtain a health report from a hospital with full gratitude and apply it to the institutions called the provincial health directorate with this health report.
Of course, since oil wrestling is a strength-based sport, you need to have good nutrition and regular exercise.
Oil Wrestling Tournaments in Turkey
As we mentioned, oil wrestling is a traditional and quite popular sport in Turkey. There are many wrestling tournaments of different sizes. Here are some of the important tournaments;
Kırkpınar Oil Wrestling Tournament
Kırkpınar region is located in Edirne province and is considered to be the place where oil wrestling started for the Turks. For this reason, it is the most valuable oil wrestling tournament and the title of a chief wrestler can only be won in this tournament. The tournament to be held this year is called the 661th Kırkpınar tournament.
In the past, since communication tools were not common, oil wrestlers in villages and towns were invited by sending a red candle, which is the invitation symbol of the Kırkpınar tournament. This is where the common phrase "kırmızı dipli mumla çağırmak" comes from. Today, this tradition continues symbolically.
Kırkpınar Oil Wrestling was accepted to the World Heritage List by UNESCO in 2010.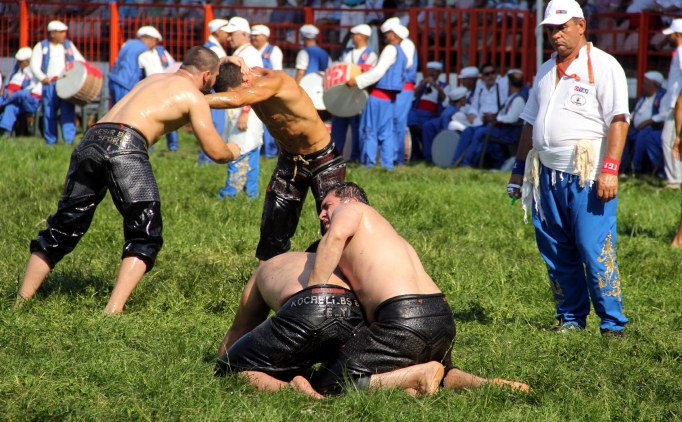 When is the Oil Wrestling Festival in 2023?
Kırkpınar Oil Wrestling lasts for three days and has been determined as 1-2-3 July 2023.
Oil Wrestling Ticket Prices How Much?
The first day of the historical Kırkpınar Oil Wrestling is free for everyone. Second-day ticket prices are 120 TL for the first level and 100 TL for the second level. On the third and final day, the first level was determined as 150 TL and the second level was determined as 130 TL.
What is the Award of Oil Wrestling Tournament?
Many oil wrestling tournaments are organized, but the most important one is the Kırkpınar oil wrestling tournament. The winner of this tournament receives the title of chief wrestler and receives awards such as money and gold medals.
The prize money for the Kırkpınar tournament in 2021 was 60 thousand Turkish Liras. The second and third place winners of the tournament are given a cash prize and a silver medal.
The wrestler who wins this tournament three times in a row wins the golden belt and becomes a well-known person among the people. In this way, many advertisements and sponsorship agreements can be made.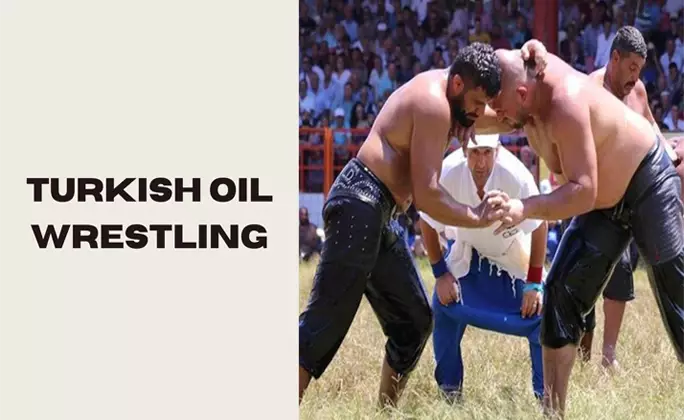 Edirne Kırkpınar Festival 2022 Champion
Cengizhan Şimşek was the winner of Edirne Kırkpınar Oil Wrestling, which was held on 1-3 July this year.
With this victory, Cengizhan Şimşek was awarded the title of pehvilan chief(baş pehlivan) in 2022 – 2023. Ali Gürbüz, who was the champion for two years in a row, missed his right to have the golden belt with this defeat.
The 2023 Edirne Kırkpınar Festival will also be held in July.
Chief wrestlers(Baş Pehlivan) of the last 10 years
| | |
| --- | --- |
| Chief wrestlers(Baş Pehlivan) | Year |
| Cengizhan Şimşek | 2022 |
| Ali Gürbüz | 2021 |
| Ali Gürbüz | 2019 |
| Orhan Okulu | 2018 |
| İsmail Balaban | 2017 |
| Recep Kara | 2016 |
| Orhan Okulu | 2015 |
| Fatih Atlı | 2014 |
| İsmail Balaban | 2013 |
| Ali Gürbüz | 2012 |
How to go to Edirne Kırkpınar?
Kırkpınar is located in Edirne, Turkey. Edirne, on the other hand, is in the western Marmara region known as the Thrace region. It is very close to the border of Greece and Bulgaria. The highway from Istanbul is 254km and takes about 3 hours. It is easiest to come to Istanbul Airport by air and go to the Festival area by car.
Another way is to go to Edirne by taking the train from Istanbul Halkalı. Train tickets are 34 Turkish liras, but trains are a bit old.
Edirne is a historical city and we definitely recommend you to travel and eat fried liver. If you want to read more about Edirne and its surroundings, you can take a look at our Eastern Thrace, Edirne article.
You can take a look at the map to go from Istanbul airport to Edirne.
Elmalı Yeşilyayla Oil Wrestling Festival
It is an oil wrestling event, which is thought to be older than Kırkpınar and it is thought to have been organized since 1352.
The tournament, which will be held for the 670th time this year, will be held between 4-5 September in the Yeşilyayla location of Elmalı district in Antalya city of Turkey. The ticket prices of the event organized by Elmalı municipality are 100 TL and you can follow the tournament for two days with a single ticket.
After visiting the Elmalı tournament, do not forget to visit Kaş, Kemer, or Fethiye, which are among the unique beauties of Antalya.
How to go to Elmalı Yeşilyayla?
You can go to Elmalı by car or by bus from the city bus stations. The distance between Antalya and Elmalı is 174 km and takes an average of 2 hours and 40 minutes.
If you want to come via Fethiye, Elmalı Seki road is 106 km and takes approximately 1 hour and 55 minutes.
Kurtdereli Oil Wrestling Festival Balikesir
It is a wrestling festival held in memory of Kurtdereli Mehmet Pehlivan since 1959. The Festival, which will be held for the 62nd time, will be held in the Karesi district of Balıkesir, Turkey, from 12-13-14 August.
How to go to Kurtdereli Oil Wrestling?
It is 250 km from Istanbul to Balikesir Square by road and takes approximately 2 hours and 40 minutes. By air, you can go to Balikesir Airport and go by taxi or bus. The bus number departing from Balıkesir center is T2A.
Kırkpınar oil wrestling final match held in 2021;
Frequently Asking Questions About Turkish Oil Wrestling
Which is the most important oil wrestling festival in Turkey?
Many large and small oil wrestling festivals are organized in Turkey, such as the Elmalı oil wrestling festival and the Kurtdereli wrestling festival. The biggest and most important festival of oil wrestling is Kırkpınar Oil Wrestling, held in Edirne.
What is the name of the pants worn in oil wrestling?
Wrestlers only wear leather pants and these pants are called "kispet". The purpose of wearing a kispet is that the opponent can hold you.
Why do oil wrestlers put their hands in their pants?
Since the bodies of oil wrestling athletes are completely oily, they cannot hold each other. For this reason, they wear trousers called kispet. These trousers have a special and thick area at the waist for their competitors to hold each other. Wrestlers try to bring down their opponents by keeping this area in their pants.
Since when do Turks do oil wrestling?
The history of Turkish oil wrestling dates back to the 14th century. Oil wrestling festivities were started to celebrate the Ottoman-Balkan victory.
What are Turkish oil wrestling athletes called?
Turkish oil wrestling athletes are called "pehlivan". The athlete who won the Kırkpınar festival is called the "baş pehlivan" and is considered the strongest oil wrestling athlete.
Is oil wrestling the national sport of the Turks?
Yes, Oil Wrestling is the national sport of Turks. Festivals and oil wrestling competitions have been held every year since the Ottoman period. It is a sign of power and prestige among Turks.
Do women join Turkish oil wrestling?
There is no obstacle for women to do oil wrestling as a sport, but women wrestlers do not take part in the festivals and it is not a popular sport among women in Turkey.
Who won the 2022 oil wrestling festival?
Cengizhan Şimşek, who defeated Ali Gürbüz in the final of the 2022 oil wrestling festival, won the title of "baş pehlivan".
What are the Turkish oil wrestling rules?
Oil wrestling is won if the opponent is picked up by his feet, brought to a head-down position, and dropped with his back to the ground. If one of the wrestlers hugs his opponent, cuts his feet off the ground, and manages to walk at least 3 steps in this way, he wins the wrestling.
Is oil wrestling the national sport of Turkey?
Yes, oil wrestling is the Turkish national sport and many oil wrestling festivals are held throughout the year. Oil wrestling has been known as the Turkish national sport since the Ottoman Empire period.
If you want to get more information about Turks, you can check the articles on Traditional Turkish Coffee, Turkish hammam, Traditional Turkish Dresses, Turkish tulips, Traditional Turkish Lamps, and Turkish needle lace.
Also, if you want to learn about the history of the Turks; You can read about the Map of Ottoman empire at its height and Sultan Suleiman.
The answer to a frequently asked question is here: Are Turks Arabs?