Turkey is a country that has important tourism destinations and hosts millions of tourists every year. So why do millions of tourists visit Turkey every year? In this article, we will answer the question of why should visit Turkey.
To answer quickly, we can count beaches, historical ruins, food, and cheapness among the reasons to visit Turkey.
Let's answer the question in detail about why I should visit Turkey in 2023.
Reasons to visit Turkey
Turkey is beautiful in all seasons and there are many things to do. We will list the reasons for visiting Turkey from general to specific.
1. Affordable Prices
The Turkish lira has been very low against foreign currencies such as the dollar and the euro recently. For this reason, you can have a very high-quality holiday in Turkey with a small amount of money.
As of 2023, 1 dollar is equivalent to 19 Turkish liras and 1 Euro is equivalent to 20 Turkish liras. A holiday in Turkey will be cheaper than in similar destinations in Europe (such as Spain, and Greece).
As a result, we can have a quality and enjoyable holiday in Turkey at affordable prices, and this is the first reason why tourists come to Turkey.
2. Beaches
Turkey has coasts on the Mediterranean and Aegean Seas. These two regions are popular with tourists coming to Turkey for summer vacation. During the summer vacation, clear seas and beaches will be waiting for you in Turkey.
Kaputas Beach, which is shown among the top 40 beaches in Europe, besides its historical importance, Patara beach, which is one of the largest beaches in the world, Konyaaltı beach, Olympos beach, Phaselis beaches, etc. beaches are the favorite beaches of the Mediterranean.
On the Aegean coast of Turkey, Fethiye Oludeniz, Marmaris beach, Bodrum beaches, and Çeşme coasts where you can surf will offer you unique experiences.
The Anatolian map has hosted many civilizations throughout history and important port cities were established. For this reason, many beaches in Turkey are intertwined with ancient cities. It will always offer the opportunity to cool off in the sea and visit ancient cities.
You can also check out our articles:
👉Best Beaches in Turkey for Families
👉Best Beaches in Antalya
👉Best Beaches Kas
👉6 Picnic Places with Beaches in Antalya
Since we follow the beaches among the reasons to travel to Turkey, let's continue with the third reason.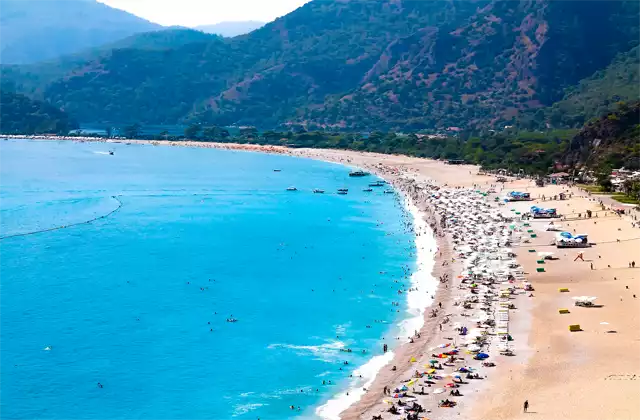 3. Ancient Cities
Turkey and the lands of Asia Minor are very rich in history. Starting from Gobekli Tepe, which is accepted as the first settlement of humanity, it has important historical sites for the mythological period, Christianity, and Islam.
On the map of Asia Minor, great states of historical importance such as the ancient Greek city-states, the Persians, the Kingdom of Macedonia, the Hittites, the Seljuk state, the Eastern Roman Empire, and the Ottoman Empire were located.
If you are a traveler with a passion for history, important for Christianity in Turkey, Hagia Sophia, St. Nicolas Church, the ancient city of Ephesus, and the seven holy churches.
The reasons for historical travel to Turkey are endless, but Alanya Castle, Galata Tower, Topkapi Palace, Patara Antique City, Olympos Antique City, Demre Antique City, Phaselis Antique City, Bergama Antique City, Xanthos Antique City, Letoon Sanctuary Place, Aspendos Antique city. We can add important historical sites such as Maiden's Tower, Hasan Keyf, Zeugma Ancient City, Mount Nemrut statues, Maiden's Tower, and İshak Pasha Palace.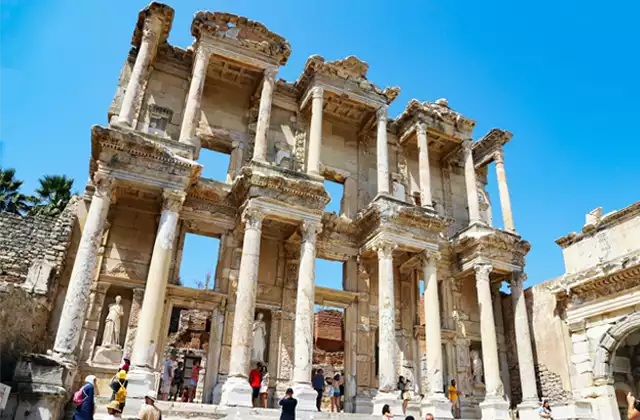 4. Natural beauty
Another answer to the question of why you should visit Turkey is the natural beauty of Turkey. You can find many waterfalls, lakes, and canyons in Turkey.
Fairy chimneys in Cappadocia are a rare natural phenomenon and very popular. In addition, in Turkey, Salda lake, which is declared to have a similar structure to Mars by NASA, Düden, Kurşunlu, Manavgat waterfalls in Antalya, Koprulu Canyon, the seven lakes region of Burdur, Şanlıurfa Balıklıgöl, Erciyes Mountain, Uzungöl and Karadeniz Highlands, Heaven and Hell Caves, Damlatas Cave, Ihlara Valley, Dark Canyon, and the Lycian road is among the most well-known natural beauties.
If you are looking for more reasons to travel to Turkey, let's continue.
5. Cheap and Quality Shopping
You can find stores of many famous and quality brands in Turkey, and as we mentioned, the fact that the Turkish lira is cheap against foreign exchange makes shopping in Turkey attractive.
You can find many big shopping malls and stores of brands such as Versace, Hermes, Victoria's Secret, and Louis Vuitton in tourist cities of Turkey.
In addition, you can buy many high-quality imitation products at affordable prices in many fake markets in Turkey. We have many detailed articles for shopping in Turkey, you can take a look at them.
👉Best fake markets in İstanbul
👉Antalya Shopping Malls & Antalya Fake Markets
👉Izmir Shopping Malls & Izmir Fake Markets
👉Best Turkish jewelry brands
👉Best Turkish shoe brands
👉Turkish Sportswear Brands
👉Baby Clothes in Turkey
👉Turkish Maternity Brands
👉Kids Brands in Turkey
👉Turkey Underwear Brands
👉Turkey Cosmetics Shops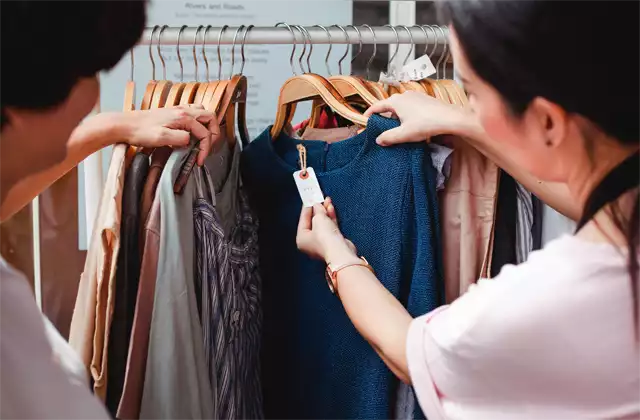 6. Meals and Sweets
Turkish cuisine has combined eastern and western flavors due to its location. You can find meat dishes, vegetable dishes, and very good soups in Turkish cuisine.
There are more than 100 types of kebabs in Turkey and all of them are delicious. Baklava, on the other hand, is the most well-known Turkish dessert, but you can taste dozens of different desserts that are at least as delicious as baklava.
In 2022, Turkish cuisine was named the 7th most delicious cuisine in the world and is one of the reasons you should visit Turkey.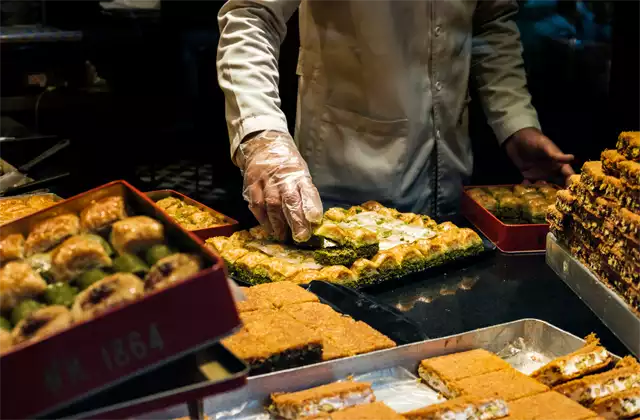 7. Hotels
You can find hotels for every budget in Turkey. Especially in the Antalya region, you can have a holiday in luxury hotels at affordable prices. At these hotels, you can taste delicious Turkish food, swim in large pools, enjoy a traditional Turkish hammam and spa, and enjoy private beaches.
If you like to play golf, you can choose the hotels in the Belek region and have your Turkey golf breaks.
Note: Booking is not used in Turkey. You can browse here to book a cheap hotel.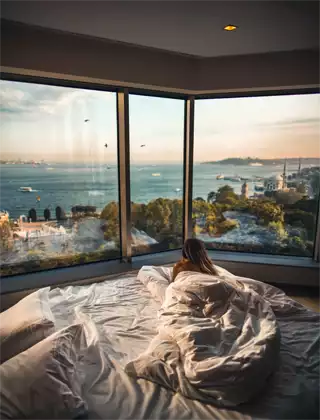 8. Cappadocia
Cappadocia is on the list of places to see before many people die and millions of tourists visit Cappadocia every year.
Cappadocia is famous for hot air balloons among fairy chimneys, but there are many things to do. You can check out our article on Things To Do in Cappadocia.
The annual Turkey hot air balloon festival may be the right time to visit Cappadocia.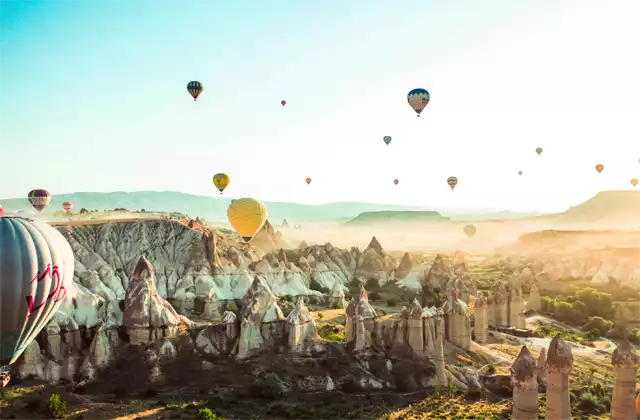 9. Istanbul
Istanbul was home to the Roman Empire and the Ottoman Empire and is now Turkey's most populous city.
You can visit many historical sites in Istanbul such as Hagia Sophia(Hagia Sophia mosaics), Basilica Cistern, Galata Tower, Maiden's Tower, Dolmabahçe Palace, and Topkapi Palace.
You can also experience a traditional Turkish bath in Istanbul, shop in the historical Grand Bazaar, and drink Turkish coffee with a view of the Bosphorus.
For more information about Turkey Istanbul, you can check out our articles:
👉Sile Istanbul Guide Daily Trip & 7 Things To Do
👉Budget Friendly Istanbul Tourist Guide: 7 Secret Travel Tips
👉Best Istanbul Museum
👉Best Valentine's Day Places and Attractions in Istanbul
You can also browse our articles on Istanbul Metro Map and Istanbul City Transportation Card for Tourists for transportation in Istanbul.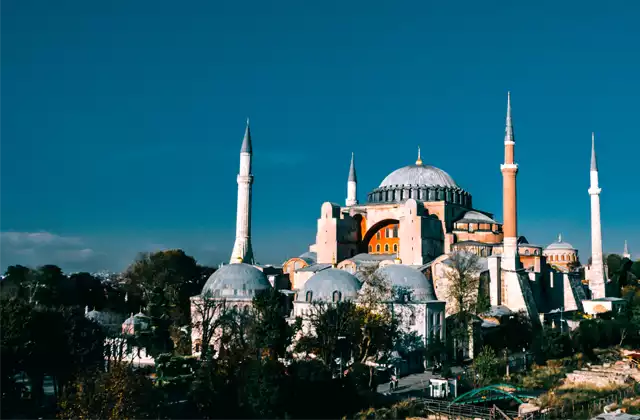 With Questions, Why should visit Turkey?
Is Turkey safe?
Yes, Turkey is safe. Especially in tourist areas, there are extra security measures and you can visit Turkey with peace of mind.
Is it possible to have a luxury holiday in Turkey?
Yes, you can stay in ultra-luxury hotels in Belek, Kemer, Bodrum, Alanya, Fethiye, and Istanbul in Turkey.
How is the weather in Turkey in summer?
In Turkey, especially in Mediterranean regions such as Antalya, Bodrum, Fethiye, Marmaris, and Kaş will be quite hot in summer. The average summer temperature in these regions is 38 degrees. In regions such as Istanbul and Izmir, the temperature is between 35-36 degrees in summer.
What is the best time to travel to Turkey in 2023?
You can find things to do in Turkey in all seasons, but it may be more logical to travel to Turkey in the summer. You can enjoy the beaches in sunny weather, visit historical places in Turkey and do a lot of shopping.
Is Turkey preferred for cultural trips?
Many film, theater, and art festivals are held in Turkey. Apart from the Istanbul theater festival and the Antalya film festival, you can visit the opera hall, Atatürk Cultural Center, and painting exhibitions on Istiklal Street in Istanbul.
Also, it would be good to be able to speak Turkish even if it is a few words in Turkey. Check out our articles 5 FREE Turkish Learning Resources in 2023 and Turkish words for tourists.
Finally, before visiting Turkey, it is useful to pay attention to Turkish religious holidays. During these periods, especially the beaches will be very crowded.