Maiden's Tower Istanbul is a must-see place when you come to a fascinating destination of thousands of years with its towers, walls, history and culture, artistic activities, gourmet and rich cuisine, in short, its immense heritage.
Enveloped in myth, history, and the ceaseless lapping of Bosphorus waves, the Maiden's Tower Istanbul sits majestically. It is the enigmatic sentinel of Turkey's cultural heart, Istanbul, and a beacon drawing the curious, the lovers of beauty, and the seekers of stories from far and wide.
See Istanbul from the Maiden's Tower, too!
Where is Maiden Tower located?
Nestled at the southern entrance of the Bosphorus strait, the Maiden's Tower Istanbul is located on a small islet. This solitary, ancient tower has been the silent observer of Istanbul's changing skyline, centuries of ships sailing by, and the city's growth as the gateway between Europe and Asia. A visit to the Maiden's Tower Istanbul can be a delightful addition to your itinerary, especially if you're looking to unravel a slice of the city's intriguing history.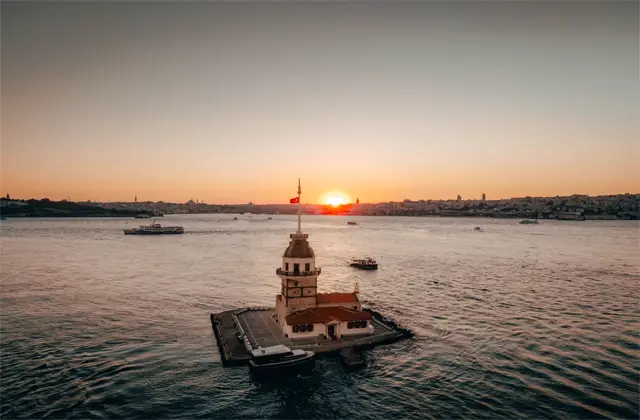 Is Maiden's Tower open?
Yes, the Maiden's Tower Istanbul is open to the public. The 2021 restoration was completed in 2023 and the tower has already started to meet with its visitors with the version most similar to the 19th century version.
You can read the scope of the restoration of Maiden Tower Istanbul from here.
Despite its ancient roots, it's still very much a living, breathing part of Istanbul. Before the restoration, it houses an elegant restaurant and café where you can enjoy delectable meals and refreshments while drinking in the stunning 360-degree view of Istanbul. But now, there is only a cafe where you can get snacks and drinks. You can try a traditional Turkish coffee when you get there!
It's more than just a tourist spot – it's an immersive cultural experience. Here is the Maiden Tower Istanbul story.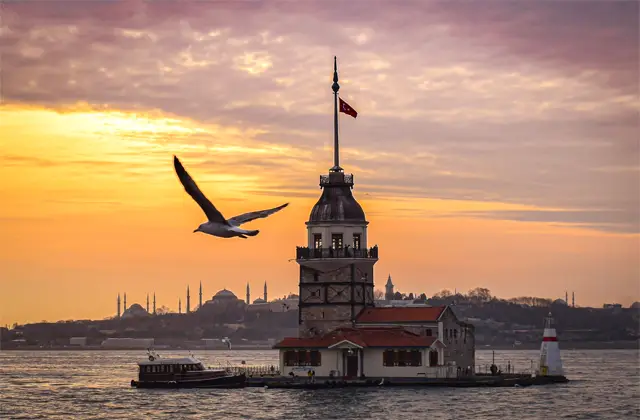 Maiden's Tower Istanbul Story
The Maiden's Tower Istanbul is not just a structure; it's a repository of tales that intertwine legend and history. One of the most famous legends about the tower involves a Byzantine emperor who had a much-loved daughter. An oracle prophesied that she would die from a snakebite on her 18th birthday. 
In an effort to protect her, the emperor placed her in the Maiden's Tower Istanbul, far from any snakes on the mainland. Unfortunately, a snake hidden in a basket of exotic fruits was delivered to the island, but the princess, and fulfilled the prophecy.
Although the story adds to the mysterious aura of the Maiden's Tower Istanbul, it has seen a reality just as captivating. From a toll booth to a lighthouse, from a quarantine station to a radar station, it has played various roles in the city's history.
When was the Maiden Tower built?
It's challenging to pinpoint an exact date due to the long, multi-layered history of the Maiden's Tower Istanbul. The earliest reference dates back to an ancient Greek historian who mentions a tomb for a heroic commander on this site around 410 BC. However, the present structure was primarily built in the 12th century during the Byzantine Empire, and it has seen several restorations since.
Who built Maiden's Tower?
While the original structure could be attributed to an unknown ancient Greek builder, the Maiden's Tower Istanbul as we know it today was largely constructed under the Byzantine Emperor Alexius Comnenus in the 12th century. Sultan Mehmed the Conqueror made further improvements in the 15th century during the Ottoman era, giving the tower its one of the latest appearances.
After Sultan Mehmed the Conqueror, the Maiden's Tower gained its current form during the reign of Sultan Mahmut II. The tower, which was used as a control station for a while, was decorated with a 1248 tughra of Sultan Mahmut II on its door, as well as its eye-catching architecture.
If you are interested in the history of the Ottoman Empire, you may also be interested in our blog posts.
How tall is the Maidens Tower?
The Maiden's Tower Istanbul stands proud and tall at approximately 60 feet or 18 meters. There are also sides up to 21 meters. 
Its height might seem modest in comparison to skyscrapers of the modern world, but its grandeur lies in its history, strategic location, and the stories that it embodies. From its top, you can gaze upon the magnificent silhouette of Istanbul, a city where East meets West, past meets present, and legend meets reality.
Maiden's Tower inside offers you a cafe where you can get drinks and snacks. In addition, you should definitely add the Maiden's Tower tour to your Istanbul travel plans to see the historical texture and surprise beauties waiting to be discovered inside.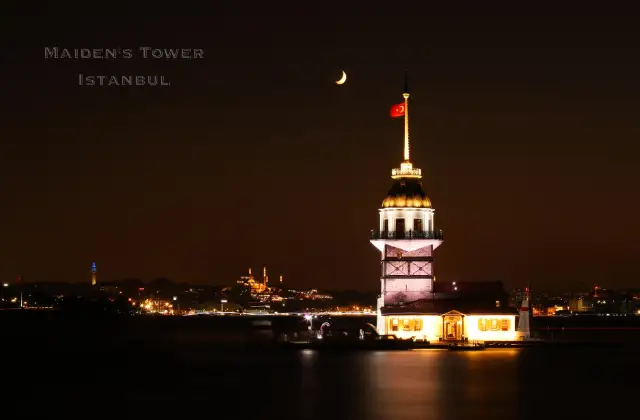 Maiden Tower Istanbul Entrance Fee
Maiden's Tower Istanbul ticket price is currently 450 Turkish Liras in 2023. Maiden's Tower Istanbul price includes visit and freight. 
Maiden's Tower Istanbul tickets with freight can be purchased from here. You can see another option for Maiden's tower ticket price Kiz Kulesi which offers only visiting the tower. 
In addition, if you have a valid Museum Pass card, you can only pay the boat fee of 50 TL to arrive at the tower and visit the tower with your museum pass card.
Discover the advantageous world of MUSEUM PASS TURKEY now.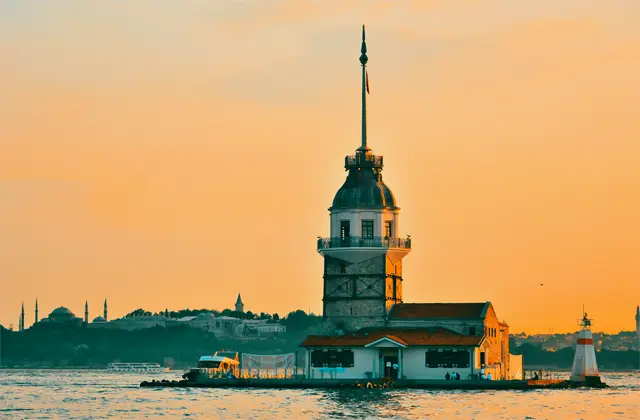 Maiden's Tower Working Hours
Maiden's Tower working hours are between 09:00-20:00. Box office closes at 19:00. There are no restrictions about Maiden's Tower working days. You can visit this gorgeous tower every day of the week.
You can check any current information or the latest updates from the official websites of Maiden's Tower below.
Maiden's Tower website & Maiden's tower museum pass price and other details.
How to get to Maiden Tower Istanbul?
Maiden Tower Istanbul how to get there is quite simple even for foreigners. Maiden Tower is located in Uskudar district in the Anatolian side of Istanbul. Now I will explain the shortest way. You can get to the Uskudar region by public transportation such as buses, metro (metro line M5), or Marmaray. 
You can see the Istanbul Metro Map and download the big image of the Istanbul Metro Map in order to not miss anything about your trip. 
After you get to Uskudar Salacak pier, you will need to catch ferries to reach the tower that you will see right in front of you.
Another way to get Maiden Tower Istanbul, is to get ferries from Galataport Pier. If you are in the European side of Istanbul, you may want to consider this option as well.
READ Istanbul City Transportation Card for Tourists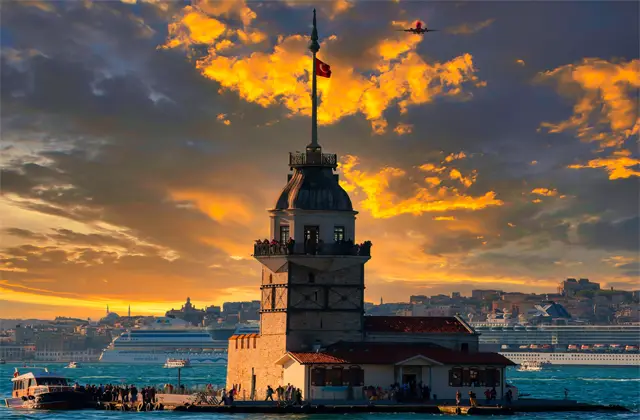 Ferry to Maiden Tower Istanbul
There are private boats waiting to depart in Uskudar Salacak Pier and Galataport Pier.
From the Uskudar Pier to Maiden's Tower
Ferries depart behind the Maiden's Tower box office between 09:00 – 19:00 each day.
From Galataport to Maiden's Tower
Ferries depart at certain hours such as 11.00/ 12.30 / 14.15/ 15.30/ 17.00
Please note that the last boat is not going back to the Galataport. If you will pass to the Anatolian side anyway, it doesn't matter. You can use the Uskudar pier boats to reach the Uskudar district. 
How to visit Maiden Tower Istanbul?
There is no way except by sea. Maiden Tower boats are cheaper and more familiar options. But if you prefer a more romantic and exclusive experience you can take a look at yacht rental Istanbul price, especially if you are going to make a proposal. 
SEE Abroad Marriage Proposals 👉🏻 5 unique marriage proposal ideas in Turkey
A Maiden's Tower Istanbul view with a private Bosphorus experience can make your moment unforgettable.
The Maiden's Tower Istanbul, standing as a symbol of both a city and a civilization, captures the essence of Istanbul's eclectic charm. It's a link to the past, a vibrant part of the present, and a beacon for future explorers. As the sun sets, painting the sky in hues of gold and purple, the silhouette of the Maiden's Tower Istanbul is a sight to behold, a monument whispering the timeless tales of a city that's alive with history.
You may also enjoy visiting Galata Tower, which is one of the most famous towers in Turkey. 
Would you like to crown your trip to Istanbul with a hammam experience? Read the ultimate Turkish bath and hammam guide for comprehensive information.
GET TO KNOW ISTANBUL! SEE OFFER 👉🏻 UP TO 3-Day Guided Tour Istanbul
Frequently Asked Questions About Maiden's Tower Istanbul
Here I gathered up some top-asked questions in order to quench your curiosity about Maiden Tower Turkey. If you have any comments or questions, feel free to ask. 
Why is Maiden's Tower Istanbul closed?
Maiden's Tower Istanbul was under restoration between 2021-2023. Now, the tower welcomes visitors from all around the world. The new version of Maiden's Tower is the closest one to the 19th-century version. 
Is there still a Maiden's Tower Istanbul Restaurant?
It is not possible to find a restaurant in its renovated condition. The Maiden's tower restaurant menu that you may find on the internet is probably out of date.