Solo travel to Turkey is a very unique experience for everybody. Because Turkey is a country with incredible beauties consisting of 81 provinces that you can't get enough of exploring. Although it offers options suitable for every budget.
This country, which has the capacity to respond to all kinds of holiday and travel expectations, especially solo travel to Turkey. It is the cradle of the first civilizations in the world and has significant historical importance. Turkey, which impresses not only with its ancient texture but also with its nature, cuisine, and culture; is a treasure spot that everyone should definitely turn their course to.
In this solo travel Turkey guide, I will be honest with you and give you every detail you need to know, good or bad.
Table of Contents
Essentials For Solo Travel in Turkey
Every year, so many people are traveling the world alone and it's a very common and familiar thing in Turkey, too. As long as the basic travel precautions are taken by the solo traveler, there won't be any dangerous situations in Turkey. Especially on the Mediterranean coasts, you would like to extend your solo travel to Turkey. 
Advice for people traveling solo Turkey
Turkey is one of the best solo travel destinations in the world. Because of its separate and very special coasts and beaches, incredible nature, various vacation options, unique activities, different cities and so many things to do are amazing. The unforgettable moments are waiting for you on your Turkey trip either with a group or alone.
Here are a few tips, do's, and don't advice for those who go for a solo trip to Turkey. Let's start with the dispensable one.
Learn a few Turkish words and expressions: Okay, you will find so many people who can speak English, Russian or Arabic but just in case you would like to be happy to feel more local. Also if you know some Turkish words, you feel less alone as a solo traveler, right?
Facts, Dos and Don'ts in Turkey
Here are some facts you should know about Turkey. Because of some movies and misinformation, many people think that all parts of Turkey and its people are the same. Let's start by correcting this mistake first:
1. Turkey honors many civilizations and states in history. Today, Turkey has been a laic-secular state since 1923. That's why you don't have to worry about security issues in Turkey.
2. Istanbul is not the capital city of Turkey. But it is the most crowded one. Turkey's capital city is Ankara.
Another fact is about people.
3. The people of Turkey are especially very helpful and hospitable in their daily life. They love helping foreigners much. Even in crowded cities. If you are going to ask for help, you should know that they will help you to the very end in a motherly way.
Moreover, you will need these notes, particularly in the most crowded city in Turkey which is Istanbul.
4. If your purpose for coming to Turkey is to travel and vacation, do not go to areas close to the borders. Stay in touristy and familiar places.
5. We recommend that you travel without getting involved in actions and political discourse.
6. Visiting Turkey for the first time may be a bit complicated, especially in Istanbul, but the further days or next trips people are getting used to it and become more familiar.
7. Mind your personal belongings during travel around, especially on public transportation.
8. Do not prefer pirate taxis! In Istanbul, you will see mostly yellow and turquoise taxis. The differences between them are vehicle types. Regular yellow ones are cheaper than turquoise. In addition, large vehicles are shared on a certain route in the form of taxi-buses. There are also water taxis.
9. Do bargains during shopping. In some tourist areas, the prices can be high. Also, you can encounter some insistent people who are selling souvenirs or something like that in every tourist place. That's the reason why if you're gonna buy something, it is better to bargain with the sellers. Just be aware of tourist traps.
10. Solo travel to Turkey can be very affordable if you make your schedule ahead of time and cost-effectively.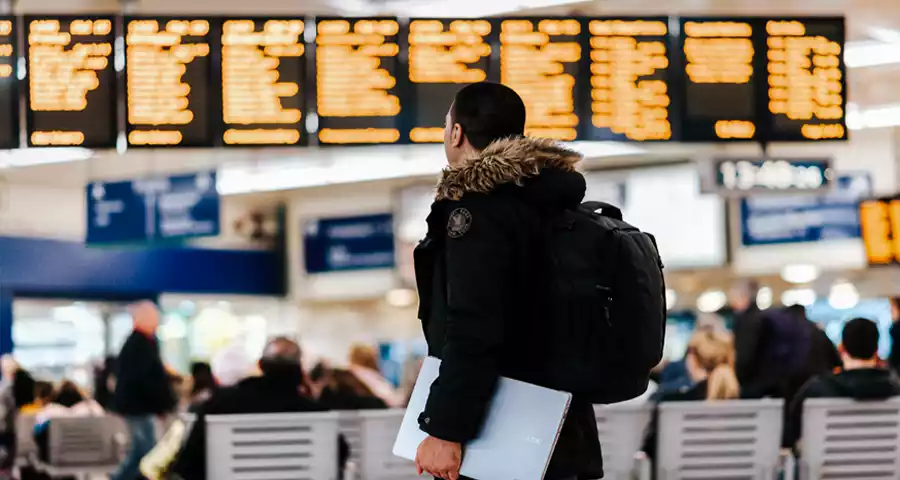 Turkey Solo Trip Cost
Buying your flight tickets earlier will be extra cheaper than last minute flights. Here you have a nice flight ticket app (for ios users and for android users) and web options that help you to find the best flight with good prices.
Except for the flights, you can choose trains and buses in order to go to Turkey. In this way, your trip might be longer but scenic and experienced as well.
How do you travel alone on a budget? (Turkey Solo Travel)
During walking around the cities, if you choose taxis, that might be expensive but if you get an Istanbul Transportation Card, that will be cheaper and you will be more local ☺️
If you are on a budget, you should choose more Boheme places rather than luxury ones. For instance, The House Cafe is more expensive than Alir Cafe. If you want to hear more place recommendations, we are waiting for you in the comment section below!
Let's pass on to places to stay for solo travelers in Turkey.
As a solo traveler in Turkey, you can stay in either luxury and expensive places or you can prefer more budget friendly places for your vacation. There are so many places to stay with or without breakfast and other offers. You can view the hotels and average prices in Turkey.
Apart from arrival and departure tickets, breakfast included hotel prices are 50-100 USD on average per night in Istanbul. Let's say you will stay 5 nights in Istanbul which is fair enough time to explore essentials, you should be willing to pay at least 250 USD for accommodation.
You can have a filling lunch or a nice dinner for 10 USD. 50-100 USD looks affordable. Including the other travel details, transportation, souvenirs, etc. details, 5-day Turkey solo trip cost will be between 500-1000 USD less or more.
Traveling Turkey alone has not so many differences compared with other kinds. Actually, there are two basic rules for saving your money: The first one is, that you should spend your money properly. And the second one is, to handle all tickets and reservations months in advance.
Now, let's take a glance at the best solo destinations in Turkey.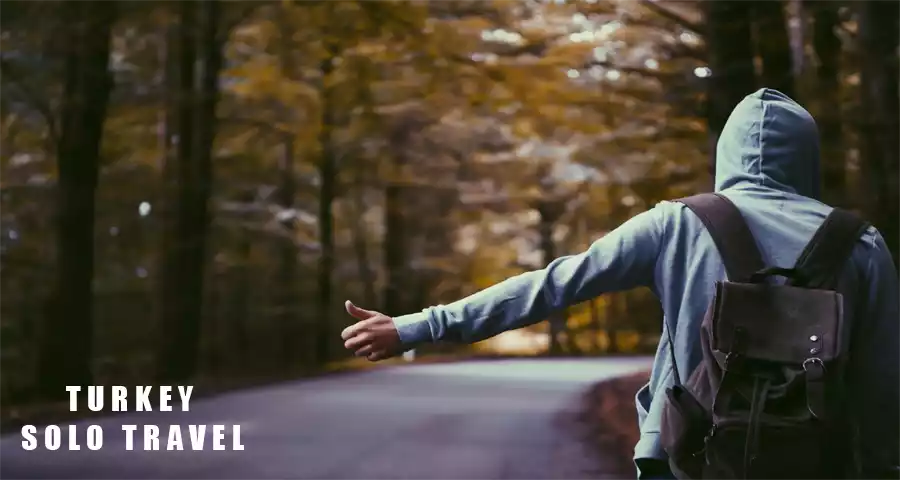 Best Solo Destinations in Turkey
Here are a few famous best solo destinations in Turkey. Because as a solo traveler you should also think about your trip budget friendly. Maybe you want to discover hippie places on the Mediterranean coasts. If you say yes, you should explore Fethiye – Kelebekler Vadisi. Antalya Olympos is another option too. Camping places, bungalows, tree houses, and caravans are waiting for you.
You can also find hidden gems from the Aegean region, especially in Izmir. There are ecovillages, organic villages, and nature friendly places.
Over there, you can meet the volunteers, locals, and other solo travelers and you can go back to your country with unforgettable memories from your Turkey trip. In addition, those kinds of trips are full of spontaneous and uncertain conditions.
So, you should be prepared for anything. Less expectations, more fun. Also, you should keep an eye on your personal belongings. Be aware of your travel plans, and be careful of communication with people who you don't know.
If you are looking for a safer and planned vacation we will share with you further about Turkey tours for solo travelers. Just clarify what you want from a solo vacation. Once you specify your wishes for your travel, you will enjoy it anyway.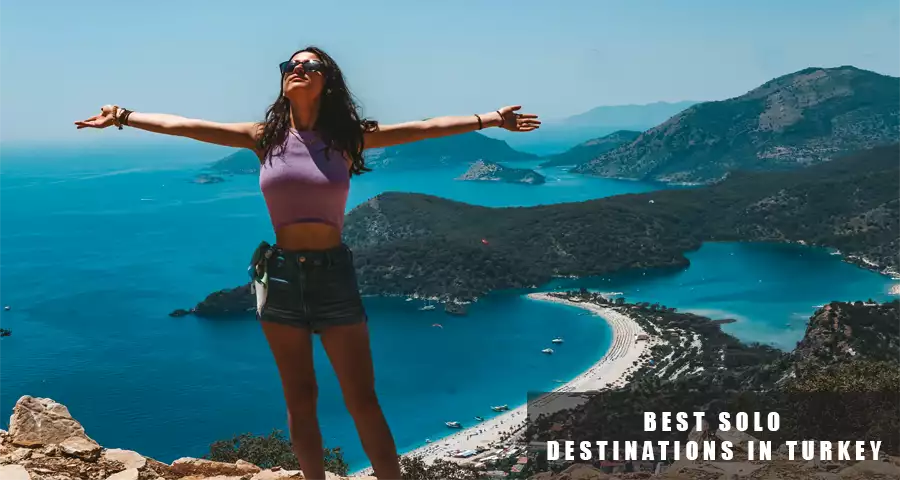 Turkey Travel Guide for Women
Do you have hesitations or worries about femicide in Turkey? You should hear that subject once more from a woman who lives in Turkey. This is truly Turkey's bleeding wound. And unfortunately, since the right policies are not followed, it becomes more chronic and hurtful day by day.
However, when you come to Turkey as a tourist or traveler, I must explain why such an issue will not be your problem. Generally, it's not a touristy issue. Because women in Turkey are generally exposed to bullying and violence by their acquaintances, spouses, or relatives.
I can hear you asking why. Frankly, I thought about this a lot at first, but as I observed what happened, I realized that there was no single reason for this. Women are in search of freedom and organization around the world. The patriarchal revolt, which is growing day by day, provokes some poisoned minds, and they resort to what they know best: violence.
But Turkish people are also such hospitable people at the same time that you will be confused. As I told you before, this is not about you. mostly family matters. Matters of minds that cannot digest women's free existence. Besides, not every person who is living in Turkey is bad.
The people you will see there are from 81 different cities and actually each city has its own culture. Besides Turks, there are thousands of foreigners who are living in Turkey now. So a lot of things can change. Like language. Foreign language knowledge depends on the region for example. If you go to Antalya, you can speak Russian straight out. Or in the Sultanahmet region in Istanbul, Arabic is widespread.
But overall Turkish people are very gentle and helpful especially if you are a foreigner. Just do not forget that like in every country there are people who have bad intentions in Turkey, too. So if you are traveling alone as a woman, you should pay attention twice.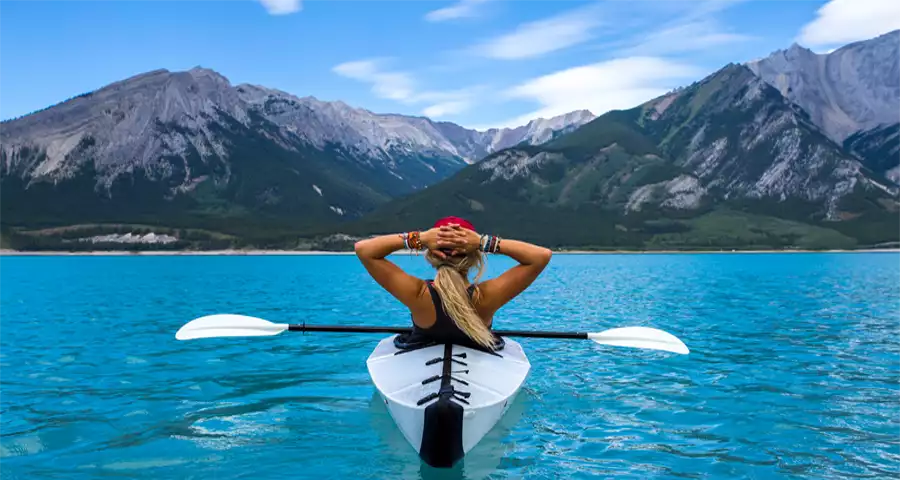 Quick Tips For Visiting Turkey as a Woman
Search about the region of that place you will stay. Read all the comments about the hotel that you will stay at during your vacation. Be sure about the security issues before you go.
Learn the emergency numbers like police, first aid, etc just in case of urgent cases. Take note of your country's consulate information in that country. Check this guide for Turkey area code and needed numbers just in case.
Stick with the known and famous, touristy places. Make your research about local or wild places before your trip. Especially in crowded cities, some areas can be dangerous after certain times.
During your trip, be aware of your surroundings. Mind your personal belongings all the time. Do not consign your personal belongings to somebody who you did not know well. Don't tell so much information about yourself to those kind people.
Use the registered vehicles for transportation, especially during female solo travel in Turkey.
As a solo woman traveler, you should check on the place where you want to drink something. In Turkey, some cafes are for men but informally, they play games and drink tea or coffee at those places all the time. Besides an awkward moment, you probably can't find a lot of options for yourself in there.
Another thing is, especially in İstanbul you can see some protests in particular places. If you don't have any special purpose or intention, it is better to not get involved with them.
Turkish people are very careful about their personal hygiene. But especially in crowded cities, public usage can be uncomfortable. Carry a pocket of napkins with you. If you need, you can use them in various ways.
Take note of public restrooms. There is no unisex restrooms in Turkey easily. Public restrooms are separated for women and men.
Many Turkish people prefer bottled water in daily life so you might want to prefer it as well.
Solo Female Travel to Turkey Dress Code
Just cover your hair and dress properly if you visit a mosque in Turkey. It is an expected duty for all visitors even if they are Muslim or not.
Once and for all, there are so many mambo Jambos about women wearing burka, etc. in Turkey. Fake news! Here is the truth: Turkey is a democratic state and secular republic. Some Muslim women are wearing turban or hijab in their daily life but it's completely a personal choice, not with force. So you can relax, you are free. Unless you visit a mosque or other religious places.
Turkey solo female travel packages & tours
Solo female travel tours are getting more popular day by day. It is a great opportunity to relax, discover and collect memories.
Explore Kas, Turkey with this 6 day Turkey tour which includes yoga classes, turquoise beaches, boat tours, trekking, etc.
Turkey Tours For Solo Travelers
Maybe you don't have an extended time for vacation or research to choose destinations, maybe you want every detail to be ready for you already, maybe you would like to feel safer with a tour etc. If you don't want any extras or unusual spontaneous things during your travel, you must look at the Turkey tours for solo travelers. Here are some ideas and tours list to Turkey for solo travelers. Let's make things clear before talking about tours.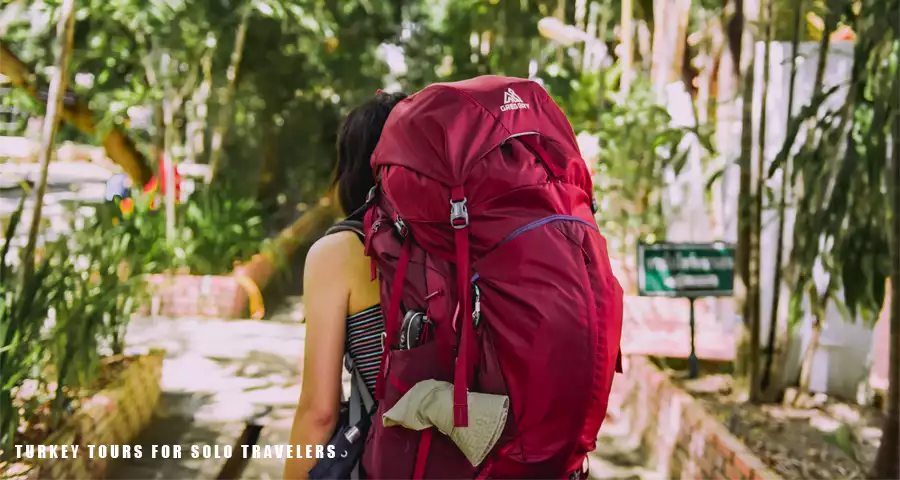 5 Reasons Why You Should Visit Turkey?
Turkey offers cheaper holiday options than many countries.
Turkey has various vacation options for 4 seasons in a year.
Turkey is closer almost everywhere.
Turkey has amazing coastal and turquoise bays and best beaches. 
Turkey has many places to visit.
How many days should you spend in Turkey?
It depends on your budget, spare time, and expectations. Turkey is a massive country to explore. It has 81 cities and there are 7 regions of Turkey. So, maybe you should decide first about which location you want to see exactly. Or you can see a few regions on the same trip to Turkey.
We suggest tours to you from 7 to 15 days in order to discover a part of Turkey. But if you have specific and few days for a trip to Turkey, or you are a solo traveler on a budget, you may also find tiny tours lasting about 2- 3 days.
In general, for several cities in one or two regions, a 7 days Turkey tour package will be enough to explore. Let's see the solo travel packages and tours which are hand-picked for you.
Solo Vacation Packages 2023
Discover your dream vacation tour according to concept or duration. Here you are for top-line tour packages. As we mentioned above, here are a few Turkey tours for solo travelers with various duration and places. Those travel packages are intently selected and it is possible to join solo as long as the tour package dates are suitable. Let's start with shorts to the long ones.
There are also a few best Turkey tour packages apart from biblical tours or Mesopotamia tours.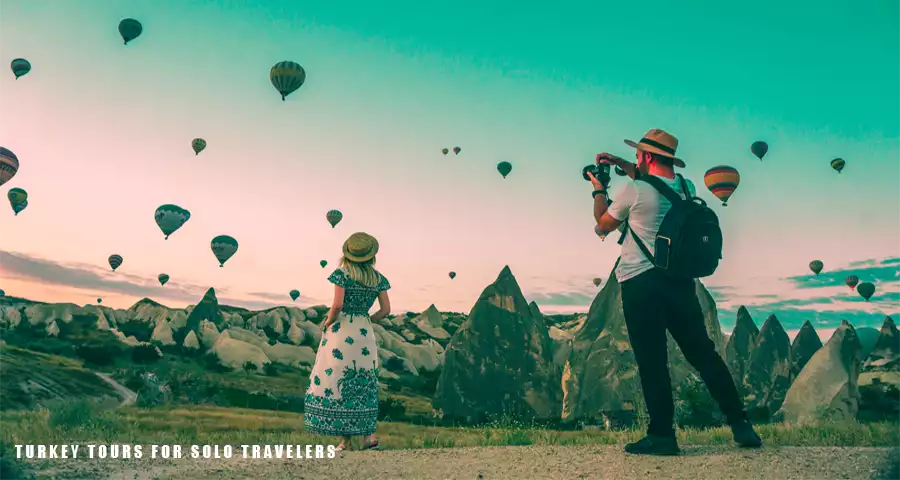 Yoga holiday packages & Wellness retreat Turkey
Yoga and wellness retreats are getting more popular year by year. As a yoga instructor, I can say I really appreciate this interest in yoga, especially in Turkey. Those yoga retreats are very unique options for a vacation.
Yoga holidays 2023 is a better way of safe and cheap travel for young adults and solo travel groups. Great news for yogis and yoginis from all around the world. Of course, also for those who are new to yoga or want to experience it. Here you are well-selected yoga retreats in Turkey.
15 days yoga retreat Turkey (Istanbul, Canakkale, Pamukkale, Bodrum, Gobeklitepe, and Konya included)
Frequently Asking Questions About Solo Traveling & Turkey Tours 2023
There is so much information pollution about solo traveling to Turkey. We tried to explain how is like traveling solo to Turkey and some important tips but if you still have some questions you should check this FAQ section as well.
Is Turkey good for solo travel?
Some parts of Turkey are heaven like places for solo traveling and backpacking. Because in Turkey, you will be able to find so many attractions in various categories. There are beautiful places and activities that will often leave you undecided.
What do I need to know before traveling to Turkey?
Here are five things that you need to know before traveling to Turkey.
1. Be careful in the crowd. 
2. Be respectful in religious places.
3. You can bargain in tourist places.
4. Being friends with a local can work.
5. Always have alternative options for places.
Why should you not go to Turkey?
Here are three reasons not to go to Turkey.
1. Turkey's blue flag beaches are amazing.
2. Turkey's rich culture and delicious cuisine will give you a super experience.
3. It is impossible not to see the historical texture and ancient ruins in this land, which is the cradle of civilizations.
What should you avoid in Turkey?
1. Avoid people who approach you on the road and try to take you somewhere quickly and persistently.
2. To avoid any surprises later, check the menu and prices before you order something.
3. Do not leave your belongings unattended, especially in big cities.
How do I travel solo to Turkey?
You can travel solo to Turkey either by yourself or group, on backpacking or average/luxury trip, join tours or follow regular routes. You can explore both famous spots and hidden gems of Turkey.
How do you travel Turkey solo?
Many people have unnecessary concerns about traveling to Turkey. There are some points which are waiting to be lighted for a trip to that country. You can travel to Turkey as a solo traveler with ordinary preparations and regular precautions.
Is Turkey good for solo travel? 
Yes, Turkey is a good place where modern people live. Turkey has so many historical beauties. However it is not an Ottoman country now that you see in movies. Turkey has very unique modern and historical art, places, textures, literature and culture that you must explore.
Is Turkey safe to travel alone?
Turkey is a generally safe country for tourists. You should pay attention to some travel tips about Turkey. Every city is different and there are various specialties. For instance, Istanbul is very crowded and famous for historical attractions, on the other hand Fethiye is famous with its turquoise bays and calm holiday options. Eventually, both have several things to pay attention to.
Is Turkey safe for a woman to travel alone?
Traveling to Turkey as a woman is quite safer than it is spoken about. Every traveler has their own unique experience but at the end of the day it depends on which places you've been, what was your route and what were your expectations.
Can a woman travel to Turkey alone?
Yes, she can and any woman can do this. Some regions will surprise and shock or make you smile but if it's your first time in Turkey and you don't know where to go don't try to be like a local. Just stay touristy and self-assured.
Are there any cheapest Turkey tour packages from India?
Do we need a visa to go to Turkey?
Visas for Turkey depend on your country's visa agreement between Turkey but in general yes you need. Some country citizens can apply for e-visa, some of them can go with national ID or even expired passports.
How do I get a tourist visa for Turkey?
If you want to get a visa for Turkey, you should apply for a Turkish visa application online. You can check the current conditions and apply for Turkish e-Visa from here.
Is it safe to travel to Turkey as a woman?
Independent travel in Turkey can be messy but it is worth exploring. Anyway, if you are looking for a more organized trip as a solo woman traveler, you should think about solo travel packages to Turkey for sure.
Can I use my ATM card in Turkey?
Yes, ATM usage is very common in Turkey. Visa and mastercard are available in Turkey.
How much will a Turkey trip cost?
It depends on the tour's substance and how you will go to Turkey. The place that you will go, the duration that you stay are important points about your trip's cost. Anyhow, you can find so many offers for your budget from 1000 USD for at least 3 days tour packages. If you add flight tickets or transportation generally, It will be about 2000 USD and more.
Is it cheaper to visit Turkey?
Compared with many European countries, yes, it is. Every year, Turkey hosts million tourists from a lot of various countries. Countless touristy or local experiences are waiting for their guests. Even if you prefer tour packages or backpacking, probably Turkey is cheaper than many countries which are similar to Turkey.
What is the best time to visit Turkey?
Indeed, it is not a big secret you know. The best time to visit Turkey is almost practically always. If you have the opportunity you should visit Turkey in each season. During summer time you may go to the places for beaches in Mediterranean coasts or in winter you should explore the ski resorts in Turkey. Now it's the best time to discover your dreamlike vacation in Turkey. Come on in. Catch the best chances with good prices for tours to Turkey.
What are the best destinations for solo travel tours?
Why is Turkey a must visit?
Because Turkey has significant lands about history from many centuries. That makes Turkey so special about the best travel destinations. Turkey is also very famous with beautiful beaches and landscapes. In addition Turkey has incredibly superb cultural heritages which are a mixture of various civilizations and centuries. 
Why is solo travel in groups better?
Solo travel in groups is better because that way is easier. You can explore new places with safety and budget friendly tours and make new friends.
Maybe the tour packages are unnecessary for countries which have smaller surface areas. But if you want to go to a country which has massive surface area -like Turkey- you must check the tour packages in order to visit more travel destinations especially if you have limited time for your next vacation.
Do not miss any attractions or things to do! This will be your dream vacation.
Video: Solo female traveler in Istanbul, Turkey
You can also check out the solo female traveler in Turkey video shot by Aoife Clifford in Istanbul.