Turkey has another unique and very amazing place named Pamukkale Travertines. Many people are wondering: What is special about Pamukkale Turkey? Pamukkale thermal pools are very rich in minerals and they are also ancient. Here is the Complete Guide Pamukkale Travertines 2023 to discover Turkey's great travel destination like a local. You will be able to find a location, entrance fees, opening hours, travel tips, where to stay, and more in Complete Guide Pamukkale Travertines 2023.
Table of Contents
Pamukkale itinerary (Pamukkale travel guide)
Pamukkale or a.k.a. Cotton Castle is a natural site in Denizli Province in Turkey. Pamukkale location is not too hard to find. When you get there, you'll be able to see both Pamukkale thermal pools in Turkey and Hierapolis-Pamukkale ancient city.
During this blog post, you will be able to discover Is Pamukkale worth visiting or not with this Pamukkale itinerary.
First of all let's start with a question that is really important: Why is Pamukkale white? Pamukkale is white because of its natural carbonate minerals from centuries ago. If you are asking How would you describe Pamukkale? Honestly, it's a very interesting place with so many white balconies which are full with mineral waters inside. Every year, so many local or foreign people travel to Pamukkale in order to see that miraculous view with their own eyes. So, why is Pamukkale famous? Besides, its amazing formation, Pamukkale Cotton Castle is one of the Unesco world heritage sites. Actually, it's a well deserved title for that place. Hierapolis Pamukkale is one of the Unesco sites near Antalya.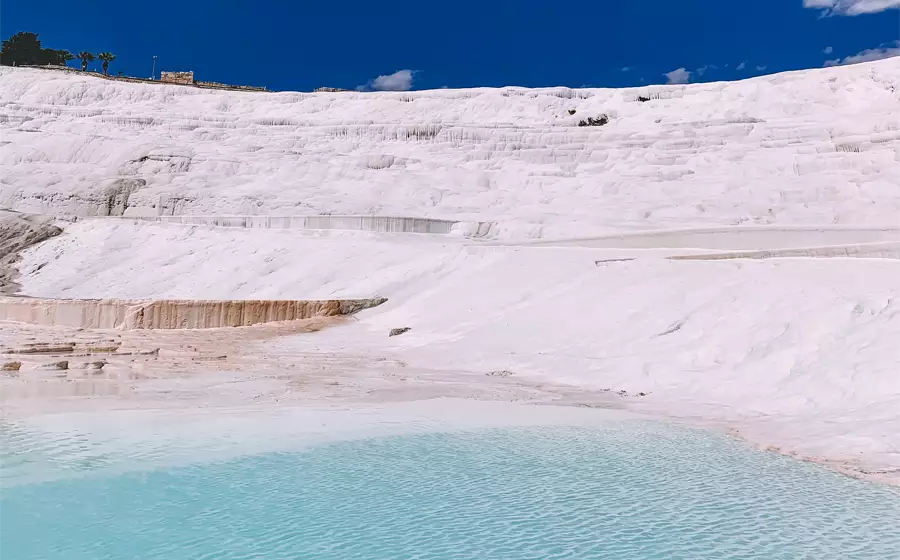 Where is Pamukkale?
Pamukkale is located in southwestern Turkey. Pamukkale travertines belong to Denizli Province. Here is an interesting fact with details for you. Denizli means "with sea" but there is no cost to sea in Denizli province. Still, we have heavenly white pools which are called Pamukkale travertines. 
How to get to Pamukkale?
Pamukkale connects the Aegean, Central Anatolia, and Mediterranean regions of Turkey and is very easy to reach. You can easily reach Pamukkale by plane, car, bus, or train.
Read more for transportation to Pamukkale.
What is the history of Pamukkale?
Pamukkale thermal baths are natural hot springs for 400.000 years. These geological creations are very unique in the world. That's why it is very famous and welcomes visitors from all around the world every year. It is mentioned as a holy city in archaeological literature as well.
Short History of Cotton Castle Hierapolis Temple
From 2000 years ago, the kingdom of Pergamon built the Hierapolis ancient site near Pamukkale travertines. You will be able to see ruins, an ancient Roman bath, theater, Cleopatra pool, museum, and more there.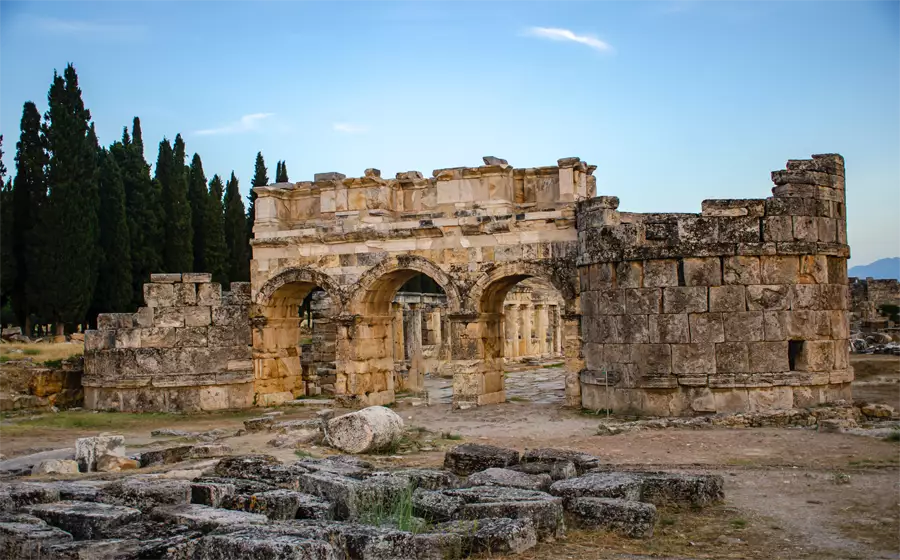 How do I spend a day in Pamukkale Turkey?
You can spend the whole day at Hierapolis archaeological site because there are too many things to see. Hierapolis ancient city has a massive field with ruins, hot springs, a museum, an ancient pool, etc. Next to the ancient city, you will be able to see Pamukkale Natural Park.
Also, you can visit Laodikeia Ancient city, nearby Hierapolis – Pamukkale. Photography, swimming, visiting the museum, and learning more about history will take you all day, at least half of the day.
Is Pamukkale the same as Hierapolis?
Yes, they are in the same area. When you enter the ruins area once, you will be able to visit all of them. (However, if you want to swim in the ancient pool you have to pay extra money for the ancient Cleopatra pool) But they have different historical backgrounds and details as we mentioned above.
The Hierapolis-Pamukkale area consists of main places like the one below. They are basically in the Hierapolis Archaeological Site. There is a huge area to explore. But don't worry. It's easy to find and walk around. Here is from up to down seeing on the map.
Hierapolis Ancient City
Hierapolis (Pamukkale) Ancient Pool
Hierapolis Pamukkale Archaeological Museum
Pamukkale Travertines
Pamukkale's south entrance (south gate) is under the Hierapolis ancient theater. Also last but not least, you can visit Pamukkale Natural Park which is between the entrance of Pamukkale travertines.
Family attractions in Turkey: Pamukkale Natural Park
In this park, you will find artificial ponds, swimming pools, and other hot springs things. Don't skip the mud bath in Pamukkale Natural Park. This place is definitely for families. We want to add another beautiful attraction for those who are not tired yet. Pamukkale Hot Air Balloon tours are waiting for you. 
Is there hot air balloons in Pamukkale Turkey?
Yes, there are Pamukkale hot air balloon tours and this experience is very unique as well as Pamukkale travertines. Hierapolis Balloons are just like Cappadocia hot air balloons. Prices might be cheaper than Pamukkale. Pamukkale hot air balloon prices are up to 2500 Turkish Liras. Pamukkale hot air balloon excursion mania prices are 120- 140 euros. You can take private balloon tours for 500 euros as well.
At a close distance, you can find some daily tours to the Pamukkale hot air balloon from Antalya or other cities.
Here is a booking chance for an excellent hot air balloon experience in Pamukkale.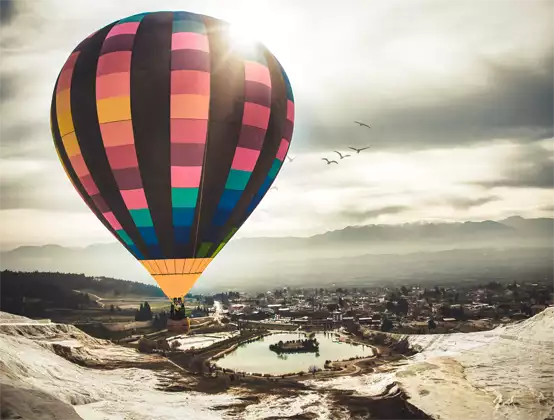 Pamukkale hot air balloon vs Cappadocia
We can't compare two hot air balloons because both regions are very unique and without equal. Through Pamukkale hot air balloons, you will see Hierapolis and cotton castle travertines from the top and sky. On the other hand, there is a place called Cappadocia, which has another natural heritage Fairy Chimneys and you will see amazing chimneys and other colorful balloons from the sky. So it is up to you. 
But now we should go back to Hierapolis ancient city because we have so many things that we haven't mentioned yet.
How and When to Visit Pamukkale Travertines? (Pamukkale cotton castle)
Here are the complete guide to Pamukkale travertines 2023. If you are wondering, What is the best time to visit Pamukkale? It really doesn't matter. Turkey has a natural beauty in each season. Denizli is an Aegean province. So the weather is not so cold as the other cities or the east side of Turkey. So, it's up to you.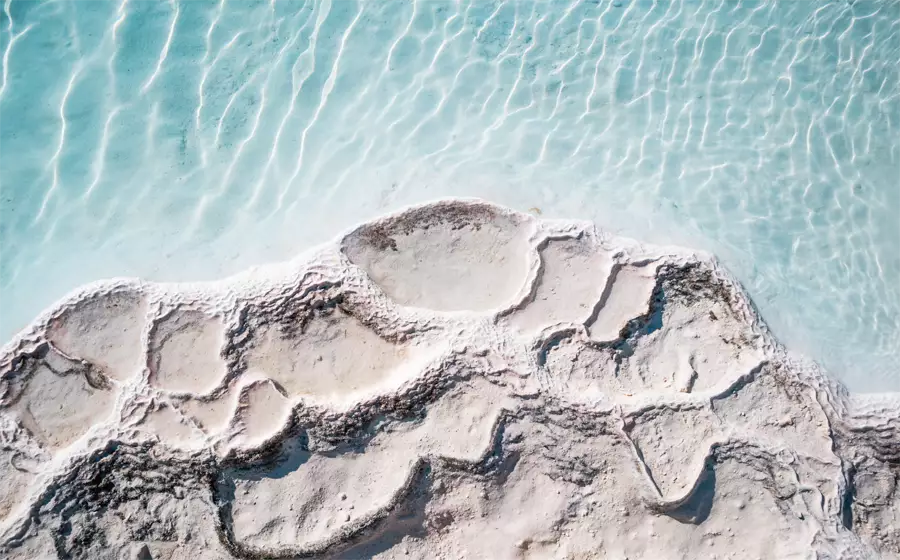 Is Pamukkale safe?
The answer is a total yes. Denizli is not a metropol. It's a very quiet city. But there are few famous tourist destinations in Denizli, like Pamukkale travertines or Hierapolis ancient city. So, those points can be a little crowded in the season but you must add Pamukkale to your bucket list.
Pamukkale is a popular destination for solo travel Turkey.
Can you still visit Pamukkale?
Yes, you can. It's open and accepts visitors from different countries at any time. So you can plan your vacation in order to visit Pamukkale travertines whenever you want.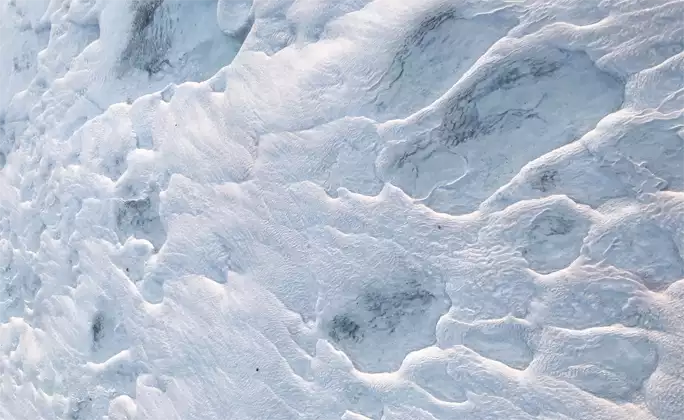 How many days do you need in Pamukkale?
You should spend at least one or two days discovering the top attractions. If you have much more time you must explore the hidden gems in Denizli province. Besides, you should definitely discover nearby Pamukkale. We will talk about other touristy spots below.
Pamukkale Travertines Prices in 2023 (Pamukkale Turkey price)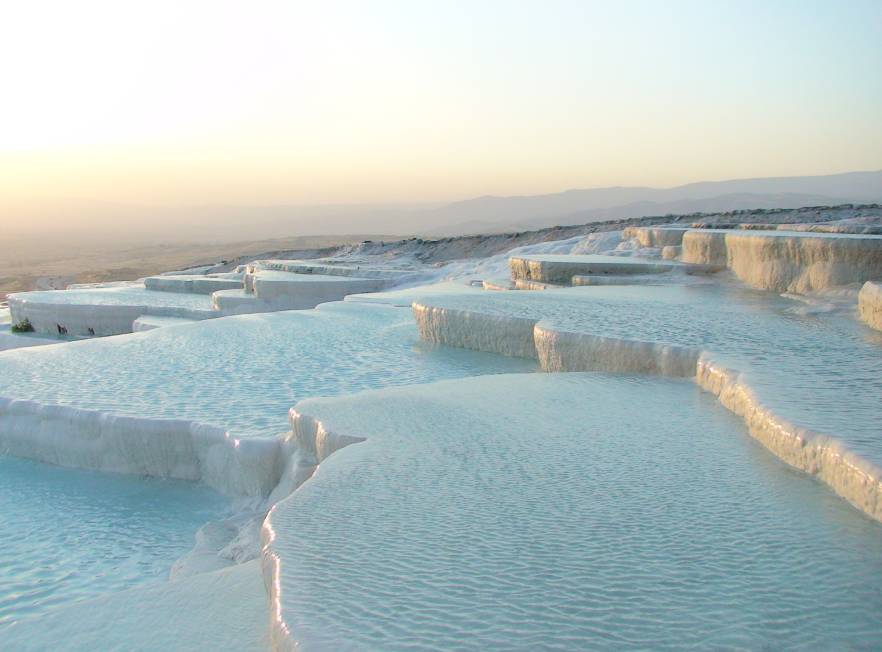 First of all, let's make something clear. So many people ask, Is Pamukkale open right now? Yes, Pamukkale is open right now. Pamukkale cotton castle opening hours are from 8 a.m. to 7 p.m. It opens each day of the week. But just in case, you should check the official pages before you go. (Here is the official page of the Hierapolis Pamukkale visit.
Do you have to pay for Pamukkale? Yes, there is an entrance fee. It is not free to entrance. Also, they wonder if Pamukkale is expensive. Honestly, it was not. It was very cheap before. Now it has a normal price but is still worth seeing.
How much does it cost to visit Pamukkale? (Pamukkale travertines entrance fee)
Pamukkale entrance fee for 2023 is 200 TL(11 USD or 10 Euro) for now. Either you can buy your ticket from here, or you can provide it from the ticket offices. That ticket includes the Hierapolis Archaeological Site area completely -even the Hierapolis Archaeological Museum and Pamukkale Travertines.
Alternative Pamukkale Hierapolis entrance fee
We have several offers for travelers on a budget and long-term tourists. When you go to Hierapolis Pamukkale, nearby you can visit Laodikeia's ancient city. Because Laodikeia ancient city is one of the best things to do in Denizli, apart from Hierapolis ruins and Pamukkale hot springs. 
Laodikeia Archaeological Site entrance fee normally is 75 TRY. But there is a campaign for visitors which makes you save 25 Turkish liras. If you buy a site combined ticket which covers the Hierapolis Archaeological site, Hierapolis Museum, and Laodikeia Archaeological Site Pamukkale ticket price is 250 TRY.
If you are planning a long-term vacation in Turkey, you should buy a Museum Pass for more savings. Via this, you will pay no entrance fee to Pamukkale for once. 
Museum Pass Turkey has many benefits for those who are in love with ancient ruins, museums, and archaeological sites. Not only in Pamukkale, museum pass Turkey covers more than 300 museums, historical and oldest ruins in Turkey for fifteen days.
So, save the Pamukkale entry fee and Hierapolis ticket price and enjoy.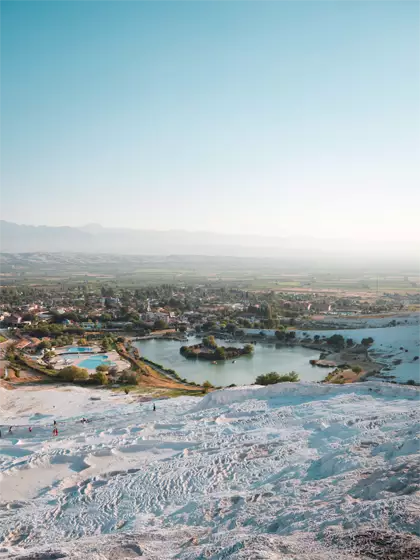 Is Pamukkale open in winter?
Yes, Pamukkale opens in winter, too. You can visit Pamukkale Travertines and Hierapolis archaeological sites and ancient ruins in four seasons. Make sure that you are wearing comfortable clothes and suitable shoes or sneakers for a comfortable trip in order to walk around.
Pamukkale Visiting Hours (Pamukkale opening hours)
Hierapolis ancient city and Pamukkale opening hours are between 1 March – 31 May (spring months) 06:30-20:00, 1 June – 31 August (summer months) 06:30-20:30, and 1 September – 28 February 06:30 – 18:00 (closing time).
But check here for more detail about Pamukkale 2023. Pay attention of box office closing time. It closes at 19:30. Hierapolis ancient city and Pamukkale travertines are open every day. Make sure that the place has any exceptions or force majors.
Hierapolis Archaeological Site, Pamukkale Travertines and Thermal Pools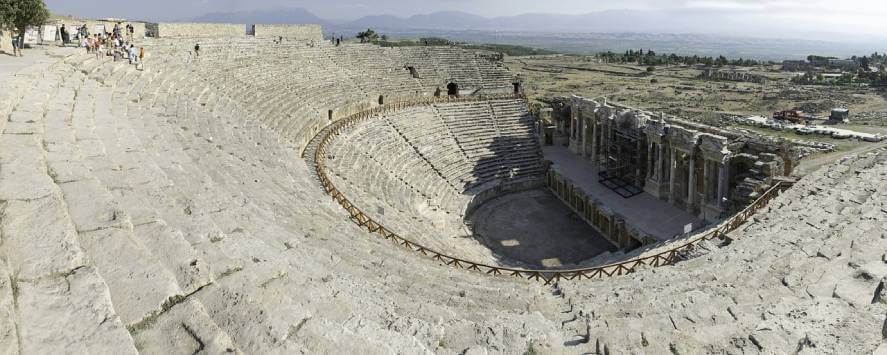 History, ancient aesthetics, and cure are side by side in Denizli. Hierapolis Archaeological Site, Pamukkale travertines and thermal pools are must add places to see a list. Unforgettable memories and delicious beauties are waiting for you in the travertines of Pamukkale. 
Hot springs in Turkey, Pamukkale, are very beneficial for your body. You can swim in Pamukkale thermal pools Turkey or you can rest in hot springs thermal spa hotels in Denizli. So, how do you get to Pamukkale hot springs? If you want, go to the Pamukkale hot springs you can go via following this Pamukkale official website link.
Pamukkale Cleopatra pool entrance fee is not included in the general entrance. You need to pay more if you want to swim in these ancient baths.
Pamukkale thermal pools opening hours can change according to the season. From 1 June – 30 September you can swim in there from 08:00 to 21:00. Better to track the Pamukkale opening times in order to swim easily.
Cleopatra Pool Turkey History
Egyptian queen Cleopatra was there. But there is an amazing thing to know as well. While you are swimming in this ancient pool with ruins, you will see a perfect view inside and outside. Cleopatra antique pools Turkey or Hierapolis antique pool is a very popular spot for both locals and tourists. 
Cleopatra Pool Turkey entrance fee
Cleopatra pool entrance fee 2023 is around 150 Turkish liras. If you wanna swim in Hierapolis sacred pool, you should pay extra money for this experience but it is worth it for this ancient and unique swimming. If you have time, we highly recommend it for a full of inspirational moments. 
Guided Pamukkale tour from Denizli
There are several daily tours to Pamukkale from Denizli with experienced tour guides. Daily Pamukkale tour prices are between 50-200 $. You can view daily Pamukkale tours, hot air balloon rides, and more from here.
For extreme lovers, there is an exciting event in there as well. You should check Pamukkale paragliding tours for stunning travertines and ruins view from the sky.
Anyhow, you don't need to be in Denizli province for guided Pamukkale tours. There are many day trips from nearby cities and towns like: Kusadasi, Izmir, Antalya, Istanbul, etc. Check here for a daily Pamukkale tour from Istanbul. 
Many daily tours cover the Hierapolis entrance fees like the Pamukkale Tour that you can join from Antalya to Pamukkale day tour.
For those who do not have much time in Turkey, there is a 2 day tour Ephesus Pamukkale which is affordable as well.
Also, there is a 4 days Ephesus and Pamukkale tour which includes the Cappadocia region. If you join a luxury Istanbul Ephesus Pamukkale tour, you will be able to flash a glance for heavenly and unique places to visit in Turkey. Get ready for those magical and unforgettable journeys.
Pamukkale has a beauty that you can visit during four seasons. Bon voyage!
Pamukkale, Turkey Hotels
Pamukkale hot springs hotels are very unique and worth to stay. Especially if you are looking for cures, recovery, or remedies you should try Pamukkale hotels. The best places to stay in Pamukkale are probably thermal spa hotels. But you can also find Pamukkale luxury hotels, Pamukkale hotels 5-star or cheaper options via Pamukkale hotels TripAdvisor.
Packing: How do I explore Pamukkale?
You will be on foot mostly. So, make sure that you are in comfortable shoes for walking. Just keep in mind that you wear casual clothes because you will walk barefoot around the thermal pools. If you are gonna swimming in the Travertines of Pamukkale or Cleopatra pool Turkey, you should take your swimsuit and towel with you. 
Especially during spring and summer, the sun may be very burning. So take a hat with you in order to cover your head. Stay hydrated during the day as well.
For more caring about the environment and being an eco traveler, don't use plastic non-returnable bottles for your drinks. 
What to buy from Denizli Province?
You can buy "leblebi" which means roasted chickpeas and textile products particularly towels from Denizli, Turkey.
If you like this post, you may want to read is Turkey safe 2023 blog post.
Frequently Asking Questions About Pamukkale Turkey
Here are some frequently asked questions about Pamukkale and Hierapolis Turkey. If you have more questions, please meet with us below in the comments.
Is Pamukkale worth visiting in 2021?
We are in 2023 and Pamukkale cotton castle is still worth visiting. Don't miss that famous Unesco heritage spot.
Does Pamukkale Turkey's entrance fee cover Hierapolis ancient city?
Yes, once you get to the Hierapolis area you will be able to access both.
Should I pay extra money for Pamukkale thermal pool entrance fees?
No, you should only pay extra money for the ancient pool of Hierapolis.
Is it worth going to Pamukkale in winter?
It is worth going to Pamukkale in all seasons. Especially in winter, the crowd and people density are low compared with the end of spring and summer months. This is a good choice in anyways.
When is the best time to visit Pamukkale?
Early spring will be a good choice for those who don't like too much heat and crowds. But it is better to check the current Pamukkale weather if you are going to swim in the travertines or Hierapolis ancient pool.
Can you swim in Pamukkale?
You can swim in some of the Pamukkale travertines, but not in all pools. Some of them are open for swimming, you can take some photos there as well. But it is not allowed for every hot spring pool in Pamukkale. Pamukkale thermal pool tickets are covered by Hierapolis entrance tickets.
Why is Pamukkale famous?
Pamukkale is famous because it has a natural heritage from centuries (one of the most beautiful Unesco heritage) and next to it, there is an ancient city that is waiting for its guests.
How old is Pamukkale Turkey?
Pamukkale travertines are approximately 400. 000 years old! These unique hot springs are a result of a rare geological formation.
Why is Pamukkale white?
It is because of the minerals and calcium grounds. Those natural limestones have been hosting healing thermal spring waters for many years.
Who built Pamukkale?
One of the Pergamon kings II. Eumenes built the city. The city took the name of Hierapolis because of the founder Telephos's wife Hiera.
Can you swim in the pools of Pamukkale?
Yes, you can swim in the particular pools of Pamukkale. This is a very popular spot for photography, too.
How many days can you use the Pamukkale entrance ticket?
Generally, those entrance tickets are single-use only. But it may change sometimes in some destinations. You can ask for detailed information from the ticket offices.
Is Pamukkale a World Heritage Site?
Yes, Pamukkale – Hierapolis is a Unesco world heritage. It is an unmissable destination for travelers.
Why is Hierapolis-Pamukkale famous?
You can see both natural heritage and historical ancient cities in the same field. That's why Pamukkale Hierapolis is famous.
How is Pamukkale being protected?
Pamukkale is being protected by both Unesco and the General Directorate for the Protection of Natural Assets of Turkey.
Are the travertines of Pamukkale worth seeing?
It is not possible to see travertines all over the world. It is only available in a few countries. Travertines of Pamukkale are really special with their white color. If you are coming to Turkey, you should definitely walk among Pamukkale travertines and swim in Pamukkale thermal pools.
If you have any questions about coming to Turkey, Why should visit Turkey? Check out our article.