A large part of Turkey believes in the religion of Islam and there are many people who shop for hijab clothing. The textile industry in Turkey is very developed, you can buy very high quality hijab combinations very cheaply. Here are the best Turkish hijab brands and online shopping sites about hijab Turkish.
Also, if you are planning to shop in Turkey, it would be useful to take a look at these articles. Turkey makeup stores in Istanbul, Turkish underwear brands, best Turkish baby clothing brands, Turkish affordable children's clothing, Turkey's best pregnant brands, online Turkish grocery, Turkey food delivery app, Turkey Electronics Stores, and 15 best hammam products.
Shopping for hijab clothing in Turkey
A lot of people are shopping for hijab clothing in Turkey and there is a great experience and quality in this regard in Turkey.
There are many hijab clothing websites and applications where you can shop online in Turkey, but if you say I want to visit the stores, the place you should go is Fatih and Ümraniye districts in Istanbul.
Turkish Islamic clothing online
Apart from Turkish brands, you can find very nice Turkish hijab sets from websites abroad. Check out this combination of a prayer rug, casual hijab dress, and head covering.
Turkish clothing brands appeal to various types of clothing styles. Many Turkish clothing brands have modest sections in their stores. But of course, you can go to a particular hijab store as well.
What are the prices of hijab dresses in Turkey?
The average prices of hijab brands in Turkey are 35 dollars for evening hijab dresses, 25 dollars for casual hijab dresses, and 20 dollars for silk scarves and shawls. Of course, these figures may vary depending on the brand. You can buy a scarf for $2 in Turkey.
The price range is variable and depends on Turkish clothes brands name, product quality, and other parameters.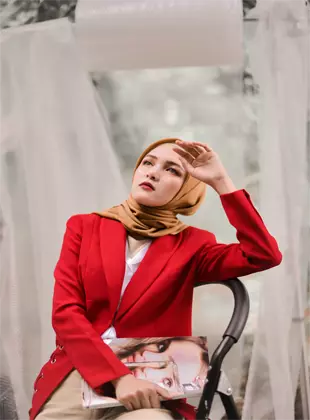 Hijab clothing brands in Turkey
There are many hijab clothing brands in Turkey. We will tell you about the 7 biggest and most reliable hijab clothing brands.
1. Modanisa Turkey Hijab Brand
Modanisa is the website where you can buy hijab, scarf, conservative dresses, hijab evening dresses, and sports dresses. Modanisa physical store is located only in Istanbul Pendik.
Hijab Fashion Shop
The website has support for English, German, Arabic, French, and many other languages. You don't need to be in Turkey to shop at Modanisa, Modanisa delivers to more than 30 countries. You can change the country of delivery from the top right corner of the page. In this regard, we can say that Moda Nisa Turkish hijabs brand is one of the best Turkey online clothing stores as well.
Best hijab brands
Modanisa is Turkey's best conservative clothing brand where you can shop online.
You can visit Modanisa English website where you can shop online. You can also shop for hijab clothing with iOS and Android apps.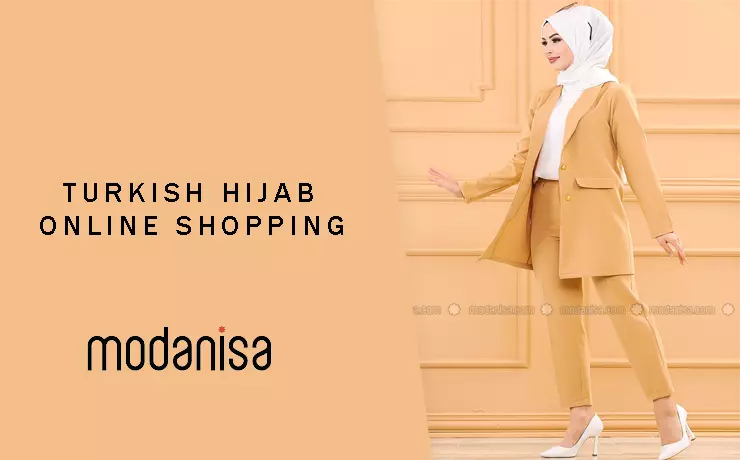 2. Sefamerve Hijab Clothing
Sefamerve is one of the most popular hijab clothing brands in Turkey. Apart from headscarves, Turkish hijab evening dresses, and hijab sports dresses, you can buy shoes, bags, etc.
Hijab fashion online store
Like Modanisa, Sefamerve delivers to more than 20 countries and supports German, English, French, Arabic, and Dutch languages.
If you want to shop online from Sefamerve, you can download the website, iOS, or Android applications. Let's continue with Turkish hijab brands.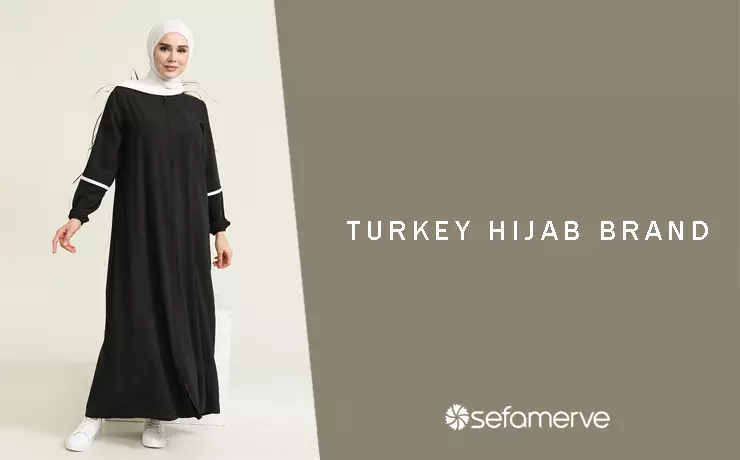 3. Aker Hijab Clothing
Aker Hijab Clothing is one of the largest hijab companies in Turkey. In Aker hijab, you can find casual wear, underwear, hijab swimwear, scarf, shawl, hijab evening wear, and frankly whatever you look for.
If you are going to shop for hijab clothing in Istanbul, you should definitely go to an Aker store. Aker stores are available in almost all Istanbul Shopping centers.
Hijab online store
Aker hijab clothing also has an online shopping option. The website has English language support and payment options in dollars/euros. It also accepts orders from outside Turkey and sends your cargo with DHL.
Click for online hijab shopping in Turkey with Aker.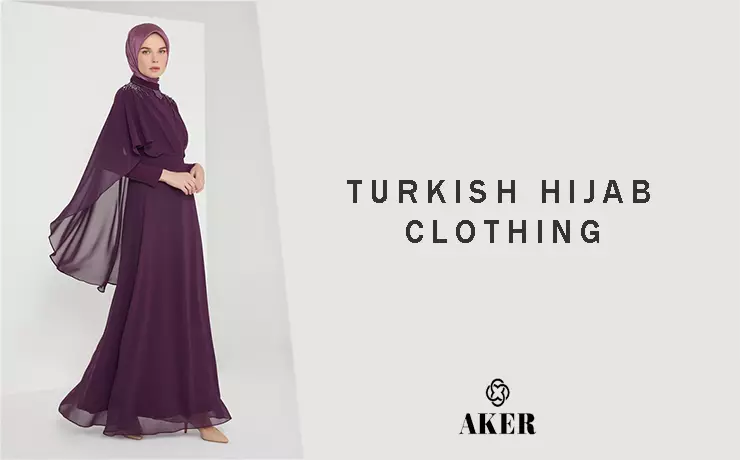 4. Armine Turkish Hijab Clothes
When people think about hijab Turkey, Armine is one of the most popular brand clothes from Turkey. Apart from the website, you can shop from Armine hijab clothing in physical stores. The products of the Armine brand are of very high quality. You can buy scarves, evening dresses, shirts, shawls, and accessories. They are especially assertive in scarf and shawl products.
Turkish clothing brands
Armine hijab has stores in Istanbul, Antalya, Izmir, Ankara, Izmir, and 15 different cities in Turkey. You can browse Armine stores here.
There are dollar and euro options on the website of the Armine hijab brand, but unfortunately, no language other than Turkish is supported.
You can download the website, iOS, or Android applications to shop online from Armine.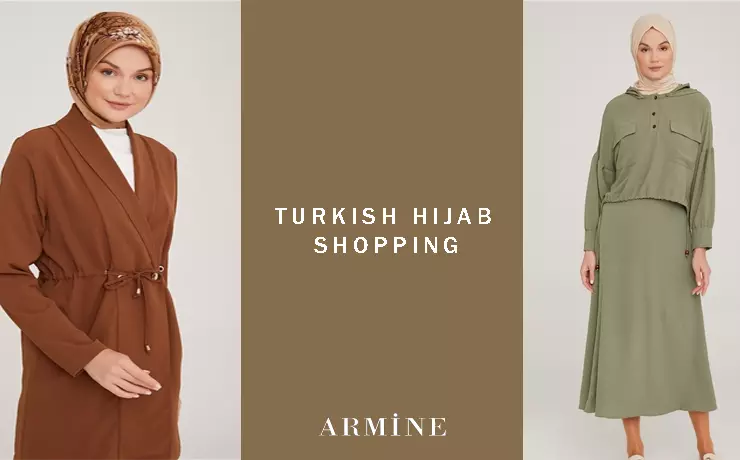 5. Tugba Venn Hijab Clothing
If we are talking about Turkish hijab brands, it is impossible not to mention Tugba Venn. Tugba hijab clothing has physical stores in many parts of Turkey. It also has a website with English language support where you can shop online. You can buy products in Turkish lira, dollar, or euro.
Turkish online shops
Unfortunately, Tugba hijab clothing does not accept orders from abroad, but you can shop online in Turkey or buy it by trying it from stores. You can also catch significant discounts on Tuğba clothing.
Click here to shop online for Tugba hijab clothing.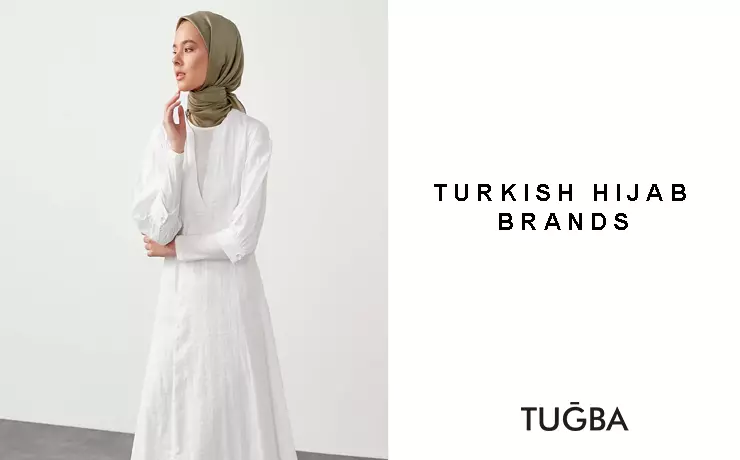 6. Alvina Turkey Hijab Clothing
It would not be wrong to say that Alvina is the most colorful hijab clothing brand in Turkey. Alvina is very assertive about clothing, casual dresses, shawls, and scarves.
Turkish hijab style online shop
The website supports many languages and they ship products abroad. It also has two stores in Istanbul, Başakşehir, and Fatih, and one store each in cities such as Antalya, Izmir, and Ankara. You can browse the stores here. Good news: Hijab scarf online shop is available.
Click to order online from Alvina hijab clothing.
You may also enjoy Antalya Shopping Malls & Izmir Shopping Malls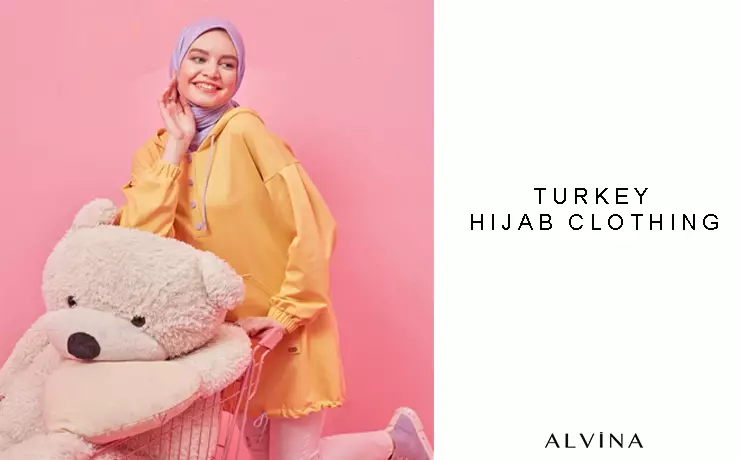 7. Tekbir Turkish Hijab Clothing
Tekbir Hijab clothing, one of Turkey's old hijab clothing brands, has many stores and you can shop on its online website.
Turks love this brand very much and they definitely have one Tekbir dress in their closet. Tekbir hijab wear stands out with its stylish but casual dresses.
Turkish shopping online
Unfortunately, the site does not have English support, but you can shop online from the Turkish site or shop from their stores.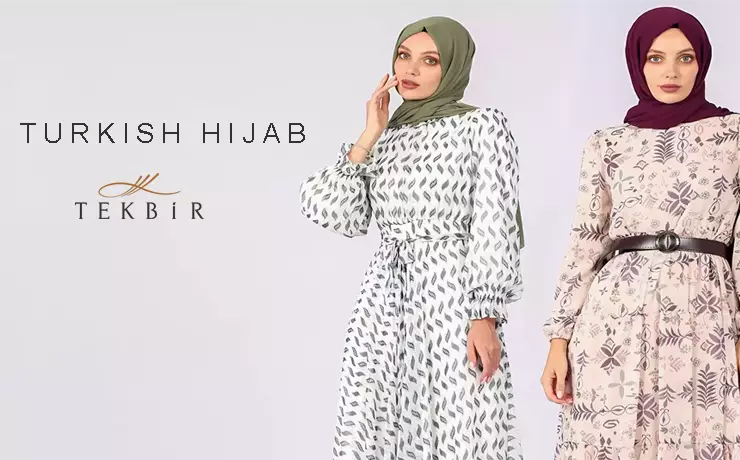 Hijab stores in Istanbul
If you are looking for hijab stores in Istanbul, the right address is the newly opened Zeruj Port AVM in Zeytinburnu district of Istanbul. This mall was built on hijab clothing as a concept and you can find everything you are looking for.
Apart from Zeruj Port, hijab stores in Istanbul are mainly located in the Fatih, Ümraniye, and Pendik districts of Istanbul.
In these districts where there are mostly boutique hijab stores, you can find all your hijab clothing needs at an affordable price.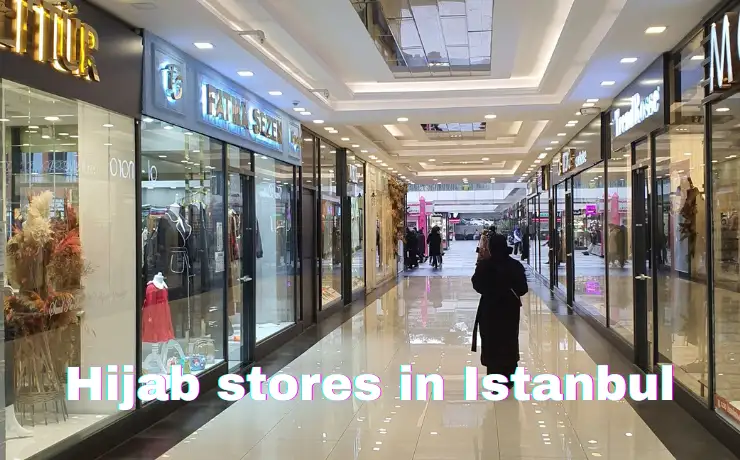 Turkish hijab style
A Turkish hijab style is a traditional form of wearing a hijab originating from Turkey. It involves wrapping the hijab over the head and around the neck, often creating a crescent shape in the front and leaving some hair visible.
The hijab is made of a flowy fabric and is lightweight. It is usually combined with loose tunics, trousers, or traditional Turkish clothing.
Turkish hijab online
The first brands that come to mind when you say Turkish hijab online; are Modanisa, Sefamerve, Aker, Armine, and Tekbir brands.
While these brands deliver within 3 days on average in Turkey, many brands have the opportunity to sell abroad.
With Turkish hijab online shopping, you can buy Muslim clothes Turkey online with high quality and cheap.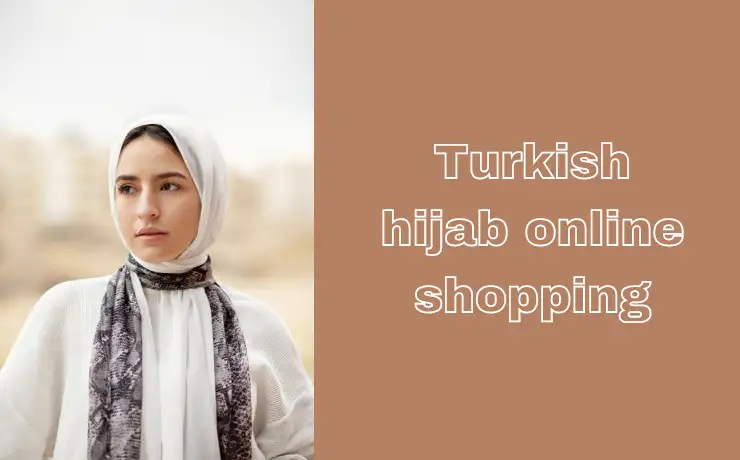 Turkey Shop Hijab
Recently, more colorful hijabs are preferred by young people and they are also worn with tighter clothes. Suud hijab collection is one of the most popular brands between young ladies. You can visit their hijab websites from here.
Hijab manufacturers in Turkey can be found especially in the Merter region in Istanbul. They are manufacturing both Turkish brands clothing and export products for hijab shops.
Turkish Hijab Brand List
The best Turkish hijab brands you can choose are:
Modanisa
Sefamerve
Aker
Armine
Tugba Venn
Alvina
Tekbir
Allday
Kayra
Zühre
Setrems
Nihan
Turkish Hijab Brands with Frequently Asked Questions
We will try to answer your questions about Turkish Hijab Brands and shopping in Turkey.
Can I shop online for Turkish hijab clothes from abroad?
Yes, you can order Turkish hijab clothes abroad. Modanisa and Sefamerve are the Turkish hijab brands that receive the most orders from abroad.
Where can I buy hijab clothing in Istanbul?
You can find hijab clothing stores all over Istanbul. Fatih, Ümraniye, Pendik, and Bakırköy districts of Istanbul are ideal for shopping for hijab clothing.
Is there a hijab clothing store in Antalya?
There are many hijab clothing stores in and around Mark Antalya AVM, which is located in the center of Antalya. There is a store of Tekbir hijab clothing brand across Mark Antalya AVM.
Where to shop for cheap hijab clothing in Turkey?
You can find the cheapest hijab and conservative clothing in small shops in the bazaars in Turkey. Apart from the stores, you can take advantage of the campaigns on the websites of big brands.
Are Turkish hijab clothing brands of good quality?
Turkey is in a very good position in the textile sector. Turkish hijab brands also benefit from this. The dresses, scarves, shawls, and hijab evening dresses you will buy will be of high quality and silk.
How to wear a Turkish headscarf?
You can wear a Turkish headscarf with or without a hood, and after covering your head, you can tuck the outside part into your dress or shirt. Turkish hijab fashion likes bright and vibrant colors and looks nice.
Is there any big size Turkish hijab clothing brands?
Yes, you can find plus-size hijab clothing dresses. Modanisa, Sefamerve, Tugba Veen, Aker, Alvina, and Tekbir are Turkish brands where you can buy plus-size hijab dresses.
Can I buy Hijab swimwear in Turkey?
Yes, you can buy it. Aker hijab clothing has many hijab swimwear options. You can also take a look at other Turkish hijab brands.
What is the best Turkish scarf brand?
The best and most popular Turkish scarf brand is Vakko. Vakko is a very luxurious and haute couture brand that you can only shop in Turkiye. Unfortunately, they don't have any stores abroad and they do not have any online shopping abroad.
Best hijab shops in Istanbul?
If you want to shop for hijabs in Istanbul, the right address is Zeruj Port AVM. Apart from this, you can find many hijab brands and boutiques in districts such as Fatih, Ümraniye, Pendik, Bakırköy.
Is it safe to shop online for Turkish hijab?
It is absolutely safe. Turkish hijab brands such as Modanisa and Sefa Merve serve not only in Turkey but also in many parts of the world.
What are the Turkish abaya brands?
There are many Turkish abaya brands, but the most common and popular ones are; Modanisa, Sefa Merve, Aker, Armine, and Tugba Venn. You can also find abaya boutiques all over Istanbul.
Best Turkish Hijab Brands
EXPLORE OUR SHOPPING LIBRARY!
Traveler's Choice
Minimalist Carry on Packing List
Best Barefoot Shoes for Travel
Shopping Turkish