Here is the ultimate guide for buying Turkish evil eye jewelry online! Whether you want to use it because of its original design or believe in its protective effect from jealousy, you will never be able to give up on evil eye jewelry. Also, get ready to discover new and timeless pieces in your jewelry box, as the magnificent and mystical design that has managed to bring the traditional and the contemporary together at a common point is never out of fashion.
In order to get to know the evil eye better, make sure you read the Turkish evil eye guide as well. 
Certainly, Amazon is one of the best places to buy Turkish evil eye jewelry online. In this guide, we are going to talk about purchasing jewelry online and getting closer to the evil eye concept jewels in various categories.
Purchasing Turkish evil eye jewelry online
You can explore the best Turkish evil eye jewelry either in stores or online shopping options. People do not always have the opportunity to travel and bargain. For this reason, internet shopping and discount opportunities provide a great convenience for us to purchase products that are suitable for us quickly and by comparing them.
In addition to saving time and many other costs, it should be mentioned that it is also very practical in terms of examining a wide variety of brands and products in a very short time and buying jewelry products that we can use for ourselves or our loved ones.
Let's start with the Turkish evil eye bracelets and let's examine the basic evil eye jewelry items in general headings and choose the best ones for ourselves and our beloved ones together.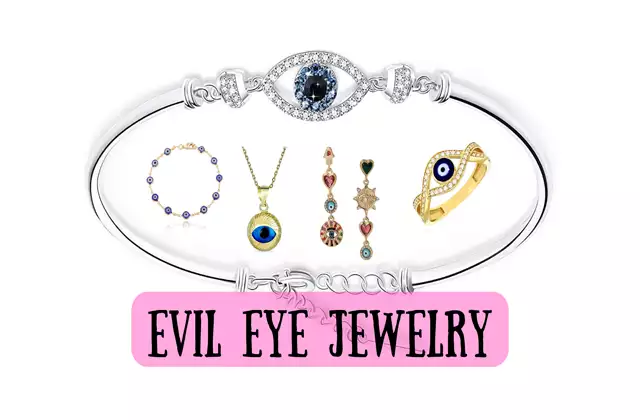 1. Best Turkish Evil Eye Bracelet
Who said that an authentic Turkish evil eye bracelet can't be stylish, luxurious, and expensive at the same time? Discover assertive models that you can complete your elegance with daily combinations and choose as gifts on special occasions. You can use your bracelets plain, wear them side by side, or complement them with your favorite sapphire crystal watches.
The evil eye is an impressive thing that manages to distinguish your accessories from the rest with effortless simplicity with its original and ancient design. Particularly, details such as Pandora Turkish evil eye charms and Fatima hand charms that color and customize the design can be wonderful pieces.
PURCHASE alluring 👇🏻👇🏻👇🏻
Evil eye bracelet gift meaning
While you can only gift it as an accessory, giving someone a bracelet can have a specific and meaningful purpose. It can be a gift that has a special meaning to a person.
It can be a gift that represents the bond of love and value between you, concretely or abstractly, to celebrate an important day. Having the same model bracelet among friends or partners has meanings such as friendship, loyalty, and wishes.
The meaning of gifting a bracelet to someone may vary depending on what you have loaded, and if this bracelet is one of the evil eye bracelets, then it can mean that you care about the person in front of you and that you aim to protect them from bad looks and envy.
How to wear an evil eye bracelet?
If the evil eye bracelet is a bracelet made up of glass beads strung on a string, then we must take the utmost care not to break these glass beads. For more expensive and financially valuable products, we should pay attention to the combination and maintenance recommendations of the brands. It is also one of the important issues whether the products can come into contact with water.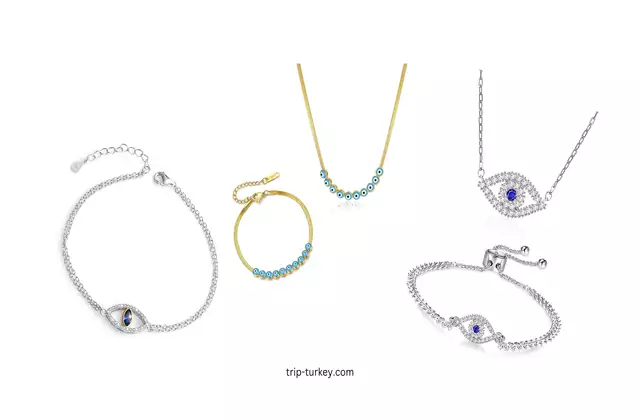 2. Turkish evil eye earrings
Even if the first thing that comes to mind when choosing earrings is which model or color was in fashion that year, it is useful to customize this subject a little while choosing the most ideal earring for you.
The shape and structure of your face and ears are important details that should never be overlooked while choosing earrings. Considering the sensitivity of your skin and any allergic reaction, the most suitable material that will not bother you should be chosen accordingly.
In addition, finding suitable earrings that you can combine with your dressing style and the colors you prefer is not difficult any more thanks to modern evil eye designs. I have brought together my favorite evil eye concept earrings for you to save time. Remember, not everyone does this knick-knack 😉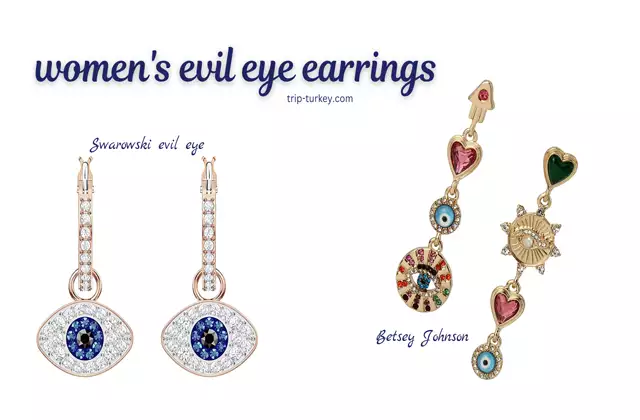 3. Turkish evil eye pendant
Do you have a variety of necklace chains and are just looking for pendants? Maybe you got bored with the existing pendants and you searched for a new and different pendant? Turkish evil eye pendants have such an original and mystical design that they can satisfy you. 
Evil eye pendant benefits are countless. But among the most useful and obvious benefits are their availability and uniqueness. You can also mix and match with chains that you associate them with and think will be compatible.
There are also ancient information and beliefs from ancient civilizations about it, that it protects the wearer. So what are you waiting for? Check it out now and add a few pieces that are suitable for you to your collection before they run out.
PURCHASE 👉🏻Turkish evil eye pendant gold
You can also check these 50 pieces of evil eye charms for jewelry making to design your own evil eye ornaments.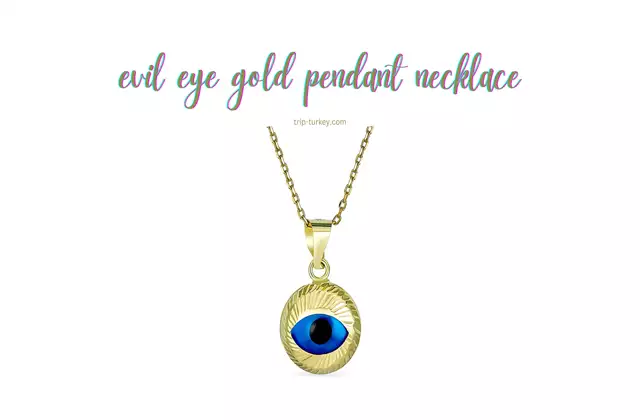 4. Turkish evil eye ring
Either the authentic style Turkish evil eye rings or modern designs appear as an accessory that completes your elegance. You can pamper yourself and your loved ones by choosing these specially designed and unique rings as a gift. For those looking for an original and mystical touch, The Evil Eye will be a very bohemian and stylish choice at the same time.
SEE 👉🏻 evil eye ring gold
READ 👉🏻 best Turkish jewelry brands so you can take a look at Istanbul jewelry shops online as well.
It can also give you an idea for a unique marriage proposal. Evil eye-designed products are one of the most unique and elegant rings to propose with. 
LEARN your ring size calculator online.
5. Turkish evil eye necklace
Turkish evil eye jewelry online can be found in many types of endings. Necklaces are the most famous ones. You should definitely discover elegant necklaces as a beautiful detail to adorn your neck, whether with stones or plain, traditional or contemporary, fabricated or custom-made.
Traditional Evil eye necklace Turkish is amulet-style jewelry that has always had an authentic and mystical texture and is known for its protective properties. Although it is believed that the Turkish evil eye necklace meaning and properties protect the wearer from envy and evil eye, its design splendor should not be ignored.
Here are some hand-picked and unique designs of evil eye Turkish necklace jewelry products for you 👇🏻
Frequently Asked Questions About Turkish Evil Eye Jewelry Online
Here, I gathered up top asked questions about Turkish evil eye jewelry online. You can find the finest one but I suggest you check product reviews and the brands' popularity as well. I hope you've enjoyed these evil eye gift ideas.
Who can wear the evil eye?
Whoever intends to benefit from the protective effect of the evil eye can wear the jewelry and jewelry of its design. Also, simply liking it in form and appearance is sufficient to wear it. Not to mention the reassuring and relaxing effect of the blue color.
Can I gift an evil eye?
The Turkish necklace evil eye can be bought as a gift. These kinds of presents have a very deep meaning because of their protection features. Get to know Turkish evil eye protection better from here. Check out some cute evil eye gifts as authentic products.
Where can I get a handmade Turkish blue evil eye necklace?
At this point, Etsy Turkish evil eye necklaces can be found in very fine quality. Also, they have very unique and custom designs for those who are looking for something handmade and unduplicated. If you are looking for unusual evil eye gifts, this might be what you're looking for.