All inclusive Fethiye hotels are the new rising stars in the south-west coast in Turkey. Now, without wasting any time, we will do a deep dive into these Fethiye hotels. You can find other articles related to Fethiye at the end of this blog post.
Some of the holiday modes are definitely hotels that include everything. Who wouldn't want such a holiday anyway, right? Some of Fethiye luxury hotels are very famous for their all inclusive vacation services. If you want to visit this region of Turkey, you should take advantage of early reservation opportunities for Fethiye hotel booking. 
Table of Contents
All inclusive Fethiye Hotels
Mediterranean region hotels offer vacationers a wide range of options, from five-star to boutique hotels and hostels. So as a tourist what are your hotel expectations? If you want everything you need to be within reach during your holiday and to experience a peaceful holiday in a large resort, we are looking in the same direction right now. Let's take a look at if Fethiye Turkey luxury hotels can cover your expectations or not.
Barut Hotel Fethiye
TUI BLUE Sensatori Barut Fethiye is the most famous all inclusive hotel Fethiye Turkey. It deserves this reputation to the fullest with its cleanliness, hygiene, magnificent buffet breakfast, the splendor of its areas, and all other details.
This eco-certified hotel experience is dreamlike, has wide services, and offers many alternatives to the guests. You will never want to leave this five-star hotel.
Free Wi-Fi in the complete facility,
Wheelchair access, 
Turkish, Russian, German, and English languages can be found. For more, you can take a look or contact the hotel!
🛎️Now book your dream vacation at TUI BLUE Sensatori Barut Fethiye or 
TUI BLUE Sensatori Barut Fethiye – Adults Only 🏖️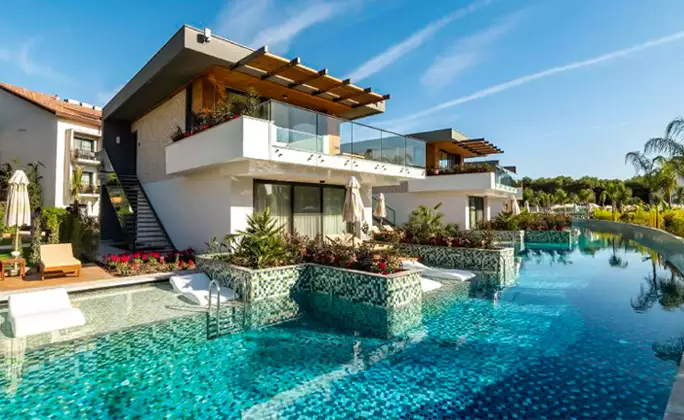 Sundia Exclusive by Liberty Fethiye
One of the Fethiye – all inclusive 5-star hotels is Sundia Hotel as well. This Eco-certified hotel is located in Oludeniz. It is very close to the beach, about five minutes. It has a good-capacity pool and private beach. 
Sundia is open all the seasons by the way. This hotel will make you feel very special. There's no denying the variety of food and drink. In a word, great. Honeymoon rooms with jacuzzi can also be good news for couples.
🛎️Now book your dream vacation at Sundia Exclusive by Liberty Fethiye 🏖️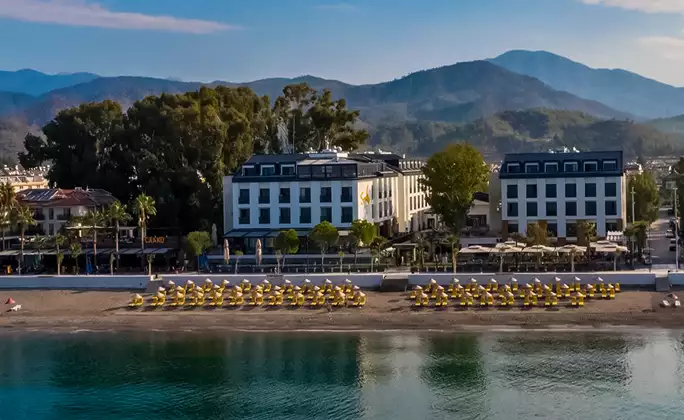 Jiva Hotel Fethiye
Jiva Hotel is one of the nicest all-inclusive Fethiye hotels. This five-star hotel has eco-certified, very delicious food options and the most important detail is the distance of the sea. Amazing views, game areas, wellness spots and more are waiting for you in the Jiva Hotel. 
Turkish, English, Dutch, French, German, and Russian can be spoken,
Creative relaxing and gaming areas,
Wi-Fi
Diverse options for kids
Special and delicious cuisines and more.
🛎️Now book your dream vacation at Jiva Beach Resort – All Inclusive  🏖️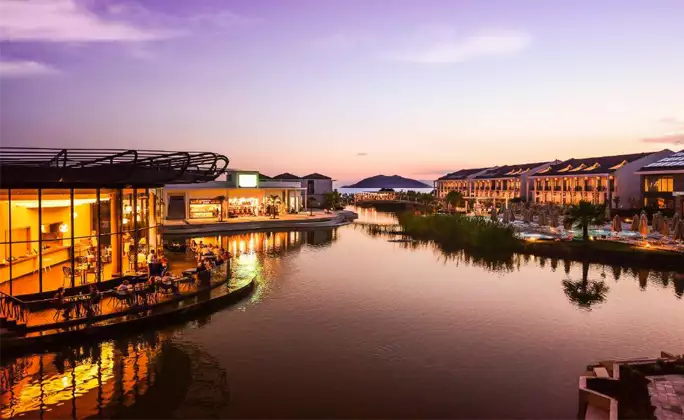 Sunshine Holiday Resort Otel
Sunshine Hotel is one of the best Fethiye resorts all-inclusive too. This four star hotel is located in the Oludeniz region. It can be said to be a wonderful destination for those who want a peaceful holiday in touch with nature. They offer many things to do to the guests, either inside the hotel or outside. 
Indoor & outdoor swimming pools,
Good structured wellness area,
Options for kids and more. 
🛎️Now book your dream vacation at Sunshine Holiday Resort Fethiye 🏖️
Club Hotel Letoonia Fethiye
Club Letoonia is a five star hotel in Fethiye, which is a place that can enchant its guests even with its name alone! Before mentioning this one of the best Fethiye resorts 5-star, I want to share with you a trip of mine! 
If you go to Fethiye or Kas, I highly recommend you to visit the magnificent Letoon Ancient City. Sacred place Letoon has a fascinating and mystical atmosphere that you definitely should not miss.
And after getting to know this ancient city, which gives its name to many places in the region, you immediately understand the reason for its popularity. Club Letoonia is as famous as that historical landmark, too. 
Letoonia is a 2 km seaside resort. There are 3 private beaches named Cactus Beach, Champagne Beach, and Dolphin Beach. It is situated on a magnificent peninsula with over 3.5 meters of the walking path.
This well located all inclusive five star hotel has so many options for their valuable guests. It offers a wide range of vacation experiences in the form of bungalows, hotel rooms, junior suites, and villas.
With 13 bars, 3 open buffets, and 3 snack bars, it offers its customers an incredible feast. With 4 adult pools, 3 of which are open, 3 children's pools, and 4 water slides stretching out to the sea, this hotel is wonderful enough. But Letoonia offers you more than those. This is probably one of the rarest hotels in Fethiye which offers tremendous opportunities to their customers. VERY VERY NICE.
🛎️Now book your dream vacation at Club Hotel Letoonia Fethiye 🏖️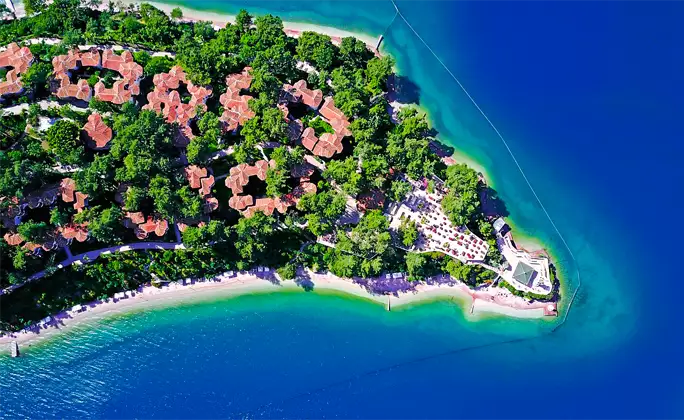 Bonus: Cheap Fethiye Hotels
These hotels are nice, but if you are wondering if there are cheaper Fethiye hotels even if they are half board, you can find the hotel you are looking for in our 10 Best Hotels in Fethiye article.
Turkey Fethiye Hotels Map
Here is the best all inclusive Fethiye hotel map for you. You can see their locations and make your vacation plans for 2023. As I mentioned above, Fethiye is the rising star of south west coast Turkey. 
As a result, staying in all-inclusive hotels offers you a reliable, corporate-guaranteed, a little smoother, more relaxed vacation. And even most of the time, when you calculate dinners and other expenses, staying in an all-inclusive hotel can be financially advantageous. If you are interested, you can also take a look at the following articles about Fethiye and reward yourself with a wonderful all-inclusive Turkey holiday in 2023.
Frequently Asking Questions About All Inclusive Fethiye Hotels
Here are a few top questions about all inclusive Fethiye hotels and Fethiye vacations. If you have more questions or any comments, meet with me in the comment section below!
You can also take a look at our 10 Best Hotels in Fethiye article before you decide.