Olympos Antalya is one of Turkey's most popular tourist attractions and Turkey's best bungalow hotels are in Olympos.
You can stay in a bungalow hotel in Olympos and have a peaceful holiday surrounded by nature. Olympos tree houses offer a peaceful, soothing, and pure air for travelers.
Due to its environment, Olympos Turkey is a favorite holiday destination for people with a bohemian lifestyle. You can also explore nearby attractions and historical places as well.
SEE OFFER 👙 Summer Vacation Essentials
If you want to have a holiday in Olympos Antalya, it is useful to pay attention to the religious holidays of Turkey. During religious holidays, Turks go on vacation and Olympos can be very crowded. In addition, hotel prices increase during the holidays. Olympos accommodation can be very easily possible except for holidays and public holidays.
If you want to have a holiday in Olympos Turkey, I recommend you to read the Olympos Antalya guide and Olympos nightlife.
If you wish, let's take a quick look at the best hotels in Olympos.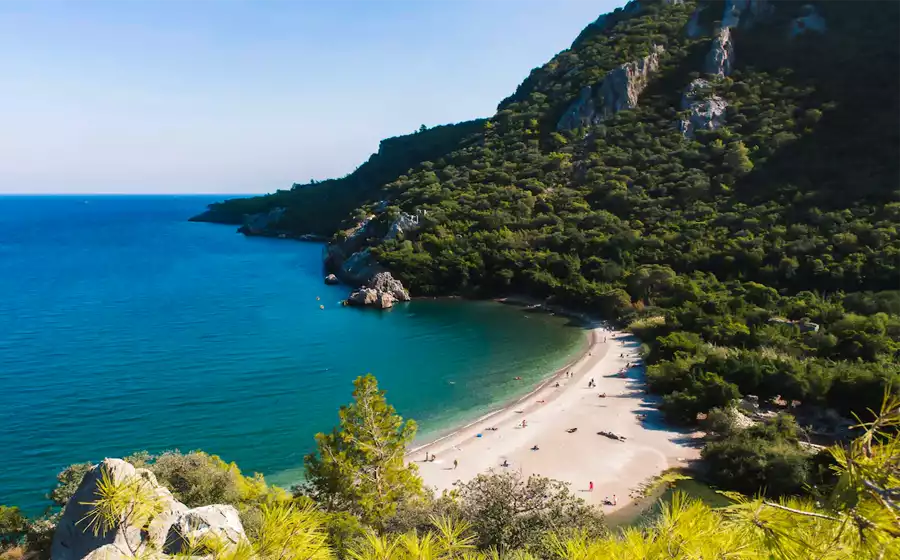 Table of Contents
Top 3 Bungalow Hotels in Olympos Antalya
I stayed in all of the hotels we recommended to you and I left satisfied. I hope you will be satisfied too. Of course, there are many more Antalya bungalows in this area but the most famous ones I will mention are.
Summer Packing Checklist 👉🏻 Beauty Essentials Items for Travel
Kadir's Tree House
Kadir's Tree House is the first bungalow hotel in Olympos Antalya and is very popular.
Kadir's Tree House hotel, which has 120 rooms, has no age limit for children, but there is no crib. Pets are not accepted.
The hotel has a paid airport shuttle service. If you wish, they will pick you up from Antalya airport and bring you to the hotel.
READ 👉🏻 Best Travel Wallets
Kadir's Tree House is within walking distance of the Olympos beach and the Bull Bar, one of the popular venues of Olympos nightlife, is located in the hotel's garden.
I recommend Kadir's treehouses for their location, popularity, nightlife, and access to the beach. This, one of the most famous bungalow Olympos, deserves the attention shown.
Click to see the best prices at Kadir's Tree House hotel.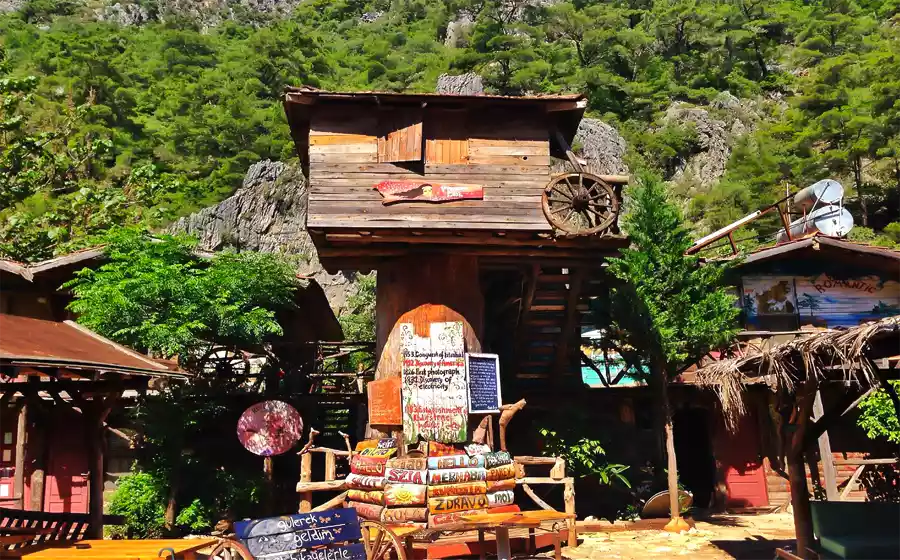 Bayram's Tree Houses
Bayram's Tree Houses are one of the closest hotels to Olympos Beach and the ancient city of Olympos. Many Antalya Olympos hotels do not have this opportunity and you have to walk a lot.
But do not worry, if you get a pair of barefoot shoes for travel, walking will be much more easier. So, you are lucky for the location if you stay in Bayram's Tree Houses.
There is an age limit of 18 for the hotel with 50 bungalow rooms and unfortunately, they do not accept pets.
The hotel, which has breakfast and dinner in the morning, also has an airport shuttle service if you wish.
Summer Holiday Packing Checklist 👉🏻 Products for Minimalist Carry on
There is a dedicated workspace and wifi service for remote workers. Bayram's Bungalows provides more comprehensive services if we compare it with other Olympos Turkey hotels.
Click to see the best prices at Bayram's Tree Houses hotel.
Olympos Orange Bungalow Hotel
Olympos Orange Hotel is another clean and beautiful hotel to stay in Olympos Antalya. Bayram is right next to this hotel. So, both locations are perfect.
The hotel, which has its own bar, is one of the liveliest hotels in Olympos.
READ 👉🏻 Antalya nightlife Turkey (Olympos Best Bars)
Breakfast and dinner are included in the morning and the hotel has an airport shuttle, wifi, and parking.
Olympos Orange Hotel is one of the rare hotels in Olympos that accepts families with children, but unfortunately, they do not accept pets.
Click to see the best prices at Olympos Orange Bungalow hotel.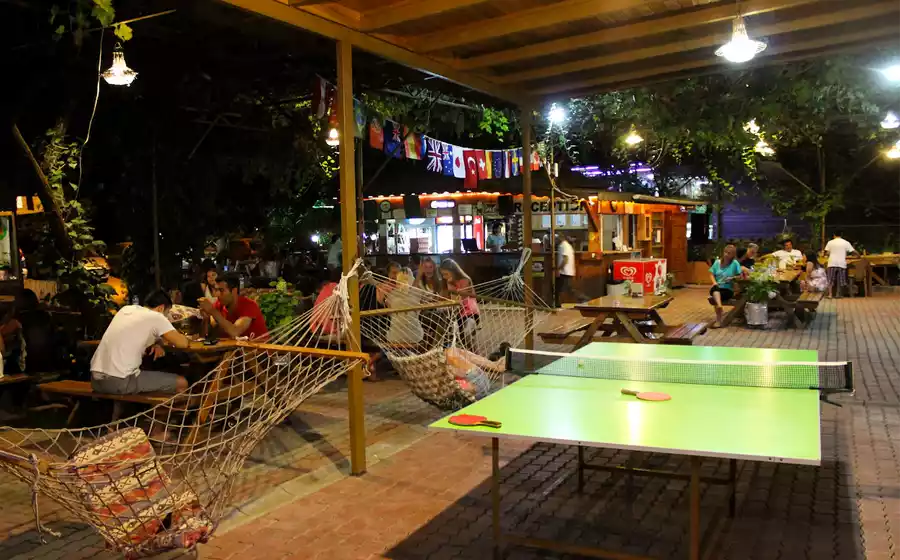 Olympos Antalya Hotels – Frequently Asked Questions
We tried to answer frequently asked questions about vacationing and hotels in Olympos Antalya. Turkey bungalows are generally divided into two versions. Some of them are old and devoid of technology, like those in Olympos, but they are suitable for an untouched experience in touch with nature. (By the way, most of them have air conditioning). Others, those that are relatively new and technological – which are unlikely to be found in Olympos Antalya – can provide you with a tiny house experience in nature. Which bungalow Turkey you choose, you will definitely have one of the most unique experiences in your life.
Are all hotels in Olympos bungalows?
No, not all hotels in Olympos are bungalows, but the reason why Olympos is preferred is to be in touch with nature. For this reason, bungalow rooms are preferred.
Which hotel is closest to Olympos beach?
The closest hotel to Olympos beach is the Oleander hotel, but our recommendation is to stay at Bayram's Tree House. Among our holiday suggestions, it is the closest hotel to the beach ticket offices.
How much are hotel fees in Olympos?
Olympos is more suitable than other holiday regions of Turkey. Room rates in Olympos Antalya vary. Prices are around 50-250 USD per night. You can get an idea about the prices here.
Is there a family hotel in Olympos?
Olympos hotels generally accept adults, but some hotels such as Kadir's Tree Houses and Bayram's Treehouse accept families with children. Kadirs family houses are very popular among parents.
How many days should I stay in Olympos Turkey?
3 day holiday in Olympos Turkey will be enough. If you are wondering what to do in Olympos, you can take a look. You can also join daily tours Olympos included.
Is Olympos Antalya worth seeing?
You can have a peaceful holiday intertwined with nature in Olympos Antalya. Also, Olympos beach and Olympos ancient city are very beautiful. You can do activities such as boat tours and rock climbing. It's worth giving Olympos a chance.
Antalya City Guide
Is Antalya good for shopping? (Antalya Shopping Outlet Guide)
Unique Things to do in Antalya (just in one day)
Koprulu Canyon National Park Things to do
Things to do in Adrasan Turkey
Explore Antalya Kas City Center (Ultimate Guide)
How to get Fethiye, Dalaman or Antalya to Kas?
Best Beaches in Antalya Region
Best Beaches of Antalya to Swim
Best Antalya Beaches with Picnic
Turkey Antalya Olympos Beach Guide
Best Beaches of Kas Antalya map
Ancient Sites Near Antalya Turkey
Xanthos Ancient City Antalya History
Perge Ancient City Antalya Reviews