Welcome to our comprehensive guide on Things To Do in Antalya Konyaalti, a gem of the Mediterranean, teeming with history, culture, and breathtaking natural beauty.
If you're a foreign tourist considering a visit to Turkey, Konyaalti, nestled in the vibrant city of Antalya, should unquestionably be on your itinerary.
In this post, we'll unravel the enchanting allure of Konyaalti and provide a list of must-see sights and must-do experiences that will ensure an unforgettable journey.
Whether you're a seasoned globetrotter or planning your first trip abroad, let us guide you through the vibrant streets, picturesque beaches, mouthwatering cuisine, and captivating history of Antalya Konyaalti, where every moment is a postcard waiting to be captured.
Discover Antalya Konyaalti: Turkey's Mediterranean Wonder
A fascinating blend of Antalya's sun-drenched beaches, bustling city life, and ancient history, the district of Konyaaltı attracts tourists from all over the world. Embracing the turquoise waters of the Mediterranean on one side and the impressive peaks of the Taurus Mountains on the other, Konyaaltı offers a fascinating natural landscape.
As a visitor, your days in Konyaaltı can start with a refreshing swim in the clear sea in the morning, followed by a light breakfast at one of the many local cafes that serve delicious Turkish breakfasts.
The area is particularly famous for its long pebble beach named after the area. Konyaaltı Beach is one of the most loved spots in Antalya, perfect for sunbathing, doing water sports or just enjoying the serene beauty of the Mediterranean.
Besides its natural charm, Konyaaltı is also home to a number of cultural attractions. Antalya Aquarium, one of the largest in the world, allows you to spend a wonderful family day.
Meanwhile, just a short journey away, the Antalya Museum offers an in-depth exploration of the region's rich history, with an extensive collection of artifacts from the many civilizations that once graced this land.
As you explore Konyaaltı even deeper, you will find countless restaurants and eateries where you can taste authentic Turkish cuisine, from meat kebabs to sweet, syrupy baklava. As the sun sets, the area comes alive with a dynamic nightlife, offering everything from quiet beach bars to high-energy nightclubs.
Let's go to the depths of Konyaaltı together.
Things to do in Antalya Konyaalti
Let's take a look at the things to do in Antalya, Konyaaltı. Here you can find everything you can do in Konyaaltı, from the beach to the museum, to the lake.
Konyaalti Beach
If you are coming to Antalya Konyaaltı, the first place you should go is of course Konyaaltı Beach.
The 7 KM long Konyaaltı beach combines with the magnificent Taurus Mountains view. The beach consists of small pebbles, the sea is quite clear and a little deep.
Although Konyaaltı beach is as flat as a sheet, especially in the early hours of the morning, it is quite clean and beautiful throughout the day and even at night.
There are many private beaches along Konyaaltı Beach. You can rent sun loungers and umbrellas on these beaches. Beach entrance prices vary between 150 – 500 TL, including sun loungers and umbrellas. It would be good to ask the price before choosing a private beach.
In addition, you can swim in the sea for free by laying your towel at every point of the beach.
Antalya Konyaaltı Beach is a very popular destination. For this reason, it can be a bit crowded afternoon. In addition, since the sun will be intense at noon, it may be better to go to the beach early in the morning and enjoy it.
In the evening, you can take your drink and have fun on the beach and swim in the sea.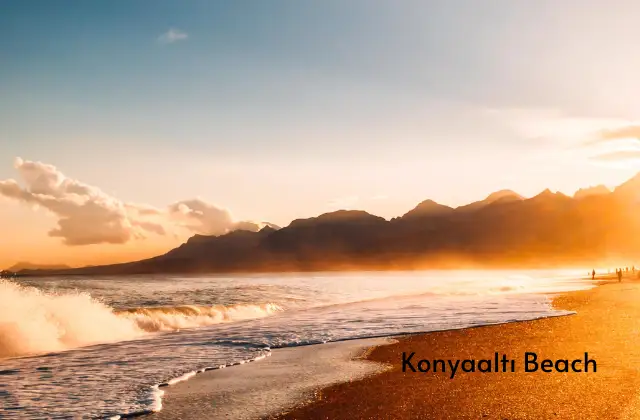 Beach park
Beachpark is the area at the entrance of Konyaaltı Beach. There are many cafes, restaurants, and beaches here. You can sit in the venues to eat and drink, or you can enjoy the day on the grass.
Since it is connected to Konyaaltı Beach, you can rent sunbeds from private beaches. Of course, this is not mandatory. You can swim at the beach by your own means. In addition, since the park is a wooded area, many people prefer to have fun under the trees after swimming in the sea.
There are beautiful cafes in Beach park. Here you can relax by drinking coffee, beer, etc.
The slope with stairs at the entrance of the beach park is perfect for those who love the view. From here, you can see the entire Konyaaltı beach from a bird's eye view. It is also very nice to watch the sunset from here.
Finally, Konyaaltı open-air theater is located within the Beach park. Here he constantly organizes concerts and theatrical performances. You can follow and join them.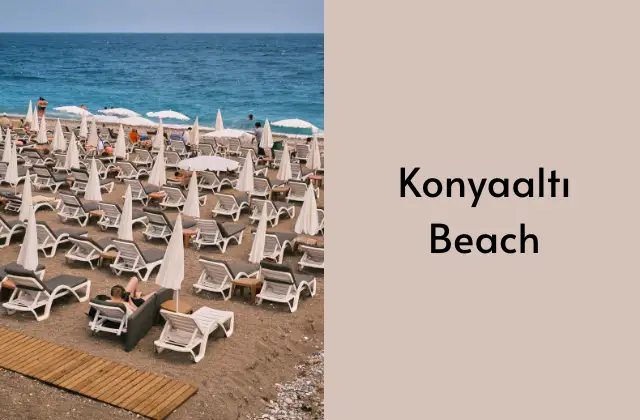 Antalya Aquarium
Antalya Aquarium, located right across the beach park, is the world's largest tunnel aquarium. It includes more than 40 thematic aquariums.
If you have come to Antalya Konyaaltı with your family on holiday, you should definitely take your children here.
You will witness many kinds of sea creatures while walking in the aquarium tunnels.
Antalya Aquarium is open 7 days a week and check-in hours are between 09:15 – 23:00.
You can buy Antalya Aquarium entrance tickets from the box office at the entrance. Antalya Aquarium entrance price is 950 TL for foreign tourists.
But you have a chance to find cheaper tickets online. Before you go, it will be useful to check the ticket prices here.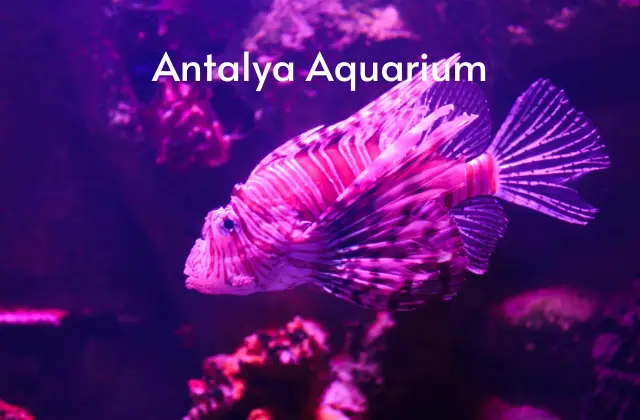 Antalya Museum
Antalya Archaeological Museum is a museum that you should definitely see in Konyaaltı after spending 2 hours.
There are many statues, king tombs, coins, and many other historical artifacts from the ancient city of Perge and its surroundings.
The Antalya museum entrance fee is 430 TL, but if you have a Turkey museum pass, you can enter for free.
Antalya Museum's working hours are between 08:30 and 20:00.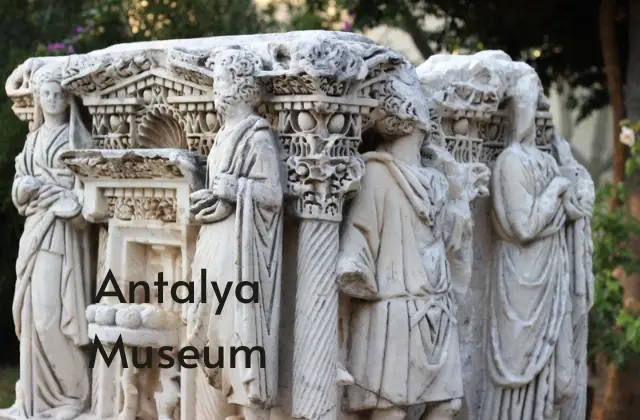 Sarisu Cable Car (Tünektepe)
Tünektepe cable car, located at the end of Konyaaltı beach, is a special place where you can see Konyaaltı and the whole of Antalya center.
The entrance is made in Sarısu barbecue and beach area. You can climb the mountain with a cable car and enjoy this beautiful view.
There is a cafe and restaurant at the point where you take the cable car. You can eat or drink something here. From a height of 605 meters, you can see Konyaaltı, Lara, and Kaleici from a bird's eye view and enjoy the Taurus Mountains.
Tünektepe cable car working hours are between 10:00 – 18:00 on weekdays and between 09:00 – 18:00 on weekends.
Tünektepe cable car 2023 entrance prices are free for 0-6 years old, 30 TL for 7-16 years old, and 50 TL per person for 17 years old and above.
You can also check out our article on Sarısu beach-picnic area.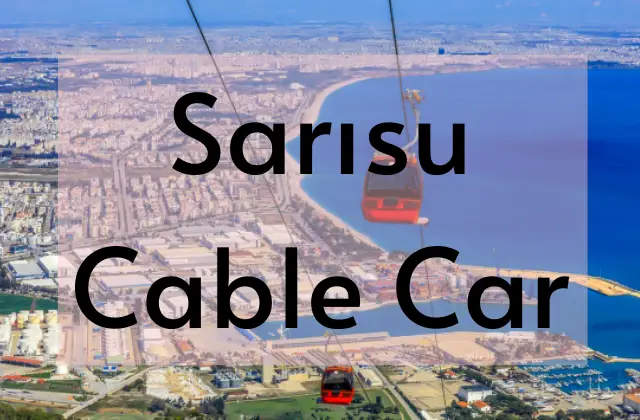 Antalya Amusement Park
Antalya's largest amusement park is located in Konyaaltı. Also, Turkey's largest Ferris wheel is located here.
Inside, there are many different toys, toys that you can have a good time with your family, such as a horror tunnel.
The Lunapark is opposite 5M Migros, one of Antalya's favorite shopping malls. You can also read our Antalya shopping article.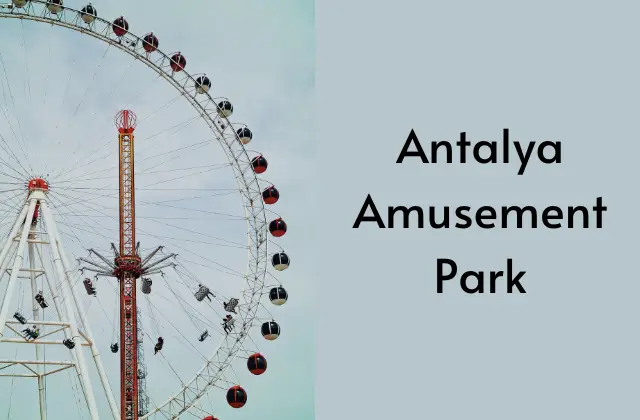 Doyran Lake
Doyran Lake is a very unknown place only 20 minutes away from Konyaaltı Beach.
You can have a nice time by throwing your chairs at Doyran, a small lake among pine trees.
Market etc around Doyran Lake. It will be good to take food and drinks with you as there is nothing available.
Doyran Lake is a lake where you can spend a quiet and peaceful time in Konyaaltı and is one of the alternative places that are not very well known.
You can take a look at the map for transportation from the Konyaaltı coast to Doyran Lake.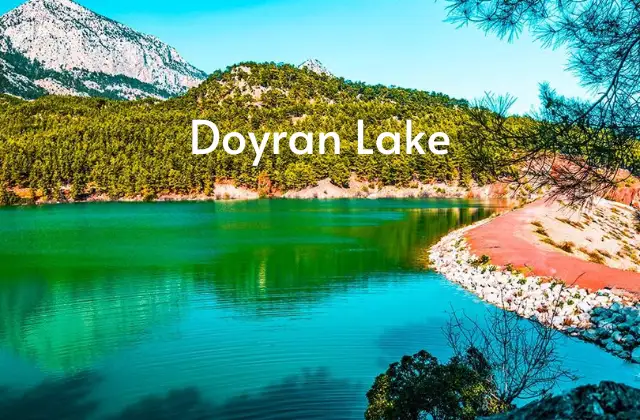 Kapuz Canyon
Kapuz Canyon is a very popular region lately. You can swim and have a picnic at the entrance of Kapuz Canyon.
The Kapuz Canyon road, which is 30 minutes away from the Konyaaltı beach, is, unfortunately, a bit bad.
After going by car to the Kapuz Canyon entrance, you need to walk for about 10 minutes. You can walk in running water and cool off.
At the end of the road, you will reach Kapuz Canyon. A beautiful view and ice-cold water await you here. If you're considering swimming, I suggest you don't go too far due to the current and depth of the river.
Unfortunately, the place where you can swim in Kapuz Canyon is a bit small and you may not enjoy it as it will be quite crowded on weekends.
Kapuz Canyon is free. I suggest you take water and food with you as there is no market around.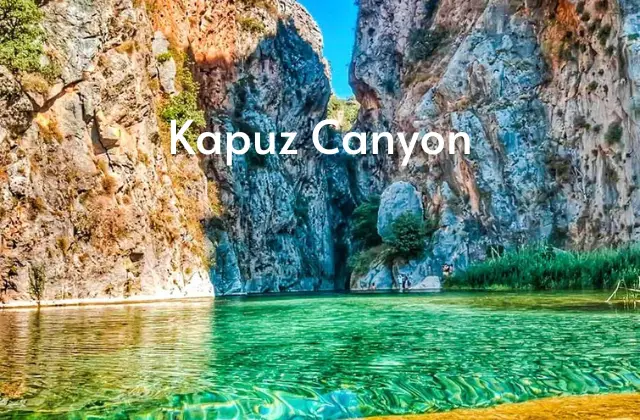 Things to do near Konyaalti
There are many activities you can do around Konyaaltı. Let's list the most popular of them for you.
Antalya Old Town (Kaleiçi)
Antalya Old Town is the first settlement of Antalya. It is located between the walls from the Roman period and there are old houses inside.
Read more about What to do in Antalya Old Town?
Today, most of these houses are hotels and restaurants. There are many bars and clubs. After walking around the mystical streets of Kaleici in the evening, you can drink cold beer at the bars to cool off.
Antalya's nightlife also flows in the Old Town. You can dance by going to nightclubs.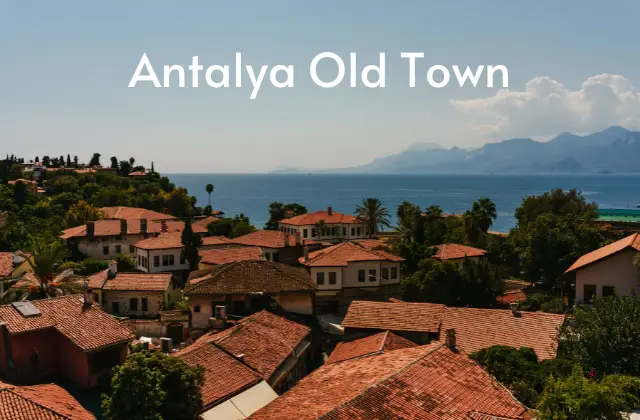 Lara beaches
Lara beaches are another place where you can swim and spend time with pleasure with its clean sea and sandy beach close to Konyaaltı.
There are many quality private beaches in Lara Beach. You can swim here during the day and dance after dinner in the evening.
If you are planning to stay in Konyaaltı for a while, you can choose Lara beaches for a day's swimming.
KL08 buses departing from Konyaaltı will take you to Lara beaches.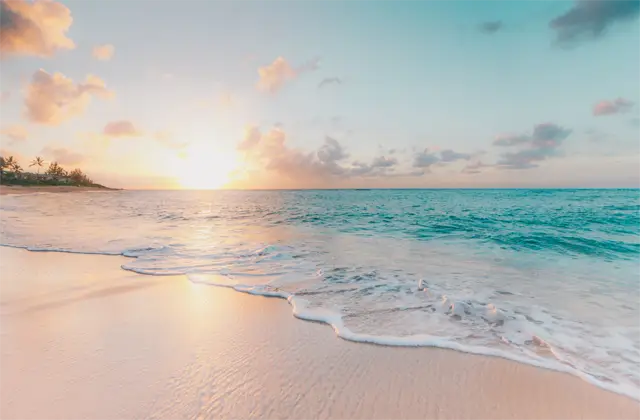 Kemer
Kemer is an outstanding holiday destination about 30 minutes away from Konyaaltı. Phaselis Ancient City hosts many beautiful and quality beaches as well as special travel areas such as Goynuk Canyon. Also, Antalya's biggest nightclubs are located in this region.
You can have more information about Kemer by reading our Kemer Turkey article.
Perge Ancient City
The ancient city of Perge is an ancient city, approximately 45 minutes away from Koynaaltı, where you will be fascinated with artifacts from the Lycian and Roman periods.
The ancient city, which is close to the airport, is really worth seeing. You can get more information by reading our article on the Perge ancient city.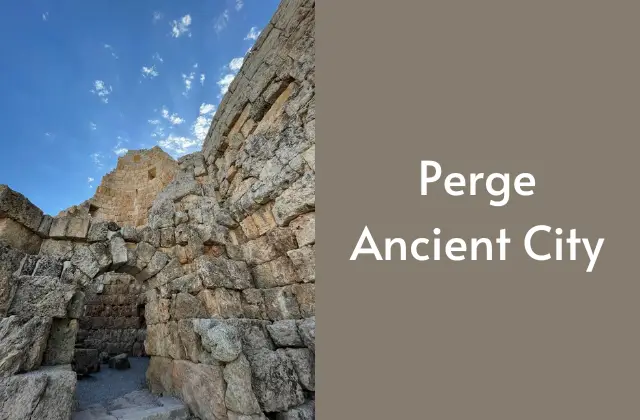 Side
Apart from being one of the favorite holiday regions of Antalya, Side has a very special place with the ancient city of Side.
The ancient city of Side stands out with its theatre, Apollon, and Artemis temples. For more information about Side, you can check our Side Antalya article.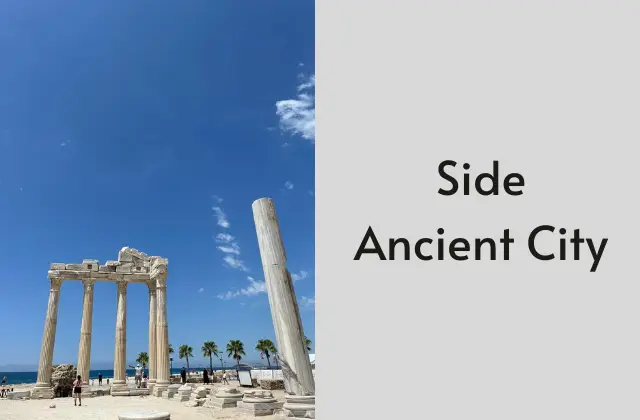 Adrasan
Adrasan is a region intertwined with nature, about 1 hour away from Antalya. You should definitely join Suluada boat tours by going to Adrasan.
You can make your Antalya holiday more meaningful by dedicating a day to this tour. You can learn all the details by browsing our article on Adrasan Suluada.
Olympos
Olympos Antalya, 1 hour away from Konyaaltı, is a place where you can be in touch with nature.
Spending a day in the ancient city of Olympos and its beach will be quite enjoyable. For details, you can take a look at our Olympos Turkey article.
Konyaalti restaurants
The most popular restaurants in Konyaaltı where you can eat well are as follows: 7 Mehmet, Lara Fish, Kaleici Meyhanesi, Başoğlu Balık, Food in Box, Tiritcizade.
If you are seeking gourmet and boheme spots, here are my favorites: Route Burger and Pizza Argentina. Best tastes in Konyaalti Antalya. Worth to check.
Of course, there are many alternative restaurants to these restaurants. You can find restaurants suitable for all budgets everywhere in Konyaaltı.
Konyaalti bars and taverns
If you want to have a drink and have a good time in Konyaaltı, you can choose the following places: Kabuk, Barrels Pub, Public, Kaleici Meyhanesi, Cubbana Pub, Turkay Roof, Pistachio Pub, Irish Pub.
Apart from these bars and taverns, you can also find alcohol in many cafes. Beaches on the beach offer live music until night hours.
Konyaaltı Hotels
Since Konyaaltı is a popular holiday region, there are many hotel options and occupancy rates are close to 100% in summer.
We have listed the most popular and beautiful hotels in Konyaaltı for you. Note that it is important to book these hotels early.
👉 Hotel Su & Aqualand
It is one of the most popular hotels located right at the entrance of the beach park. It is the best of Konyaaltı with its facilities.
👉 Porto Bello
Porto Bello is another beautiful 5-star Konyaaltı hotel. It is located right in the middle of Konyaaltı. It is a very popular and popular hotel with 4.5 points.
⭐ You can now book your place in Porto Bello.
👉 Crowne Plaza
Located in the heart of Konyaaltı, this hotel will offer you a nice holiday with all its facilities. With early reservations, it is possible to reserve a place at affordable prices.
⭐ Enjoy your holiday at an affordable price with Crowne Plaza.
Konyaalti Shopping
The most popular address for shopping in Konyaaltı is 5M Migros, but there are many shopping centers around. We recommend you take a look at our Antalya shopping article.
Konyaalti Antalya FAQ
Let's answer some questions about Konyaalti Antalya Turkey that may be useful to you.
Where is Konyaaltı located in Antalya?
Konyaaltı is a district and a beach located on the western side of Antalya city center along the Mediterranean coast of Turkey.
How can I get to Konyaaltı Beach?
Konyaaltı Beach is easily accessible from the city center of Antalya by public transportation, taxi, or walking. Various bus lines and tramways connect the beach to different parts of the city.
Is there an entrance fee to Konyaaltı Beach?
No, Konyaaltı Beach is a public beach, and there's no entrance fee required to access it. However, some services like sunbeds or umbrellas might be chargeable.
What amenities are available at Konyaaltı Beach?
Konyaaltı Beach is well-equipped with facilities including sunbeds, umbrellas, cafes, restaurants, restrooms, and showers. There's also a long promenade lined with palm trees where visitors can stroll, dine, or shop.
Are there water sports activities at Konyaaltı?
Yes, you can find various water sports like jet skiing, parasailing, and paddleboarding at Konyaaltı Beach.
What's the best time to visit Konyaaltı?
The ideal time to visit is during the spring (April to June) and autumn (September to November) months when the weather is pleasant. However, for beachgoers, the summer months (July-August) offer the warmest sea temperatures.
Are there any historical attractions near Konyaaltı?
While Konyaaltı is primarily known for its beach, the Antalya Museum, which displays artifacts from the region's rich history, is a short drive away.
Can I find accommodations near Konyaaltı Beach?
Yes, there are numerous hotels, resorts, and guesthouses located close to Konyaaltı Beach catering to different budgets.
Is Konyaaltı Beach suitable for families?
Absolutely. The beach is family-friendly with calm waters and various facilities that cater to both adults and children.
Are pets allowed on the beach?
While there are many areas on the beach where pets might be allowed, it's always a good idea to check specific sections for any signs or rules regarding pets. Some areas might have restrictions.