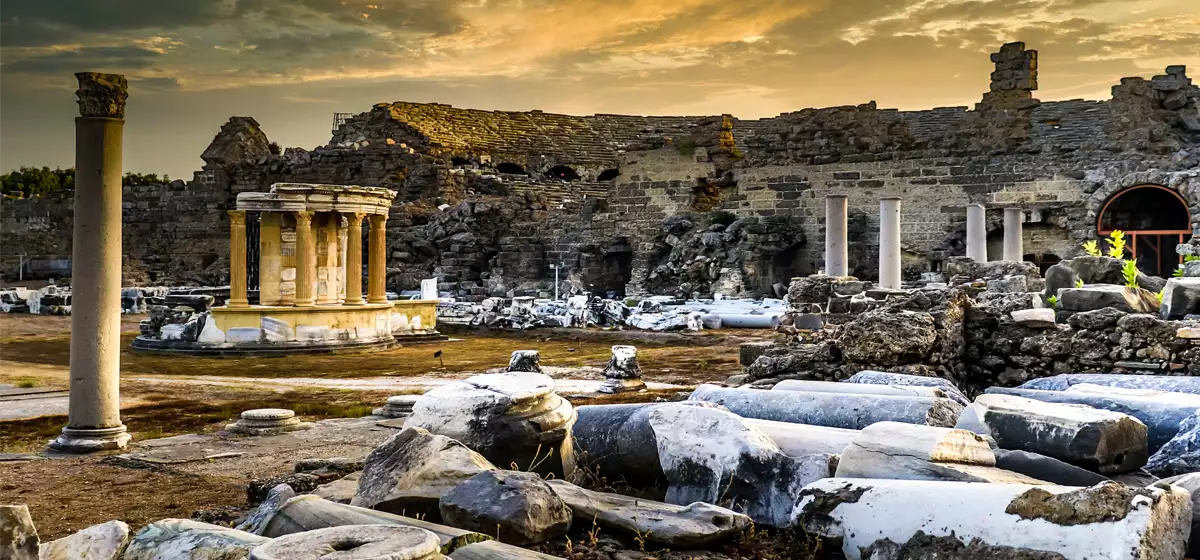 Turkey is a beautiful country that is becoming more and more popular each year. Antalya city is one of the most joyful hot spots with its amazing towns! In 2022, Side Turkey will be a top tourist destination, and we want to make sure you are prepared!
In this Side Turkey guide blog post, we will provide a complete guide to Side Turkey travel in 2022. We will cover everything from the best time of year to visit Side Antalya to where to stay and what to do while you are there!
Moreover, in this complete Side Turkey guide, you will be able to see all the best things to do in Side Antalya which includes free ones! Also, you can enjoy the best restaurants in Side Turkey.
What Side is Antalya like? (and why you should visit Side?)
Side is a lovely town in the Antalya Province of Turkey. It is located on the Mediterranean Sea and Side, Turkey population is about 18,000 people. You should visit Side Antalya because it is one of the nicest towns on the Mediterranean coast of Turkey. Also, Side is known for its beautiful beaches, archaeological ruins, and friendly locals!
When is the best time to visit Side Turkey?
The best time to visit Side Turkey is from May to the end of Autumn. This is the summer season when everyone goes to Turkey for the best vacation ever. But like in Side town there are some Turkey country facts like every time can be the best time to visit. Apart from the season, Side almost has nice weather.
Side Turkey Weather
Side weather is quite sunny and hot in general. If you go to Side Turkey let's say in winter, you can still swim because the climate is always smooth there. You can prefer indoor activities if it's raining instead of outdoor attractions. You'll be able to find many things to do there.
How to get Side Turkey from Antalya?
The best way to get to Side Turkey from Antalya is by bus. Buses leave regularly from the Antalya Otogar (Antalya bus station) and the journey takes about an hour.
What airport do you fly to for Side Turkey?
You will use Antalya Airport arrivals in order to go to Side Turkey. Then you should take a bus or Antalya airport taxi, rent a car or use private airport transfer services.
How far is Side from Antalya airport? (Antalya to Side Transfer)
It is far about 1 hour from Antalya to Side distance.
How long is the transfer from Antalya to Side?
If you go to Side from Antalya city center or Konyaalti region, it might take more than one hour!
How many days in Side Turkey is enough?
This really depends on what you want to do while you are on Side Turkey. If you just want to relax on the beach and soak up the sun, then a few days is probably enough. However, if you want to explore Side's archaeological ruins, experience the exciting watersports, and visit some of the nearby towns, then we recommend staying for at least a week.
If you want to go shopping in Antalya, we have good news for you below! You may need more days to extend your vacation. Before talking about things to do in Side Turkey, we added here some useful posts you might be interested in deeply. You can check our Things to do in Antalya post in order to be more organized and make your vacation plans in detail.
Things to do in Side Antalya
Side is the best place in Antalya Province, hands down. The archaeological ruins are fascinating, the beaches are sandy and clean. You can find many things to do in Manavgat and Side Turkey. 
You can get more info from Side, Turkey tourist information when you get there but now you can explore Side Antalya with us. There are plenty of things to do in Side Turkey! Here are some of our favorites:
Side, Turkey Roman Ruins
The Side Ruins are a must-see if you are visiting Side Turkey. They are archaeological site that includes the ruins of a Roman theater (Side amphitheater) or Greek Amphitheater, agora, baths, Vespasianus Aniti and temples (Tyche Tapinagi).
Side Ruins historical short info
The Side Ruins are located in the town of Side, Antalya Province, Turkey. They are archaeological site which has many ruins like Hellenistic Theater Turkey. The Side Ruins and museum are a must-see if you are visiting Side Turkey!
Side Ancient City
You should see the Side theatre which is inside the Side Ancient City. Side Ancient City has a beautiful view from the top and important spots for photography lovers.
Visit Side Museum (Side Archaeological Museum)
This museum is not as huge as the Antalya Archaeological Museum but it's worth seeing with all those historical and magical precious pieces.
How Much Side Ancient City Entrance Fee ?
If you have a museum pass, admission is completely free. If you do not have a museum pass, Side Museum 40 TL, Antique Theater 70 TL with the increase made in June 2022. You can visit the temple of Apollo and the rest of the city free of charge.
Side Ancient City Opening Hours?
Museum hours vary according to the season. Working hours are 08:30-19:30 between April 15 and October 2, and 08:30-17:30 between October 03 and April 14.
Watersports in Side
Side is a great place for watersports! There are plenty of opportunities to go swimming, snorkeling, sailing, rafting and more. Side also has several diving centers where you can get certified or take a beginner diving lesson. Also, there is a scuba diving underwater museum in Side which we added to our Side Turkey map. Side Underwater Museum is the first underwater museum in Turkey.
Moreover, Side Antalya beaches have some water sports attractions too. You can view Side excursions from our TripAdvisor map below.
Free Things to do in Side, Turkey
Walking around the nearby Side old town is the most popular free thing to do in Side Antalya. You can see the famous Aspendos Bridge, and walk nearby Titreyengol (Lake) for cozy moments. Also, public beaches are free too. There are more things but let's highlight an amazing place now.
Must visit: Temple of Apollo Antalya
Apollon Temple has no admission fee. That means the entrance is free. You must visit there and see the Temple of Apollo architecture. Side is one of the best towns Antalya because it has various ruins from several periods. 
Well, you should see a stunning view from Apollon Temple Side. This place is one of the most popular instagrammable and historical spots in Antalya province.
Boat Trips From Side
Take the daily or hourly boat trips from Side. You will be able to find many of them all day long which go to plenty of places. You may find a place at the last minute but if you book before, it will be better for you and your plans. Otherwise, you may not find a place and then get disappointed.
What to do in Side? (Unique Things)
The traditional baths are very famous all around Turkey. Turkish bath Side Turkey offers you historical vibes with the healer's hands. Get a good rest because you'll need energy and a refreshed feel for your next trip. You can take a day trip either inside the town or other nearby towns.
Read more about traditional Turkish hammams.
Day Trips From Side Turkey
Side is a great base for exploring the rest of Antalya Province. We recommend taking a day trip to the nearby Side to Alanya Guide or Manavgat.
If you have time there are a few Side Pamukkale tours that you may join. You can go on your own too for a more flexible exploration. If you go from Side to Pamukkale, we prepared all the essentials that you must know about Hierapolis Pamukkale that including the Pamukkale entrance fee 2022, too.
One of the famous Side trips in Cappadocia, Turkey. If you find your Cappadocia tour from Side we've got a present for you. Here is your Cappadocia itinerary and Cappadocia best restaurants guides.
If you don't want to go far away, let's close a bit to the Side of Antalya again.
What to do in Manavgat
Manavgat is another resort town in Antalya. Mostly Manavgat and Side are mentioned together because they are almost nested. But still, both have different things to do. So we highly recommend that you visit Manavgat, too. 
Aquajoy Su Parki (Waterpark) is a nice attraction for families with kids. You can visit Seleukia (Lybre) and Selge ancient cities.
Green Canyon Turkey Boat trips are amazing for nature lovers. If you want to learn the cultural sides of towns you can ask for help from Antalya tour guides.
Manavgat Waterfall Facts
Manavgat Waterfall is definitely one of the best waterfalls in Turkey. If you are wondering about how to get to Manavgat waterfall it is easy to go there by car and the road takes about fifteen minutes.
A Museum pass is not available but the Manavgat Waterfall entrance fee is less than 20 Turkish liras. 
You can't swim at Manavgat Waterfall but there are stunning beaches in Side Turkey. Let's take a look closer to Side Beaches.
Best Beaches Turkey Side
One of the nicest coastal towns, Side is known for its beautiful sandy beaches.
The best-known Side beaches and bays like this. Side's beaches are beautiful and sandy, with plenty of sun loungers and parasols. Many of them are available for both families and couples. Discover the nicest beaches in Side Turkey now, leaving the enjoyment to your perfect vacation.
Best beaches in Side
Enjoying the clean and sandy beaches sounds dreamy. Here your all wishes come true with Antalya Side beaches. 
Side public beach
Titreyengol Beach
Sorgun public beach
Kumkoy beach
Kleopatra Beach (Cleopatra Side, Turkey) is actually in Alanya Turkey but you can go there from Side for sure. There is a Kleopatra Side Hotel in Side which has a beautiful beach too.
Either for love holidays and romantic moments or family times on the beach, you will be able to spend a smooth and cheerful time with your beloved ones.
Side Turkey things to do are not finished yet! Another attraction is shopping in Side, Turkey.
Shopping in Side Antalya
Side Turkey is a great place to do some shopping, particularly for souvenirs! Here are some of the best places to shop on Side:
The Side Bazaar: The Side Bazaar is a covered market with stalls selling everything from souvenirs to clothing.
Antalya Night Market: The Antalya Night Market is open every night and sells fancy souvenirs.
Is Side Turkey Good for shopping?
If you are looking for something like significant brands, you may not find so many options in Side Turkey. Maybe Nova Shopping Mall or Mall of Side can help you.
Do you have any spare time for shopping in Antalya? Because if you have, we will offer you some attractive options.
For cheap shopping in Antalya center, explore that guide for the best shopping malls in Antalya.
Shopping centers and souvenir decisions make people hungry. Let's take a look at the most popular places to eat in Side Antalya.
Best restaurants in Side
You should try Ocakbaşı restaurant Side Turkey if you wanna try more traditional cuisine. Here are some famous restaurants in Side:
Conny's restaurant Side Turkey
Gül restaurant, Side
Orfoz restaurant Side
Q Beach Restaurant & Lounge
Antique Restaurant Side
In addition, you may find world cuisine there. There are plenty of Indian restaurants in Side Turkey, too. You can see more Side, Turkey restaurants on our Side Turkey map below.
You need relaxation and chilling on your vacation. You deserve that better than any time. Here you go some highlighted spots for Side Turkey things to do at night.
Side Nightlife
Antalya nightlife is one of the most alive and colorful attractions on the Mediterranean coast. But Side town has nothing short of Antalya center.  Here are some of the best bars in Side, Turkey.
Karma Side
Kiss Bar Side
The Royal Castle Pub
Hello Bar & Pub
You can also check the nearby beach clubs and hotel bars. If you want to go somewhere else you can enjoy the Lara beach nightlife or zippy Alanya nightlife too.
Where to stay in Side Turkey? (Best Hotels in Side, Turkey)
Everybody can find a place in Side, Turkey hotels for their budget or needs. There are plenty of accommodation options in Side Turkey, from hotels to apartments and even camping! Here are some suggestions for your needs.
Side Turkey Hotels on the Beach
Yeah, most of the Side hotels on the beach or have a private beach that is in walking distance in general.
You should choose 5 star hotels in Side, Turkey all inclusive because this way you will prevent unexpected payments.
Instead of Side hotels all inclusive you can stay in boutique hotels too. It's up to you. Side has various offers for anyone. If you are traveling with your family, you can choose a Side Turkey hotel with waterpark. Then you can spend more quality time at the hotel together or separately.
Our Side Trip Tours
Antalya Side Turkey region mostly has all-inclusive holiday resorts. One of the best Side beach hotels in Antalya is LaBranda. 
We experienced La Branda Labranda Excelsior Side once and it was a very nice place with a private beach within walking distance. The room was very clean. The food wasn't perfect but it was OK. The pools and common places are very clean and cozy. Those are from my Side Turkey traveler reviews.
What is the best Side hotels?
There are plenty of great Side hotels to choose from, but let's highlight some of them:
Serenity Blue Resort and Spa. The Serenity Blue Resort and Spa is a five-star hotel that offers stunning views of the town.
The best All inclusive holiday resorts are Side Crown Serenity Hotel, and Side Rixos Premium Hotel.
Best Side hotels for couples are Side Pudra Boutique Hotel, and Side Royal Alhambra Palace.
Best Side hotels for families are Side Clubhotel Sera, and Side Titanic Beach Lara.
So there you have it, our complete guide to Side Turkey travel in 2022 but don't forget this is just a basic guide for Side Turkey.
Side is a beautiful town with friendly locals, stunning beaches and plenty of things to do! We hope you enjoy your time in Side Turkey!
FAQ About Side Turkey
If you are planning to visit Side Turkey, this guide and frequently asking questions about Side Turkey will be helpful for you.
Which resort in Turkey has the shortest transfer time?
Check out Side airport transfers.
How long does it take to transfer to Side Turkey?
Where is the best place for rafting in Side?
The best place for rafting in Side is the Koprulu Canyon National Park. Koprulu Canyon is about one hour from the center of Side.
Is there any bus from Antalya to Side?
Yes there are Antalya to Manavgat buses. Either you can take them from the bus station, airport or some special bus stops which are on the main road. (One of them is very close to the Mall of Antalya shopping mall.)
You can learn more info about Antalya to Side transfer time via Antalya Bus Terminal or Antalya Airport contact.
What are the beaches like in Side Turkey?
The beaches in Side Antalya are mostly sandy.
Which beach is the best in Turkey?
What's the best beach in Antalya?
Well, Kaputas Beach is one of the most popular ones. But you can read the post linked above, then you can decide on your own.
Are beaches in Side sandy?
Yes. Generally, Side Antalya town has sandy beaches.
Is Side Turkey worth visiting?
You should give it a try on your next vacation for its amazing ruins and stunning beaches.
What is Side in Turkey known for?
Side Turkey is known for its historical landmarks, Apollon Temple, 5 stars hotels, sandy beaches, watersports and more.
Why do people come to Turkey?
People come to Turkey for its ancient heritage, traditional cuisine, turquoise coasts, etc.
Which is better, Antalya or Side?
Does Side have good nightlife?
Yes, during the season, you'll be satisfied.
Is Side Turkey lively?
Yeap. Side Turkey never sleeps during the season.
Which place is best for nightlife?
Antalya places are the best place for nightlife in general. Kemer, Side and Alanya towns are very colorful.
What is the beach like in Side Turkey?
Now you can get your guide Side Turkey from TripAdvisor which includes things to do in Side Turkey.
Side Antalya Map
Also, you can reach Side map on google from here.
Last update date, 27 June, 2022, 09:16