Ready to explore all the best restaurants in Cappadocia? In this tiny Cappadocia food guide, we would like to share with you all tips about places to eat in Cappadocia. You can discover all the places and foods to eat, so you can try which are the most you've liked. What to eat in Cappadocia? Here are the best restaurants in Cappadocia for all travelers!
Restaurants in Cappadocia, Turkey
Restaurants in Cappadocia, Turkey are very varied and spreaded to every point of the town. We picked the best restaurants in Cappadocia in our TripAdvisor map. You can find it at the end of this post. There are so many things to eat in Cappadocia which are waiting for you to try!
What is Cappadocia famous for food? Let's see does Cappadocia have good food. Cappadocia is famous for food besides amazing hot air balloons, fair chimneys and cave hotels! If you are wondering about where to eat in Cappadocia, we will tell you the nicest places for your next trip to Cappadocia.
Food to eat in Cappadocia for Gourmets!
Pumpkin Goreme Restaurant and Art Gallery totally for you. This incredible restaurant has amazing food options but it also has good rates and reviews for a long while. It is not just a food place, it is also an art gallery. So, enjoy the best of both worlds!
What is Cappadocia famous food?
Well, there are so many traditional foods belonging to the Cappadocia district but we will mention the famous ones. If you are looking for the best pottery kebab Cappadocia, first of all you should know some important information. Pottery kebab Cappadocia, "Testi kebab Cappadocia" or "Testi kebab Cappadocia" are the same thing. So if you want to eat various foods in Cappadocia, be aware of that. Anyways, every pottery kebab experience is different at the end of the day, huh?
If you are asking what is traditional Turkish food? We can answer that question with pottery kebabs! There are also some testi kebab websites in order to make it on your own or other things including Cappadocia food recipes.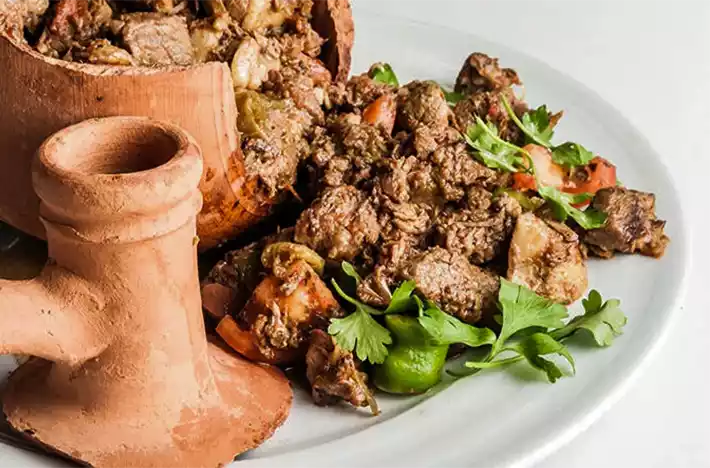 Seki Restaurant Cappadocia
This atmospheric place is totally worth seeing! Seki restaurant Cappadocia is a very famous place to eat which is located in Uchisar, Cappadocia. It is open from 7 a.m. to 11 p.m. Seki Restaurant Cappadocia has a large menu from international cuisine to traditional Turkish cuisine. Add it to your bucket list.
More Cappadocia Restaurants
Old Cappadocia Cafe & Restaurant offers you "pide" as another traditional food in Turkey. Also, Cappadocian Cuisine Restaurant offers you one of the best foods in town. Also, Millocal restaurant website offers you a reservation option, too. It is one of the good places with a rich menu.
Maybe not fancy as above but Kadıneli restaurant has nice dishes too! The old Greek restaurant is a place to eat wonderful meals but also an excellent place to stay. Try an Old Greek restaurant for tasty cuisine. The Turkish Ravioli Restaurant is located in Goreme, Cappadocia which has good reviews on Tripadvisor too.
Bozacinin yeri has a famous and traditional drink which is "boza". If you want to try this drink in a historical atmosphere you can give it a try but check the reviews and comments before you get there.
Chinese restaurant goreme is one of the different Cappadocia restaurants.
Cappadocia restaurant menus are more or less the same. Here are some nice and cozy places above. So, you can make your own food map for Cappadocia.
Cozy, Romantic and Fresh: Cave Restaurants Cappadocia
Try Cappadocia Cave Restaurant for both romantic and local experience at the same time. Either enjoy your breakfast here or explore traditional Turkish kebabs.
Here is another cave restaurant option for you! Topdeck Cave Restaurant is located in Goreme. You can explore local cuisine products from meals to appetizers there. Very fresh, clean, and cozy place! Highly recommended.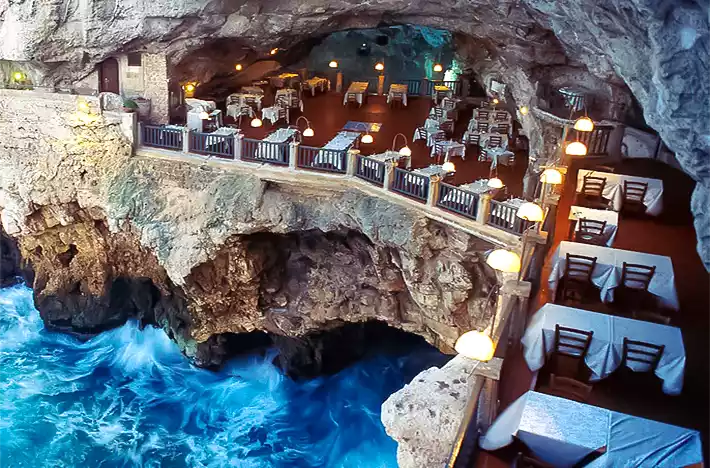 Best cafés in cappadocia
You can have a coffee from Sakli kahve Cappadocia, King's Coffee shop, Hopper Coffee House, Kiyi cafe and more in Cappadocia. Discover the best coffee in the town with landscape and inspiration. Good luck!
Cappadocia Street Food
Cappadocia street foods are very famous, especially during the hot air balloon festival time. Apart from the hot air balloon festival, you can taste street foods in Cappadocia too.
Also there is another festival in Cappadocia which is not famous as hot air ballooning which is "Avanos Street Food Festival". But this festival is waiting for your visit.
Whether street food or not, if you are asking about what are the 3 most popular foods in Turkey? We definitely tell you about this trio: Testi kebab, diced lamb dish and meatballs.
Best Restaurants in Cappadocia With a View
If you are visiting Cappadocia, you totally deserve to eat or drink in a rooftop place. That's why we collect the cozy rooftop places with a view in Cappadocia.
Rooftop Restaurants Cappadocia
Explore the best rooftop restaurant in Cappadocia in order to have your meal or drink with stunning landscape especially the sunsets!
Here are some pubs and places which have rooftops and good views. Mithra Cave Hotel has a roof as Mithra Terrace with good staff and an amazing view.
Divan Cave Hotel is another nice place with a nice terrace. Vineyard Cave Hotel has a lovely and stunning rooftop. Not sure about if they accept guests only for restaurants or drinks but you can contact them and make it clear easily.
Arinna Cappadocia can be an option especially for rainy or cold days because of its lovely roof which is covered by glass. Rox Cappadocia is basically a boutique hotel with an amazing rooftop.
Breakfast in Cappadocia
Wish Terrace is one of the best restaurants in Cappadocia with a view! Wish Terrace is located in Uchisar Cappadocia. During your Uchisar Castle visit, you can give a change to this restaurant especially for breakfast.
You can have the best breakfast in Goreme too. Panorama Cafe restaurant is one of them. Not just for breakfast, you can have other meals from here. But fyi, there are no drinks with alcohol.
About Food Prices in Cappadocia
How much does food cost in Cappadocia? Well, there are so many options in Cappadocia and prices can change almost every year. Kebabs start from 100-150 Turkish liras but you can find less prices in average places for sure. The soups and appetizers are nearly 30-50 Turkish liras for example. What about meals? How much is a meal in Cappadocia? You should throw over 100-200 Turkish liras for a tasty and satisfying meal for a person.
About Delivery & Take Away Restaurants
Either you can find a nice place for fine dining Cappadocia or you can take away your meal with you.
What are the best restaurants in Cappadocia that deliver? Goreme Han Restaurant, Paprika Burger and Pasta, Cappadocian Cuisine Restaurant are one of the best delivering restaurants.
What are the best restaurants in Cappadocia that provide takeout? House of Memories is known for the best pottery kebab too. You can take away your meals from here. Local Tastes Ocakbasi and Steakhouse, another option which provides takeout.
All these places that we mentioned above were added in our Google Maps for best restaurants in Cappadocia. You can check the map from here.
Also you can reach those Cappadocia best restaurants via our TripAdvisor map.
Besides the Cappadocia restaurants we would like to share with you the best Cappadocia hotels and which area of Cappadocia is the best to stay etc. in another blog post soon. We hope those tiny guides will help for your Cappadocia travel.
But for now we suggest you check 10 Things To Do in the Cappadocia 2022 blog and Cappadocia Hot Air Balloon Festival 2022 blogs for planning your next visit to Cappadocia. Also, if you are thinking about where to stay in Cappadocia, Where is the best place to stay in Cappadocia?
Last update date, 25 June, 2022, 09:23