Before we mentioned where is the best place to stay in Cappadocia, we would like to tell you about that amazing and unique location a bit. Whether you go to Cappadocia in November or during the summer months, you will be able to find so many things to do including hot air balloon tours. If you are asking is Cappadocia too touristy, we can honestly say yes. Cappadocia, Turkey is touristy almost every time. For more details, you can read our article on the top 10 things to do in Cappadocia.
Wherever you go you can find some available Cappadocia hotels booking. Do not hesitate to contact the hotels, many people can speak foreign languages there. With this 2023 Cappadocia hotels guide, we present to you hotels so you can decide your own: where is the best place to stay in Cappadocia?
Table of Contents
Is Cappadocia Worth?
Totally! Cappadocia has one of the best stunning landscapes in the world. Also, it's a very unique place to visit. So, if you are planning to travel somewhere, add seeing Cappadocia to your bucket list. 
If you are asking what is the best month to visit Cappadocia, you should know Cappadocia welcomes the guests all around the year! There is no beach in Cappadocia, so it doesn't matter whether you go in summer or winter.
You might need to tell Cappadocia in Turkish, if you are wondering about Cappadocia voice pronunciation, you can check Cappadocia Pronunciation. Other words and pronunciations make your way easier as well.
How many days do you need in Cappadocia?
If you have limited time, 2 days in Cappadocia will be enough for the basics things to do. But if you are planning for an extended vacation you should visit Cappadocia for at least 4 or 5 days. 
Explore the best Cappadocia hotels from now, so enjoying the accommodation will be a plus for your next trip to Cappadocia. In this guide, we will mention the regions and places to stay which cover your needs in particular.
Where to stay in Cappadocia
If you are asking about where can you stay in Cappadocia, here is the answer: You can stay in those districts in tourist Cappadocia. Urgup, Goreme, Avanos, Uchisar, Ortahisar and Nevsehir city center.
Before we discuss the regions of Cappadocia, we would like to enlight something about the place. If you are wondering about is Cappadocia a town or city, you should know it's not a city. Cappadocia is the general name of that tourist district. Cappadocia, Turkey mainly belongs to the Nevsehir province.
So, why is it so important where is the best place to stay in Cappadocia? Because every traveler wants to discover more and the best places in a short time. So, the region is important for this reason.
However, there is another important point before your decision about booking; priorities. Let's say you want a more budget friendly vacation, looking for a family hotel or maybe honeymoon hotel, etc. 
Another thing is your expectations. Cappadocia hotels offer you many options. Some of them at the same time. Maybe you want to watch balloons from the hotel's roof or you just want to relax in your cave hotel's pool. Also, Cappadocia has lovely Airbnb homes, you can think about renting one of them for your next trip.
Which area to stay in Cappadocia?
The last thing is comparisons. If you have some dilemmas about the regions you should better keep reading. We will tell you the best area to stay in Cappadocia Turkey. If you are asking, is it better to stay in Goreme or Uchisar?
Uchisar has the famous Museum Hotel Cappadocia, Uchisar Castle, famous wine houses, and many valleys to see. Goreme has cave hotels, an open air museum, ancient churches, and valleys too. Is it better to stay in Goreme or Urgup? If you are interested in Twin Fairy Chimneys, then you should go to Urgup. Urgup has many things to do as much as Goreme.
Where to Stay in Goreme, Cappadocia
One of the best towns to stay in Cappadocia is probably Goreme. Goreme is famous for ancient churches, open air museums, and more. You can find many balloon view hotels there. Also, Cappadocia Cave Hotels Goreme is a very popular choice for families. 
Actually Cappadocia hotels Goreme region offers the guests an extended price scale according to their needs. Even so, if you want to be in the center you should face up to a bit higher prices and find the exact place on your vacation time. So, do not delay booking a hotel in Cappadocia.
What are the best hotels near Goreme National Park?
According to google reviews Aydinli Cave Hotel, Aren Cave Hotel And Art Gallery, and Sultan Cave Hotel are one of the best hotels which are near Goreme National Park.
If you are looking for a place with more concepts you can specify your expectations. Let's say you want to watch hot air balloons from your room or hotel. Here are a few options to give you some ideas.
Where to stay in Cappadocia for hot air balloons?
Are you ready to watch the best stunning landscape in Cappadocia? Be a witness for this magical feast! Seeing hot air balloons in the sky can be very charming, magnificent, and amazing.
Kelebek Special Cave Hotel is probably the best cave hotel in Cappadocia with hot air balloon view! Especially in the Goreme district, you can find so many best hotels in Cappadocia to see balloons. In addition, during the Turkey Hot Air Balloon Festival 2023, you will be able to see countless balloons in the Cappadocia sky.
Let's take a closer look at the hotels in a cave.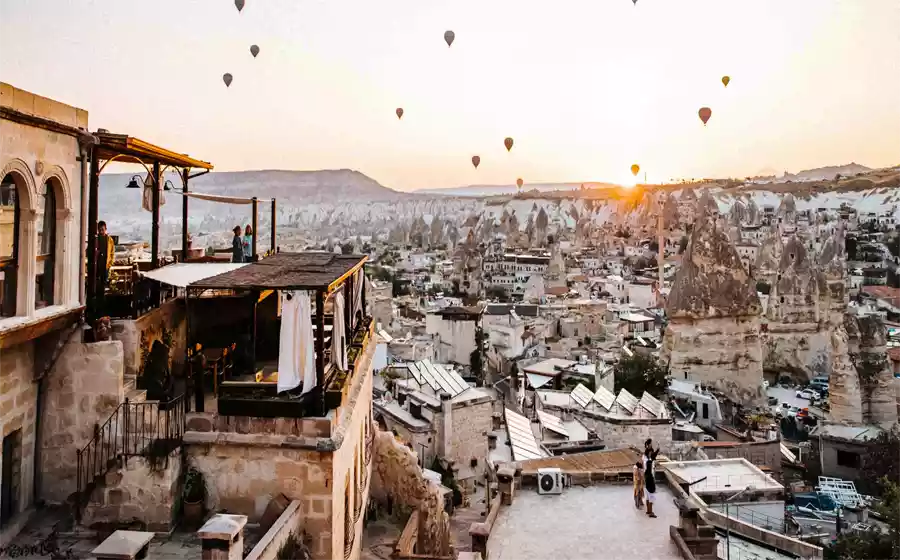 Cappadocia Cave Hotels
Cappadocia caves are very famous all around the world! Many people are going to Cappadocia, Turkey in order to see them. Also, they are wondering about do people still live in Cappadocia caves? Some of them are still living there but many of them are hotels or accommodation places nowadays. The ancient ones, like in the Goreme National Park, are waiting for the guests to visit.
Cappadocia hotels caves are restored in a modern style unless they ruin the original historical tissue. So don't hesitate about hygiene issues, rooms are very clean in general. Cave hotels are probably one of the coolest places to stay in Cappadocia.
Cappadocia cave hotel prices can be changed due to season and demands but anyhow you can still find some budget friendly cave hotels in Cappadocia, Turkey.
We added the best cave hotels in Cappadocia to our TripAdvisor map and Google Map. Whether you are looking for a Cappadocia cave hotel with pool or a place for watching the hot air balloons you'll see some options there.
Besides, whether you are a honeymoon couple or not, you may check the Cappadocia hotels with private pools. Kayakapi Premium Caves is one of the best Cappadocia hotels which has a private pool in the rooms.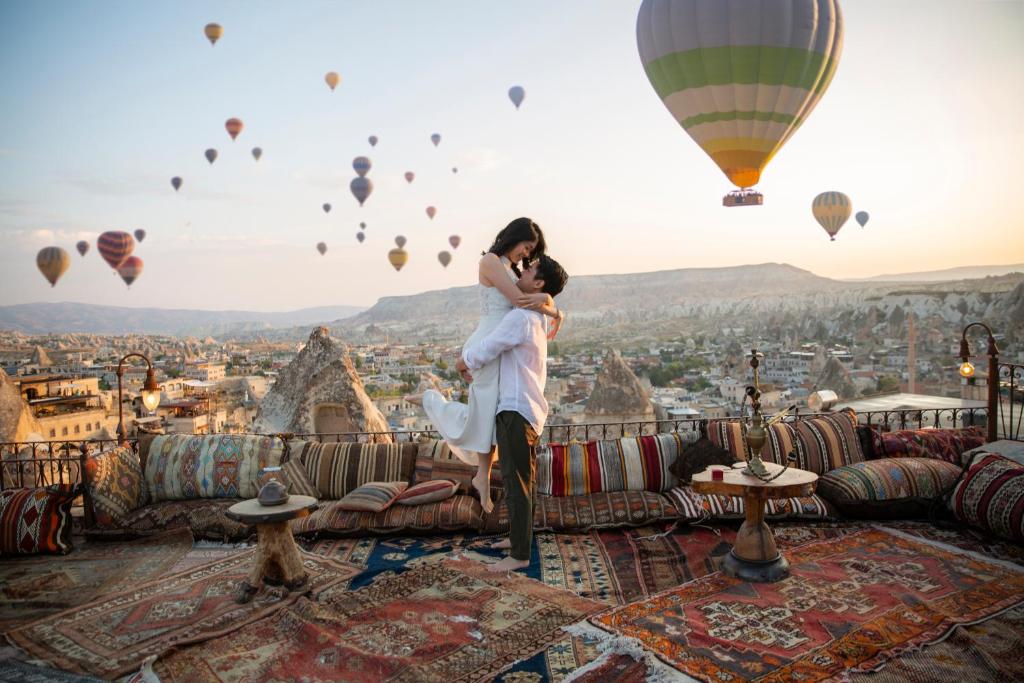 FAQ About Cappadocia Places To Stay
Here are the frequently asked questions about the best Cappadocia hotels!
What hotels in Cappadocia offer great breakfasts?
How long should I stay in Cappadocia?
Cappadocia 3 days 2 nights will be enough for the basics at least.
What are the best luxury hotels in Cappadocia?
Museum Hotel – Luxury Cave Hotel Cappadocia, Argos in Cappadocia is one of the best luxury hotels in Cappadocia Turkey.
What are the best cheap hotels in Cappadocia?
Here are some budget-friendly and cheap hotels in Cappadocia: Balloon View Hotel, Relic House Hotel, Cappadocia Balloon Boutique, Nirvana Cave Hotel, etc.
What are the best hotels in Cappadocia near Urgup Museum?
Cappadocia House Hotel, and Kayadibi Cave Hotel is very near and pretty hotels which are very near to the Urgup Museum.
Where did Joanna Lumley stay in Cappadocia?
She stayed in one of the nicest cave hotels in Cappadocia.