Explore the natural beauties with the Antalya Olympos Beach Guide. Olympos was a city in ancient Lycia. This historical and ancient place is in Antalya city, Turkey today. Olympos' ancient city area is a very rich location for your Antalya trip. You can find so many things to do in Olympos Turkey.
If you are looking for a vacation compatible with nature at fair prices, Olympos is the best area to stay in Antalya.
You can find all vacation advice and tips in this Antalya Olympos Beach guide. Let's start with transportation to Olympos from Antalya.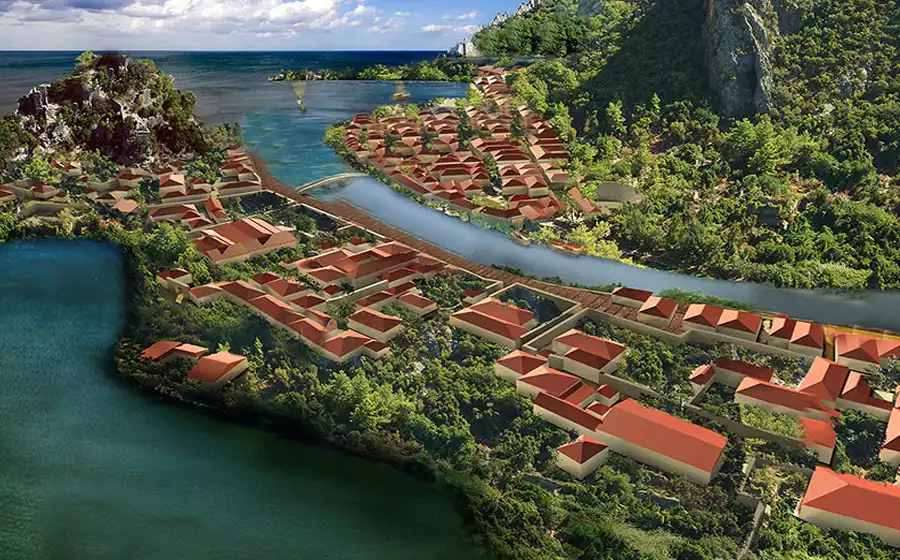 Table of Contents
Things to do in Olympos Turkey
Actually, the Antalya Olympos district seems a bit small and forested, but there will definitely be wonderful and extraordinary things to do there. The basis is to visit the ruins of Olympos and swim on Olympos Beach. But Olympus Beach Antalya has more than these. Let's start.
1. Tour the Olympos ancient city
On the way to Olympos beach, the ancient city of Olympos, located in the forest on both sides of the river, is one of the 2 most important port cities of the Lycian civilization, together with the ancient city of Phaselis.
Although excavation and restoration works continue today, it is possible to see theaters, churches, marketplaces, and houses in Olympos ancient city.
While visiting Olympos ancient city, you will find yourself thinking about how people lived here centuries ago.
There is also a small but ancient pool at the junction of the ancient city and the beach from the mountain
ice-cold water accumulates here. You should sit in the pool and enjoy the ice-cold water.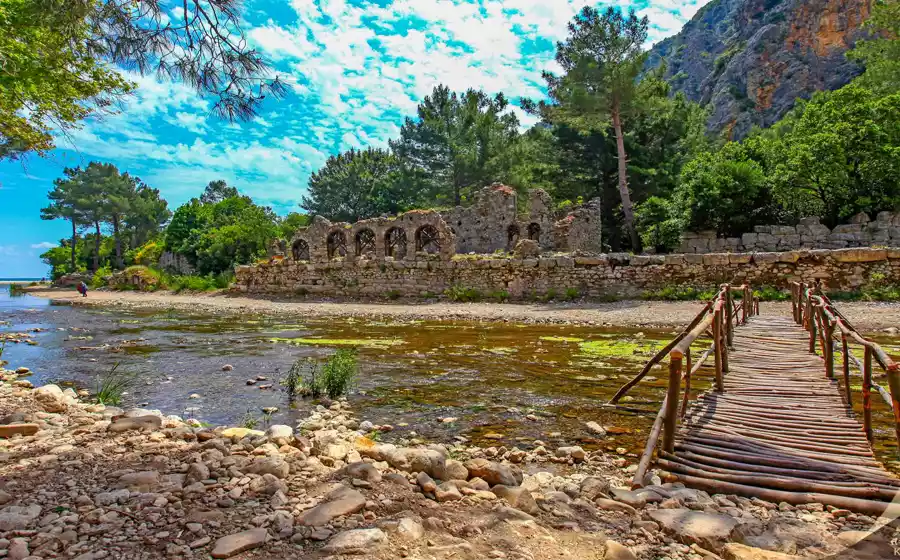 2. Enjoy the sea at Olympos Beach Antalya!
Olympos beach, one of the most beautiful beaches of Antalya, consists of small stones, but inside the sea is sand. You may still want to buy a pair of aquatic shoes.
Olympos Antalya sea is smooth and silky, especially in the morning hours.
Olympos beach Antalya has been the spawning place of Caretta Cerattas for centuries. Therefore, it is forbidden to enter the beach after 8 pm, and the beach is completely emptied.
Since the Olympos beach is a protected area, sunbeds are not rented. You can bring your own umbrella or you can rent umbrellas from peddlers on the beach.
There is a 10-minute walk from the Olympos beach toll booths to the beach and there is no market along this road as there is the ancient city of Olympos.
I recommend that you buy your necessities from the markets right in front of the box office. There are peddlers selling beer on the beach, but they sell it a little more expensive.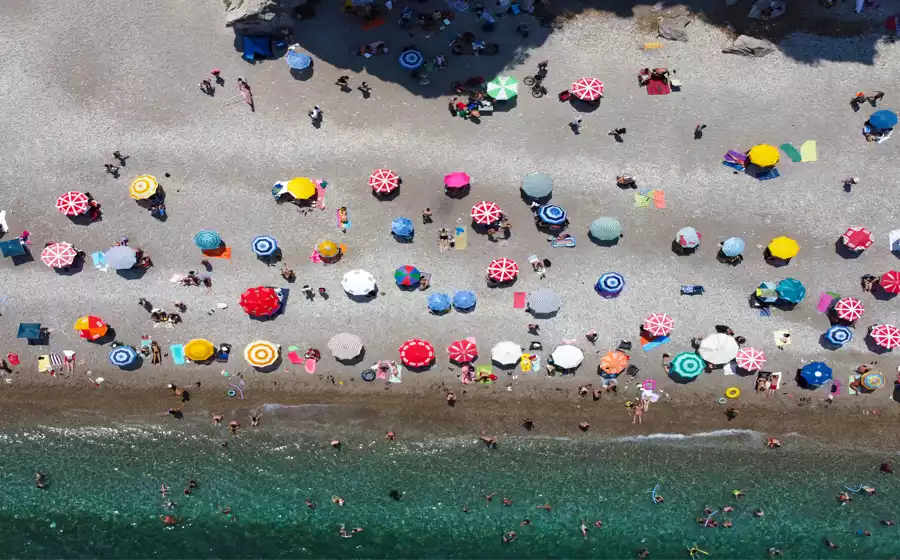 Olympos Beach entrance fees
Since the road to Olympos beach passes through the ancient city, it is a museum, and entrances are paid.
The entrance fee for the ancient city and beach of Olympos is 90 Turkish Liras (5 USD or 4.80 Euros) per person. If you have a museum pass card, admission is free.
For those staying in Olympos Antalya, special multiple cards with 10 entries are sold. If you do not have a museum pass, it will be cheaper to buy these cards.
Olympos Beach Turkey's opening hours
The working hours of Olympos beach and Olympos ancient city are between 06:45 and 20:00. You can enter from the box office at 19:30 at the latest. Entry is prohibited after this time.
Olympos beach has a great view of the sky as it is not illuminated at night, but Caretta Carettas are important and their living space is limited. We must sacrifice for these sweet creatures.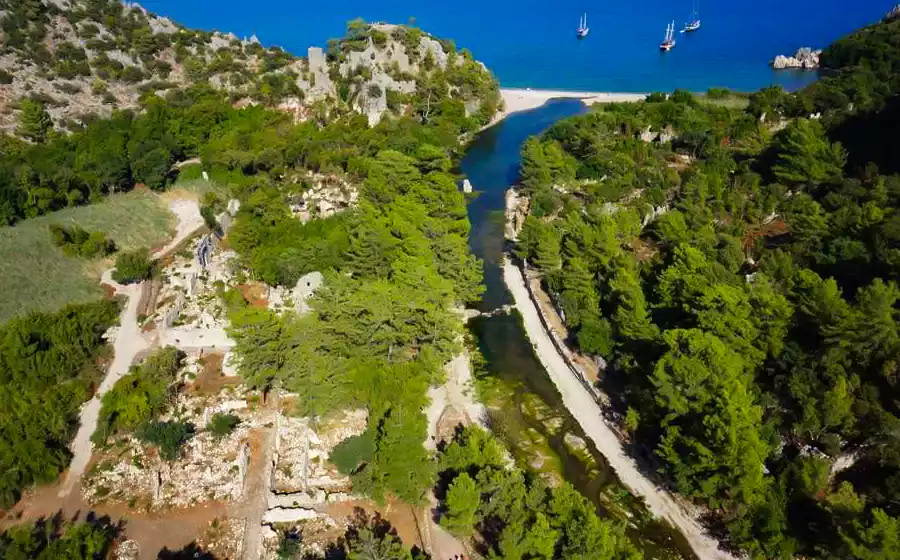 3. Join boat tours in Adrasan
Another beautiful town of Antalya, Adrasan, is very close to Olympos and you can join Suluada boat tours and Porto Genoese tours in Adrasan. The tour organizers will pick you up from Olympos by shuttle and take you to Adrasan.
Even though the Porto Genoa tour is nice, Suluada boat tours are more popular and I think Suluada is more beautiful. If you are going to make a choice, you should choose Suluada tours. Don't forget to take your snorkeling gear with you.
You can read the Adrasan Suluada boat tour times, prices and the Adrasan bays visited here.
You can book a Suluada Boat tour at an affordable price.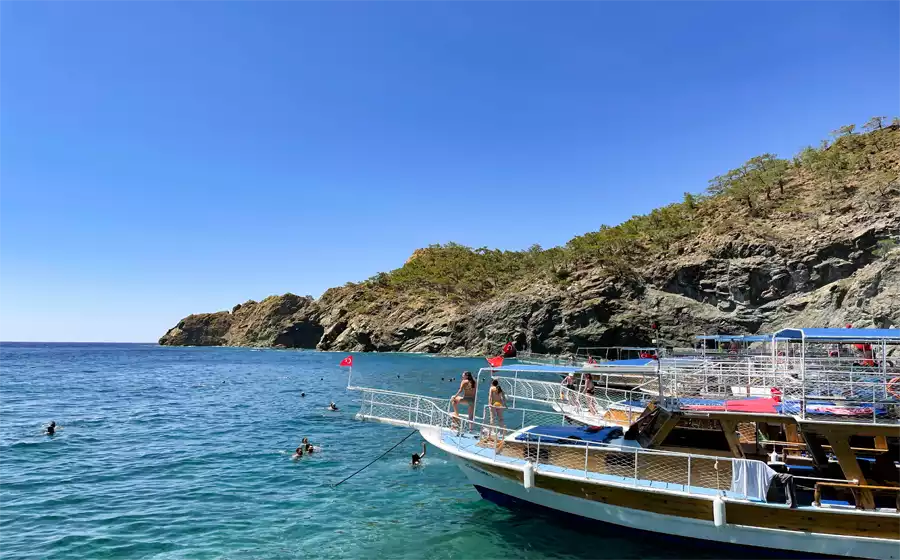 4. Scuba Dive in Adrasan
Boats cannot approach the Olympos beach, as the Olympos beach is a protected area. As with all boat activities, scuba diving is done with boats departing from Adrasan.
If you are going scuba diving for the first time, Olympos and Adrasan are the right addresses for you. The clarity of vision allows you to see many sea creatures. It is also very possible to come across Caretta Carettas.
Trial dives are 500 Turkish lira (29 Usd or 27 Euro) per person. Dives are made for half an hour and up to a maximum of 5 meters. You need a certificate to dive deeper than five meters.
Diving boats departing from Adrasan go to Hacivat Bay, Pırasalı Bay, Üçadalar, and Beşadası respectively, and you dive for half an hour at each stop.
Don't forget to take your underwater action camera 4k with you.
I think you should have this diving experience when you go to Antalya Olympos.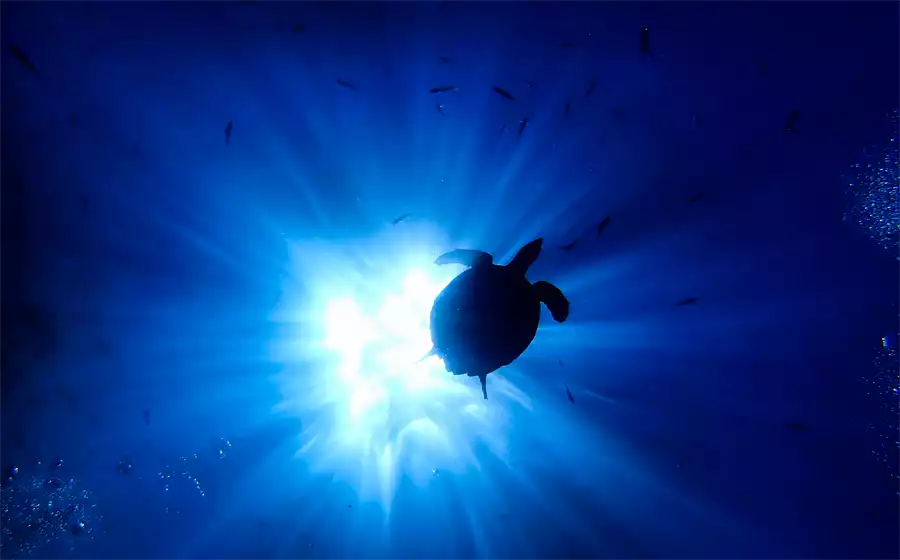 5. Enjoy Eternal Flames Chimaera in Cıralı
Eternal Flames Chimaera, which is located in the Çıralı district of Antalya, side by side with Olympos, has been burning for hundreds of years.
You can go to Yanartaş, which continues to burn with the gas coming out of the rocks, at sunset and enjoy wine and marshmallows.
You can find out more about Cıralı Eternal Flames Chimaera(Yanartaş) here in our detailed blog post.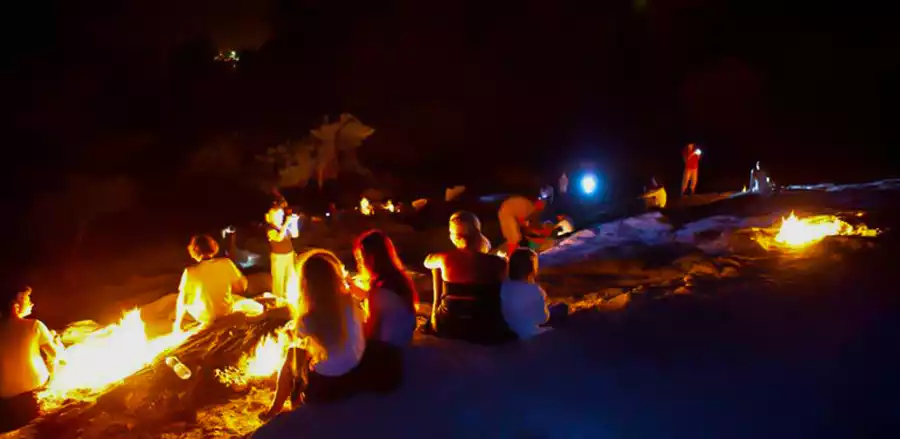 6. Lycian way walking and magnificent view of Gelidonya Lighthouse
Gelidonya Lighthouse, located in Olympos Turkey, is on Lycian road. It is possible to reach Gelidonya Lighthouse by following the Lycian road from Olympos.
You can swim in Karaöz Bay, located at the bottom of Gelidonya Lighthouse, the oldest lighthouse in Turkey, and enjoy the sunset by going to the lighthouse in the evening. There is also a shipwreck dating from 1200 AD in Karaöz Bay.
I recommend that you wear comfortable outdoor walking shoes, take a hat, and plenty of water while walking to the Gelidonya lighthouse.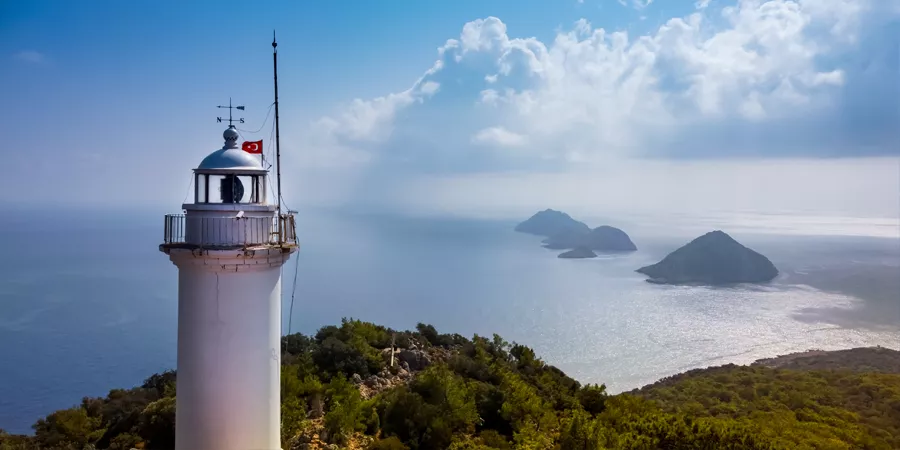 7. Enjoy Olympos Turkey with ATV safari
ATV tours are held 3 times a day in Olympos Antalya and a maximum of 12 people are accepted at the same time.
The tour route, which is organized at 10 in the morning, at 3 in the afternoon, and at 6 hours close to sunset, takes 12 km and takes 1 hour.
During the ATV safari, you visit the villages of Olympos and the forest area. There is a break at 2 different points with a view.
The prices of participating in a safari tour in Antalya Olympos vary for one or two people. If you want to use the ATV for one person, it is 150 TL, if you want to use it for two people, it is 250 TL.
Check the Olympos ATV safari tours from here.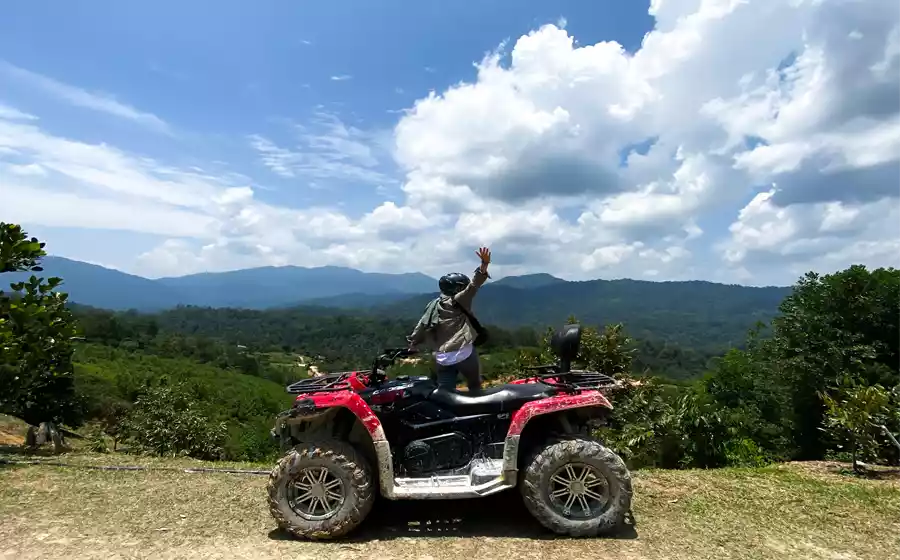 8. Rock Climbing in Olympos Antalya
Olympos is one of the most special places for rock climbing in Turkey. Rock climbing can be done at approximately 400 different points in Olympos.
Climbing is done with professional instructors and all the necessary equipment for climbing is given to you by the agency.
Even if you have no knowledge or experience of rock climbing, don't worry. You will be given all the necessary training before the climb.
Trial climbs are made at two different points overlooking the Mediterranean. The views of these climbing areas, which are a 15-minute walk from the center, are really beautiful and I am sure you will say that I climbed them.
Climbing is done with a minimum of 2 people and a maximum of 6 people, and the cost per person is 250 Turkish Lira (13 EUR or 15 USD).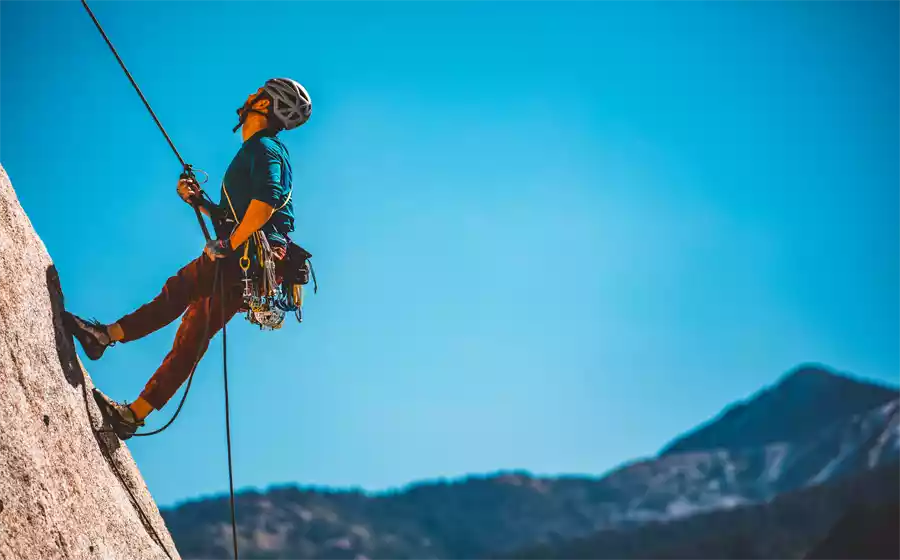 10. Get to the top with the Tahtali Cable Car tour
Tours are organized from Olympos Antalya to Tahtalı cable car. After approximately 38 minutes of service journey, you get on the cable car and climb to a height of 2365 meters.
Here you can see the entire Lycian road and enjoy the magnificent Mediterranean view, and you can paraglide if you wish.
The price of paragliding from Tahtalı cable car is 100 USD per person.
On the way back, you stop by Ulupınar and have dinner, and then you return to Olympos.
A minimum of 8 people is required for the cable car tour and the price is 250 Turkish Liras (13 EUR or 15 USD). You can check the tickets for best cable car Antalya tours.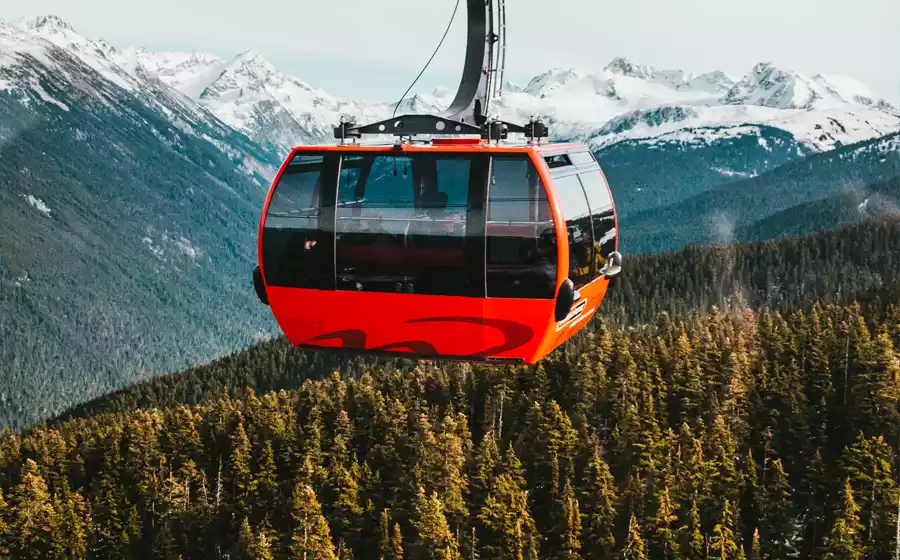 Bonus: Alternative things to do in Olympos Turkey
Antalya Turkey is a very rich region both in terms of nature and history. You can visit Phaselis Ancient City, which is close to Olympos Turkey, and enjoy the sea.
You can go to Göynük canyon, take a nature walk and swim in the ice-cold water. You can also do rafting in this region.
Manavgat Koprulu Kanyon is another rafting point in Antalya.
You can join the Kekova boat tour. Kekova boat tour will be a unique experience.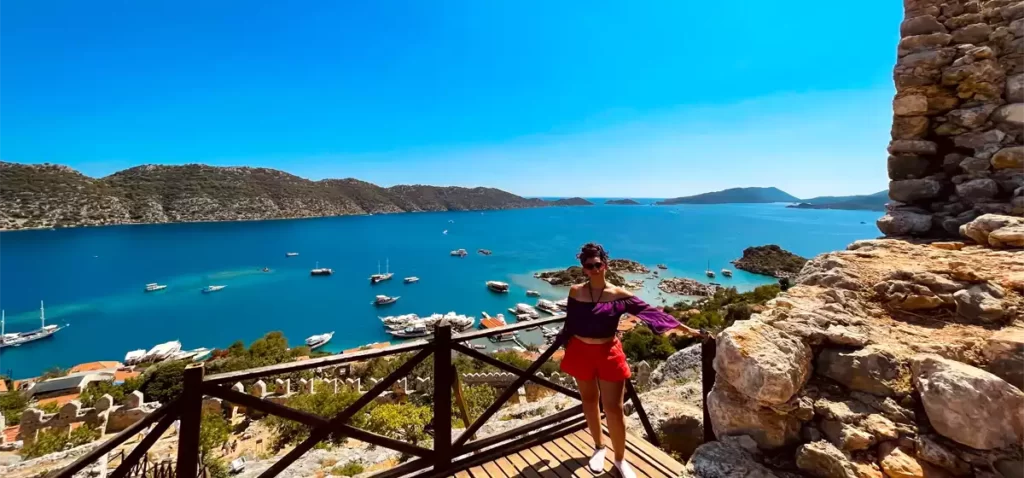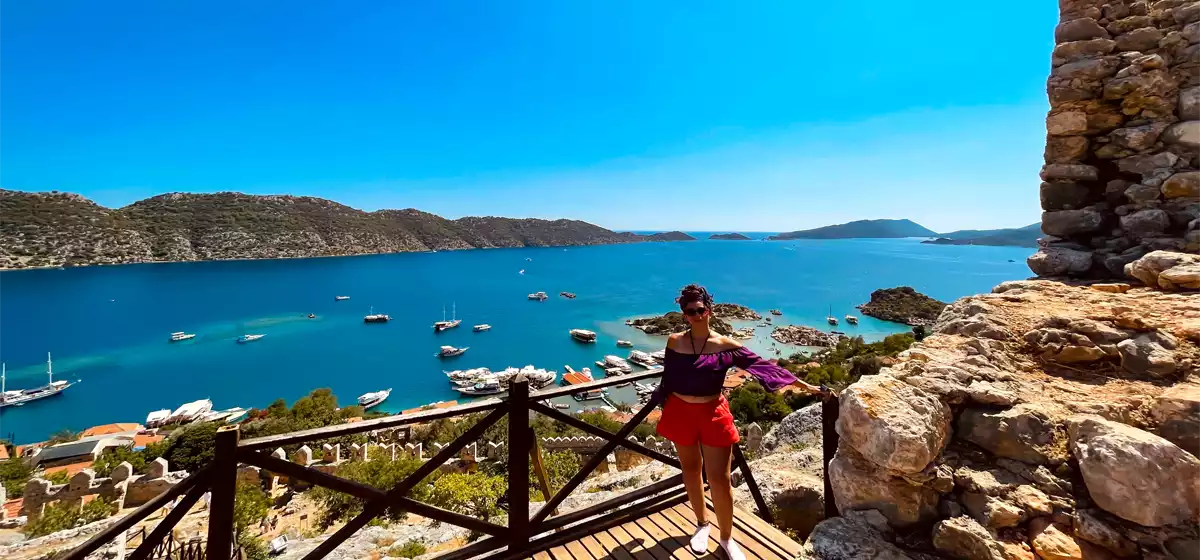 How Do I Get From Antalya to Olympus?
You can take a bus to Olympus from Antalya bus station. Antalya to Olympos buses are not so expensive but a bit tiring. You can rent a car or use the carpooling apps. It takes about 45 minutes with your private car from Antalya to Olympos Beach.
Antalya to Olympos Turkey
Whether you go by Antalya Olympos bus or by private car, you will see the Çıralı – Yanartaş sign before coming to Olympos. Go ahead, you will be able to see the Olympos exit after the Çıralı exit. A view terrace and ATMs are available.
If you want to relax, you should have a drink and take pictures there. If you don't have enough cash, you probably want to use the ATMs there. Make sure you have enough cash because some places down on the beach do not accept credit or debit cards.
You can go to Olympos beach or to your hotel by taking the Olympos buses from the cafe in front of the Olympos junction. If you are traveling in your own car, it takes 15 minutes to reach Olympos. The road is slow and narrow. So please go slow and be careful.
If you want to walk from Olympos junction to Olympos beach, it will take approximately 1.30 hours.
How to get to Olympos by bus from Antalya?
To go from Antalya to Olympos by bus, you need to take the buses going in the direction of Kumluca, Finike, Kaş, and Fethiye from the district terminal at the Antalya bus station.
Buses departing from Antalya bus station arrive at Olympos junction approximately 1.30 hours later. After getting off at the Olympos junction, you should take the Olympos village buses that leave in front of the cafe, and this journey takes about 20 minutes.
So to go from Antalya to Olympos, you have to take two buses and it will take 1 hour and 50 minutes in total.
Bus tickets from Antalya to Olympos junction are 35 Turkish Liras per person for 2023, and 10 Turkish Liras per person for the bus from Olympos junction to the beach.
You can go from Antalya airport by tram, taxi, airline services(HAVAŞ), or by city bus number 600.
Local bus companies from Antalya to Olympos are Batı Antalya Tur, Çiçek Tur, and Kumluca Seyahat.
Bus services start at 04:30 in the morning and last until 22:00 in the evening. There is a bus service every 30 minutes in the summer period and an hour in the winter period.
You can choose to rent a car and go because the buses will be stuffy and hot in summer. The journey by car takes approximately 45 minutes. Check out how to rent a car in Antalya at an affordable price.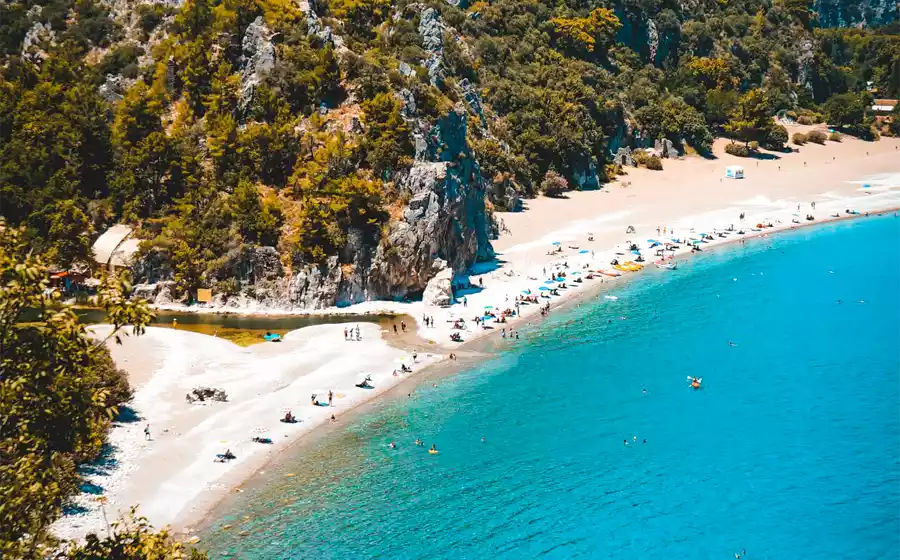 Olympos Nightlife
Olympos nightlife is usually in the bars of the hotels and these places are not very big. But don't let this upset you, there are beautiful and warm places to spend time in Olympos.
You can learn more about Olympos nightlife and bars.
What to eat in Olympos Antalya?
Hotels in Olympos usually serve three meals a day. You can have your morning, lunch and dinner at the hotel.
Outside the hotel, you should definitely try the Pancake(Gözleme) and Pomegranate juice made by the villagers of Olympos.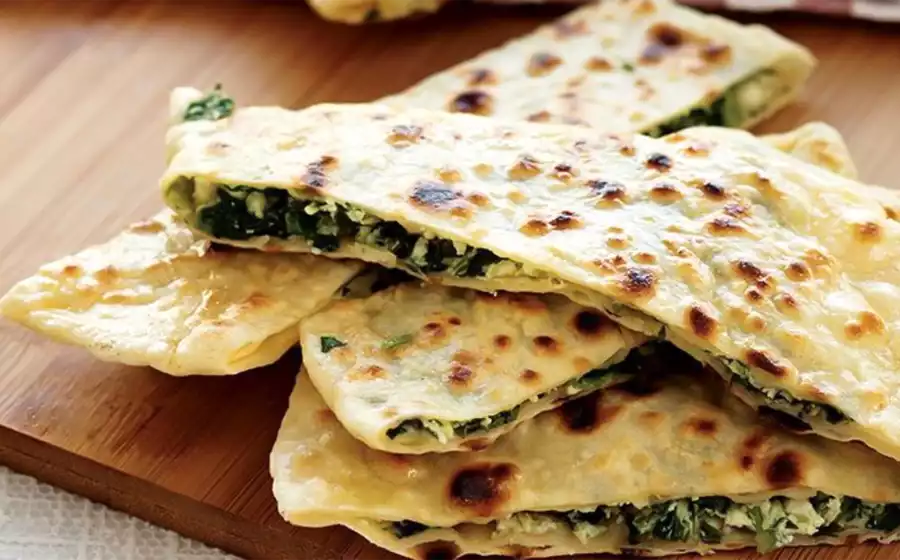 How is the weather in Olympos Antalya Turkey?
In Olympos, Turkey; the weather is very hot and sunny, especially in the summer. The air is very fresh and humid and there are no city noises. Nature is fantastic in the ancient city and Olympos district.
If you are wondering about the weather in Olympos Turkey for packing your clothes you need to know 3 important things. Take antiperspirant things with you. Take alternative clothes with you. Have comfortable shoes and clothes with you.
Olympos Turkey Weather
You can find air conditioners in almost every tree house or room. Honestly, Antalya city generally has air conditioners on every corner. So, the Olympos region is more crowded than the Çıralı region, especially in the summer months. Olympos Antalya weather can be more overbearing.  If you want a more isolated place, you should check Çıralı, too.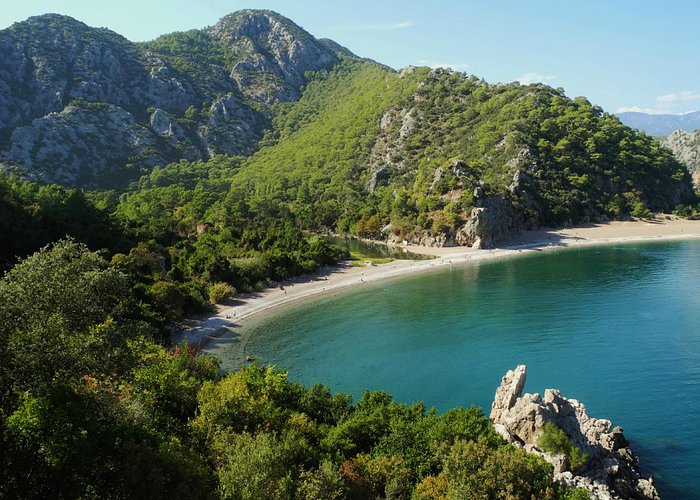 Olympos Turkey Treehouse Booking (Olympos Antalya Treehouse)
Antalya, Olympos region is an archeological site so you won't be able to find any five-star resorts or Olympos hotels over there. There is no building also, except bungalows! But you are lucky because you will make a vacation that integrates you with nature.
You can search all bungalows and treehouses in Olympos Lycia. Some of them are a little far away from Olympos Beach but now we will tell you about the most famous treehouses in Olympos Antalya.
Olympos Turkey Booking
Bayram's Tree Houses are probably famous ones. Turkmen Tree House, Kadir's Tree House, Olympos Orange Pension, and many treehouses are waiting for visitors all around the year. 
Or you can find a camping place in Olympos Antalya and use a tent for your trip. If you want to be in nature more, camping in Olympos is very enjoyable. 
Warning: Don't think about camping Olympos Beach, because this beach guests Caretta Carettas (Mediterranean sea turtles) for laying their eggs. After 08:00 p.m. there is no permit to go to the beach either for swimming or camping. 
Olympos is a highly sensitive place that is under protection. So you can't find any buildings or Airbnb homes except bungalows.
You can read our article on the 3 best hotels of Olympos, where we introduced the hotels to you.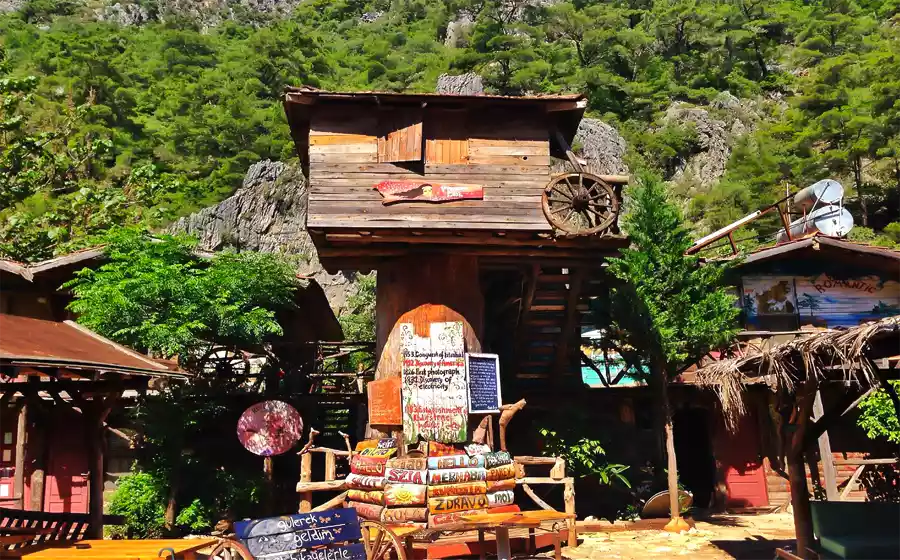 How many days to Olympos Turkey?
2 – 4 days will be enough for Olympos Turkey. You should reserve one full day for the Suluada boat tour. On other days, you can enjoy the sea, visit the Eternal Flames Chimaera, and join ATV tours.
Olympos Antalya is ideal for relaxing and being in touch with nature.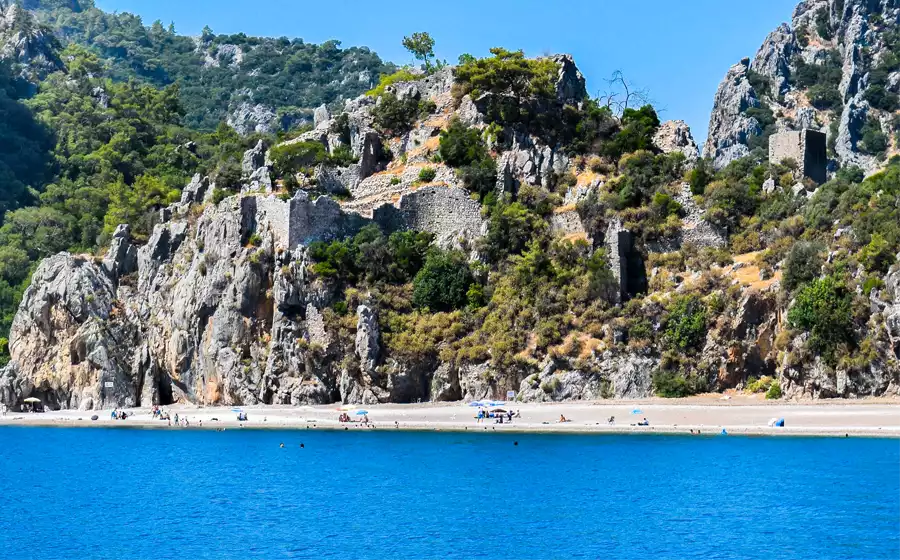 Frequently Asked Questions Olympos Beach
Is Olympos Turkey worth visiting?
Totally yes. But Olympos Turkey is a very untouchable place, so you need to prepare yourself well.
How to get to Olympos Turkey?
You can get to Olympos Turkey by car, by bus, or other transportation vehicles.
How to get to Olympos from Antalya?
You can take public buses from the Antalya bus station or taxis from all over the city. Likewise, you can return to Antalya from Olympos. The most convenient mode of transportation will be with your own car. It will take approximately 45 minutes from Antalya to Olympos by car or taxi, and 1 hour and 30 minutes by bus.
What are the Olympus Antalya opening hours?
Entrance times to Olympos beach and Olympos ancient city are between 06:45 – 19:45. Since Olympos beach is the spawning place of Caretta Caretta, it closes at 20:00 and is completely emptied.
When should I go to Olympos Turkey?
The best months for Olympos Turkey are July and August. It will be hot during the day but there is a nice coolness in the evenings. You can swim in Olympos between June and October.
How many days should I vacation in Olympos Antalya?
3 days is ideal for Olympos Antalya. You can take a boat tour, go hiking, mountain climbing or diving.
Where to stay in Olympos Antalya?
Olympos is a protected area, so construction is prohibited. All hotels are bungalows or small buildings. Kadir's tree houses and Turkmen tree houses are the most popular hotels.
Are there any attractions near Olympos Beach?
There are Adrasan and Cirali close to Olympos Beach. In Adrasan, you can join the Suluada boat tour and scuba dive. In Çıralı, you can visit Yanartaş. Also, on the way to Olympos beach, you pass through the ancient city of Olympos.
How much is the Olympos beach entrance fee?
You can reach Olympos beach through the ancient city of Olympos. For this reason, it is a protected area and the entrance fee is 90 TL per person. If you have a museum pass, you can enter for free.
What to do in Olympos Turkey?
After enjoying the ancient city and Olympos beach in Olympos turkey. You can do activities such as boat tours, scuba diving, and rock climbing. At night, you can enjoy the nightlife of Olympos.
How can I go to Olympos by bus from Antalya?
To go to Olympos from Antalya, you should take the Kas buses departing from Antalya bus station. These buses will drop you off at Olympos junction. From the Olympos junction, you can take the small buses that go to the beach. For details, take a look at our transportation to Olympos heading.