Hello, all shoppers and travelers! As you know, Turkey offers amazing deals for vacation and also shopping. Shopping in Turkey is very easy. Many malls and shops are reachable and they also have online shopping. Via tax free shopping, it will be better for shopping more.
You will find shopping opportunities (with or without tax free options) in the best malls in Antalya. Probably, shopping is one of the best things to do in Antalya. So, don't miss the deals and current advice. In this ultimate shopping guide, we will tell you all the shopping tips and malls in Antalya in order to make your next stops more enjoyable!
Antalya Shopping Guide
Once you've learned all the shopping centers in the city, you can compare and visit shopping malls in Antalya. That's why we want to enlighten you for their qualities.
When I go to Antalya city center, I can probably easily find at least one shopping mall near me. But which is the cheapest mall in Antalya? Let's discover all the malls, especially those which offer us cheap shopping in Antalya. Let's find the best mall in Antalya together.
Mall of Antalya Shopping Center (Antalya Shopping Outlet)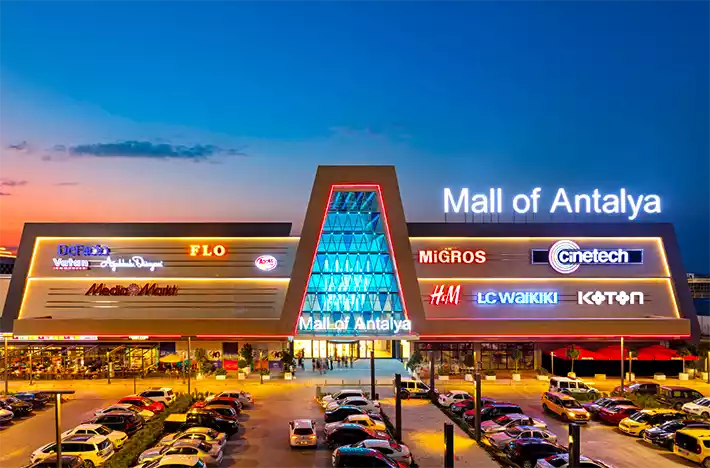 This place is one of the biggest shopping mall in Antalya. The mall of Antalya shopping center is well-designed and a fresh place where you can find so many things besides clothes. It is next to the cheapest outlet mall which is Deepo Outlet Center, that's why we will examine both together.
Location (Where is Mall of Antalya?)
Mall of Antalya is very close to the Antalya airport. It's on the main road. Either with tram or other public transports or by car, you can access the Mall of Antalya easily.

Working hours
10:00 a.m. – 10:00 p.m. on weekdays
10:00 a.m. – 10:30 p.m. on weekends

Car parking area
There are both open air parking areas and indoor parking for Mall of Antalya and Deepo Outlet Mall.

Fairly stores
So many options for almost everything.

Budget friendly prices
Budget friendly prices may change due to the store's luxury level. But fair enough.

Supermarket
There is a Migros supermarket inside.

Food and drink court
On the entrance floor you can find some coffee shops like Starbucks. On the top floor you will be able to find a very large food court with a fresh balcony.

Kids entertainments
There are some kids activities, toy stores and tiny mall tours in a cute ring for kids.

Cinema
Mall of Antalya has 11 theaters capacity which belong to the Cinetech cinema brand. By the way, you don't need to know Turkish. You can catch the movies which are in English language with Turkish subtitles.

Restrooms
Restrooms are enough and clean in general.

Nearly Things To Do
More shopping! Seriously, you can find amazing leather and fur shops near the Mall of Antalya and Deepo Outlet Center.
Deepo Outlet Center Antalya Shops (Outlet Mall in Antalya)
As we mentioned before, Deepo Outlet Mall is next door to the Mall of Antalya. You can pass directly inside.
Many many years ago, there was only a Deepo Outlet but now there are two shopping centers. These two outlet malls are very attractive places for clothes shopping in Antalya.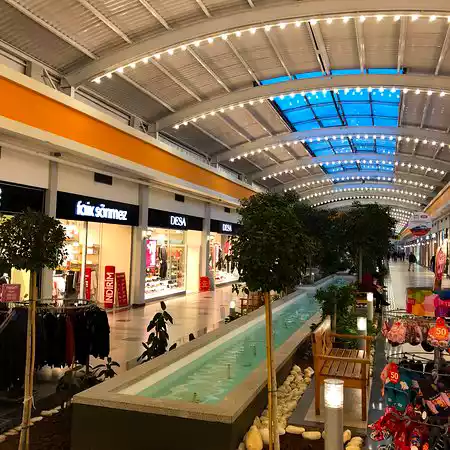 Agora Mall Shops & IKEA Turkey Antalya
Ikea Antalya and Agora Mall shops are side by side. You can pass from both inside and outside.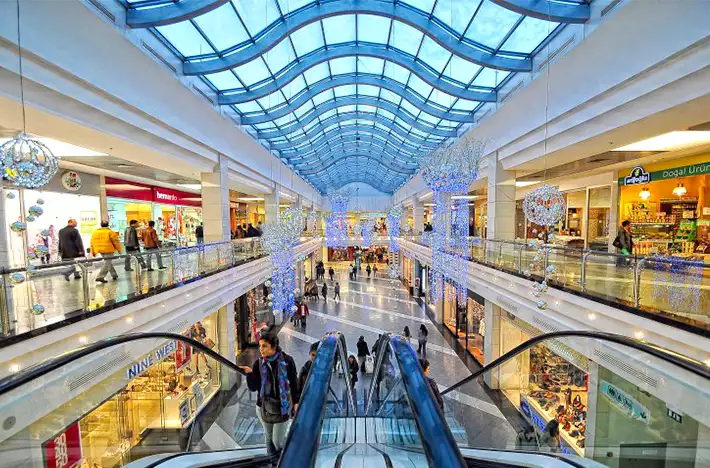 Location
From Antalya airport to Agora Shopping Center is about 10 minutes by car. From Mall of Antalya to Agora Mall is about 5 minutes by car or 20 minutes by foot.

Working hours
10:00 a.m. – 10:00 p.m.
Car parking area
There are enough inside and outside car parking areas.
Fairly stores
Prices depend on the stores, but still worth visiting. Some shops are cheaper and some stores are more fancy there. But don't forget to check the info place. Sometimes they have deals, campaigns or drawings for the customers.
Budget friendly prices
There are plenty of stores for every budget.
Supermarket
There is a supermarket inside. Also you can visit Ikea's market, too.
Food and drink court
So many options can be found like: fine dining, coffee stores, special desserts, fast food…
Kids entertainments
Well, Agora is the best indoor destination for kids' entertainment. These joyful zones are not only for kids, but adults can enjoy them too.
Cinema
If you are looking for a cozy and quiet cinema, then you should try Agora cinemas as soon as possible.
Restrooms
One of the cleanest restrooms within Antalya malls.
Nearly things to do in Antalya
Upper Duden Waterfalls is about 12-15 minutes via car to Agora Shopping Mall. Also you can go to the Lower Duden Waterfall is about 15-20 minutes by car from Agora Mall.
Antalya Migros Shopping Center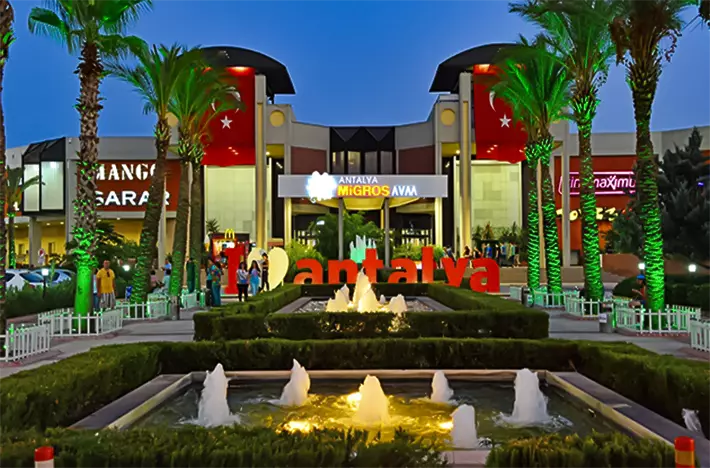 Migros shopping center is one of the oldest malls in Antalya. However, you can still find all your basic needs in this three decker shopping mall.
Location
Migros Antalya Shopping Mall is located in Konyaalti district. It is across the amusement park.
Working hours
10:00 a.m. – 10:00 p.m.
Car parking area
Only open air area for car parking.
Fairly stores
From dry cleaning to tech stores there are plenty of stores. Actually, if your expectations are on a basic level, Migros is the oldest but still the best shopping mall in Antalya.
Budget friendly prices
Normally you may see average prices but sometimes they have special deals which you don't wanna miss.
Supermarket
In particular, there is a huge Migros supermarket inside so you can find several food or drink products there with good prices.
Food and drink court
Sorry but not sorry. This section needs to be extended! Especially during the weekends, people are playing musical chairs indoors. Also Migros has the smallest balcony compared with other malls. But it is not so important unless you are a smoker.

Ok, previously that place was enough (even with the balcony) for everyone but currently there are so many visitors. So it's very hard to breathe or find an empty place to sit on the fast food court.
Kids entertainments
Some cute and mobile toys are waiting for children! Directly go to the bottom floor for your kids.
Cinema
Cinemaximum cinemas have been nice for many years.
Restrooms
Restrooms are all-right.
Nearly things to do in Konyaalti
Here are the walk distance attractions for you: Aqualand Antalya Dolphinland, Konyaalti Beaches, Amusement park in Antalya, the famous park Glass Pyramid Antalya, Antalya Archaeological Museum etc.

Mark Antalya Mall
MarkAntalya Mall is one of the most popular shopping centers in town. This mall is in the middle of the center and very near to the Old Town Antalya. You can find many options for cosmetics, clothes, shoes, textiles etc.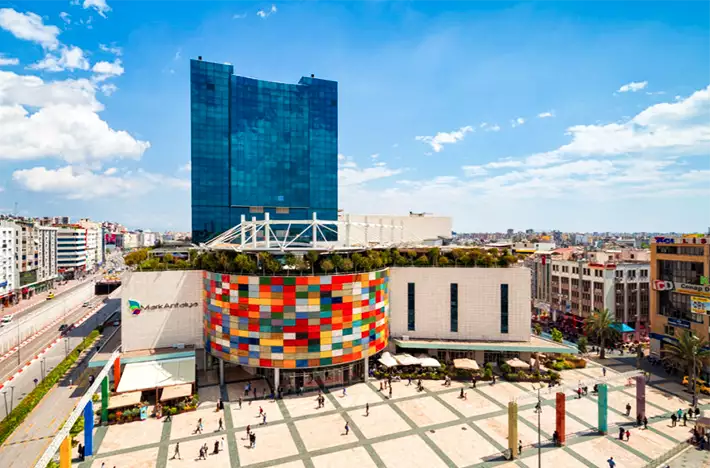 Location (Very Central)
You can access either via public transportation or private vehicles.
Working hours
10:00 a.m. – 10:00 p.m.
Car parking area
There is only indoor car parking.
Fairly stores
Stores are fair enough.
Budget friendly prices
Prices are average, in particular cheaper than many places.
Supermarket
There is a Migros supermarket on the bottom floor but keep that in mind: you can't find alcoholic drinks in this one particularly.
Food and drink court
Markantalya restaurants are several and tasty. Fast food options are nice, also you can find dessert and coffee places on the top floor. Besides there are two balconies apart from the indoor food area.
Kids entertainments
There is a kid zone next to the supermarket on the bottom floor. Also you can find a sand pool for kids.
Cinema
Cinemaximum cinema with many saloons and movies.
Restrooms
Restrooms are okayish.
Nearly things to do in Markantalya
Visit Old Town Kaleiçi Antalya, take some photos near Kaleici Harbor, enjoy Oldtown Antalya nightlife, and swim at Antalya Kaleici beach. Also, Oldtown Antalya shopping may be nice for souvenirs.

Recommended post: One Day in Antalya 2022
Shopping Malls in Lara Antalya
Lara district probably has one of the best beaches in Antalya but surely it has more things than swimming. You can find many things to do here which includes shopping and walking around. Here are the famous shopping centers in Lara Antalya for shopaholics! Let's dig in more.
Terra City, Antalya
Due to other malls, Terra shopping center guests a bit luxury brands in the mall. Still you can find cheaper brands inside, too.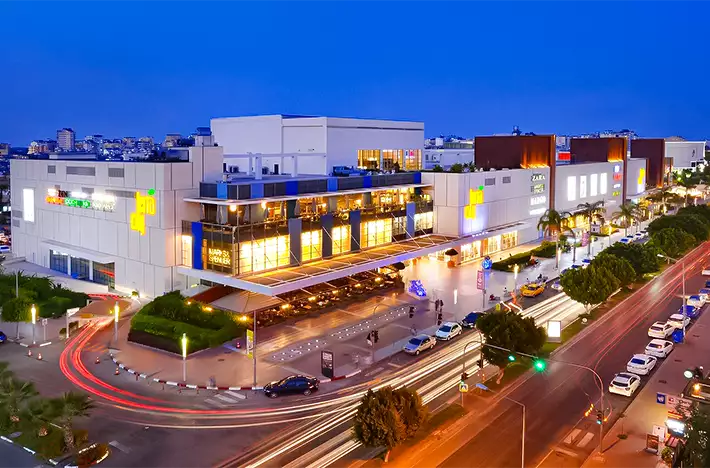 Location
Terra city is located in Lara, Antalya.
Terra City Opening Times
Working hours are from 10 a.m. to 10 p.m.
Car parking area
There are outdoor parking areas behind the mall.
Fairly stores
Stores and shops are very satisfying for shopping lovers.
Budget friendly prices
Whether you are searching for the cheapest brands or the luxury ones, Terra City offers the customers what they need.
Supermarket
Macro Center can be found.
Food and drink court
Options are very nice and addressing for everyone.
Kids entertainments
No worries, you will find something for your kids.
Terra City Cinema
One of the nicest theaters in town.
Restrooms
Restrooms are tidy and easy to access.
Things to do in Lara Antalya
Lara Beach nightlife offers you something. Also there is a street market on Saturdays for those who want to buy cheaper clothes.
Laura Shopping Center
No overhope, but it's ok. You can find the basics if you are in a hurry or for your specific needs.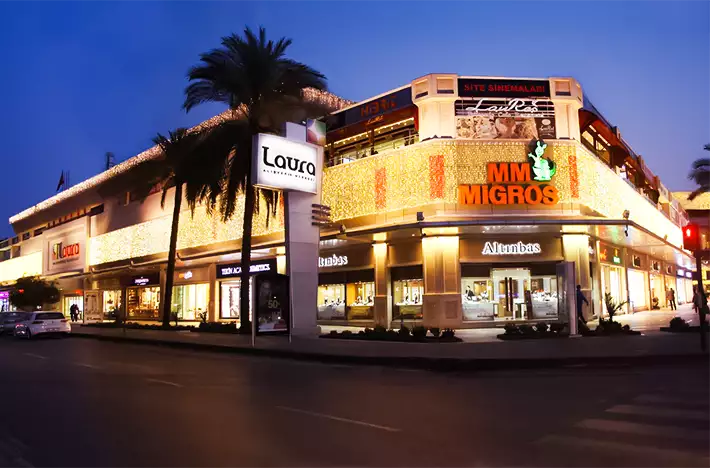 Location
Laura Shopping Center is on the boulevard which is a very central location.
Working hours
Between 10:00 – 22:00
Car parking area
Outdoor parking area is very extended.
Fairly stores
Not at all.
Budget friendly prices
Average prices.
Supermarket
There is a supermarket inside.
Food and drink court
Not many opportunities if we compare among others.
Kids entertainments
Near the car park, also behind the ATM's, there is a place for kids.
Cinema
Laura mall has a lovely cinema.
Restrooms
Average restrooms can be found.
Nearly things to do
If you can't find the clothes that you want in Laura shopping center, you can see other stores within walking distance. Those shops are very popular, especially the luxury shopping in Antalya.
Shemall
You can find different things to do in the Shemall shopping center. This mall is not very big but you can find something in there for yourself.
Location
Next to the Laura Shopping Center.
Working hours
From 10 a.m. to 10 p.m.
Car parking area
An indoor car park can be found.
Fairly stores
The shops are enough in order to cover your needs.
Supermarket
The supermarket is very large.
Food and drink court
Starbucks is on the entrance floor. Upper floors has some options for fast food and others.
Kids entertainments
Not so many alternatives.
Cinema
Shemall has a very good cinema which is worth seeing.
Restrooms
Average restrooms will be found.
Nearly things to do
You can find so many things to do in Lara Beach.
Erasta Antalya Mall
This mall is very unique because the mall is in the open air. If you want to buy some gardening stuff you can visit Bauhaus which is next to the Erasta mall.
This shopping center in Antalya is very near to the Antalya bus station location.
There is a Decathlon store for campers and nature lovers, a cinema for movie lovers and some clothes and other shops for shopping lovers.
You can have the best Turkish coffee in Kahve Dunyası which is next to the entrance of the mall.
Also, you can visit Ozdilek Mall, Metro Groceries, Belek Mall for your needs.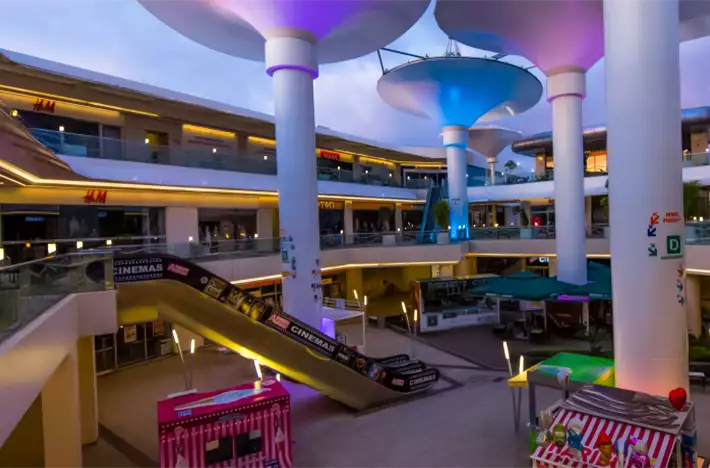 Land of Legends Shopping Mall
The Land of Legends Shopping Avenue offers you so many amazing things there. Also, you can find Antalya golf clubs around.
Hisar Shopping Mall Antalya
This mall is located in the Kundu region and you can find the main things there.
Antalya Mall Brands
Famous ones are written above but we would like to add this brand: Fulla Outlet.
Fulla Outlet
You can find many cheap clothes here. Fulla Outlet shop is one of the cheapest clothing brands in Antalya. Very near to Antalya airport.
Also you can visit Nike Factory outlet for sneakers.
Frequently Asking Questions
Here, we gathered up some frequently asked questions about shopping in Antalya.
What is the best mall in Turkey?
Mall of Antalya shopping center is probably one of the best malls in Turkey.
Is Antalya good for shopping?
Definitely yes. You can find amazing malls in Antalya. In addition there are plenty of street markets for clothes, bags and shoes. 
What are the best malls for shopping in Antalya?
Mall of Antalya, Mark Antalya, Terra City, etc. 
What is the best shopping mall in Antalya?
If the point is about cheapest shopping you should try Mark Antalya mall.
Which is the best Mall in Antalya?
If we look from the viewpoint of accessibility, Migros Shopping Center is the best. 
Which is the biggest mall in Antalya?
Mall of Antalya is one of the biggest malls in Antalya.
Are there any markets in Antalya?
There are so many groceries, supermarkets and street markets in Antalya. 
Which shopping malls offer entertainment for children?
Markantalya, Agora, Mall of Antalya, Land of Legends…
Which shopping mall is close to the Antalya Old Town?
MarkAntalya Shopping Center is walking distance to Antalya old town shopping.
What is Antalya known for?
Antalya is known for its nightlife, some of the best beaches in Turkey and of course cheapest shopping.
What to buy in Antalya?
You can buy mostly clothes and shoes in Antalya. Besides, souvenirs can be a kind shoppings for your family and friends.
Does Turkey have Tax Free Shopping?
In Turkey, airports have some tax refund places. So you may claim your taxes back.
Where is Antalya shopping fakes?
Antalya is probably the best place in Turkey for fake goods. But you should try street markets instead of shopping malls and stores. In some Antalya bazaars, you can find many Turkey copy clothes.
Which are the best fakes in Antalya?
 Hand bags and clothes might be imitations or excess of exports on the street markets.
Is there a Belek fake market?
Belek has plenty of stores and street markets. It is hard to say there is a Belek fake market but in some street market stands, fake products can be found.
If you want to see all those malls on out Google map please click Best Malls in Antalya map.
Also, you can view Local advice: Best Malls in Antalya TripAdvisor map.
Last update date, 9 June, 2022, 06:40