Turkey has another unique and very amazing place named Pamukkale Travertines. Many people are wondering: What is special about Pamukkale Turkey? Pamukkale thermal pools are very rich in minerals and they are also ancient. Here is the Complete Guide Pamukkale Travertines 2022 to discover Turkey's great travel destination like a local. You will be able to find location, entrance fees, opening hours, travel tips, where to stay and more in Complete Guide Pamukkale Travertines 2022.
Pamukkale itinerary (Pamukkale travel guide)
Pamukkale or a.k.a. Cotton Castle is a natural site in Denizli province in Turkey. Pamukkale location is not too hard to find. When you get there, you'll be able to see both Pamukkale thermal pools Turkey and Hierapolis-Pamukkale ancient city.
During this blog post, you will be able to discover Is Pamukkale worth visiting or not with this Pamukkale itinerary.
First of all let's start with a question which is really important: Why is Pamukkale white? Pamukkale is white because of its natural carbonate minerals from centuries ago. If you are asking How would you describe Pamukkale? Honestly, it's a very interesting place with so many white balconies which are full with mineral waters inside. Every year, so many local or foreign people travel to Pamukkale in order to see that miraculous view with their own eyes. So, why is Pamukkale famous? Besides, it's amazing formation, Pamukkale Cotton Castle is one of the Unesco world heritage sites. Actually, it's a well deserved title for that place. Hierapolis Pamukkale is one of the Unesco sites near Antalya.
How and When to Visit Pamukkale Travertines? (Pamukkale cotton castle)
Here is the complete guide Pamukkale travertines 2022. If you are wondering about, What is the best time to visit Pamukkale? It really doesn't matter. Turkey has a natural beauty in each season. Denizli is an Aegean province. So the weather is not so cold like the other cities or east side of Turkey. So, it's up to you.
If you are asking Is Pamukkale safe? The answer is totally yes. Denizli is not a metropol. It's a very quiet city. But there are few famous tourist destinations in Denizli, like Pamukkale travertines or Hierapolis ancient city. So, those points can be a little crowded in the season but you must add Pamukkale to your bucket list.
Let's continue with another question: Can you still visit Pamukkale? Yes, you can. It's open and accepts visitors from different countries at any time. So you can plan your vacation in order to visit Pamukkale travertines whenever you want. If you are thinking about How many days do you need in Pamukkale? You should spend at least one or two days discovering the top attractions. If you have much more time you must explore the hidden gems in Denizli province.
Pamukkale Travertines Prices in 2022 (Pamukkale Turkey price)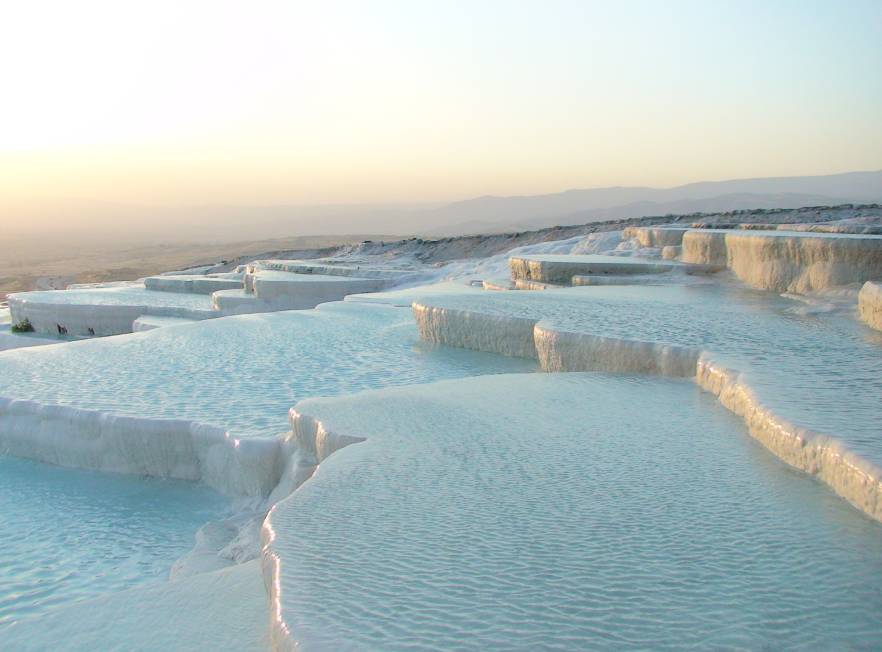 First of all, let's make something clear. So many people ask, Is Pamukkale open right now? Yes, Pamukkale is open right now. Pamukkale cotton castle opening hours are from 8 a.m. to 7 p.m. It opens each day of the week. But just in case, you should check from the official pages before you go. (Here is the official page of Hierapolis Pamukkale visit.
Do you have to pay for Pamukkale? Yes, there is an entrance fee. It is not free for entrance. Also they wonder if Pamukkale is expensive. Honestly, it is not. It is very cheap and worth seeing.
How much does it cost to visit Pamukkale? (Pamukkale travertines entrance fee)
Pamukkale entrance fee for 2022 is 150 TL for now. Either you can buy your ticket from here, or you can provide it from the ticket offices. That ticket includes the Hierapolis Archaeological Site area completely -even the Hierapolis Archaeological Museum and Pamukkale Travertines.
Is Pamukkale open in winter?
Yes, Pamukkale open in winter, too. You can visit Pamukkale Travertines and Hierapolis archaeological site and ancient ruins in four seasons. Make sure that you are wearing comfortable clothes and suitable shoes or sneakers for a comfortable trip in order to walking around.
Pamukkale Visiting Hours (Pamukkale working hours)
Pamukkale opening hours are from 06:30 (Pamukkale opening hours 2022) to 20:00 (Pamukkale closing time) in general. But check here for more detail about Pamukkale 2022. Pay attention of box office closing time. It closes at 19:30. Hierapolis ancient city and Pamukkale travertines are open every day. Make sure that place has any exceptions or force major.
Hierapolis Archaeological Site, Pamukkale Travertines and Thermal Pools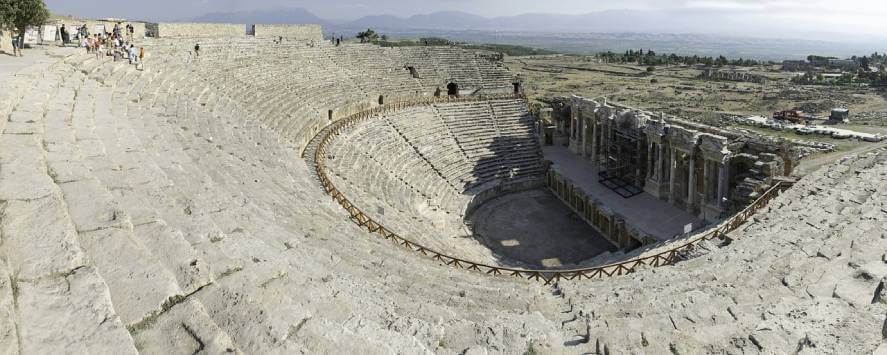 History, ancient aesthetic and cure are side by side in Denizli. Hierapolis Archaeological Site, Pamukkale travertines and thermal pools are must add places to see list. Unforgettable memories and delicious beauties are waiting for you in travertines of Pamukkale. 
So, Can you swim in the pools of Pamukkale? Yes, you can but it is optional of course. Just keep in mind that you wear casual clothes because you will walk barefoot around the thermal pools.
Hot springs in Turkey, Pamukkale, are very beneficial for your body. You can swim in pamukkale thermal pools Turkey or you can rest in hot springs thermal spa hotels in Denizli. So, how do you get to Pamukkale hot springs? If you want, go to the Pamukkale hot springs you can go via following this Pamukkale official website link.
Pamukkale cleopatra pool entrance fee is not included the general entrance. You need to pay more if you want to swim in this ancient baths.
Pamukkale thermal pools opening hours can change according to the season. In 1 June – 30 September you can swim in there from 08:00 to 21:00. Better to track the Pamukkale opening times in order to swim easily.
Pamukkale, Turkey Hotels
Pamukkale hot springs hotels are very unique and worth to stay. Especially if you are looking for cures, recovery or remedies you should try Pamukkale hotels. Best places to stay in Pamukkale is probably thermal spa hotels. But you can also find Pamukkale luxury hotels, Pamukkale hotels 5-star or cheaper options via Pamukkale hotels tripadvisor.
What to buy from Denizli Province?
You can buy "leblebi" which means roasted chickpeas and textile products particularly towels from Denizli, Turkey.
If you like this post, you may want to read is Turkey safe 2022 blog post.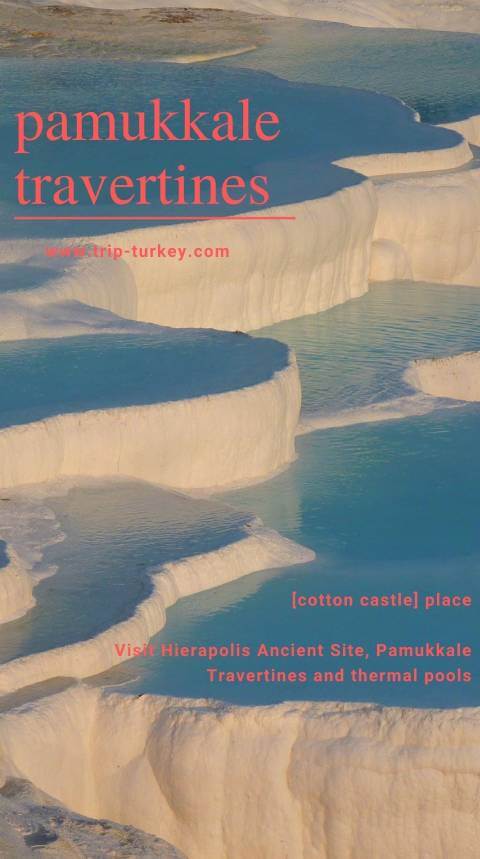 Last update date, 2 July, 2022, 09:31