Searching for some tips for your next vacation to Turkey? Here is a current Turkey travel guide for solo travelers. We would like to mention some advice for people traveling solo including the best solo travel destinations in Turkey in this post. Enjoy with the Turkey travel guide for solo travelers. If you have any questions about the trip Turkey, meet us in the comments.
How do you travel Turkey solo?
So many people are asking about how do you travel Turkey solo. Before start Turkey travel guide for solo travelers blog, we want to make clarify something. Many people have unnecessary concerns about traveling to Turkey. There are some points which are waiting to be lighted for a trip to that country. You can travel to Turkey as a solo traveler with ordinary preparations.
If you are still wondering about Is Turkey good for solo Travellers? Let's clarify a few things. The answer is yes. Turkey is a good place where modern people live. Turkey has so many historical beauties. However it is not an Ottoman country now that you see in movies.
Turkey honors many civilizations and states in history. Today, Turkey has been a laic-secular state since 1923. That's why you don't have to worry about security issues in Turkey. Besides, the people of Turkey are especially very helpful and hospitable in their daily life. They love helping foreigners much.
In addition, in some tourist areas, the prices can be high. Also you can encounter some insistent people who are selling souvenirs or something like that in every tourist place. That's the reason why if you're gonna buy something, it is better to haggle with the sellers. Just be aware of tourist traps.
Turkey Travel Guide for Solo Travelers
We create some current tips and Turkey travel guide for solo travelers. Every year, so many people are traveling the world alone and it's a very common and familiar thing in Turkey, too. As long as the basic travel precautions are taken by the solo traveler, there won't be any dangerous situation in Turkey. Especially on the Mediterranean coasts you would like to extend your vacation for sure.
Advice for people traveling solo.
Turkey is one of the best solo travel destinations in the world. Because of its separate and very special coasts and beaches, incredible nature, various vacation options, unique activities, different cities and so many things to do are amazing. The unforgettable moments are waiting for you on your Turkey trip.
Here are a few tips and advice for people traveling solo.
Learn a few Turkish words and expressions: Okay, you will find so many people who can speak English, Russian or Arabic but just in case you would like to be happy to feel more local. Also if you know some Turkish words, you won't feel alone as a solo traveler, right?
The second advice is about money and currency: Particularly in touristic cities of Turkey, you can find exchange offices easily. Also you can change from several local banks. Besides, if you ask about Can I use my ATM card in Turkey? The answer is yes. ATM usage is very common in Turkey. Visa and mastercard are available in Turkey.
The third advice is about visas for Turkey. If you are wondering that Do we need a visa to go to Turkey? It depends on your country but in general yes you need. So another question is how do I get a tourist visa for Turkey?
If you want to get a visa for Turkey, you should apply for a Turkish visa application online. You can check the current conditions and apply for Turkish e-Visa from here easily.
Let's pass on to places to stay for solo travelers in Turkey.
As a solo traveler in Turkey you can stay in either luxury and expensive places or you can prefer more budget friendly places for your vacation.
So let's take a glance at the best solo destinations in Turkey.
Best Solo Destinations in Turkey
How do you travel alone on a budget? Here are a few famous best solo destinations in Turkey. Because as a solo traveler you should also think about your trip budget friendly. Maybe you want to discover hippie places from Mediterranean coasts. If you say yes, you should explore Fethiye – Kelebekler Vadisi. Antalya Olympos is another option too. Camping places, bungalows, tree houses and caravans are waiting for you.
You can also find the hidden gems from the Aegean region. There are eco villages, organic villages, and nature friendly places.
Over there, you can meet the volunteers, locals, other solo travelers and you can go back to your country with unforgettable memories from your Turkey trip. In addition, those kinds of trips are full of spontaneous and uncertain conditions. So you should be prepared for anything. Less expectations, more fun. Also you should keep an eye on your personal belongings. Be aware of your travel plans, be careful of communication with people who you don't know. If you are looking for safer and planned vacation we will share with you further about Turkey tours for solo travelers. Just clarify what you want from a solo vacation. Once you specify your wishes from your travel, you will enjoy it anyway.
Turkey Tours For Solo Travelers
Like we said before, the important thing is your expectations from your trip. Maybe you don't have an extended time for vacation or research to choose destinations, maybe you want every detail to be ready for you already, maybe you would like to feel safer with a tour etc. If you don't want any extras or unusual spontaneous things during your travel, you must look at the Turkey tours for solo travelers. Here are some ideas and tours list to Turkey for solo travelers.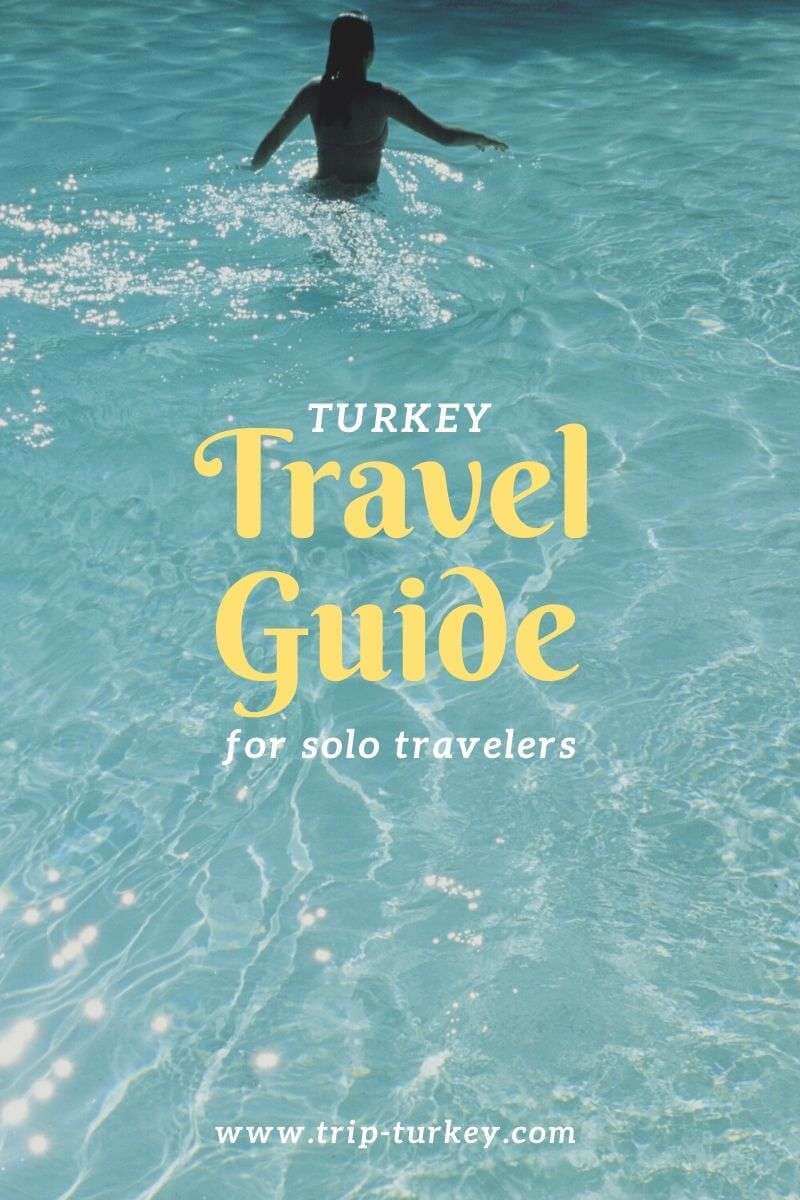 You can pin this post for later.
If you are wondering about Is Turkey safe for solo female travel? You should also read that post Turkey Travel Guide For Women
Last update date, 6 June, 2022, 09:10