Ready to explore one of Turkey's most beautiful and vibrant cities? Let this complete Izmir itinerary be your guide. Izmir is a fascinating destination that offers something for everyone. Whether you're looking for ancient ruins, stunning beaches, delicious food or lively nightlife, Izmir has it all. In this comprehensive travel guide, we'll provide everything you need to know to plan your perfect trip to Izmir. So pack your bags and let's get started!
In this Izmir itinerary, we mentioned all the essentials that you need, especially for the city center. Either you go for one day trip from Izmir or walk around in the center of Izmir city. You will have access from the city weather to many places to visit in Izmir Turkey. In addition, you can find some landmarks and Izmir historical places like "Ephesus Ruins" and more via this Izmir travel guide. Here we go.
Table of Contents
How to get to Izmir Turkey?
Izmir is located in the Aegean region of Turkey, about midway between Istanbul and Ankara. The best way to get there is by plane, with direct flights available from Istanbul, Ankara, and many other major Turkish cities. 
You can also take a bus or train from Istanbul or Ankara, but the journey takes much longer (around 12  hours by bus from Istanbul). Once you're in Izmir, getting around is easy thanks to the city's excellent public transportation network.
We suggest you discover the city center by foot, public vehicles like the metro or Izban tram or taxis. Parking and traffic issues can be annoying and merry dance.
Izmir Weather Year Round
Izmir is hot but not hotter than Antalya or other Mediterranean cities. Because of the arrangement of mountains to the sea it is a bit windy in general. But it is also hot especially during summer and spring times. Izmir weather hourly can be steady. You should take a raincoat unless you go there in the summer.
If you are wondering, is Izmir a coastal city? The answer is yes. Coastal but you can't swim in the heart of the city. Izmir has a giant port and gulf which makes the sea unswimmable. Down there, we will tell you the best beaches in Izmir.
Also there are plenty of things to do in Izmir in winter! Don't forget to check the weather and if you need to take your raincoat and umbrella with you!
We want to make sure that Izmir is worth visiting. So we hope this Izmir itinerary will answer all your questions about Izmir. Let's talk about the best things to do in Izmir now.
What to see and do in Izmir?
Izmir is a beautiful and vibrant city that offers something for everyone. With its fascinating history, stunning beaches, delicious food, and lively nightlife, Izmir is the perfect destination for your next vacation. 
Izmir is located in western Turkey, on the Aegean Sea coast. It's the third-largest city in Turkey and has a population of around four million people. The city is known for its beautiful coastline, with several sandy beaches and crystal-clear waters. Izmir also has a long history dating back to ancient times. Today you can still see many historical sites and ruins scattered around the city.
What is Izmir famous for?
Izmir is a historic city with plenty of things to see and do. Start your exploration at the iconic Kemeralti Market, where you can browse stalls selling everything from spices to clothing. Then head to the Asansör, an old elevator that offers panoramic views of the city. That's one of the bottommost. Explore Konak Square, Pasaport Izmir and nearby.
The Izmir Cable Car (Izmir Teleferik) is a unique option for who likes panoramic city views from the top! We will tell you other things to do in Izmir hereinafter.
Essentials: What to see in Izmir?
Other must-see sights include the ancient ruins of Ephesus, the beautiful Izmir Clock Tower and the stunning Agora Open Air Museum. You can find amazing things to do in Izmir, it is a very cultural and historical old city in Turkey. So make your prioritizations and decide your expectations. You will be able to find exact things to do for your pleasure. 
Let's say you have limited time to visit Izmir and wonder about what to do in Izmir for 2 days? Pick the essentials that you've liked and mix your trip on your own!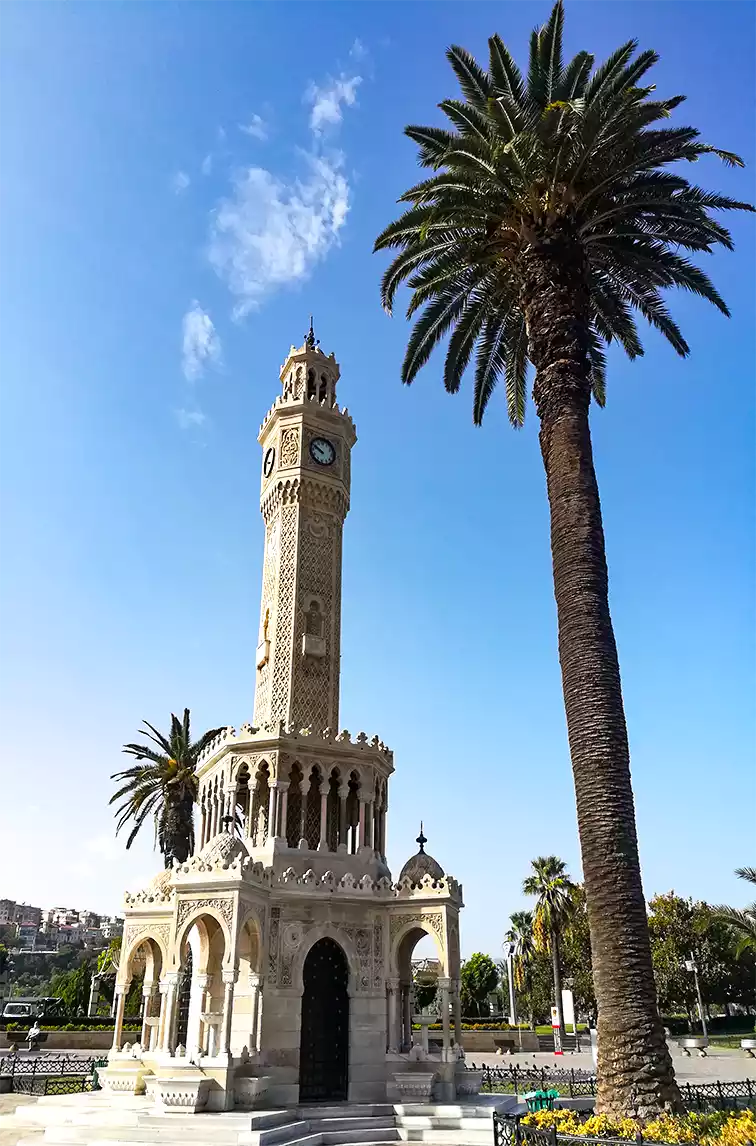 How do you get around Izmir?
In the city center you don't need to rent a car but if you want to discover the places near Izmir, then you should rent one. In particular in the Konak region you should discover by walking. This will be an amazing day trip for you in order to explore like a local.
Besides the city center you can go to coastal towns in Izmir like Cesme Alacati, Karaburun Izmir, Soke, Urla, Foca, Mordogan, one of the best Izmir districts etc. Also, those Izmir towns are very touristy so you can enjoy Izmir beaches without any bustle.
Izmir Historical Places
If you're interested in ancient history, Izmir is definitely the place for you. The city is home to several well-preserved Roman and Greek ruins, including the Temple of Artemis, one of the Seven Wonders of the Ancient World. Other popular historical sites include the Agora Open Air Museum, Kadifekale Castle and Asclepion.
Izmir is also a great place to enjoy the outdoors. In addition to its beaches, the city has several parks perfect for picnicking, hiking or just relaxing. One of the most popular parks is Alsancak Park, which features a beautiful pond and is located in the city center. Other popular parks include Kulturpark, Cumhuriyet Square and Cesmealti Open Air Theater.
Unforgettable Vacation: Izmir Beaches
If you are wondering about where to swim in Izmir, you should stay away from the city center. Because of the Gulf of Izmir and Izmir port, the sea is not so clean anymore. But the Izmir seaside has stunning landscapes especially during the sunsets! That should be on your bucket list.
Now we will tell you the nearest beach to Izmir, so you can go there easily. Narlidere and Incir alti districts are very close to the city center. There are several beaches but many people are going a bit far away to swim in calm and quiet.
Here are the famous Izmir beaches. Pirlanta beach, Izmir is a very nice option for families and couples. Ilica beach Izmir is another famous option with low height of the sea and sand for children.
Karaburun Akvaryum Beach is a very unique choice if you visit Karaburun Izmir. Also, Flyinn Beach is very nice in Aya Yorgi district. So, those are some of the best beaches in Izmir. If you are looking for the Izmir beach resorts we mentioned below.
More Things to do in Izmir Itinerary
If you're looking for some relaxation, Izmir's beaches are the perfect spot. There are plenty of beach resorts to choose from, or you can head to one of the city's many public beaches. For a more active vacation, try hiking or biking in one of Izmir's nearby national parks. The Archaeological Museum of Izmir is a must visit place too. Those are the basic things to do in Izmir with family.
Let's go back to the Izmir city center again. Try all street foods of Izmir and explore the lovely bohemian kitchen in Alsancak Izmir. "Sevinc Pastanesi" has amazing pastries and sweets. Also that place has been an important meeting point for many years.
You should watch the sunset in Kordonboyu while you have a nice drink and tapas with you. If you are an impatient traveler, you can make your Izmir trip plans while enjoying the day. Don't forget to add Sirince Village on your bucket list. If you go to Sirince Village, try amazing Sirince wines there.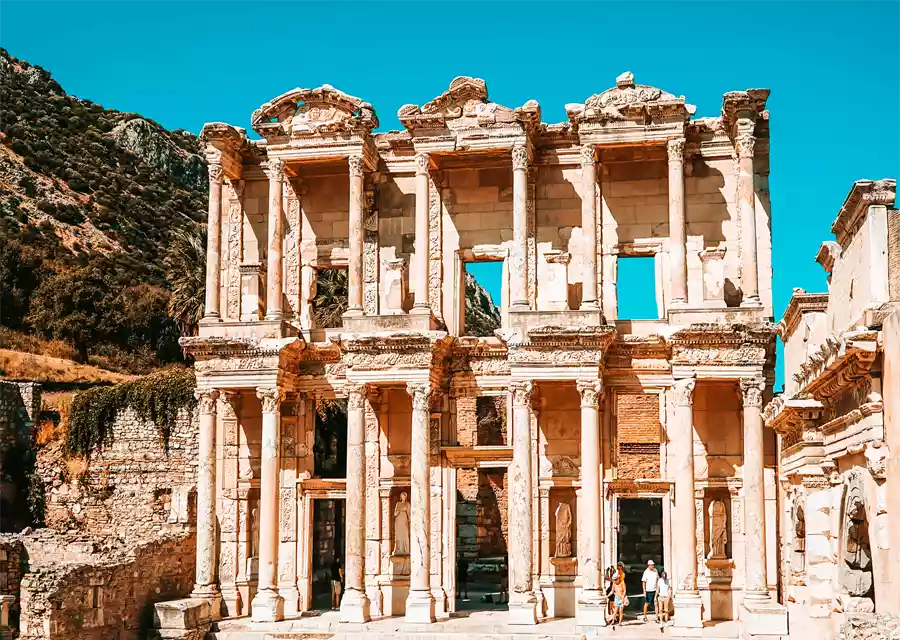 What to eat in Izmir?
When it comes to food, Izmir has something for everyone. The city is known for its delicious seafood, and you'll find many restaurants serving fresh fish and shellfish. Izmir is also home to several traditional Turkish restaurants, where you can try dishes like kebabs, dolma, and baklava.
Izmir is famous for its delicious seafood. In Turkey, every city is famous for different types of meatballs. Be sure to try some of the local specialties like "Izmir kofte" (meatballs) and other assertive foods except the above.
Best Breakfast in Izmir
We are sure that you have the most unique breakfast in Izmir. Izmir has some special salted pastries which is "boyoz" (eat boyoz with boiled eggs), "gevrek" (as known as "simit" in other cities but Izmir has its own style once again), so make a room for "boyoz" and "gevrek" during your breakfast in Izmir.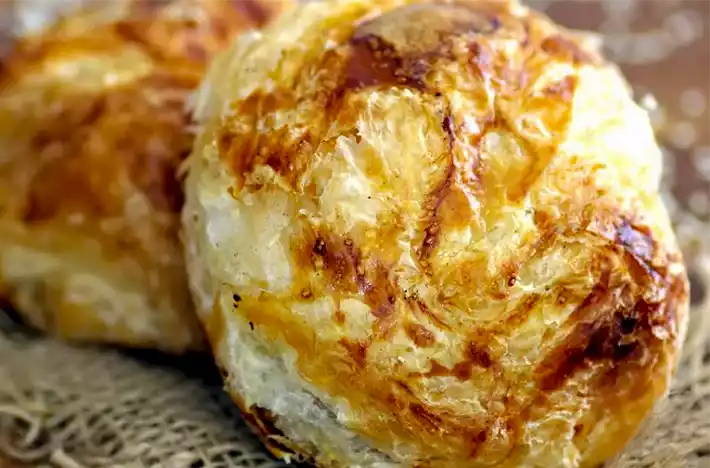 Izmir Food
Eat "Kumru", "söğüş", "kokoreç", "midye" in Izmir. Those are amazing options for your lunch or as snacks. Especially "kumru" is especially a very budget-friendly snack for your Izmir trip.
For dinner time you should try; Grilled fish, meze (assorted appetizers). In particular, Izmir has very large green cuisine which can make vegans and vegetarians happy. Try "Sevketi Bostan" without meat, "Pazi", "Isirgan", etc. Izmir's people use many plants as food in various types of recipes. Be sure that explore all secret Izmir recipes during your trip.
Izmir Bakery
Desserts are very unique in Izmir city. Try "Izmir bomba" which is filled with liquid chocolate. If you like semolina try "Sambali" which is a very solid but soft and good dessert made of semolina and syrup. You can ask for  "kaymak" in order to serve with sambali dessert, so it will be more delicious.
In Izmir, there is a tradition from many years ago that I am going to explain now. When you visit Izmir, you may see some tiny vans for "Lokma" dessert. In general, you can find lokma dessert in many places in Izmir but some of these vans are giving that dessert free! If you are wondering why it's free, this is the tradition. Line up and take one for yourself. 
When someone dies, his/her relatives have "lokma" poured for his/her memory. Especially in Izmir this is a very common tradition. So if you see something like this you can wish to rest in peace for the person who passed away. 
As a secret taste; If you go near Karaburun you should try Balıklıova Un Kurabiyesi (Balikliova Flour Cookie). Balıklıova is a district just before Karaburun.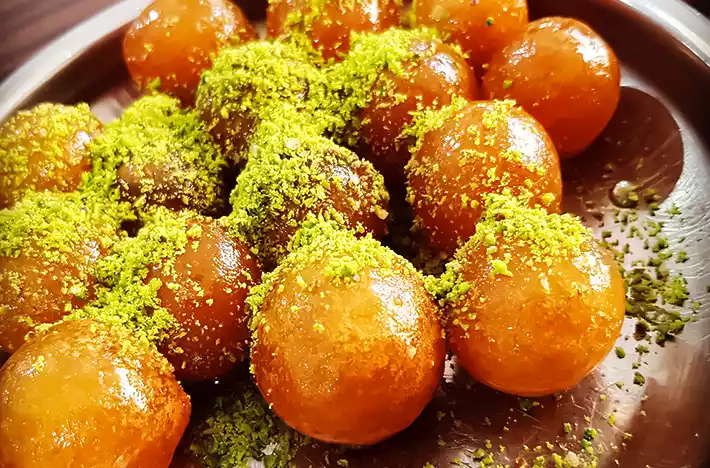 Coffee in Izmir
Izmir is also known for its excellent coffee, so be sure to stop by one of the city's many cafes. Besides the modern ones like third generation coffee style, there are also amazing coffee places in Izmir which we would like to share with you.
Fortune Telling in Izmir
"Kizlaragasi Han" is a very famous, touristy and historical bazaar either for shopping or visiting. You can also have a coffee there. Try traditional Turkish coffee in this amazing mystical atmosphere. If you are curious about Turkish coffee reading there are many fortune tellers who are waiting for you in Kizlaragasi Han Bazaar.
So what do you think about our Izmir itinerary specific to foods and drinks? If you highly recommend places, meet with us in the comments below! Let's go to Izmir hotels.
Where to stay in Izmir?
Izmir has a wide range of accommodation options to suit every budget. If you're looking for a luxurious stay, try one of Izmir's many five-star hotels. For something more affordable, there are plenty of mid-range and budget hotels to choose from. You can also find a great selection of Airbnb rentals in  Izmir.
Izmir hotels all inclusive look quite expensive compared with other types but are still economical. Through those Izmir hotels 5-star, you don't need to worry about food or drinks with alcohol or no alcohol. Also, Izmir hotels on the beach offer you their private beaches for free. So that's a very reasonable vacation. LABRANDA Lebedos Princess and Club Resort Atlantis are one of the famous Izmir beach resorts worth seeing. 
If you search for cheap hotels in Izmir, you will probably see Basmane hotels first. Be aware that the Basmane district is not as safe as other Izmir districts. You can find better hotels in Izmir city center. So we added the best hotels in Izmir to our Tripadvisor map. Swissotel Izmir is one of them.
According to the Izmir Wikitravel, Izmir also has various nightlife options. Let's check some things to do in Alsancak Izmir and other popular districts.
Izmir Nightlife
If you're looking for a lively nightlife scene, Izmir is the place for you. The city has a wide range of bars and clubs, with something to suit every taste. For a more traditional experience, head to one of Izmir's many Turkish pubs or "meyhane"s. Ready to explore the Izmir itinerary? Use this nightlife guide to plan the perfect night out!
Izmir has a lively nightlife scene, with many bars and clubs to choose from. One of the most popular areas for nightlife is Alsancak, where you'll find a wide variety of bars and clubs. Other popular areas include Konak Square, Basmane, and Kordonboyu. Those are the essential things to do in Izmir at night.
If you are on a limited budget, you can take your drinks and chill on the grass next to the sea. This is a very common thing to do for local young people. Also, it's a very budget-friendly activity. You may want to save your money for shopping in Izmir!
What to buy in Izmir?
What can you buy from Izmir? Everything you'll need. From souvenirs to clothes shopping in Izmir is very easy to access. First of all, Kemeralti Bazaar Izmir is known as one of the famous Izmir shopping streets. Kibris Sehitleri Caddesi, Pasaport, Konak Square are guesting of the famous Izmir bazaars.
Shopping Center Izmir Itinerary
Optimum is one of the biggest shopping malls in Izmir. Also, you can try Agora shopping mall which is located in Balcova, Izmir. According to me, Agora is the best shopping mall in Izmir. Besides you can try Forum Bornova if you like open-air places. We pinned more.
You can go either luxury shopping in Izmir or find some outlet centers for cheap deals. If you are in Izmir today, you will probably find so many open places which are very reasonable prices.
FAQ About Izmir itinerary
Can you swim in Izmir?
Yes, you can. But you shouldn't swim near the Gulf of Izmir. Choose the touristy coastal districts.
Where can I swim in Izmir?
You can swim in Izmir's beach towns. There are amazing bays and beaches for any kind of traveler.
Does Izmir have good beaches?
Yes, of course. Izmir has stunning beaches for families, beach clubs for those who want to have fun, and nice beach resorts for calming and relaxing travelers.
What is the nicest beach in Turkey?
If you are wondering about what are the best places for beaches in Izmir, you should try Pirlanta Beach and Aya Yorgi bay.
Is Izmir on the water?
Izmir is a nice coastal city next to the Aegean sea with nice beaches.
What is the meaning of Izmir?
Izmir meaning goes a long way back. Izmir which used to be known as Smyrna is an ancient city from Greek times. What is Smyrna called today? Smyrna has been called today as Izmir since the 1930s.
Well, that's all about the Izmir itinerary for now. Whether you're interested in history, beaches, food, or nightlife, Izmir is the perfect destination for you. So what are you waiting for? Start planning your trip today!
Izmir Attractions Map
You can check the Tripadvisor Izmir forum map from here. In addition, here is our Izmir tourist map which was created for you!