Here is an art day trip blog post which includes the top secret things to do in Istanbul. I am sure that you are one of the many art lovers who are curious about art events and venues in Istanbul. That's why I'll make sure this blog post gives you what you want and I'll do my due diligence.
In this guide, I will take you to a one day journey which includes Istanbul art events, art venues, lots of exhibitions and biennial places, plenty of the best instagrammable spots in Istanbul, the best museums in the city, the best and most delicious places to relax for lunch and coffee breaks and more. 
There is something you must not forget. Some activities and exhibits may change after a while. So before you go, I recommend you follow their current programs. Last but not least, I will also add a map below where I have marked all the points I will talk about for you. In this way, you can easily find everything you are looking for. Have a pleasant trip now.
Table of Contents
Cinema Museum Istanbul
Visiting the Istanbul cinema museum is definitely one of the secret things to do in Istanbul. I and a friend of mine decided to go to the Istanbul Cinema Museum last weekend. Because we both missed Taksim and were incredibly excited about the Stanley Kubrick exhibition at the Istanbul Cinema Museum. Of course, even though it was our first stop, we also visited the wonderful places that I will share afterward.
Atlas Passage, which was built as a mansion in 1877, is a historical structure that has managed to become a cultural symbol by hosting a casino, cinema, bar, and many stages in the early 1900s. The historical Atlas Cinema is also a magnificent venue that has been conducted at the Istanbul Cinema Museum (which is one of the best museums in Türkiye) and still continues to be shown.
Istanbul Cinema Museum, which is among the first three in the world in its field, is located in the Historical Atlas Passage on Istiklal Avenue, Taksim. Before moving on to the how-to-go part, I would like to make a small note. Below, I have a little surprise for you in the Istanbul in Fiction section.
How to go to the Istanbul Cinema Museum?
The Istanbul Cinema Museum is very close to Taksim Square. Either you can get there from the Anatolian side or the European side. There are plenty of ways to access the Cinema Museum Istanbul. 
Which location you are, you'll need that Istanbul metro map and transportation guide. Also, you can click and see a high quality metro lines map of Istanbul in that blog post. Moreover, you may want to check this comprehensive Istanbul city transportation card guide in order to walk around.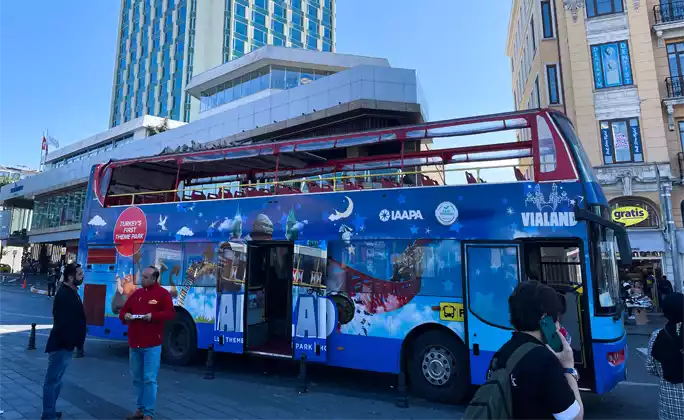 I arrived at Taksim Square metro station from the Anatolian side. Which means I took Marmaray and left it at Yenikapi interchange station. Then, I took the M2 metro line until Taksim metro station. You can also leave the train at the Sishane metro stop but that means you have to walk more.
CHECK Istanbul metro map guide.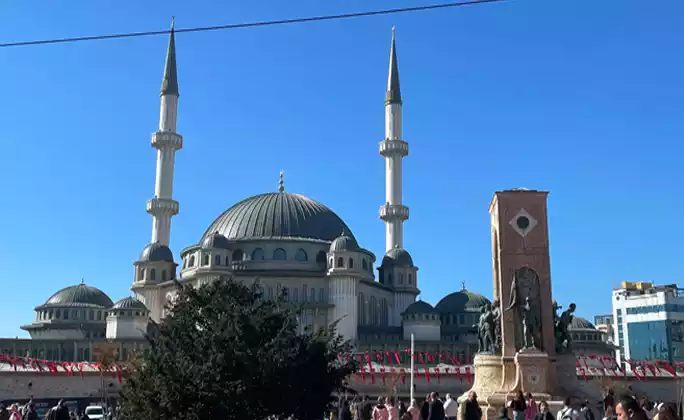 From Taksim metro station to Atlas Cinema Museum takes 8-10 minutes on foot. Important note: We will always walk during this blog post. So make sure that you are wearing a pair of the best sneakers for travel walking.
CHECK Best Barefoot Shoes for Travel
Visit Cinema Museum Istanbul
Whether you have a Museum Pass Turkey or not, it is not available at the Istanbul Cinema Museum. Once you buy a ticket for the Stanley Kubrick exhibition which costs 120 Turkish Liras, you will be able to see both exhibition and cinema museum floors. If the exhibition is over, you can still purchase your cinema museum entrance tickets from the box office.
I recommend you to start the tour from the top floor. You can go down one floor by walking around. This will be much less tiring. There was a Kubrick exhibition on the top floor when I went. The Kubrick exhibit will run until March 2023. I created a special section for the Kubrick exhibit below. This is one of the best things to do in Turkey in March.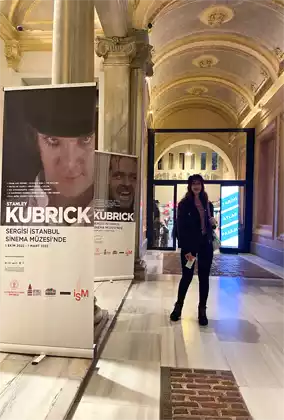 Here are the famous bogey "Gulyabani" and my book. One of my favorite Turkish authors Huseyin Rahmi Gurpinar wrote this novel "Gulyabani" and many years after that Turkish cinema Yeşilçam filmed that creature. According to me, the movie (Sut Kardesler) does not completely match up with the book, but the creature is. Anyway, both are still cult classics.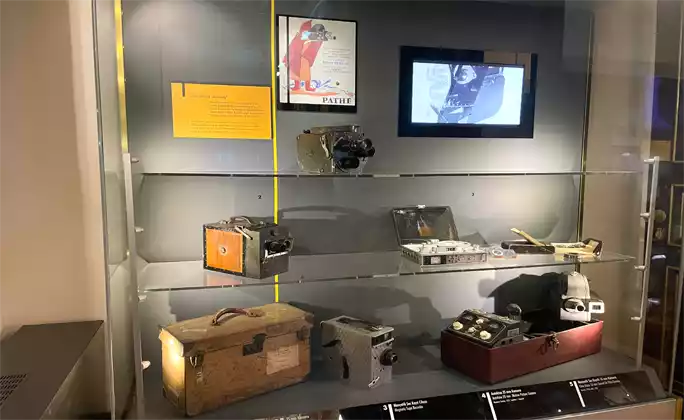 Also, you can find some other shots from the cinema museum such as old cameras, movie posters, and wax statues of our esteemed late actors Kemal Sunal and Adile Naşit.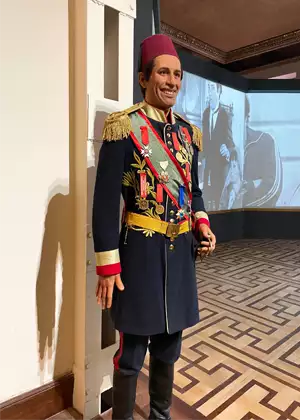 There's also a great green box where you can shoot. After a snapshot, you can send an email to yourself from the screen. It was a concept that was the photo we chose. For example, the concept video with the Scout. We regret that we did not choose that scene ☹️ But then we were too lazy to get back in that long line. Our time was also running out. On our route that day, there were a few more spots we planned to visit. Before we go there, I think we should briefly mention the Kubrick exhibit.
Stanley Kubrick Exhibition 2023
The ticket that you will buy from the Istanbul Cinema Museum's box offices includes the Stanley Kubrick exhibition tour as well. It is not a guided tour. However, the design of the exhibition is a guide in itself. The Kubrick exhibition has both English translations for every detail. Sounds good.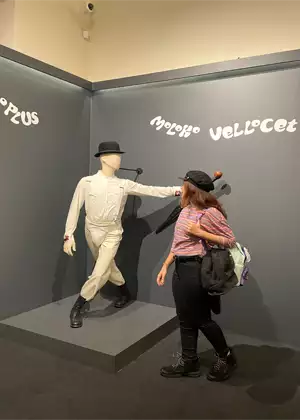 In the exhibition, you can find scripts, costumes, mock-ups, handwriting, adapted books, and much more of Kubrick's films in great detail and explanation. Each movie has its own room or corner. A masterpiece that must be experienced. Awesome discography and you already know that. I'd say make sure you get your way.
How long is the Stanley Kubrick exhibition?
The Stanley Kubrick exhibition is five months in total. The exhibition, which is taking place in Istanbul, started on 1 October 2022 and will end on 1 March 2023. We've got four full months ahead of us. I recommend that you evaluate this time. This exhibit is one of the best secret things to do in Istanbul certainly, but unfortunately, it has an expiration day.
Where is the Stanley Kubrick exhibit?
The Stanley Kubrick exhibit is located in Istanbul, Turkey. You will be able to find an opportunity to visit 16 movies of Kubrick's in chronological order. It invites its visitors to a time warp. This is indeed an event to be considered. Especially for movie buffs.
Other Art Spots in Istiklal Avenue Turkey
I would like to mention two more art centers on Istiklal Street. Various exhibitions are held here from time to time and are usually free of charge.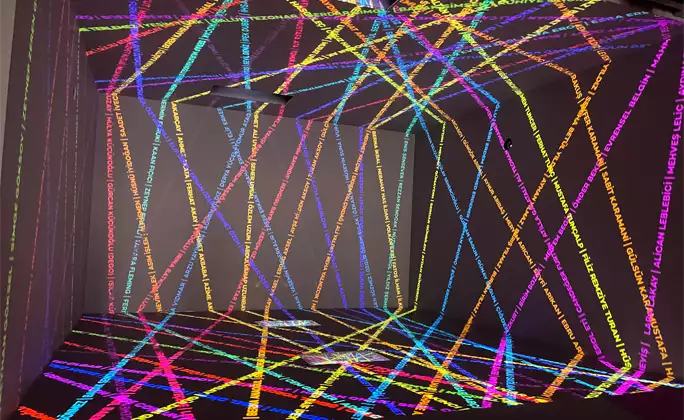 The first one is Akbank Contemporary Istanbul. I have been to an exhibition called "The Room With Forty Doors: The 40th Anniversary Of The Contemporary Artists Exhibitions." They host different exhibitions and events from time to time. I've added the English website of Akbank Contemporary, so you can have a look at what's up.
The secondary is the Hope Alkazar. Worldwide famous artist Refik Anadol has an interactive installation work there. Reservations are required and upcoming events are often booked. so unfortunately we couldn't enter because we went to the door, but if you have the intention, you can view the events of Hope Alkazar here. Besides Refik Anadol's event, there are plenty of nice events.
Other Best Museums in Istanbul
Before moving on to other places we went, I wanted to offer you alternatives that you might want to visit in the vicinity and throughout Istanbul. Because some events that I joined in this blog post, can be seasonal.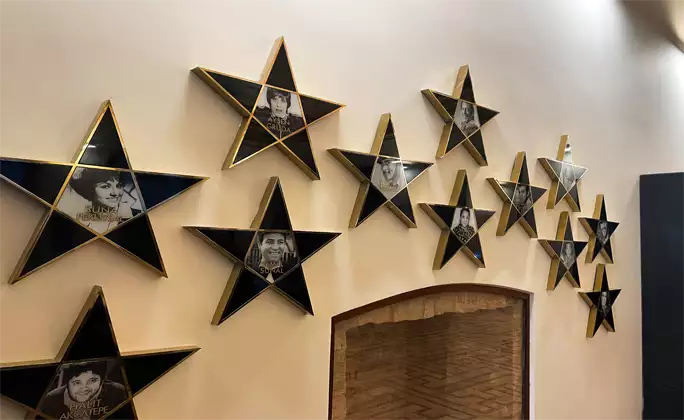 You should know that you have alternative culture and art activities in your Istanbul travel plan. I also added them to the map below. You can also check it from there. You can create your own Istanbul culture trip itinerary. But make sure that you've checked their event and exhibition schedules before you go.
Worth Visiting 10 Art Centers and Best Museums in Istanbul
Here are some worth visiting art centers and the greatest museums in Istanbul with useful information for you.
Istanbul Archaeology Museums: Istanbul Museum of Archeology is a must visiting place in the city. Museum pass card available. 
Pera Museum Istanbul Turkey: It's free to everyone after 6 pm on Fridays. Closed Sunday and Monday. The entrance fee is 50 Turkish Liras. 
Museum of Illusions Istanbul: Amazing museum in the city. You can either go to Istanbul Istiklal Museum of Illusions or the Museum of Illusions Istanbul Anatolia. 
Istanbul Wax Museum: Madame Tussauds Wax Museum Istanbul is definitely one of the best. It is a place for those who want something historical, cultural, and fun at the same time.
The Istanbul Modern Art Museum: This contemporary art venue which is one of the most popular Istanbul art museum is moving to the Galataport building in the Karakoy district. 
Adam Mickiewicz Museum Istanbul: This is one of the best free museums in Istanbul. You can get to know this greatest poet, drama writer, patriot, and author of the Polish national epic poem. 
Seashell Museum in Istanbul: Seashell Museum is one of the free things to do in Istanbul Asian side that you can enjoy. Make sure that you've checked my blog post about this free museum in Istanbul. Seashell center is one of the secret Istanbul gemstones.
Digital Art Museum Istanbul: X Media Art Museum is the first digital art and new media museum in Turkey! If you are looking for the best things to do in the Asian side of Istanbul, that might be another good opportunity for you. 
Painting Museum Istanbul: This gorgeous museum is closing at 17:30. Since we started our trip at noon, we could not catch up this time. Hopefully next time I can catch up.
Naval Museum Istanbul: This museum right next to the sea is closed on Mondays. The entrance fee is 100 Turkish Liras. Museum pass cards are not accepted in this museum.
Short Break for Best Restaurants in Istanbul Taksim
If you have noted down your alternatives, let's get back to our tour. But before you continue, maybe you want to have a meal. I will talk about where and what I ate with my friend briefly. Of course, I won't go without offering alternative places for vegans.
Balkan Restaurant Taksim
This is where I ate my meal and it is probably one of the best Turkish restaurants in Taksim Istanbul. I usually eat meat or chicken kebabs with bechamel sauce in such restaurants, but I am also looking for vegetable dishes and salads. Therefore, I like this place very much with its variety and affordable prices. It is also a bit more calm and airy because it is on a side street. You should try a unique Beyoglu soda pop in Balkan Restaurant Taksim as well.
Alternative: Vegan Restaurant Taksim
Of course, you can find vegan menus in the place I mentioned above. However, for our Vegan readers, it would be useful to add a few places around here as an alternative. Places that are not might be completely vegan, which I added. Make sure that you have checked their menu out.
Hayvore Taksim
Hayvore is not a completely vegan restaurant but they have delicious vegan and vegetarian options as well. If you want to try pumpkin with syrup and walnuts, you can also order in Turkish such as "kabak tatlisi".
Falafel House Taksim
Taksim Falafel House is a place that deserves great praise with its hearty portions, delicious food, and affordable prices. Their rich menu will blow your mind. So it may take some time to make a decision.
Taksim Ara Kafe
This art cafe concept, which belongs to the family of the famous artist Ara Guler, is a place that will impress you with its rich menu and wonderful decoration. The menu of Kafe Ara also includes vegan options.
Istanbul Biennial 2023
Now, I would like to tell you a little about the spots we visited as part of the International Istanbul Biennial. The 17th Istanbul Biennial is indeed different, impressive, and has surprising details. I'll talk about two of the ones I've visited here. Maybe you just want to take a day off for the biennial, and you can reach it from the list of all venues mentioned below and chart your own route.
Central Greek High School for Girls (Merkez Rum Lisesi)
You can reach that historical high school by walking for only 4-5 minutes by continuing from the side street where Balkan Restaurant is located. They opened this building, which had been abandoned for a long time, to its visitors as part of the biennial.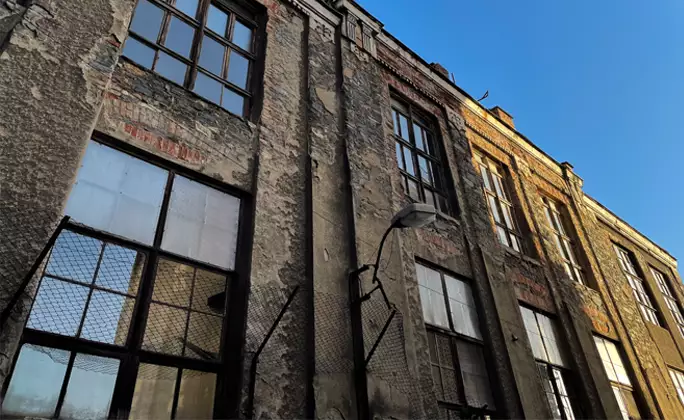 Inside, various experiences with tablets, notifications, and visuals await you. The architecture and texture of the building promise you a journey through time. This place is absolutely one of the best photo spots in Istanbul. 
This place is one of the best liminal spaces I've ever visited. If you like eerie, creepy, and abandoned places, you will never find a place at this heart of the city. You definitely have to see it. Add it to your bucket list.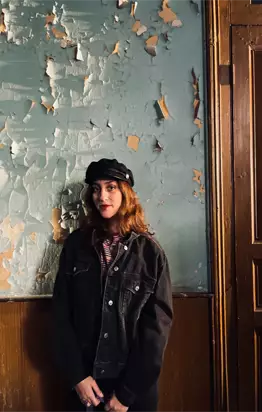 After leaving this magnificent old venue, we pass by the AKM before heading to another biennial spot. This time, we were content to watch the contemporary works of art outside because we had already hung out at AKM on our previous trip to Taksim. If you have time, take an inside look at this modern architecture. For those who want to take a look at the AKM programs in English, here you are.
Cyclope (Yaklaşım Tüneli)
According to me, Carlos Casas is one of the most interesting Istanbul Biennial 2022 artists. Before you dive into that interesting tunnel, you will be able to see Ipek Yucesoy's Oradalar II work on the left side.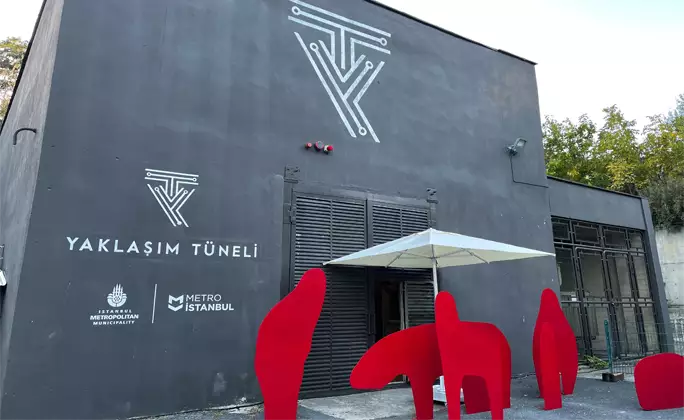 Let's skip to the Cyclope. No flash or flashlight is allowed inside. It is worth noting that the work on the walls has nothing to do with the Cyclope. They are remnants of past work. If you still want to examine it, you can experience it without disturbing others.
This tunnel is an experience that consists of two colors of light and you can walk while listening to different sounds. If you are uncomfortable with closed and flat areas, definitely stay away from them. Because it is an intense and effective experience, although it does not take long. Also, if you have ailments such as migraine or epilepsy, this place can affect you.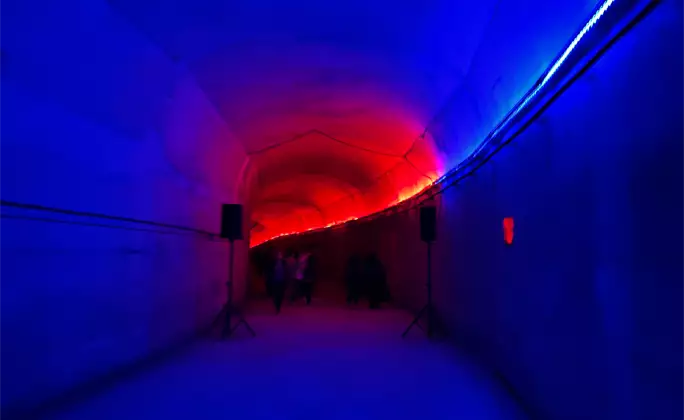 You can also take a look at other Istanbul art biennial venues from here.
Romantic Things to do in Istanbul
Those art dates are absolutely one of the many romantic things to do in Istanbul for couples. This time, I prefer to discover all those amazing venues with an architecture friend of mine, but next time, I will definitely visit them with my husband. All in all, if you're looking for something romantic, these routes are definitely for you.
Last but not least, Mikel Coffee has one of the best cappuccinos in the city! I tried Mikel Coffee in Athens, Greece for the first time. And now I am very lucky to access that coffee shop in Istanbul as well!
We also have some other romantic things to do in Istanbul and Turkey blog posts. You can check them out.
Art events in Istanbul
If you want to explore more art events in Istanbul, meet with me in the comment below! Tell me what you would like to learn and I will research and experience as much as possible for you. Here is the map I talked about above. I hope you will enjoy all these cultural and artistic events as much as I do!
Istanbul in Fiction
You can still watch movies in the Atlas movie theatre. There are movie festivals sometimes. If you are a cinema lover, make sure that you've checked their calendar.
There is also a Turkish movie named "Alone" / Issiz Adam that was filmed in 2008. In one of the last scenes, Ada and Alper come across inside the famous Atlas Passage. You can watch that amazing romance movie from here. Whether you watch the movie Alone or not, you should listen to this one of the best Turkish series soundtracks.
DO NOT WATCH NEW RELEASE TURKISH ROM COM MOVIE BEFORE YOU READ MY LATEST BLOG POST ABOUT 👇🏻
If you are wondering about more Turkish movies or series, please let us know in the comment section below! 
5 FREE Turkish Learning Resources
Frequently used Turkish words for tourists
Frequently Asking Questions About Secret Things to do in Istanbul
We wanted to share the periodical exhibitions with you in the article where we explored these cultural and artistic places. However, you can follow important venues and changing events on many cultural and artistic platforms.
Where to stay in Taksim Istanbul?
Taksim Istanbul looks like quite a huge and complex area at first time, but we highly recommend staying in a safe and tidy place during your Istanbul vacation. List the hotels that meet your expectations first. Afterward, we recommend that you choose the one that appeals to you the most by looking at the comments. You can explore budget friendly and affordable hotels in Istanbul Taksim region from our blog post as well.
What are some unique things to do in Istanbul in December?
I highly recommend visiting the Stanley Kubrick exhibition and the Istanbul Cinema Museum. The exhibit will continue until March 2023. Even in December, Istanbul might have good weather. According to the weather, you can find many indoor or outdoor events in this beautiful city. Trying hammam experience will definitely be a must.
How can I prepare a minimalist carry on packing list?
You can define your needs, expectations and priorities first. Then you can gather them up. Here is a list that will help you which includes 24 items for your next minimalist carry on packing.
Check 👉🏻 24 Products for Minimalist Carry on Packing List