Kas, Turkey is a very popular destination with many visitors every year. In this blog post, we will share with you all food & beverage tips, what to eat in Kas Antalya, and the nicest restaurants in Kas, Turkey.
SEE OFFER 👉🏻 Mediterranean Cookbook
If you are planning a holiday in Kaş or want to learn more about Kas, I recommend you to read Kas Guide and Things to do in Kas. Congrats, you are in the right location to explore the best places to eat in Antalya Turkey.
First of all, you can eat something that fits your palate and budget. Kas, Turkey offers something for everybody. Kas Antalya has some specific gourmet tastes like "pilaf with almonds", "Turkish type ravioli" and other Anatolian and Mediterranean kitchen products.
You should try "moussaka" which are vegetables fried in oil and cooked with minced meat and tomato sauce.
In addition, you can try the seafood with the traditional Turkish drink Raki taste. FYI: Raki drink is a very strong alcoholic drink and raki alcohol percentage may be higher than regular alcoholic drinks.
Trying "gelato ice cream" in Kas may be a refreshing activity as well.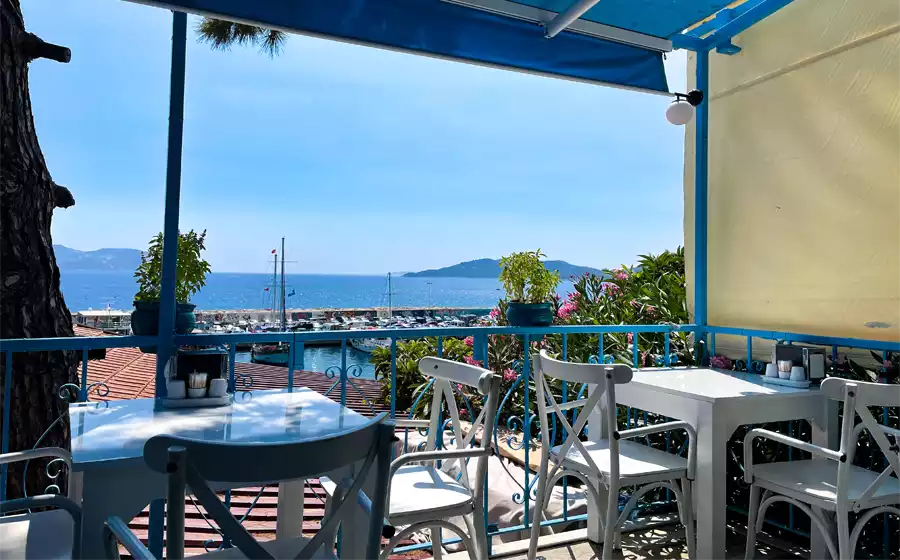 Table of Contents
Highly Recommended Restaurants Kas
You can find most of those Kas restaurants TripAdvisor but you can check a few of them (which do not exist on TripAdvisor) on Google.
Eat Kas (Turkish taverns in Kas Antalya)
Antalya Turkey food is generally among Anatolian and Mediterranean cultures. But Kas is closer to the Mediterranean I think.
Many friends ask me where to eat in Antalya Kas. If we are talking about slow food and true gourmet, we cannot pass without mentioning the Mediterranean delicacies, kebabs, fresh seafood, and appetizers in Kaş taverns. Kas is one of the most impressive destinations in Antalya Turkey places to eat. Explore restaurants in Kas Turkey and enjoy.
See the best Turkish taverns in Kas
Kas, Turkey Best Restaurants Map
Here are the food and drink spots in Kas that we mentioned above! Bon appétit 🙂
You can also check Kas Turkey map to discover gastro pubs in Kas.
If you want to share your food experience and the best places to eat Antalya you can add your favorites and the best restaurants Kas, Turkey comment below!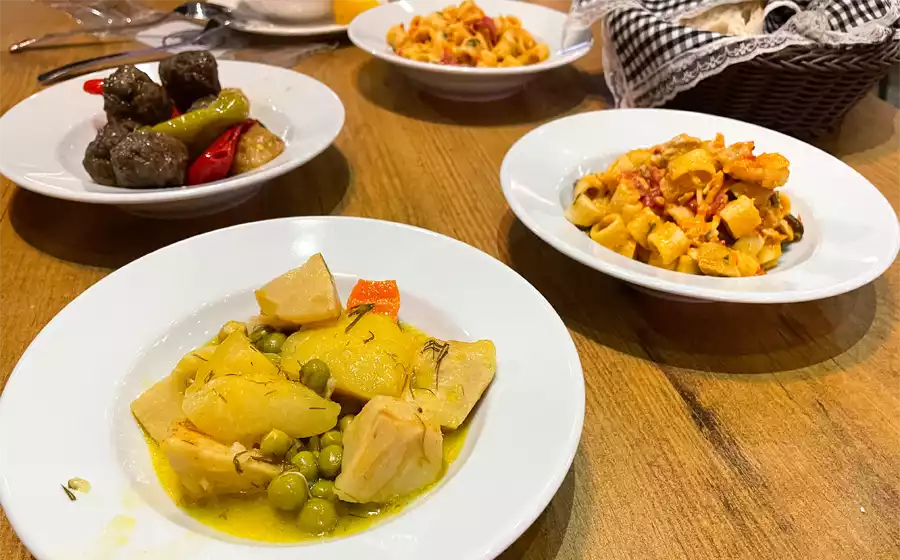 More about Kas
If you are planning or vacationing in Kas, you can get information about the best Kas nightlife places, how to get to Kas, the best beaches of Kas, Kekova Boat tour, Patara Ancient City, Xanthos Ancient City, and Letoon Sanctuary.
Frequently Asked Questions About Food & Beverage in Kas, Turkey
Here are some frequently asked questions about what to eat in Kas, Turkey.
What are the most popular restaurants in Kas?
Butka, Zaika, Oburus Momus, and Lily's Corner are the most popular restaurants in Kas.
What are the best restaurants in Kas for cheap eats?
Kofteci Yusuf is a very cheap restaurant in Kas, Turkey.
Should I choose Kaş or Antalya center for a vacation?
Kas is a place for adults. Family with kids should prefer Antalya city center. But if you want to see Kas, you can find nice things to do in Kas with your kids as well. The thing is your options are less. You should compare the two of them and make a list of your expectations. Then you can see the minus and plus for a decision. Checking One Day in Antalya out may make it easier for you.
How many days are enough for Kas, Turkey?
3 days are fine enough for Kas center and nearby. But if you want to explore deeper you should spare at least 4-5 days. Make sure that you've checked our Complete Kas Guidebook.