After all covid storms in the world, you really deserve a well-suited perfect vacation. Cappadocia is one of the most unique destinations in the world. If you are wondering, is Cappadocia worth visiting, yeah. Totally worth it, you must visit Cappadocia at least once in your life. So we gathered the Top 10 Things To Do in Cappadocia 2022 for your next trip to Cappadocia. Whether you stay 2-3 days in Cappadocia or more, you should check that list. Because it includes the Best attractions to visit in Cappadocia.
Table of Contents
Top 10 Things To Do in Cappadocia 2022
Here are top 10 things to do in Cappadocia 2022. Some of them are already familiar but surely you will discover a few hidden gems. Let's dive into.
1. Cappadocia Hot Air Balloon Flight
Cappadocia best known for the amazing Cappadocia hot air balloon flight. It is good to remember that either you can pick only balloon travel or you can join all-day Cappadocia tours which include hot air balloon flights. P. S. Check the weather in Cappadocia before your vacation. Turkey has predictable weather, so no worries. 
How much is a balloon flight in Cappadocia? (Cappadocia Turkey balloon tour)
Hot air balloon prices are average 200- 300$ per person with groups. You may find lower or higher prices as well. It depends on the balloon tour company, balloon capacity and offers for the guests. You can join private hot air balloon rides in Cappadocia or luxury tours between 500-7000 USD.
Cappadocia hot air balloon reddit and other reviews looks worth a shot for a notable experience. 
Please keep that in mind: The hot air balloon Cappadocia age limit starts from 5 for kids. 
As many people know already, Cappadocia is a famous city in Turkey with hot air balloons. But it is also famous with the Cappadocia Music and Balloon festival as well. If you are traveling to Cappadocia Turkey during 21-24 July of this year, you won't miss the Cappadocia balloon festival 2022. 
Every year, there is happening Hot Air Balloon Festival in Cappadocia. Make sure that you will catch this amazing event.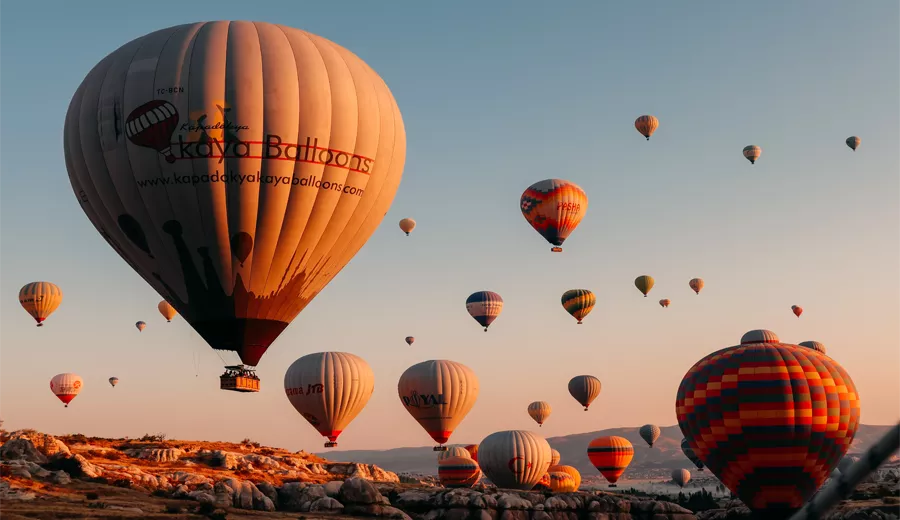 2. Fairy Chimneys
Fairy Chimneys is one of the best attractions to visit in Cappadocia. It's incredibly unique and natural beauty. They are formations that are older than 1500 years. You must visit with these unique hoodoo forms.
Fairy Chimneys are scattered all over Cappadocia. The region where it is most concentrated is the triangular region between Avanos – Urgup – Uchisar. You can watch the fairy chimneys from the top in the Love Valley in Goreme.
Do not miss a full day tour Cappadocia Turkey which includes Fairy Chimneys Turkey as well.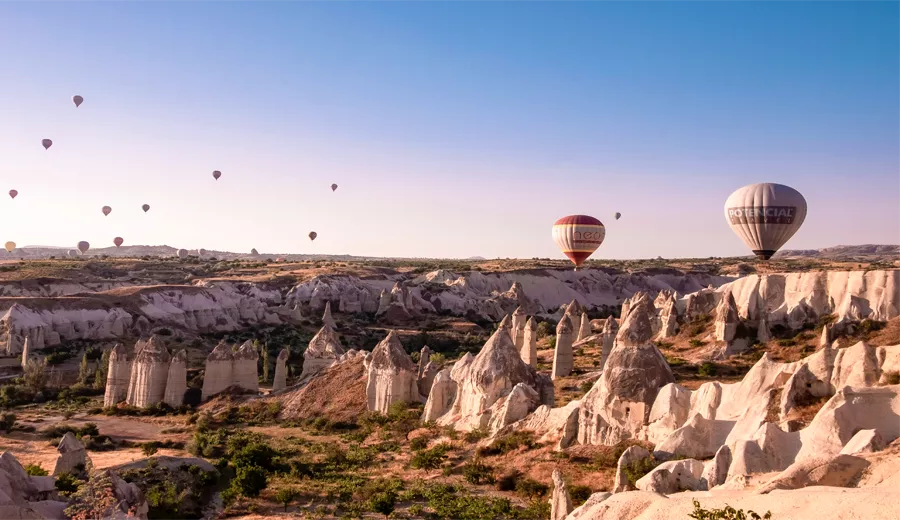 3. Pottery Workshops in Cappadocia
If you have enough time in your Cappadocia vacation, here is a very traditional and different thing to do: Pottery Workshops in Cappadocia are very famous attractions but it is a very personal experience. If you are interested in pottery and ceramics you must explore the traditional pottery workshops and museums in Avanos or other destinations.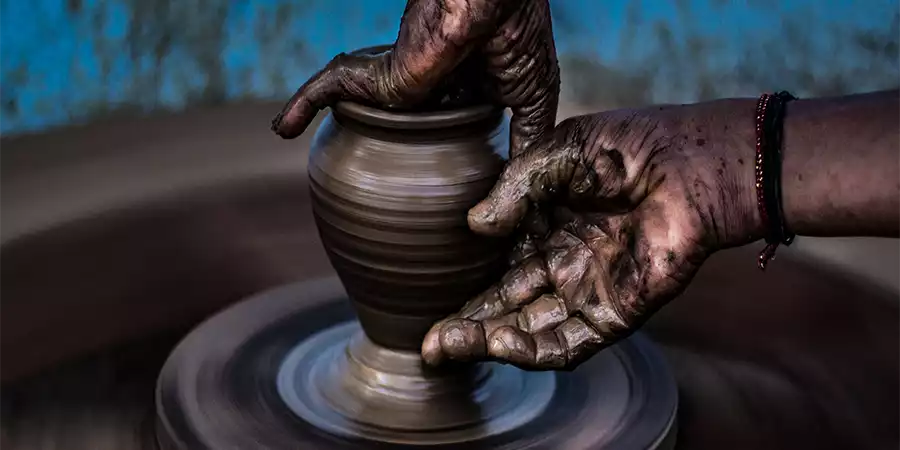 4. Goreme Open Air Museum
Ancient cave churches and chapels are waiting for you at Goreme open air museum. You must add this place to your bucket list. Karanlik Kilise also exists in Goreme open-air museum. Visiting Goreme open air museum is one of the best Top 10 Things To Do in Cappadocia 2022 whether you explore with or without a guide.
Goreme Open Air Museum Opening Times
It opens every day between 08:00 – 19:00.
Currently, the entrance fee is 150 Turkish Liras for Goreme open-air museum. Besides, Goreme open-air museum has audio guidance services. Moreover if you buy Museum Pass Turkey or Museum Pass Cappadocia, those cards cover Goreme open air museum Cappadocia as well.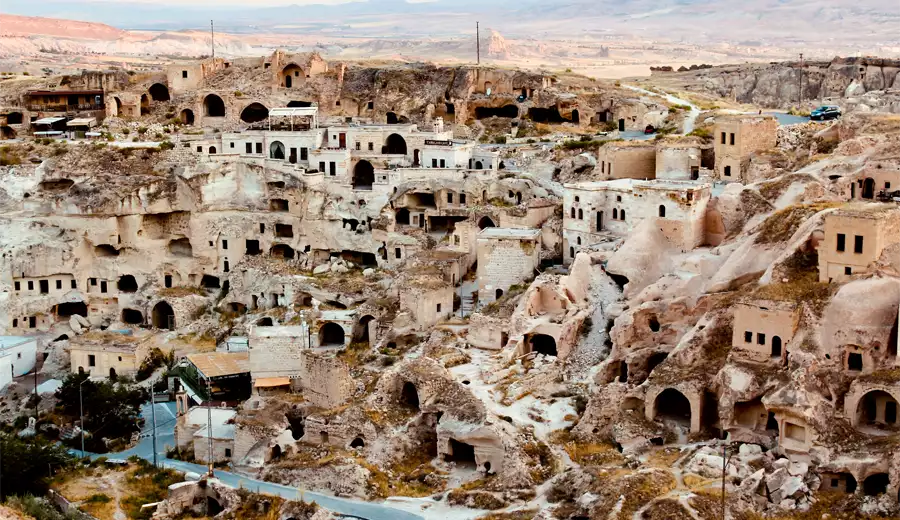 5. Pigeon Valley
Pigeon Valley is another famous destination in Cappadocia. Be ready for long walks! Be ready for instagrammable photos! Stay hydrated. Pigeon Valley is a perfect destination under the title of things to do in Cappadocia.
Pigeon Valley walking road is 4 km and the valley takes its name from pigeon nests. There is a small waterfall and Uchisar Castle in Pigeon Valley.
The evil eye bead trees that you often see on social media in Cappadocia are in this valley. There are also small cafes in the valley.
If you want to walk the valley, I recommend that you wear comfortable shoes and take water with you.
Pigeon valley entrance fee
The Cappadocia Pigeon Valley entrance is free.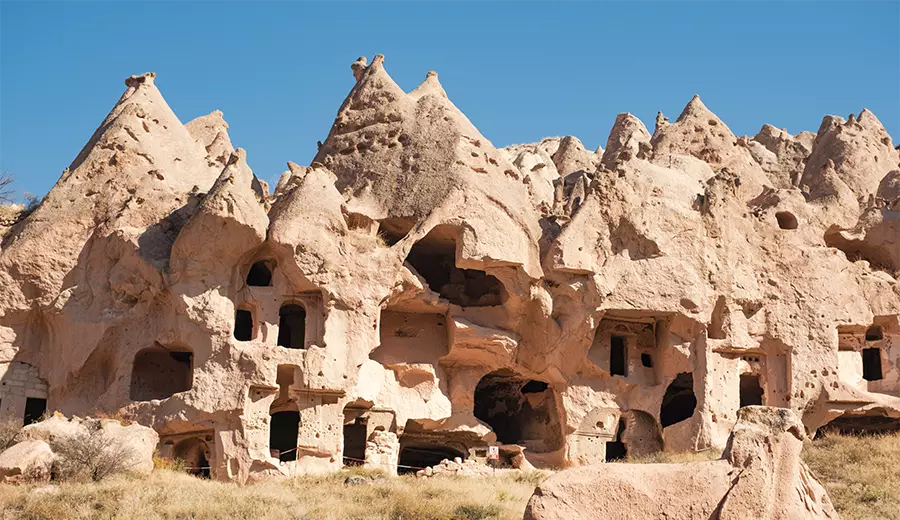 6. Uchisar Castle
Uchisar Castle is another best attraction for tourists. You must visit that beautiful destination in Cappadocia too. If you are wondering about what is there to do in Cappadocia at night? Watching the sunset from Uchisar Castle is one of the best things to do in Cappadocia at night. Besides, you may explore the pubs and nightlife places in Cappadocia for more things to do at night.
Uchisar Castle Entrance Fee 2022
Uchisar castle entrance fee 2022 is nearly 50 Turkish Liras. Museum pass doesn't cover the Uchisar castle. Uchisar castle is one of the highest spots in Cappadocia, Turkey. There is a car parking area for guests. Also, you can reach there via public transportation.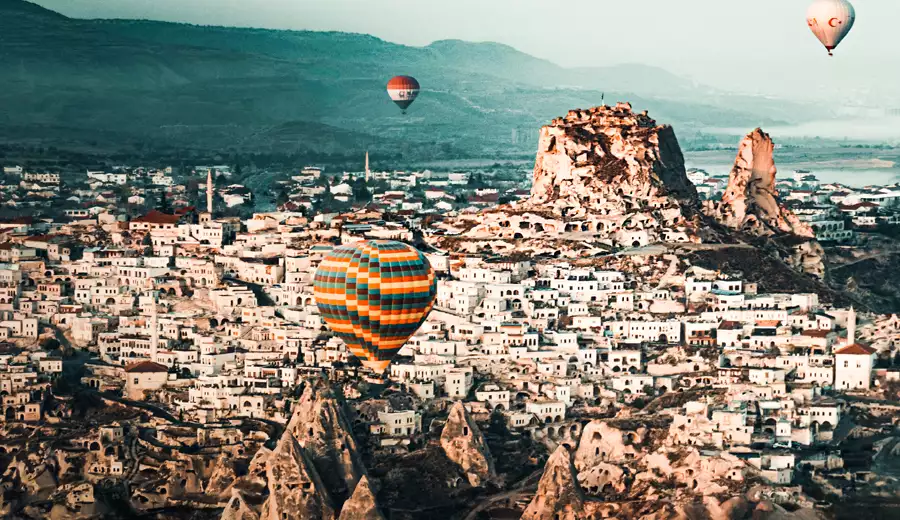 7. Asmali Konak
Asmali Konak is a very famous house that was the host of a famous Turkish TV series in 2002. Nowadays it is like a museum that anybody can visit. So if you have enough time this may be an interesting option in order to discover more about Turkish culture. Asmalı Konak is one of the best attractions to visit in Cappadocia. You should visit that almost 200 hundred years old house which has 42 rooms inside. Check this link for more info.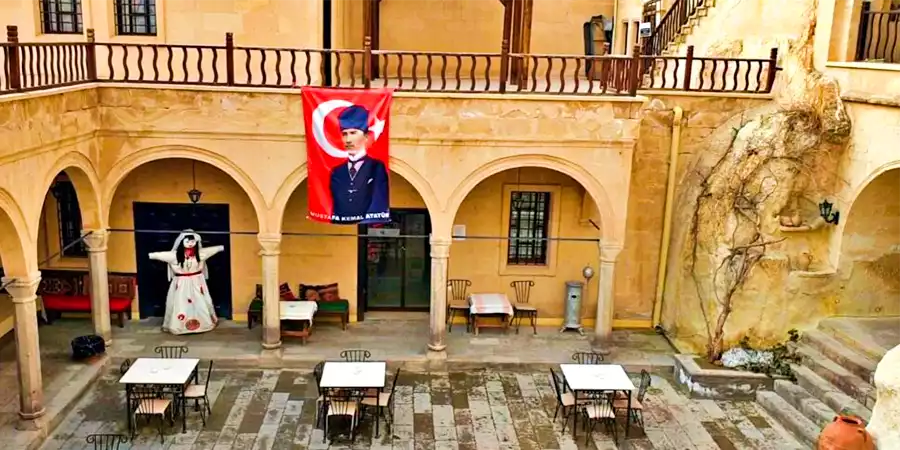 8. Underground Cities in Turkey
That's one of the real hidden gems in Cappadocia, Turkey. As mentioned in things to do in Cappadocia Reddit, the underground cities in Turkey are very ancient and mysterious. Very cavern and creepy. If you have claustrophobia, be aware that cities may be a little bit of a trigger zone. If you are excited about discovering it immediately, take a thin jacket with you. Because all of the underground cities (Derinkuyu, Kaymakli, Mazi etc.) are chilly places.
Better to visit underground cities with tours so you can learn more things about the historical side. There is a Kaymakli underground city tour which includes an entrance fee. Also, this tour includes Pigeon Valley and Uchisar castle tours inside. This tour is very affordable and budget friendly because it covers all admission tickets for those places if you participate.
Underground Cities Entrance Fee & Opening Hours
Cappadocia Underground Cities Entrance Fee is 50 Turkish Liras in 2022. The Cappadocia Underground Cities entrance hours are from 10.00 to 17.00 from April 1 to October 1, and from 08.00 to 17.00 from October 1 to April 1.
9. Wine Tasting
Wine tasting in Cappadocia is incredibly enjoyable. There are so many tiny wine places, houses, and cafes in Cappadocia. However, if you want to explore more about traditional and local wines you should go to the bigger places.
You can know this destination with vineyards and wine cellars. As far as we know, Kocabag Winery is very famous which is in Uchisar, also I had been to Turasan Winery (which is in Urgup, very close to the Asmali Konak) many years ago. This experience will be like visiting a special museum or a library. Also, you can buy wines from them. That taste -which you tried before- could be an unforgettable gift for your dearest friends in your hometown.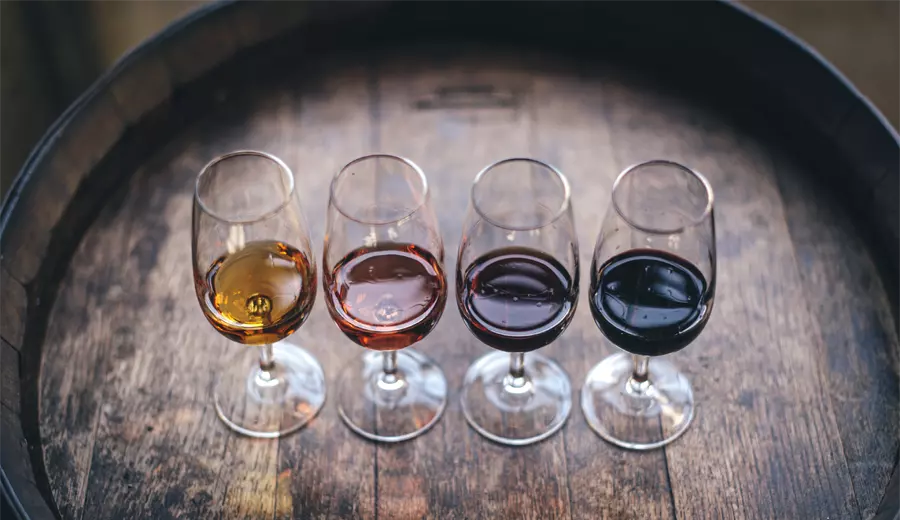 Book for a wine tasting tour from now and start doing your Cappadocia things to do list. Keep that in mind, wine tasting tours in Cappadocia doesn't recommend during pregnancy.
10. Shopping in Cappadocia
Cappadocia is one of the most famous destinations in Turkey. As well as unique and traditional places. Besides being a witness to ancient history and natural beauties, you can find really unique memories in Cappadocia. On every corner, you can find traditional souvenirs in tiny gift shops (no malls in Cappadocia). Handmade pottery products for travelers, ceramics, local vines, rag dolls, tiny sculptures, evil eyes, magnets, etc… Those dreamlike details are very unique souvenirs and they will be excellent memories for your Cappadocia, Turkey visit. 
In addition, if you are wondering more things about your trip to Turkey, please visit Turkey solo travel itinerary.
You have decided to travel to Cappadocia, but are you thinking about where to stay? We have prepared a where to stay guide in Cappadocia for you.
So what can I eat in Cappadocia? We have listed the best restaurants in Cappadocia for you.
Frequently Asking Questions About Things to do in Cappadocia
How much does it cost to fly in a hot air balloon in Cappadocia?
Which is the best hot air balloon company Cappadocia?
Butterfly Balloons – Cappadocia and Royal Balloon – Cappadocia are one of the best hot air balloon companies in Turkey.
How is the Cappadocia hot air balloon in December?
Turkey has a smooth climate in general but if the weather conditions are not suitable for a hot air balloon ride, tours may seem to change according to the situation. If you are asking for the snowy view, you may see the snow accumulating from the sky but not certainly.
Is a hot air balloon in Cappadocia worth it?
Freely from the seasons, balloon riding is a very unique experience for excited travelers. We are sure you will find a tour of hot air balloon Cappadocia cheapest and affordable for your budget.
How much does a hot air balloon ride cost in Turkey?
Average prices are between 100-200 USD. Cappadocia hot air balloon price in Lira is 2000 TRY-2500 TRY. If you are looking for a luxury one you should be ready to pay more than 3000 TRY.
Is it a fair hot air balloon ride in Cappadocia Turkey price?
According to offers and the experiences type it is tolerable. It is a unique and mostly once in a lifetime experience.
What time do you see balloons in Cappadocia?
Mostly, early in the mornings before sunrise but during the festival days you will be able to see at night as well.
Are there always hot air balloons in Cappadocia?
Yes, even though there are no special Cappadocia events, you can see the hot air balloons in Cappadocia, Turkey. Anyhow, weather conditions are determinant points for that.
Where can I watch hot air balloons in Goreme?
Red and Rose valleys are very significant points for watching the air balloons Cappadocia, Goreme. But besides Goreme district, there are a few best places to see hot air balloons in Cappadocia as well.
When is the best time to see hot air balloons in Cappadocia?
Probably the best time to watch balloons before sunrise. You should be ready to watch the sky from 5.00 am.
How many days do you suggest Reddit in Cappadocia?
It is a very popular destination in Cappadocia and many topics about Cappadocia are opened on Reddit. According to Reddit users, 2 days will be enough for Cappadocia.
What to do in Cappadocia?
You should definitely join the famous Cappadocia hot air balloon tour. You can also tour Pigeon Valley and its underground cities. You can ride a horse or ATV between the fairy chimneys.
What is Cappadocia Turkish pronunciation?
You can say like KA-PA-DOK-YA. That's all. If you are wondering about more than Cappadocia voice pronunciation in Turkish, you can check Cappadocia Pronunciation as well.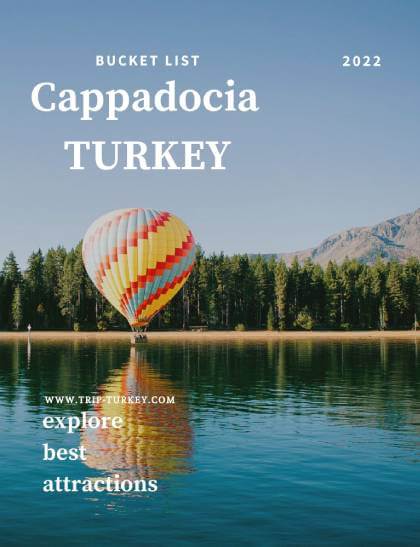 There you go, those are the top activities one can experience in Cappadocia. If you like it, you can save that pin for later.