Phaselis ancient city is a very magical place which is very near to the Kemer, Antalya district. This archaeological site is a very important historical landmark which is next to the Mediterranean sea. If you are looking for the best things to do in Antalya city, you must visit Phaselis, an ancient city in the Tekirova region.
You can spend a half or complete day in Phaselis ancient city and enjoy one of the best beaches and ruins of Antalya. Discover the Turkish tombs, rocks, ancient theatre, historical harbour, very old baths and ancient agora with a perfect sea and sky.
Phaselis ancient city is a very unique place in nature. Here is the complete Phaselis ancient city guide in 2022 with a real travel experience for you.
How To Go To the Phaselis Ancient City?
You can get Phaselis ancient city in several ways. If you have a car you can go to Phaselis ancient city from Antalya centre in about 40-45 minutes. Probably the public buses are the cheapest way to get from Antalya to Phaselis. But it may take about one hour or more from the city centre.
From Kemer to Phaselis is about fifteen minutes. Be aware of the turning point in order to not miss it. Follow the brown sign and turn left when you arrive there.
If you want to go there from the Kaş direction, it will be on your right side. You should drive about 2 hours from Kaş to Phaselis ancient city.
Besides, you can arrive there via seaway. Daily boat tours or private yacht trips can be a way to visit Phaselis archaeological sites, too. Phaselis ancient harbour is a very popular destination for boat tours.
Phaselis Ancient City Entrance fee & Visiting Hours
Phaselis archaeological site is open every day. You can visit Phaselis ancient city from 08:00 to 17:00 each day of the week.
Phaselis entrance fee is 70 Turkish Liras for per person with the latest update in 2022. If you have a museum pass, it's free for you. If you don't have museum pass but you are planning to spend more time in Turkey, you can buy a museum pass from the counters at the entrance of Phaselis Ancient City.
We suggest you check current updates about Phaselis ancient city from here before you go there.
A Short History of Phaselis Ancient City
This archaeological site was a famous trade city with three ports in ancient Lycia times.
You should pay attention to the aqueducts, baths, ports, ancient theatre and agora ruins while you are visiting the site. Be aware of being a witness to a great history. Probably you didn't see another unique region like Phaselis before.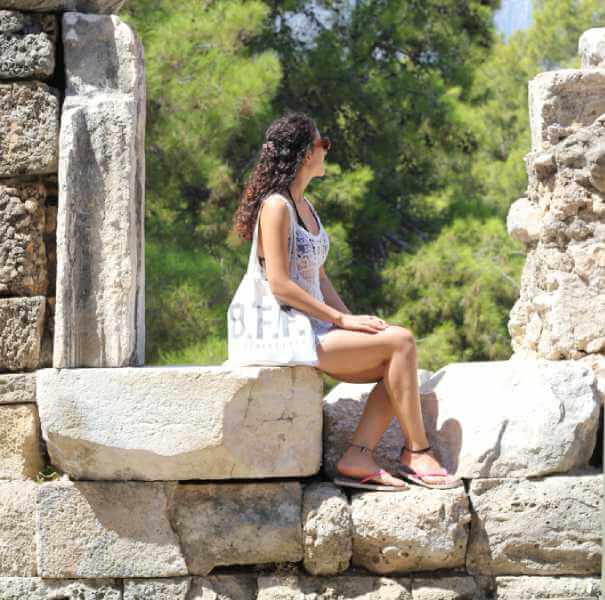 Worthwhile Phaselis Ancient City Tips & Advices
Phaselis ancient city is a very rare place worth visiting in four seasons. It is an archaeological site so you can't find so many things there. We will suggest some important things so you can take precautions before you visit Phaselis. Do not schedule your Phaselis trip before you read our tips & advice.
There is only one and so tiny market in Phaselis that you can find such basic things. Prepare your things before you arrive there so you wouldn't miss anything during your daily Phaselis trip. Get ready like going to an amazing beach for a picnic.
No allowing barbecue or campfire in Phaselis ancient city. Also, you can't stay for a night camping on the site. But if you have a small tent, you can bring that with you in order to protect your kids from the hot summer sun.
As we mentioned above, Phaselis ancient city is an archaeological place so there are no sunbeds or sunshades. You can stay under the trees for a shady spot but just in case you should take your hat, sunglasses, sun cream, portable chair or table with you. Because especially on summer weekends Phaselis is very crowded so maybe you can't find any shady place next to the sea. Even if you don't have any portable chairs or sunbeds you can take a blanket in order to spread out.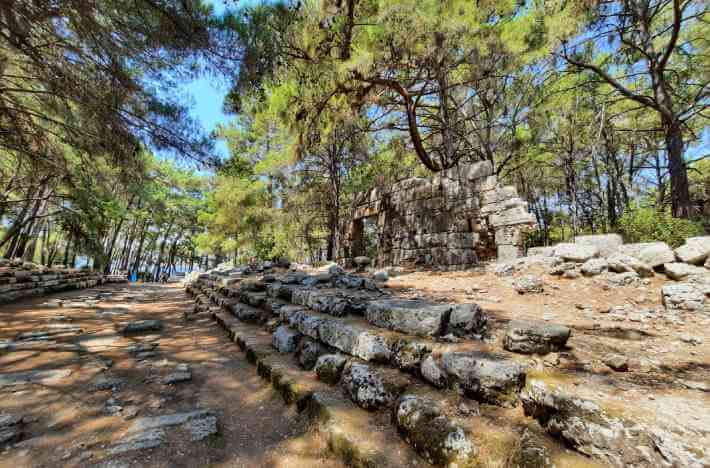 Best Time to Visit Antalya Phaselis Ancient City
Antalya weather is quite fine in four seasons generally. Kemer district may be hotter than the city centre, especially in spring and summer times. Let's say you decide to visit Antalya in spring, so how is the weather in Antalya in April or May? It is very hot and sunny. You can swim and tan. Have a fine breakfast or picnic in Antalya. In particular, in Phaselis ancient city, the weather is almost pretty in four seasons.
Phaselis Beaches
As we mentioned before, there are no sunbeds or sitting places there. So you should take your summer stuff with you during your Phaselis Beaches trip. There are three wild beaches with small pebbles. Underwater is very colourful but not mossy around there.
Phaselis Beaches are spread and several but you can swim between rocks, too. Also no worries: Phaselis Beaches have toilets and showers.
If you are interested in academic research or more historical information about Phaselis you should check this out. This special Phaselis research website is very comprehensive and it is a really amazing and unique finding.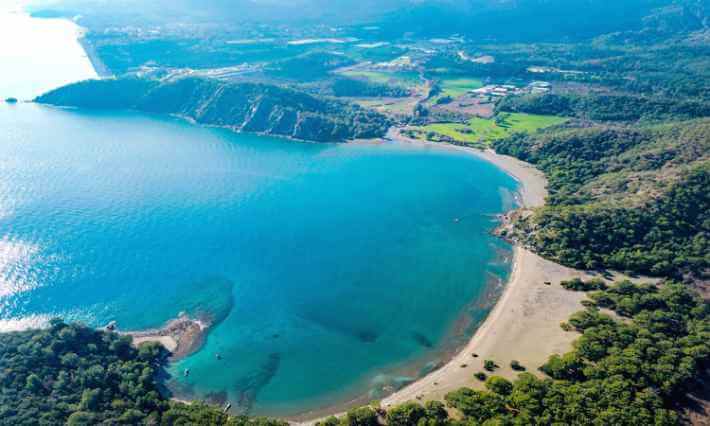 Phaselis Things To Do & Best Attractions in 2022
Phaselis ancient city seems like it hasn't got so many things to do but actually, it has more attractions than it seems. Especially if you are an underwater person or photography lover.
Phaselis is an amazing place for photographers either with historical ruins or Mediterranean beautiful natural life.
Phaselis beach has an excellent Mediterranean underwater life. If you are a snorkelling person you must visit there and see this great aqua view. Underwater photography is another plus if you are interested in it.
This is one of the best archaeological ruins of Antalya that you must visit at least once not only for swimming. You can find unique things to do there likewise for original purpose ideas, extraordinary breakfasts, honeymoon attractions, wedding photographs, nature observations etc.
Things To Do Near Phaselis Ancient City
Ulupınar is a fine option for foods and drinks near Phaselis beach. There are nice restaurants which are next to the river. No worries about planning the Ulupınar trip because mostly, some people are waiting before the Phaselis entrance for visitors and they are trying to give you some leaflets. Those leaflets are about the restaurants near Phaselis. In Ulupınar district which is near Phaselis, you can find fresh foods and drinks next to the flowing water.
Another attraction near Phaselis is the cable car. You should give a try to Tahtali Olympos cable car if the weather is nice but wait; the weather is almost always sunny in Antalya.
A daily or night trip to Kemer can be a very charming thing to do. You must visit Kemer if you have not ever been before.
If you want to discover more beaches in Antalya, you can check this blog post.
Last update date, 27 June, 2022, 08:54