The Champions League Istanbul final is the address where 2023 final of Europe's biggest football organization will be played, eagerly awaited by football fans.
The champions league finalists are not yet known, but the address where the final will be played has been determined.
The 2023 Champions League Cup will meet its new owner at the Atatürk Olympic Stadium in Istanbul.
In this article, we will tell you about the Atatürk Olimpiyat Stadium, Istanbul, and Turkey.
Table of Contents
2023 Champions League Final Stadium: Atatürk Olympic Stadium
Atatürk Olympic Stadium, named after the founder of the country, Mustafa Kemal Atatürk, is Turkey's largest stadium with a capacity of 75,145 people. The stadium has a natural grass field.
The stadium was built in 2002 to host football and athletics championships and complies with all the requirements of FIFA, IOC, and IAAF.
The stadium, which is not actively used by any club, is used for special events and final matches.
On 25 May 2005, Liverpool-AC Milan hosted the UEFA Champions League final.
On June 10, 2023, it will host the Champions League final for the second time.
Where is Istanbul Ataturk Olympic Stadium?
The most convenient mode of transportation to Atatürk Olympic Stadium is to use the Istanbul Metro.
You can transfer from Yenikapı-Kirazlı, Mahmutbey, or İkitelli Industrial Stations to the M3 (Kirazlı- Başakşehir) metro line. You can find the map location here.
If you want to go by metro from the Anatolian side or from a place like Taksim, you can first take the Yenikapı metro.
You can take a look at our Istanbul metro map and Istanbul city card article to go to Atatürk Olympic Stadium by metro.
Apart from the metro, you can also use the 146T, HS1, MK13, MK14, and MK15 buses or hire a taxi.
👉 The last option is to rent a car reliably in Turkey.
Special soccer ball for Istanbul Final
There is a special soccer ball designed by Adidas for the 2022 – 2023 Champions League Istanbul.
Tulip patterns, the national flower of Turkey, are on this special soccer ball.
👉 Check out the balls that Adidas has specially designed for football events.
2022 – 2023 Champions League
The UEFA Champions League is an annual club football competition organized by the Association of European Football Associations (UEFA).
It is one of the most prestigious club competitions in the world and features the best teams from Europe's domestic leagues.
The match begins with a group stage where teams are drawn into groups of four and play each other twice. The two best teams from each group then advance to the knockout stages, which consist of two-legged draws (home and away) until the final, which is a single match held on neutral ground.
The UEFA Champions League has a rich history, with its first competition held in 1955. Real Madrid, which won the tournament 13 times, is the most successful club in the history of the competition with AC Milan with 7 championships and Liverpool with 6 championships.
The UEFA Champions League is widely followed by football fans around the world and attracts a large global audience.
It is a showcase for some of the best players in the world and provides a platform for teams to compete against each other at the highest level of club football.
You can take a look at the official site prepared for the Istanbul Champions League final. It also makes sense to buy the ticket for the final now.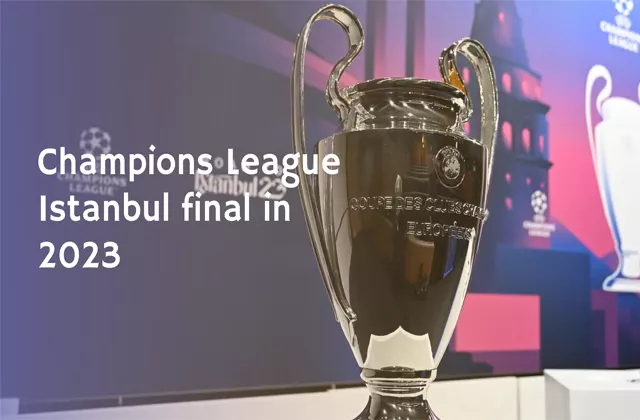 Turkey Tips for UEFA Champions League Final
If you are planning to visit Turkey to watch a UEFA Champions League match, here are some tips that might be useful:
Plan your trip in advance
UEFA Champions League matches are highly anticipated events and tickets sell out fast.
It is important to buy your ticket before traveling to Turkey to avoid any disappointments.
In addition, for visa procedures to Turkey, you must specify the arrival and return flight ticket, the hotel you will be staying at, and the purpose of your arrival.
👉 Check out the available hotels in Istanbul!
👉 Buy cheap air tickets for the champions league final!
Stay safe
Contrary to popular belief, Turkey and Istanbul are very safe countries, but as in every country, there are of course some bad people.
Especially, crowded and tourist areas such as Taksim Square and Istiklal Street are preferred by thieves. We recommend that you put your valuables in your bags and pay attention to your surroundings while visiting these regions and other tourist places.
In addition, another scam method that is very popular on Istiklal Street is to invite you to a place. If a person comes to you while walking on the street and invites you to a place, do not go. They will take you to a bar or alcohol place and charge exorbitant prices. Do not trust these people.
In summary, if you are coming to Istanbul for the Champions League, it will be safe for you to wander around in large groups, keep an eye on your belongings and not wander around the deserted streets at night.
If there is a negative event, you can request help with the 155 police line.
👉 You can read our articles on Turkey safe to travel, Turkey phone code, and buying a sim card in Istanbul.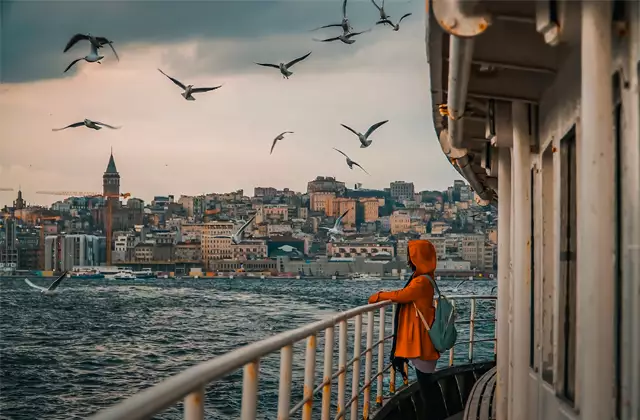 Learn a few Turkish words
Turkish people are known for their hospitality and love foreigners who can speak Turkish even if it's just a few words.
If you say a few words in Turkish, they will treat you more warmly and show more interest in places such as cafes or restaurants.
👉 To learn Turkish words, you can browse our articles on basic Turkish words for tourists and the best resources to learn Turkish.
Respect local traditions
Turkey is a traditional and predominantly Muslim country. Dress modestly and be aware of cultural practices that may be different from what you are used to.
It may be good not to dress too revealingly and not to consume alcohol excessively in public areas.
Note: Alcohol consumption is legal for everyone and a headscarf is not compulsory in Turkey.
👉 You can take a look at our article Are Turks Arabs?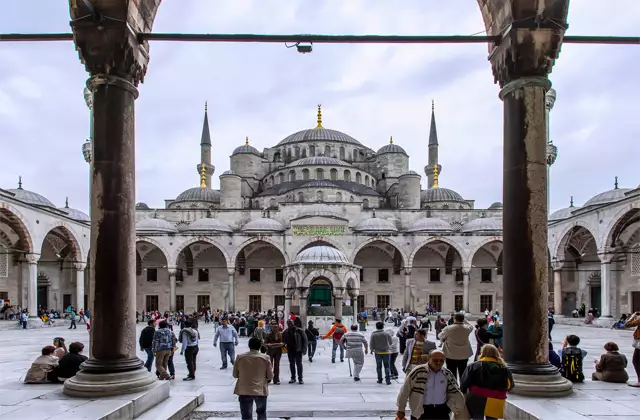 Try local food and drink
Turkey has a very wide and delicious cuisine. You should taste tens of local kebabs, stuffed meats, desserts, and drinks.
Almost everyone knows doner kebab, Adana, and Urfa kebabs, and you can find them everywhere.
If you are looking for different flavors other than these, you can try different flavors such as half-bread kokoreç with beer and künefe from desserts.
👉 Also, if you need, you can check out our Turkish Food Delivery article.
Get a VPN
Unfortunately, social media is banned from time to time in Turkey. It may be good to get a VPN service to avoid such situations.
👉 You can check out your Best VPN Service of 2023 article.
Watch the weather
The average temperature in Istanbul in June is 24-27 degrees. Rarely, it can drop below 20 degrees. Before you come, it would be good to check the current weather conditions and buy suitable clothes.
Best Hotels for Istanbul Champions League Final
If you came for the Istanbul Champions League final and you want to enjoy Istanbul a little bit, there are some popular hotels we can recommend for location and comfort.
Unfortunately, there are not many hotels we can recommend around the Atatürk Olympic stadium. If you don't like the hotels below, you can also take a look at these Istanbul hotels.
Divan Istanbul Hotel
Divan Istanbul Hotel is located in the area between Beşiktaş and Taksim in Istanbul. You can even walk to both tourist areas.
It is a hotel very close to Beşiktaş stadium, tourist and historical areas in Istanbul.
The 5-star hotel, which has received 8.8 points from its guests, is a comfortable hotel with Bosphorus views.
👉 Check out the best offer for Divan Istanbul Hotel.
Louis Luxury Suite Appartements Galata
Another well-located hotel is the Louis Luxury Suite Appartements Galata.
The hotel, which is right next to the Galata tower, is at the entrance of Istiklal Street.
The score of the hotel, which has a room with a kitchen, is 9.4. You can reach Atatürk Olympic Stadium in 30 minutes with the Taksim metro.
If you want to enjoy Istanbul, you can evaluate this hotel.
👉 Book Louis Luxury Suite Appartements at the best price.
Mest Hotel Istanbul
Located right next to the most important historical monuments in Istanbul, Mest Hotel Istanbul Sirkeci is a 4-star hotel.
You will be filled with history at the hotel, which is within walking distance of Hagia Sophia, Basilica Cistern, Topkapi Palace, and important Ottoman mosques.
This hotel is 30 minutes by taxi and 1 hour and 30 minutes by public transport to Atatürk Olympic Stadium, where the Champions League final will be played.
👉 Book Mest Hotel Istanbul at cheap rates.
👉 You can also check out our Ottoman empire map article.
👉 You can also take a look at our Sultan Suleiman article to take a deeper look at Ottoman history.
Additional questions for the Champions League Istanbul 2023 Final
Is Istanbul safe for the champions league final?
Istanbul is a safe city. Extra security measures will be taken specifically for the champions league final. You can come to Istanbul to watch the final with peace of mind.